Celebrate 4th of july in a unique way with this Middle eastern inspired ice cream cake.
Celebrate 4th of July in a unique way with this Middle eastern inspired ice cream cake.
I love celebrating the 4th of July for so many reasons. Besides fireworks, parades, barbecue with friends and family and having fun all day long, it is a "no discrimination holiday", no matter your gender, age, race, religion, you are welcome to celebrate. It is a day to celebrate democracy, liberty and the pursuit of happiness.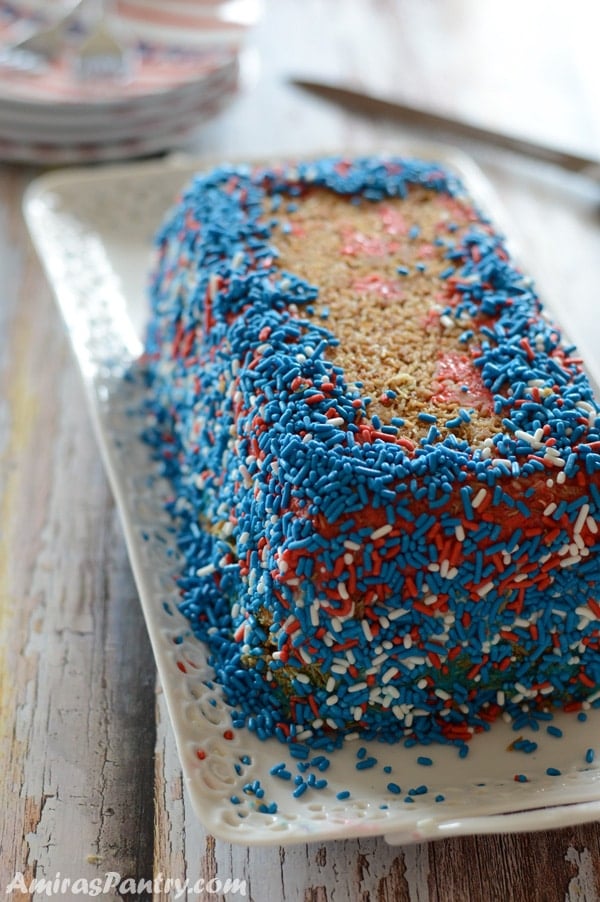 I've been wrestling with some hard feelings. It is of no secret that many hate crimes have been committed lately around the world, I hesitated to talk about this as some of you might not like it. But really, this is not JUST ANOTHER FOOD BLOG, this blog contains stories, thoughts, memories, my past ,present, future plans and then comes recipes. You can jump to recipe here.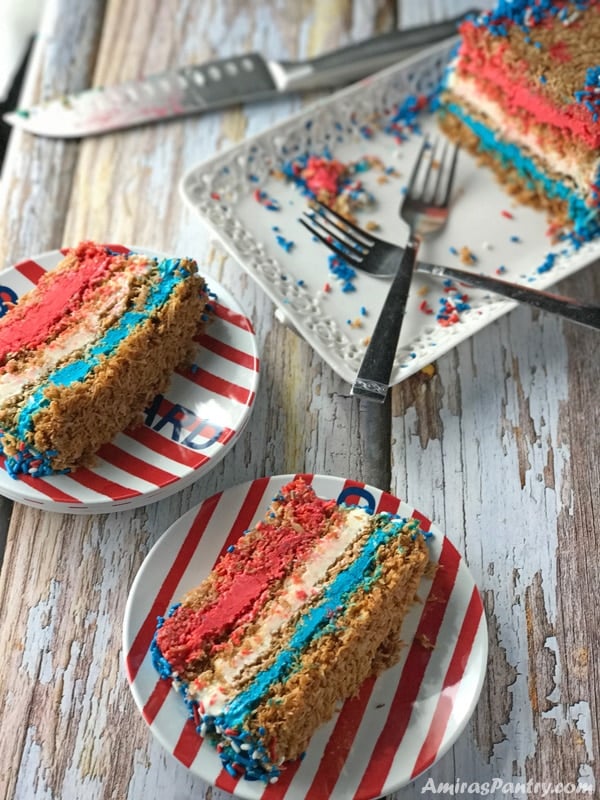 I do not want to burden you with hate messages and comments that I sometimes get, Portland incident or London one. But this Virginia one was really heavy on my heart. Hate. tension. fear. violence. It's overwhelming and heavy and desperate.
But here's what I want people to know, since not everyone knows a Muslim person or a family. Every time I read one of these stories my faith in humanity is destroyed a little bit more, no matter what religion are the victims or where they came from. Then I go online, check the news, see photos, read articles and most importantly scroll down to read comments and here is what I see.
I see flowers, candles, people hugging each other in tears, Quran verses, Bible verses LOVE and peace messages and quotes. People of all races and ideologies respect these lost lives, the grief and the pain. Many give condolences to families, condemn racism and violence, acknowledge that the hurt is overwhelming and unnecessary. This alone gives hope to the hopeless and freaking out people like me. Hope that there is still some logic in this world, that we can still stick together in the face of all this ugliness. We still have this opportunity to pick ourselves up and move on, to heal each other's wounds and teach our kids to embrace differences and get along with others. The pain of losing a father/mother/son or a 17 years old daughter this way is terrible, nobody deserves that ... NOBODY.

I needed to do something ... yet anything. I wanted to help in this healing process and to shed some light on the way. Because recipe development is my thing, here is a recipe that is a fusion of both cultures.
Knafeh is the Most Fabulous Middle-Eastern Dessert. I like it buttery and crunchy, it is versatile and can be loaded with different flavors. This recipe is not just another recipe on my blog, it is a recipe to celebrate where I came from and where I'm headed to. A recipe that shows YES, you can adapt and love your new land while still holding on to your roots. I'm a proud Muslim Egyptian who calls America HOME.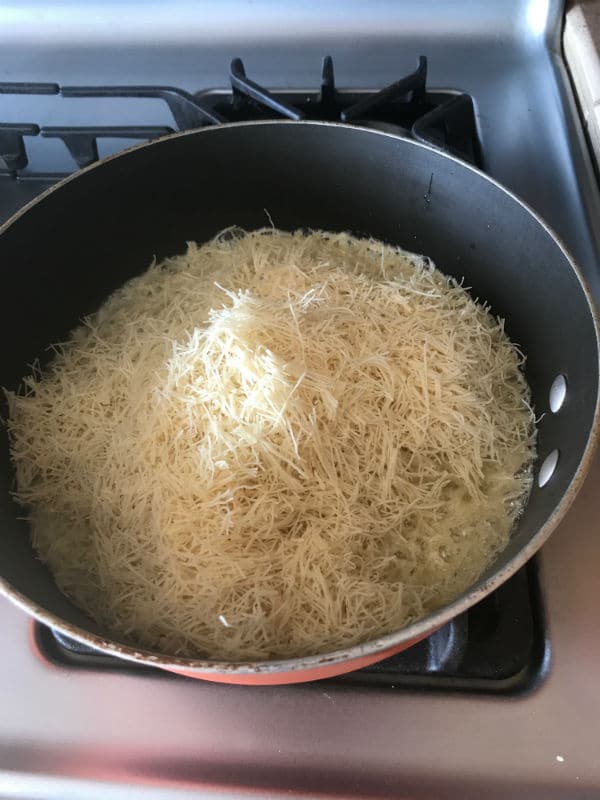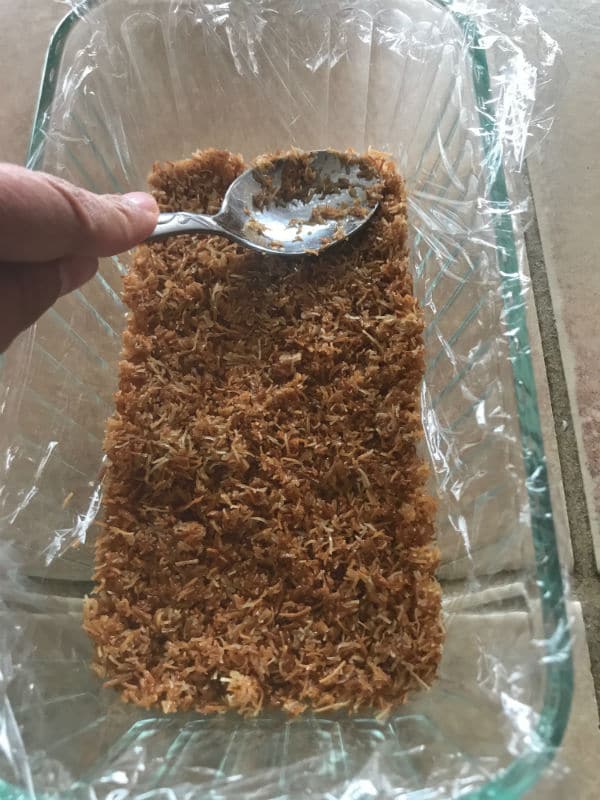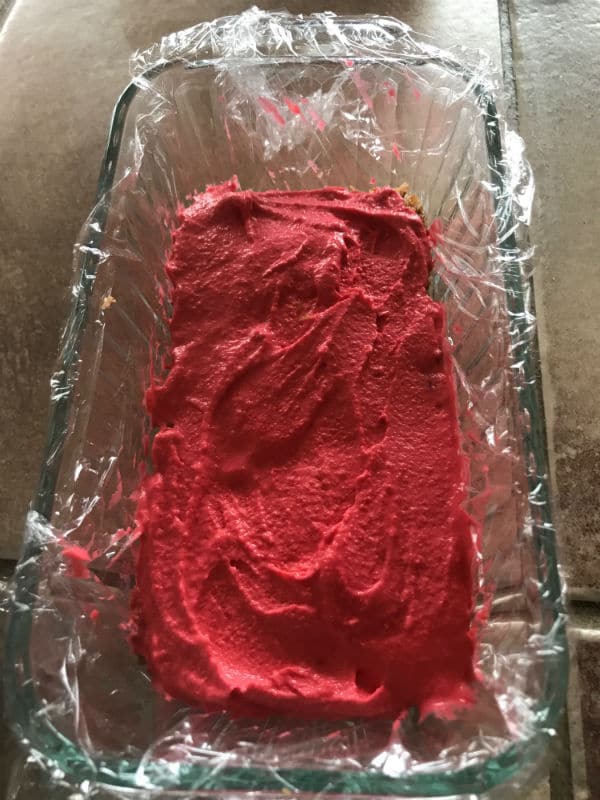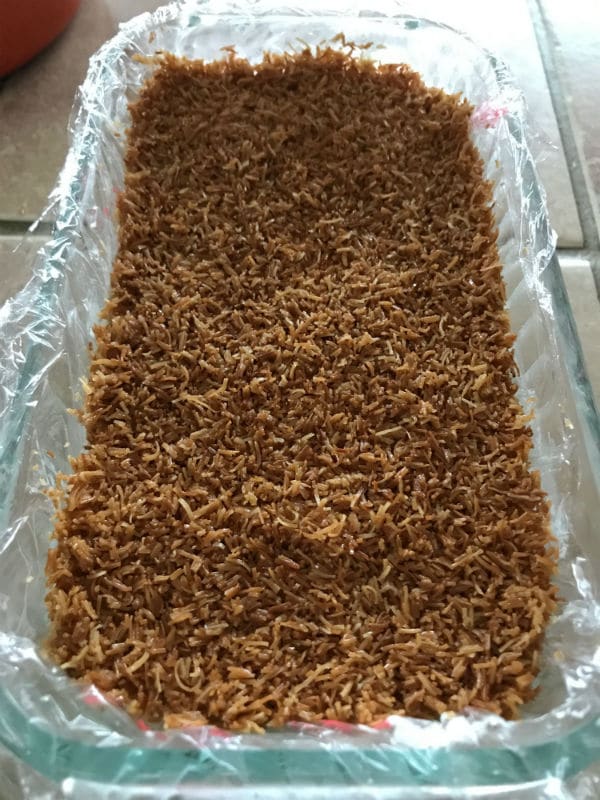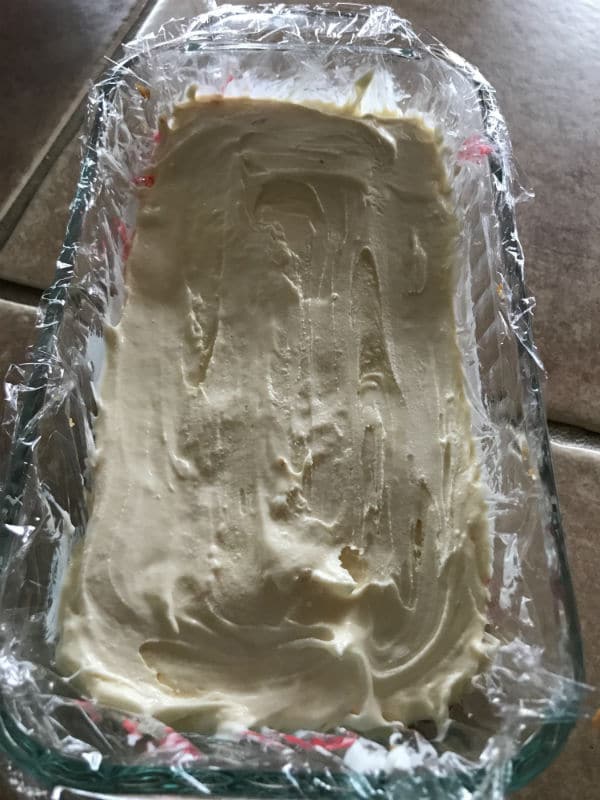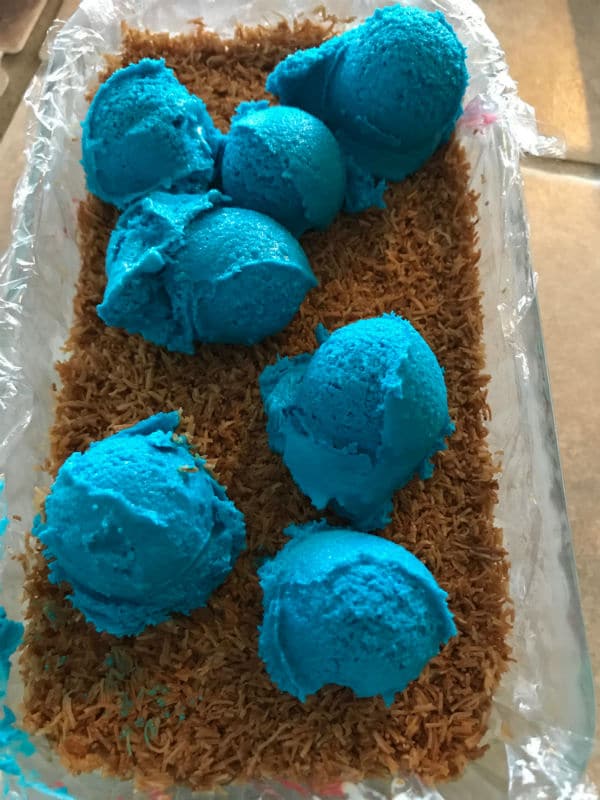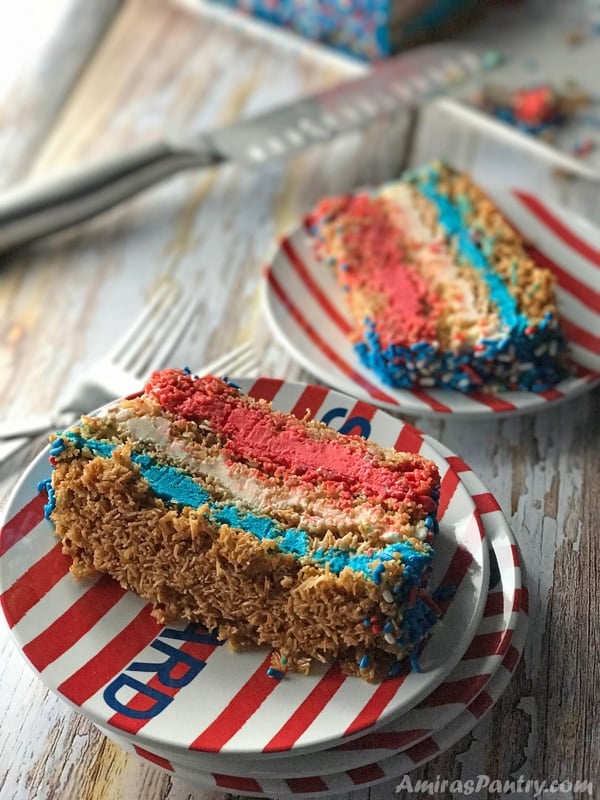 So, let me show you how to make such a fabulous dessert.

In a deep skillet, melt butter then and shredded knafeh.
Until lightly browned, turn off heat then add simple syrup and stir.
Line a loaf pan with plastic wrap, start layering knafeh and ice cream. Add ¼ of the knafeh mixture and press lightly with the back of a spoon.
Scoop up the red ice cream and smooth the surface.
Another knafeh layer.

The white ice cream then top that with a third knafeh layer.
Scoop up the blue ice cream, smooth and top with a final layer of knafeh.
Stick in the freezer until it is completely frozen. When ready to enjoy, take it out with the help of the plastic wrap, slice, serve and enjoy.
When I took this out of the pan I felt it needed sprinkles, my kids love sprinkles on anything. But if this is not what you like, feel free to skip.
Related Recipes
Kunafa is a traditional Middle Eastern dessert that is made with a layer of golden shredded phyllo dough, a creamy filling, and a sweet syrup. A popular dessert in many countries that is often served during special occasions and holidays.
I hope you'll like this recipe and please if you make any recipe, snap a pic and hashtag it #amiraspantry — I love to see your creations on Instagram, Facebook, Twitter!
Don't want to miss a recipe? Sign up for the FREE Amira's Pantry newsletter delivered to your inbox with lots of tips and surprises! And stay in touch with me on Facebook, Twitter, Pinterest, and Instagram for all the latest updates.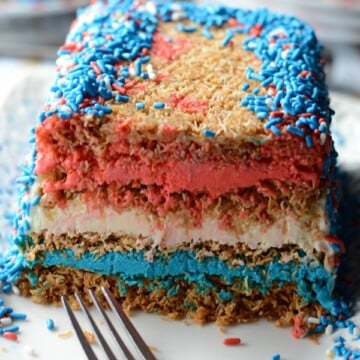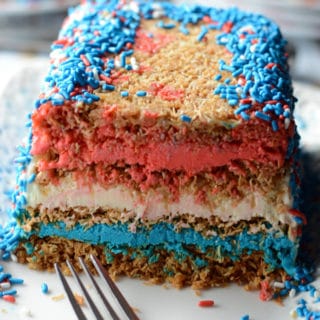 Red- white and blue konafa ice cream
Celebrate 4th of july in a unique way with this Middle eastern inspired ice cream cake.
Print
Pin
Rate
Ingredients
1

(1lb) Packet of kataifi.

¾

cup

butter

, unsalted.

1

cup

white vanilla ice cream. *

, slightly softened.

1

cup

red strawberry ice cream.*

, slightly softened.

1

cup

blue blueberry ice cream.*

, slightly softened.
We'll need ½- ¾ cup of simple syrup.
Simple Syrup ingredients:
2

cups

sugar.

1

cup

water.

1 ½

Tablespoon

lime/lemon juice.

¼

cup

honey.
Instructions
Mix the ingredients of the simple syrup over medium high heat, bring to a boil then reduce heat and let it simmer for about 10 minutes. Turn off the heat and let it cool completely.

Shred kunafa into small pieces with your kitchen scissors.

In a deep skillet over medium heat, melt butter, add shredded kunafa and toast until it is light brown.**

Turn off the heat, add ½ cup of the simple syrup and keep stirring to prevent clumps from forming.***

Line up a loaf pan with plastic wrap. Layer ¼ of the kunafa mixture in the bottom of the loaf pan pressing down on the mixture to make it stick together.

Add a cup of the strawberry ice cream and smooth the top.****

Cover that with another ¼ of the kunafa mixture.

Keep layering ice cream and kunafa until you end up with a kunafa layer.

Cover with plastic wrap and place in freezer until completely frozen, about 4 hours or overnight.

Before serving, take out of the freezer and gently pull it off the pan, Peel the wrap, slice and serve.*****

Enjoy!!
Notes
* You can use an all Vanilla ice cream and use red and blue food colors to add colors.
** I did not have a big enough skillet so I worked in batches.
*** Even if clumps were formed do not panic just press on it with a wooden spoon to break it up.
**** If your kitchen is hot, and the ice cream starts running, you may want to stick the pan in the freezer for 10 minutes after adding each ice cream layer.
***** If it did not come out easily try putting the bottom of the pan for less than 30 seconds in warm/hot water.
Sign up and learn more about Mediterranean flavors