A delicious semolina cupcakes drizzled with syrup and stuffed with Rolo chocolate.
Do you love basbousa? do you love chocolate caramel? if so then this luscious, mouth watering recipe is for you. Basbousa cupcake drizzled with simple syrup, that will crumble in your mouth ... but wait there is more to it 😋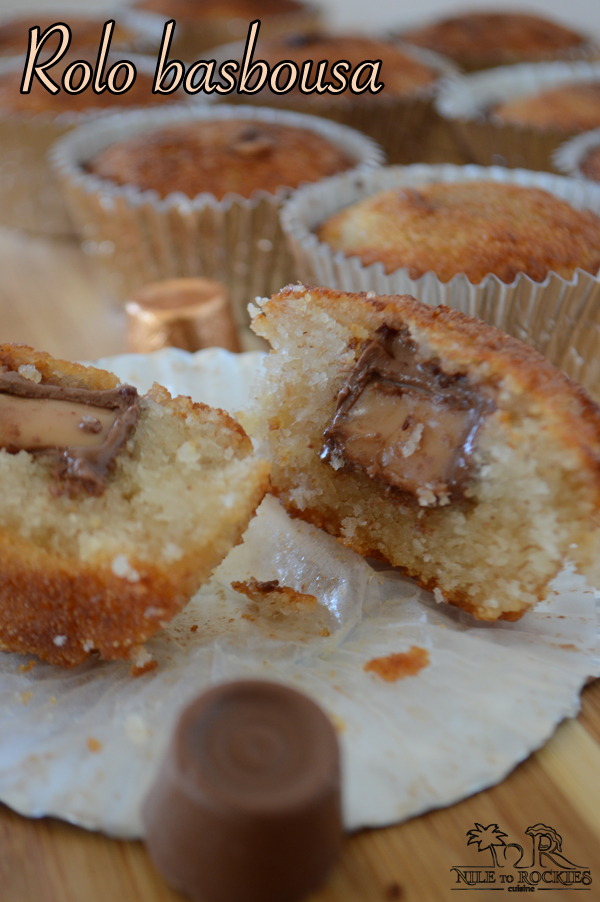 Rolo basbousa cupcakes, are basbousa cupcakes wrapped around the caramel stuffed chocolate. It is heavenly delicious, out of this world goodie if you love both caramel and basbousa.. seriously who does not?
The idea behind this recipe came to me when my middle boy came asking me do you know the name of this chocolate, and he was holding a Rolo chocolate that he got from a friend at school, he was so fascinated with the taste and the chewiness of it. They have had caramel chocolate before but not the Rolo, the sort of like Cadbury and the like.
Seeing the sparkles in his eyes, I got the idea of making basbousa cupcakes and to include the Rolo chocolates in them.. was he amazed? you bet, this was a super hit for my kiddos as they all basbousa monsters.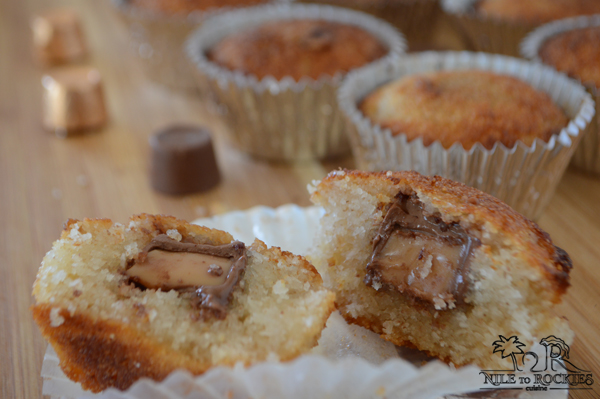 April 8th marked the beginning of the month of Rajab, what does this mean you ask?. It means that we have exactly two months till the start of the holly month of Ramadan. Rajab is the 7th month of the lunar calendar and it marks the beginning of the spiritual season for Muslims. The comming three months (Rajab, Shabaan and Ramadan) are very important, in those months,we should increase our good deeds like fasting, night prayers, giving and asking God for forgiveness.
Each year, I realize how I've become a slave to caffeine .. really ... I always think I cannot live without it but then comes Ramadan to prove that quitting caffeine requires at most a week!!. Each day I wake up and my mood is out of control until I get my fix, then again at noon and finally at 7:00 pm or so!! can you believe that? and if I don't, I get cranky and feel the world is falling apart.
The first day of fasting for me usually is not good at all, I cannot even open my eyes or look at my computer from headache, and when it is time to eat, I usually have ibuprofen and some water and cannot eat anything until my headache goes away... see what I've been doing to myself the whole year ... ridiculous .
Although most Muslims experience lack of caffeine, sleep and food, and everybody is having headaches and hungry the first few days, Ramadan is the month that Muslims are eagerly waiting for the whole year and we all welcome it with joy and let it go with tears.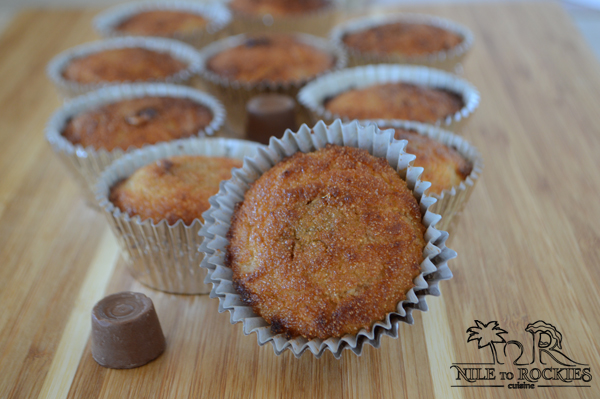 Speaking of Ramadan, basbousa is one of the common desserts in Ramadan, when you are fasting for 15 or more hours, you sure want something sweet, and basbousa is one of the easiest desserts that I make, and with this surprise in the middle, I'm sure it will change any cranky one into a happy person, with a cup of coffee of course☕.
This recipe came out perfect for everyone, for me I just want to change one thing, the coconut flakes, by either decreasing the amount or eliminating it altogether. I love coconut but with the caramel chocolate I felt that there are so many flavors, although the hubby and the kids liked it as is. So it is your call.
Here is a short video on how to make this delicious dessert, and expect more basbousa recipes to come with my feedback on them. I hope you'll give this recipe a try and tell me what do you think.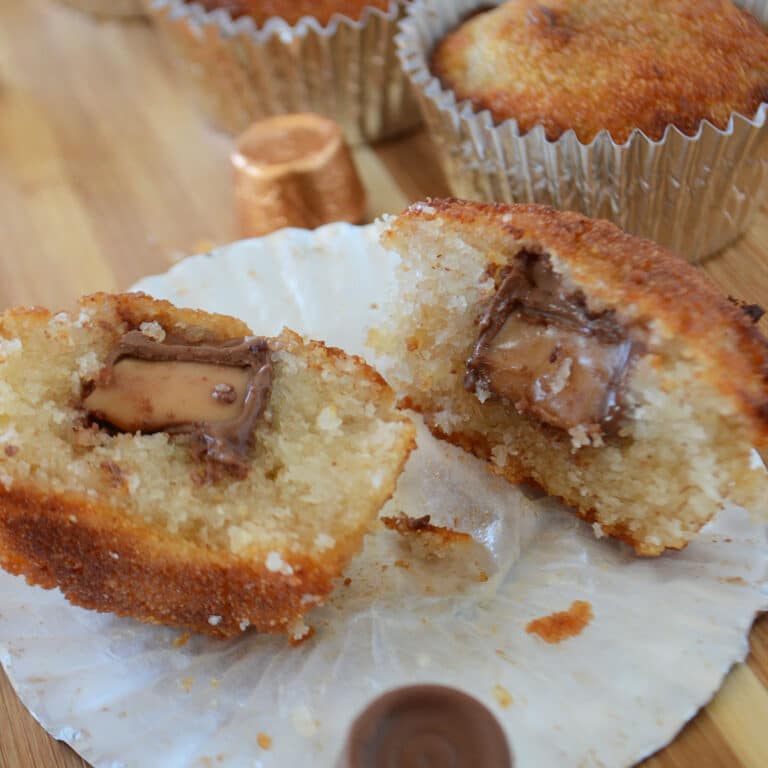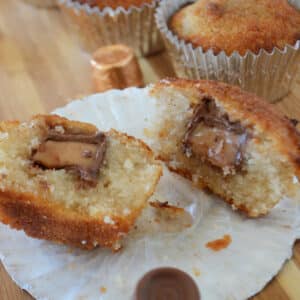 Rolo basbousa
A delicious semolina cupcakes drizzled with syrup and stuffed with Rolo chocolate.
Print
Pin
Rate
Ingredients
1 ½

cup

semolina.

¾

cup

granulated sugar.

* ¼ cup coconut flakes.

½

cup

unsalted butter.

½

teaspoon

baking powder.

1

cup

yogurt.

Frozen Rolo chocolate- or any caramel chocolate- for filling
For drizzling
1

cup

granulated sugar.

1

cup

water.

A dash of vanilla powder.
Instructions
In a bowl, add all the dry ingredients.

Add melted butter and yogurt.

Mix until very well combined.

Fill your cupcake holes with 1.5 tablespoon if the batter, add a Rolo chocolate, then cover with another 1.5 tablespoon of the batter. Repeat until all the batter is gone, mine filled only 11 not 12.

Bake in a pre heated 350F oven until it starts to brown from the edges, then turn on the broiler for 5 more minutes until it is golden brown. Keep an eye on it, will take from 20-25 minutes and be careful not to overcook or it will turn hard and super crunchy.

Meanwhile prepare the simple syrup by combining all the ingredients, bring to a boil , reduce heat and simmer for 5-10 minutes.

When the basbousa is done, drizzle with simple syrup while both are hot.

Let it cool down and come to room temperature.
Notes
* The use of coconut flakes is optional see the post for details.
Sign up and learn more about Mediterranean flavors