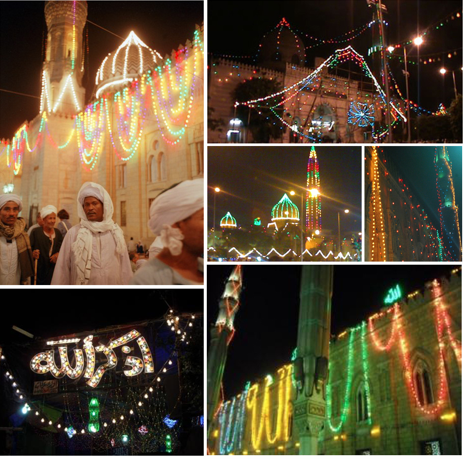 Moulid El-Naby is the prophet Mohamed's - peace and blessings be upon him - birthday. It is considered a tradition more than a religious day, still it is a happy occasion for family get together. Muslims' around the world honor that day by celebrating in many ways - the best way is to follow his teaching. Mosques are decorated in colorful light strings and shapes and the market is filled with " Hawalwet el moulid" which is special kinds of candies that are only available at this time of the year. Here is a picture of a box filled with these yummies.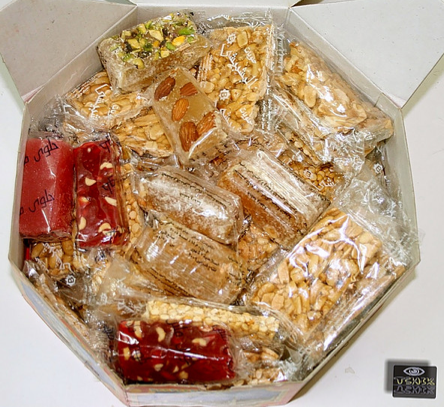 Moulid El-Naby is on the 12th of the lunar month of "Rabi al-Awal", the third month in the lunar Islamic calendar, which is going to be Jan 13th, 2014. I will introduce you to many of the candies manufactured for this occasion and we will try to do them at home as well.
Today's candy is called semsemeyah which is a sesame candy ... this candy was made only with sesame seeds and peanuts when I was little, but nowadays it is made with all different types of nuts like almonds,hazelnuts and cashews.
First let's make the base of all these candies:
1 1/4 c of sugar.
1/4 c of water.
2 Tbs corn syrup.
1 tsp lemon juice.
drops of rose water. I've used vanilla extract too.

In a sauce pan on a medium heat combine sugar ,water and corn syrup mix well and keep stirring until the sugar is dissolved then add the lemon juice and rose water. lower the heat until it becomes really thick as pictured above. Turn off the heat.
Now for the sesame candy I added two Tbs of the above thick syrup to 1/2 c of roasted sesame seeds ... you may need more of less but what we want is to form a sticky mixture as shown below in the first picture.


With the help of a parchment/wax paper try to shape your mixture into a rectangle. Let it set for 15 minutes until it hardens. Then with a sharp knife cut into small rectangles, I like to cut mine in bite size.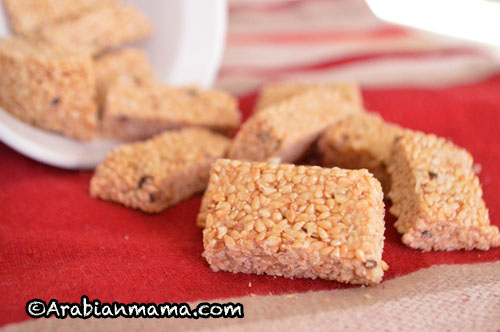 I did it using cashew nuts but I did not roast them... it turned out nice but I think if I had roasted them they would have been nicer.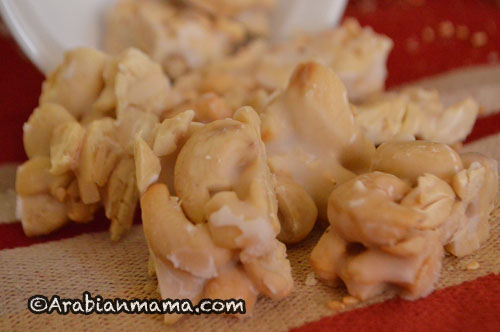 Store them in an air tight container.
Tip: to keep the syrup from hardening while you make the candy try to keep it warm in a hot water bath.