Soft chewy molasses cookies bursting with flavors. These ginger molasses cookies are spiced up to perfection, not too subtle, not too strong. A taste-good, feel-good kind of cookies.
These are soul lifting cookies. Chewy and soft cookies in time for the holidays are wonderfully soft and chewy, but you still can make them crunchy if gingersnap is your thing.
Also try these delicious pistachios and honey stuffed sugar cookies, my favorite.
This recipe has been updated from the original December 2016 . Last updated December 2018.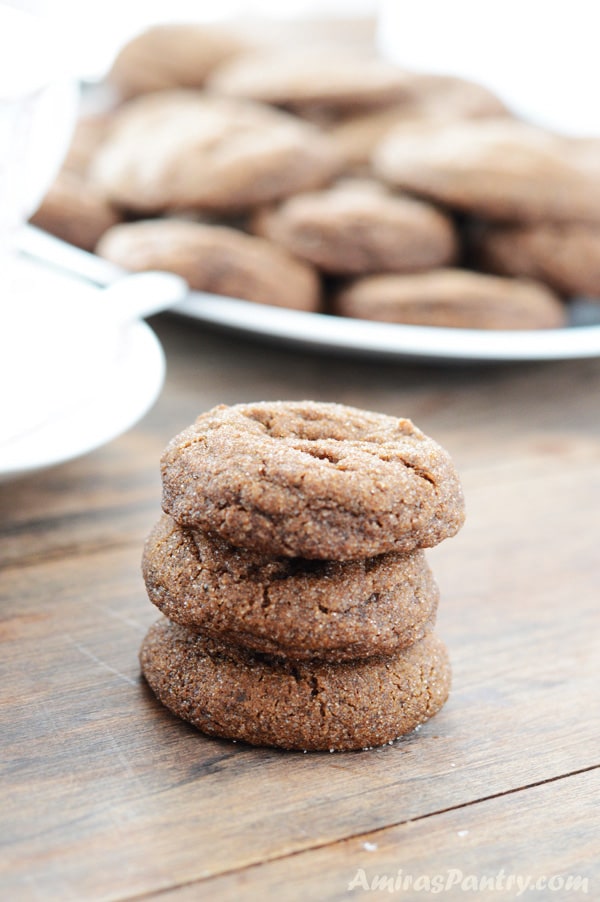 These chewy molasses ginger cookies have excellent flavors. They cracked beautifully on top, you will win hearts with this recipe.
Molasses cookie recipe is always made with butter but I've noticed butter makes them spread even when chilled. So, in this recipe I've used shortening instead this of course brings the flavor down a notch but other flavors  and spices used will not make you even notice that. If you decided to go for the butter, then make sure it is softened but not melted.
I love molasses, me and my husband grew up on dipping bread in bowls full of molasses mixed with tahini. Two of my kiddos love molasses and eat it with bread like we used to.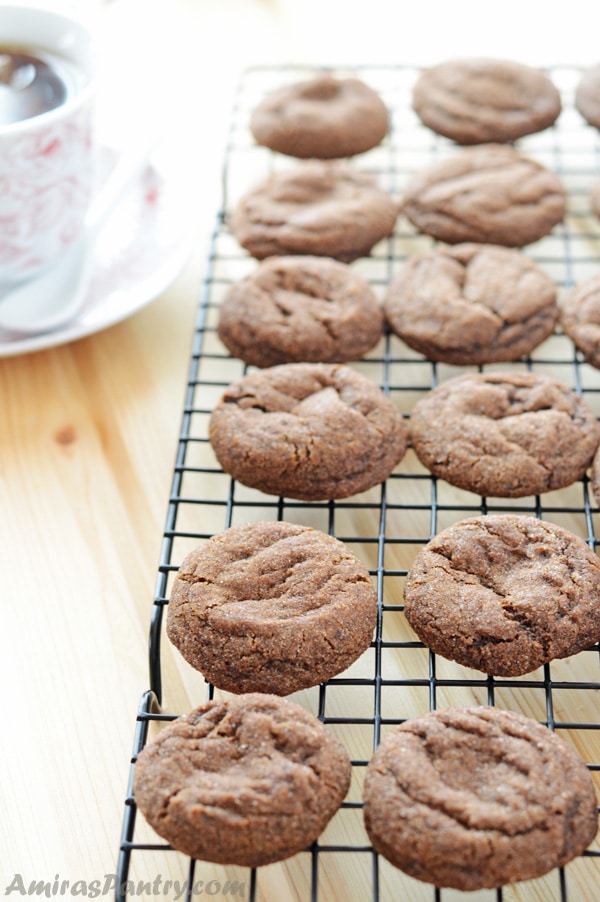 Are molasses cookies the same as gingersnaps?
If you look at the ingredients quickly they might seem the same but there is a difference. Gingersnaps  usually, well like the name indicates.. snaps. Ideal gingersnaps should be crispy while molasses cookies and chewy. Also molasses cookies use less ginger than gingersnaps.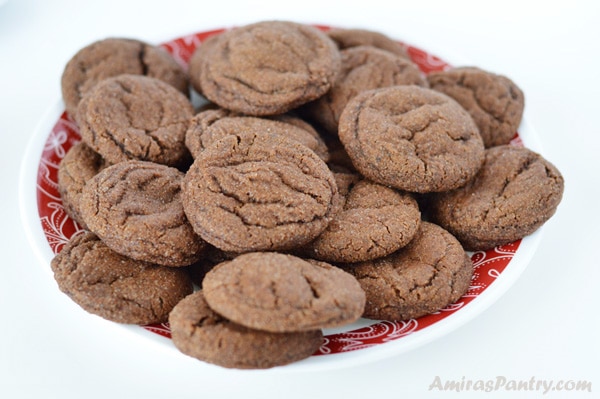 What does molasses do for cookies?
Molasses offers softness to baked goods like cookies making them chewy and soft for longer time than regular sugar. Better yet, molasses brings a robust brown sugar flavor to cookies without making it too sweet as it has much lower glycemic index.
How do you make soft molasses cookies?
It is easy the hard thing is just waiting for the dough to chill 😬⏳.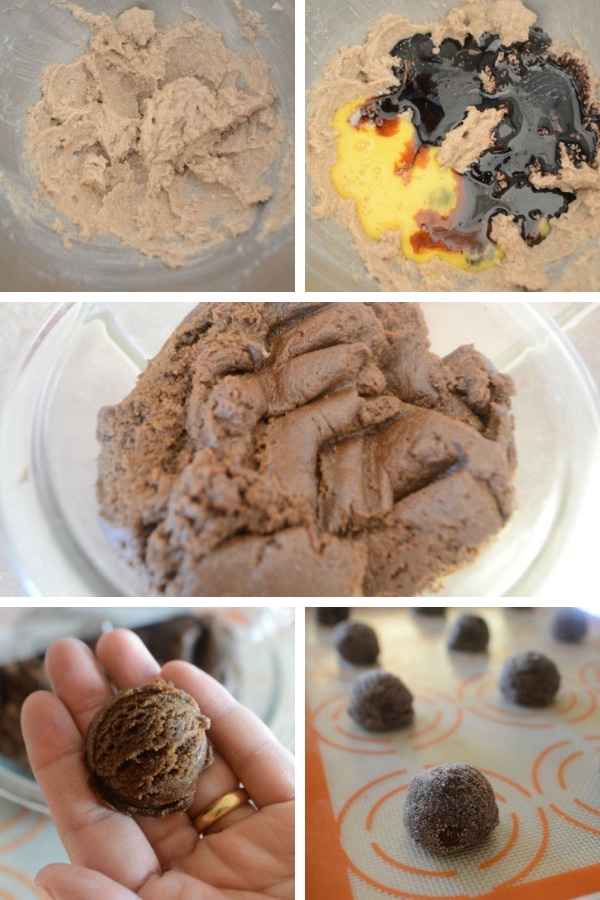 So first you'll need to beat shortening and the brown sugar.
Add the eggs and molasses, mixing very well.
Mix the dry ingredients together. Then combine the wet and dry.
After that chill the dough for a minimum of 1 hour and up to 2 days in the fridge.
Form the dough into balls. Do not flatten to get chewy cookies. Roll them in granulated sugar.
Baked until they are just starting to crack, mine took 7-8 minutes in a 350F oven.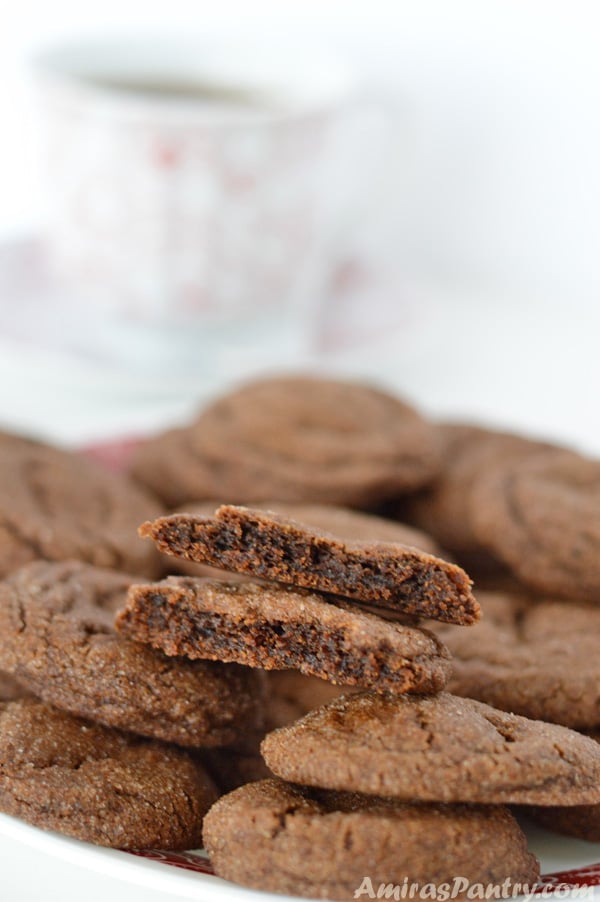 They came out beautifully thick and chewy, left them to cool and they were the perfect treat for the whole family.
When storing these, store a piece of bread with them to keep them moist longer. For a more light color use white granulated sugar, I just liked mine dark ,bold and looking cool 😎.
You might need
The following are affiliate links. We are a participant in the Amazon Services LLC Associates Program, an affiliate advertising program designed to provide a means for us to earn fees by linking to Amazon.com and affiliated sites. Thank you so much for being a part of Amira'sPantry!
This brand of molasses is the best, this is what molasses tasted like where I grew up. I've tried so many other brands organic and non, but I highly recommend this one. It has a rich sweet flavor without the hin to of bitterness that I've found in many other brands hence making eating them straight from the jar a pleasure to my kids.
I hope you'll like this recipe and please if you make this recipe, snap a pic and hashtag it #amiraspantry — I love to see your creations on Instagram, Facebook, Twitter!
Don't want to miss a recipe? Sign up for the FREE Amira's Pantry newsletter delivered to your inbox with lots of tips and surprises! And stay in touch with me on Facebook, Twitter, Pinterest, and Instagram for all the latest updates.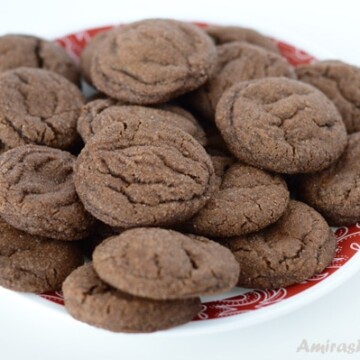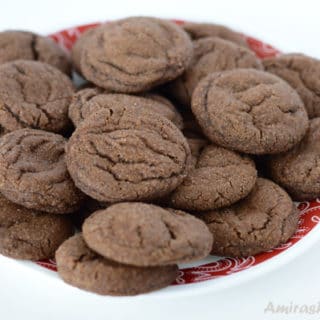 Soft Molasses cookies
Soft chewy molasses cookies bursting with flavors. These ginger molasses cookies are spiced up to perfection, not too subtle, not too strong. A taste-good, feel-good kind of cookies.
Print
Pin
Rate
Ingredients
3/4

shortening.

2/3

cup

brown sugar.

1

large egg

1/2

cup

molasses

2 1/2

cup

all purpose flour

1 1/2

teaspoon

baking soda

2

teaspoons

cinnamon

1/2

teaspoon

salt.

1/2

teaspoon

ground cloves.

1

teaspoon

ground ginger.
Optional
Granulated sugar for rolling the cookies.
Instructions
Heat oven to 350F.

Cream shortening and sugar with an electric mixer.

Beat in the egg and molasses until well blended.

In another bowl, combine flour,salt, baking soda and all the spices.

Mix the flour mixture with the molasses mixture until the flour is well incorporated.

Chill the dough until firm, from 1 hour and up to 2 days.

Form small - or big- dough balls, mine were about 1 1/2 teaspoon each. Roll the cookie balls into sugar and cinnamon mixture.

*Bake until it just starts to crack, mine took 7-8 minutes.

Let it cool on a wire rack and store in an airtight container with a piece of bread with it to maintain a chewy texture.
Notes
* Baking time also depends on how you want your cookies chewy or crispy, for a crispy ones leave it for 5 minutes more and make sure to flatten the cookies a bit before baking.
Sign up and learn more about Mediterranean flavors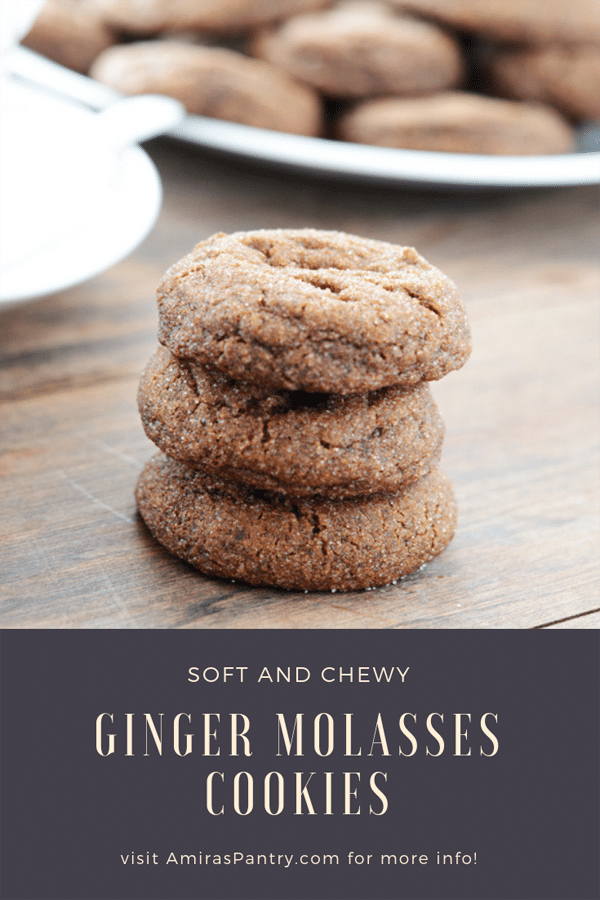 You may also like