Stuffed artichokes casserole is one of the most common artichoke recipes in the middle east. Artichoke bottoms stuffed with a flavorful ground beef mixture and cooked in tomato sauce.
This casserole has many versions throughout the region. I've included zucchini in the casserole to make it appeal more to my kids. It is common to core and stuff potatoes as well.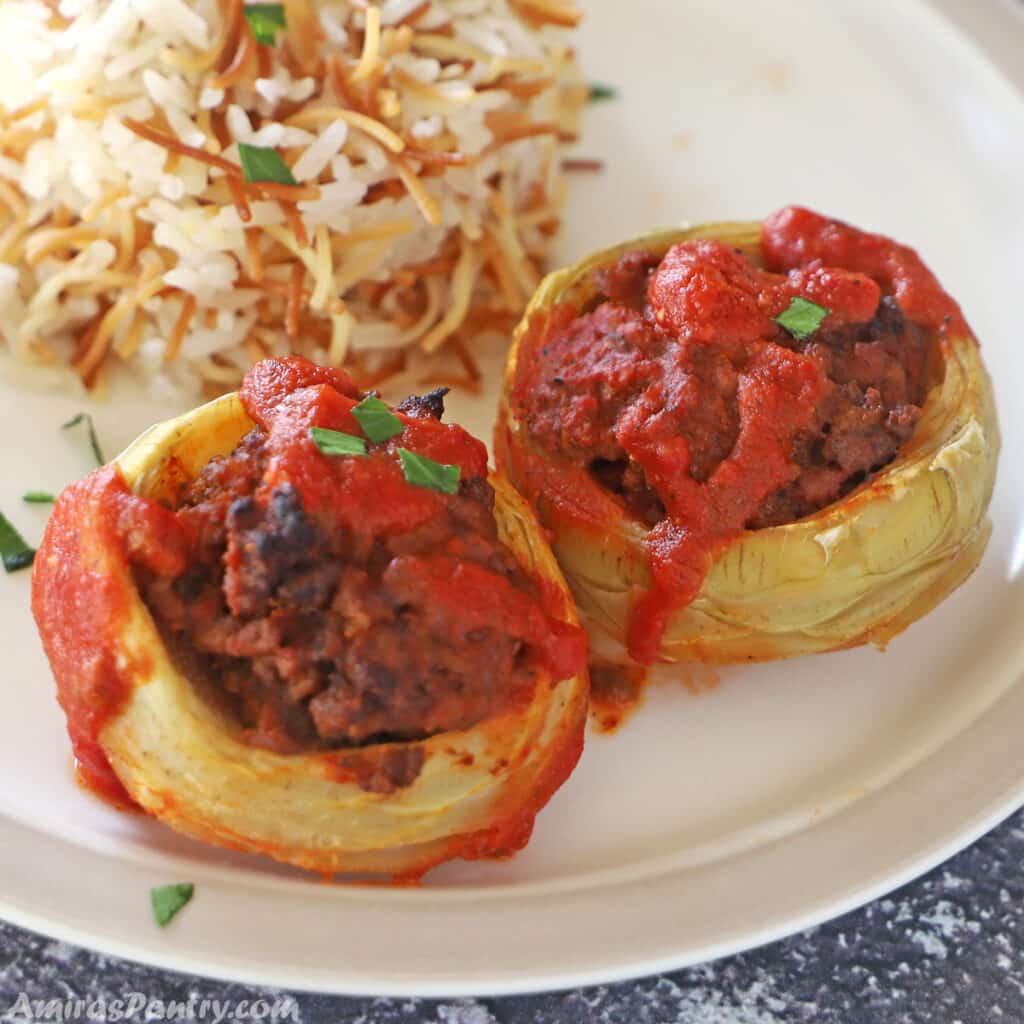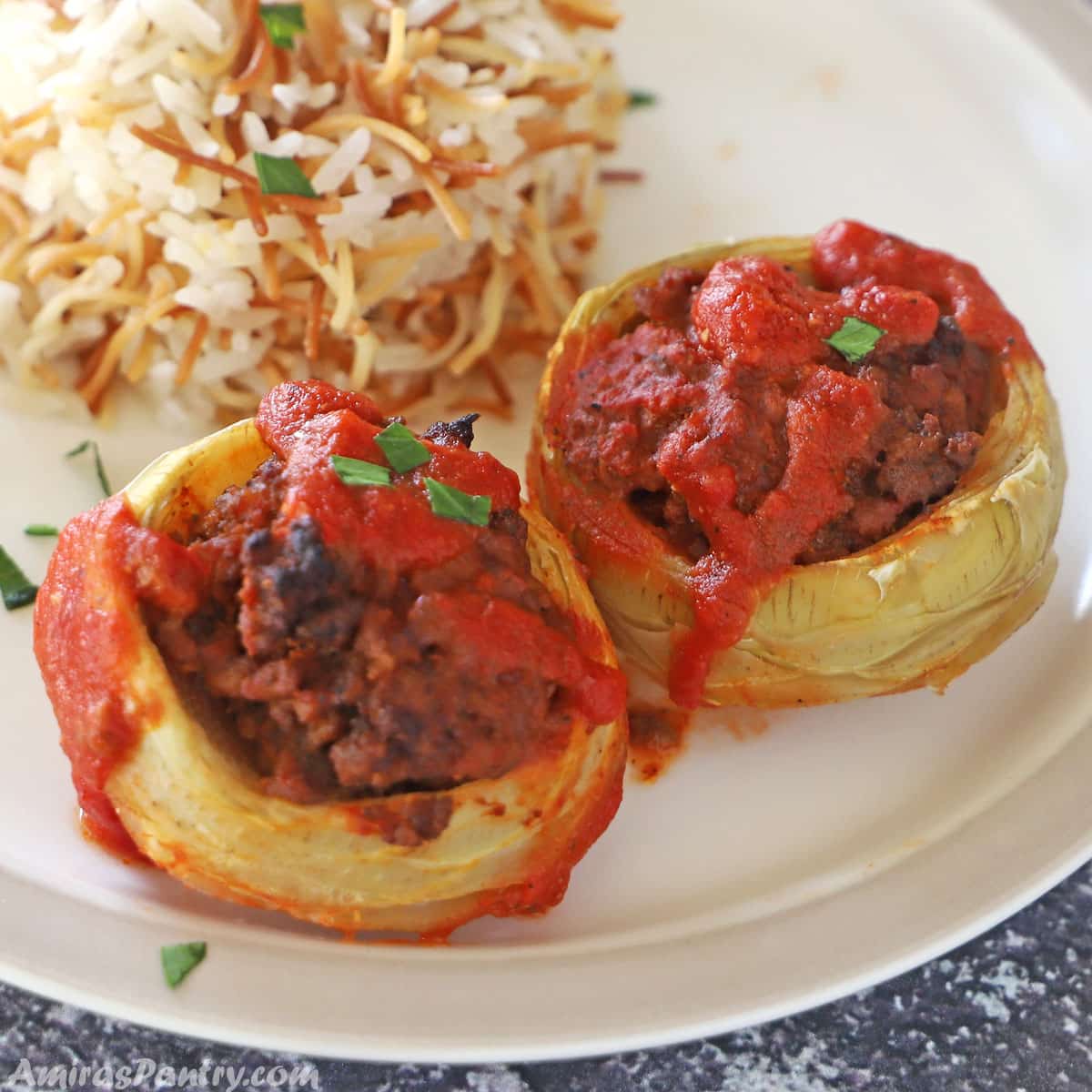 What you'll need
Artichoke bottoms: we'll need 400 grams of those little cups. I get mine frozen from the middle east stores but I recently found them sold canned on Amazon.
Zucchini: any other vegetables that can be stuffed are welcome, but zucchini, squash, and potato are among the most traditional ones. You can also make this casserole solely with artichokes.
Tomato sauce: as the cooking liquid.
Ground meat: we will need 2 pounds of ground meat in this recipe. Any of your choice. if you are left with some of the meat mixture add them to the bottom of your baking dish.
How to make stuffed artichokes casserole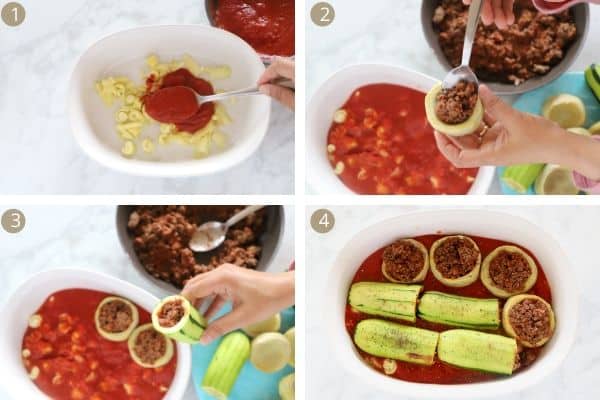 Cook the meat filling by heating oil in a skillet then sauté onion until translucent. Add ground meat, brown add the spice, tomato paste then stir everything well until done and set aside. In a small bowl or skillet mix together tomato sauce and water/stock. In a deep baking dish add the zucchini pulps if using zucchini and top with the tomato sauce.
Stuff artichokes with the meat mixture and place in the baking dish.
Stuff zucchini or any other vegetables that you are using and place in the baking dish.
Sprinkle top with some salt and black pepper, cover, and bake in a 350F preheated oven for about 40 minutes. Make sure to check the liquid level halfway through to make sure it is not burning. If you the liquids are evaporated or almost dry, add about 1/4 cup of water or stock of choice to the bottom of the baking dish.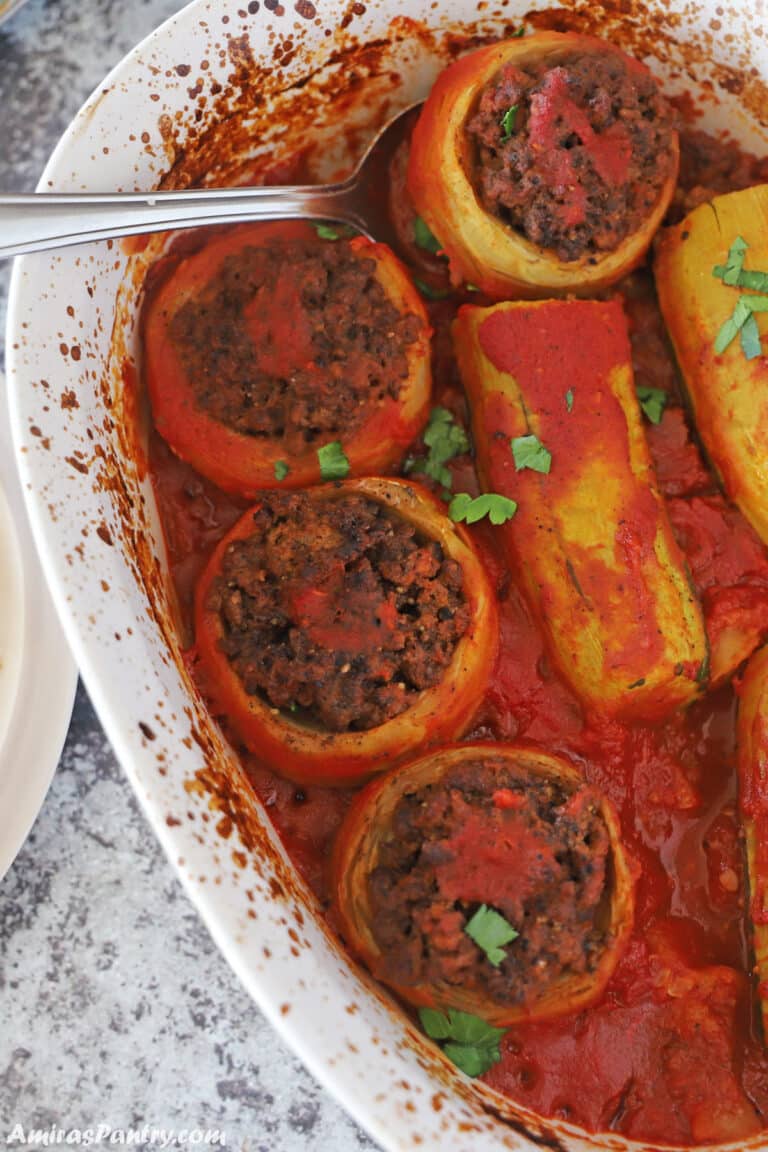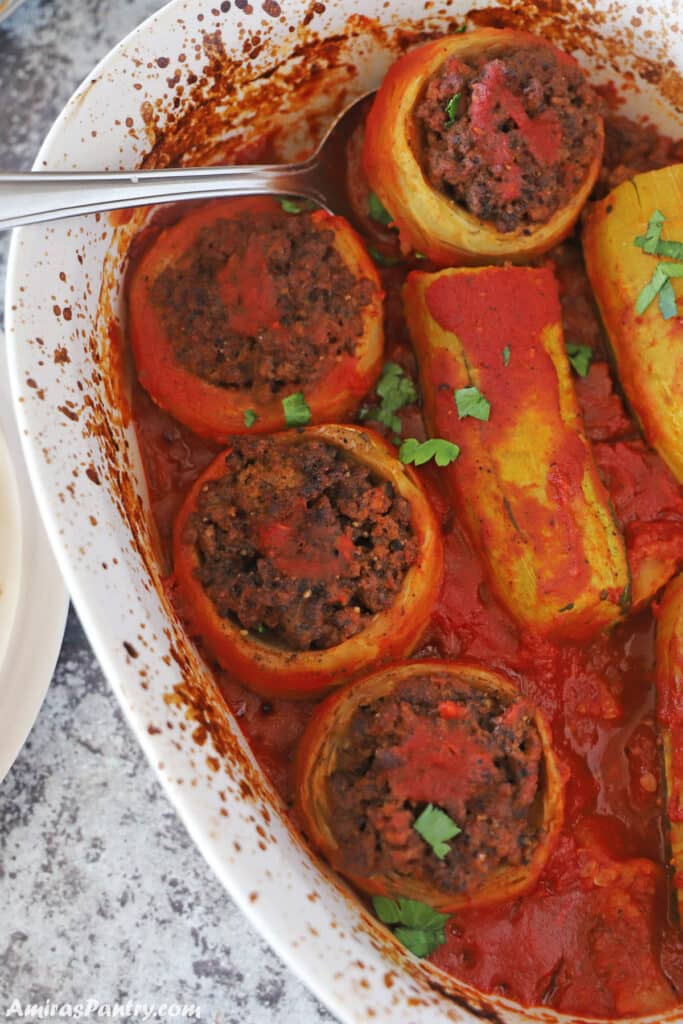 Stuffed artichokes variations
Here are some variations that are very common as well in the region. It depends on the region and also on your liking.
Add some pine nuts to the meat mixture, this is very common especially in the Levant area.
Sprinkle some mozzarella cheese on top. After baking for 35 minutes, uncover the dish, sprinkle artichokes with cheese and return to oven to melt the cheese.
Top with bechamel sauce instead. Make bechamel sauce by melting 5 tablespoons of butter, then add 5 tablespoons flour and gradually add 4 cups of milk and whisk as you pour the milk. Season with salt and pepper. Top each artichoke with some of the bechamel mixture and sprinkle top with cheese.
You can also add some peas, carrots, celery and more to the meat mixture to up the veggies serving.
As many kids did and still do, I never appreciated vegetables when I was growing up especially artichokes. This is probably why when I make this stuffed artichokes casserole, I always make zucchini or potato with it. Hoping that one day my kiddos will actually ask me for the artichokes, but I am sure when they grow up they will learn to like it. Just like their mama .
If you like this recipe do not forget to give it a ⭐⭐⭐⭐⭐ star rating and attach a photo of your finished dish. It is always a pleasure of mine to see your photos and check your own take of the recipe. Thank you.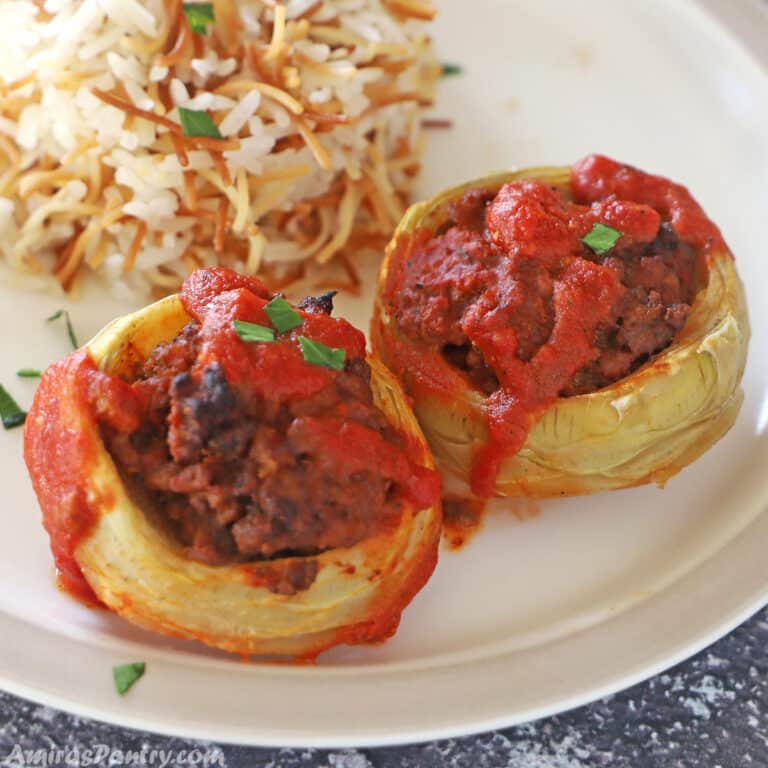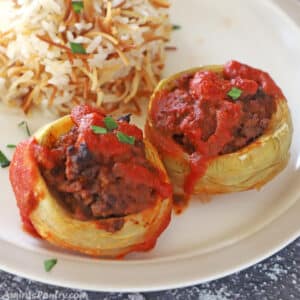 Stuffed artichokes with meat
Middle Eastern casserole of stuffed artichokes and zucchini cooked in tomato sauce. These ground beef stuffed artichokes have many variations in the Arab world.
Print
Pin
Rate
Ingredients
For the meat mixture:
2

Tablespoons

olive oil.

1

medium onion

diced.

2

pounds

ground beef. Note1

2

Tablespoon

tomato paste.

1

teaspoon

black pepper.

1

teaspoon

ground allspice.

Pink Salt to taste.

You can use regular table salt.
Cooking liquid:
1

can

(16ounces) tomato sauce

, Note3

1/2

cup

water or stock.

Pink Salt and black pepper.

You can use regular table salt.

14

ounces

(400g) artichoke bottoms. Note2

1

pound

(450g) zucchini.
Instructions
Cook the meat filling:
Place a skillet over medium high heat, add olive oil and diced onions. Sauté onion until translucent.

Add ground meat, break apart and brown completely.

Mix in the spices and tomato paste add a little water if needed to distribute tomato paste.

Turn heat off and set aside.

Peel and core zucchini and take off artichokes from the bag. Note4

In a small bowl or skillet mix together tomato sauce and water.

Preheat oven to 350F.

In a baking dish, deep enough to hold the vegetables and the sauce, add the sauce we already made.

Stuff artichokes and zucchini with the meat mixture and place in the baking dish.

Sprinkle the top with some salt and black pepper.

Cover the dish and bake in the oven for almost 40 minutes until zucchini is done. Make sure to check it near 20-25 minutes to make sure there is still enough liquids at the bottom of the baking dish. Add 1/4 cup of water if needed.
Notes
Note1: you can use beef, lamb, or a mixture.
Note2: I am used to getting a bag of frozen artichoke bottoms from the middle eastern stores near me. I've learned recently that you can find canned artichoke bottoms as well.
Note3: Some people like to sauté onion in olive oil, add tomato sauce and simmer for like 10 minutes before adding to the casserole.
Note4: I like putting the zucchini pulp at the bottom of the pan.
Serve with :
white rice or pita bread.
Please check the nutrition disclaimer policy.
Vitamins are in percentage value. Percent Daily Values are based on a 2,000 calorie diet. Your daily values may be higher or lower depending on your calorie needs.
Nutrition
Calories:
355.5
kcal
|
Carbohydrates:
12.5
g
|
Protein:
22.3
g
|
Fat:
24.6
g
|
Polyunsaturated Fat:
0.4
g
|
Monounsaturated Fat:
2.5
g
|
Cholesterol:
70
mg
|
Sodium:
577.4
mg
|
Potassium:
424.8
mg
|
Fiber:
4.1
g
|
Sugar:
4.7
g
|
Vitamin A:
18.4
IU
|
Calcium:
3.7
mg
|
Iron:
18.5
mg
Sign up and learn more about Mediterranean flavors