Basbousa cake, an Egyptian farina cake drizzled with simple syrup and traditionally served with a hot cup of black tea/coffee. Sweet, tender and delicious. No one can resist it.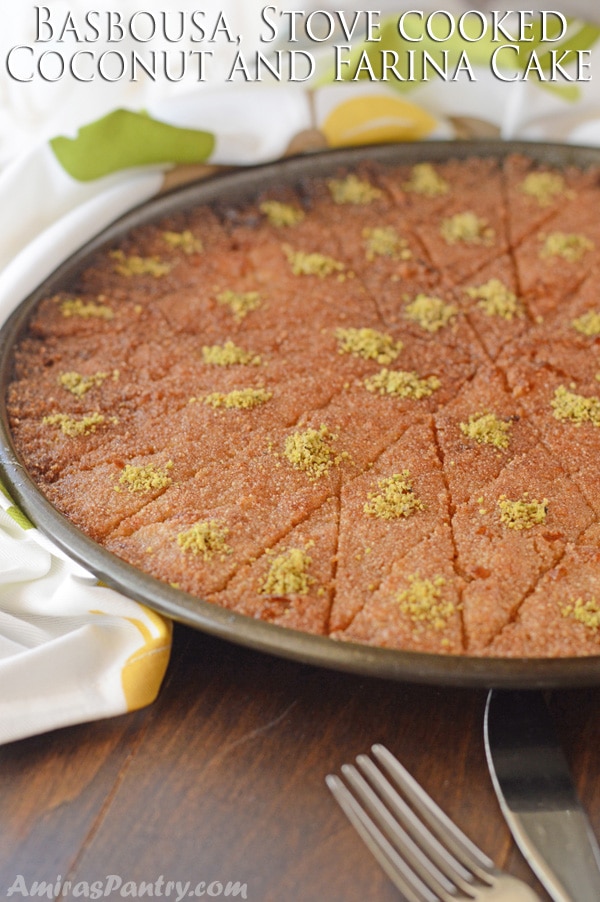 ِAn Eggless Basbousa cake made with Farina, some would call this Harissa other might call it Namoura but I call this Basbousa, a Syrup-Soaked Farina Cake.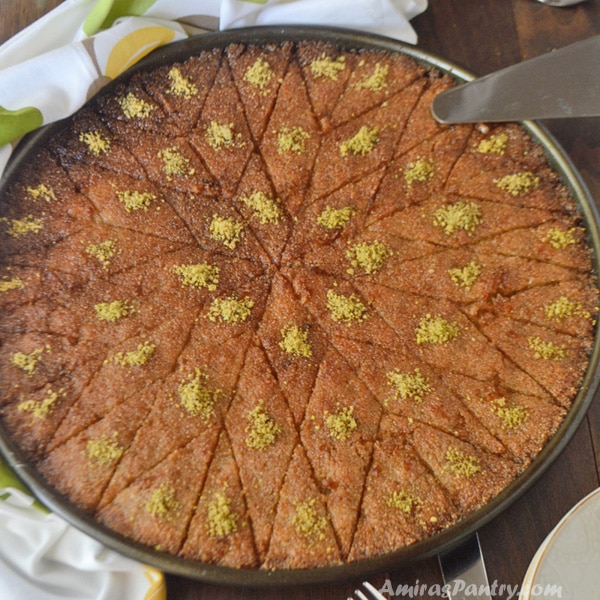 If you've been following for quite sometime, you know for sure now that I am still experimenting with homemade version for basbousa. Why basbousa? because it is the queen of Egyptian desserts. Everybody loved basbousa, this semolina cake has a charm of its own.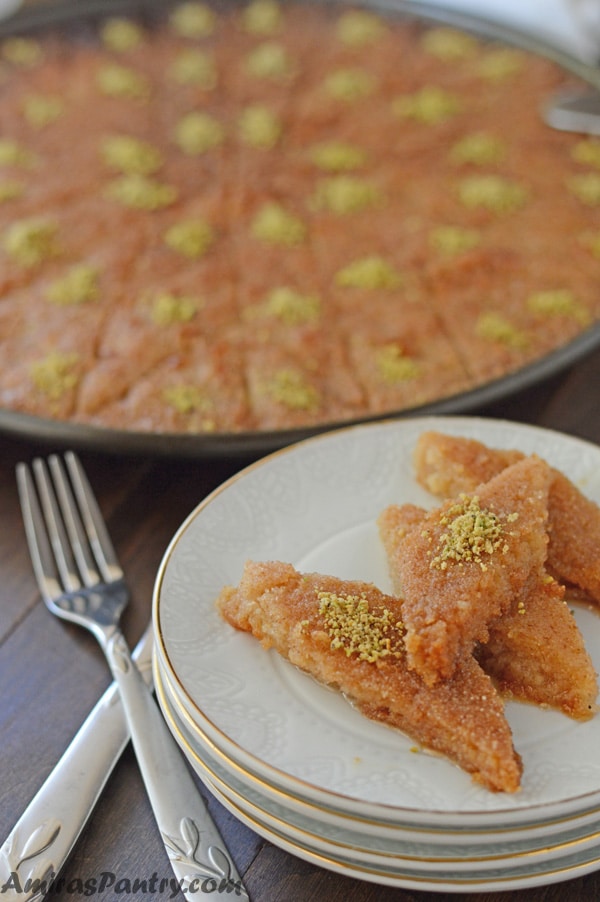 In my quest for the perfect basbousa, I stumbled upon a recipe that is not very common. The technique is quite new to me and the result was very promising. You just need to master the technique in order to get the desired results. I took me 5 attempts to know "the" how and "the" when. It is partially cooked on stovetop then finished in the oven. So let's see what is going on here.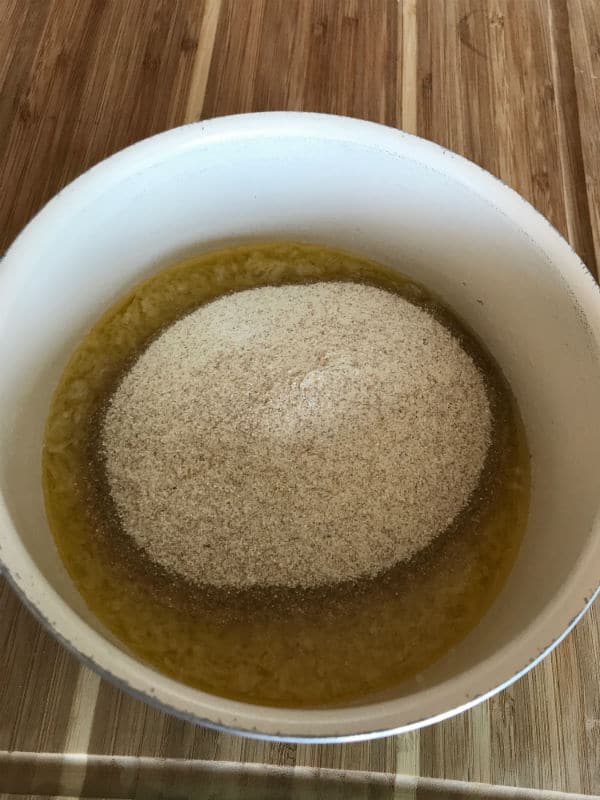 On the stovetop, in a saucepan add butter, honey and milk. Stir until butter is melted then add sugar and stir until completely dissolved. Turn off heat then add coconut and farina.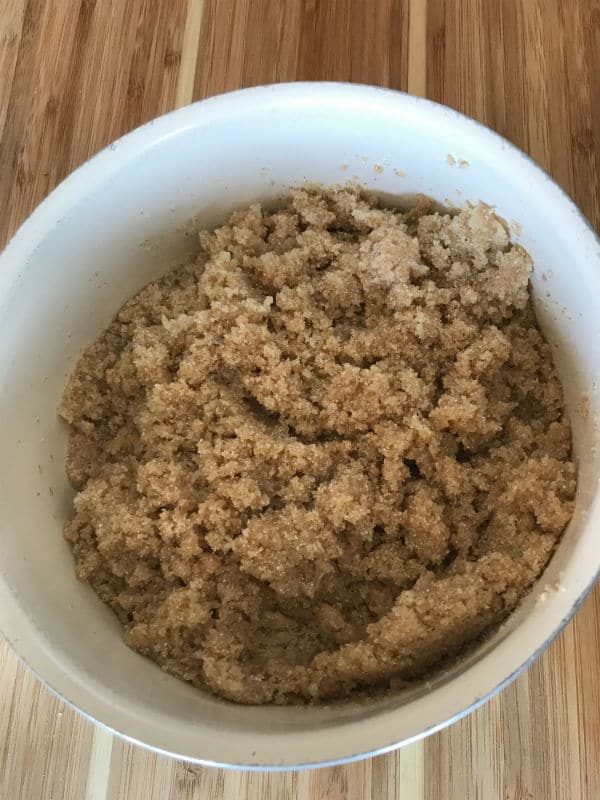 This is a tricky step, and I could honestly say it is the most important step. You'll want to stir everything together until just blended and do not over mix. Just like when you make pancakes, if you overmix you'll not get the fluffy thick pancakes you want. Overmixing will make you end up with a crispy, tough and not tender kind of basbousa and this is not what you need.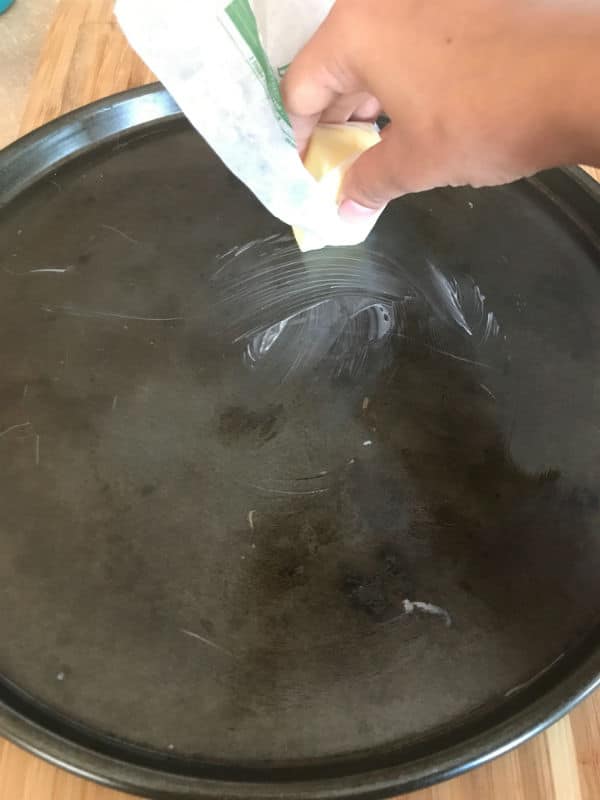 Butter your pan and if you have tahini, it is highly recommended that you add a tablespoon and brush it at the bottom of the pan.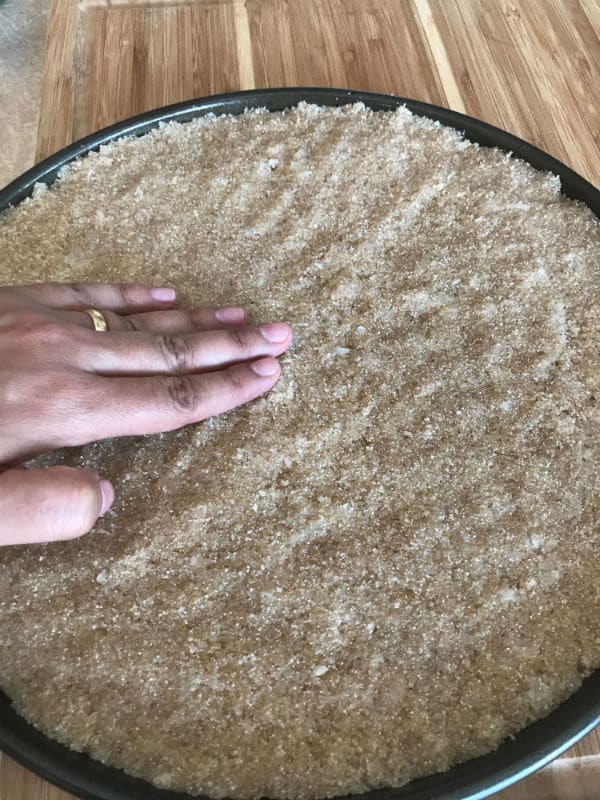 Now spread you basbousa mix evenly, dip your fingers in water so you can smooth the surface.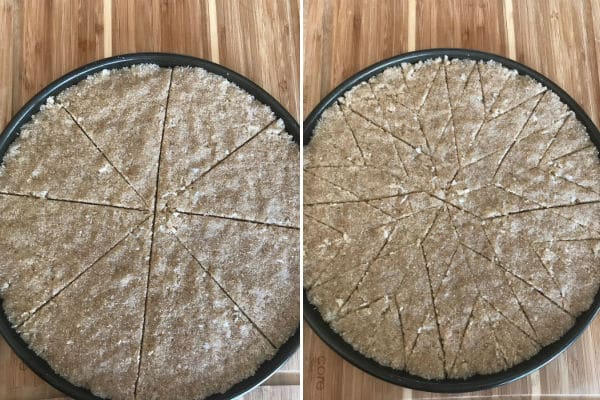 Cut anyhow you like and stick in the oven.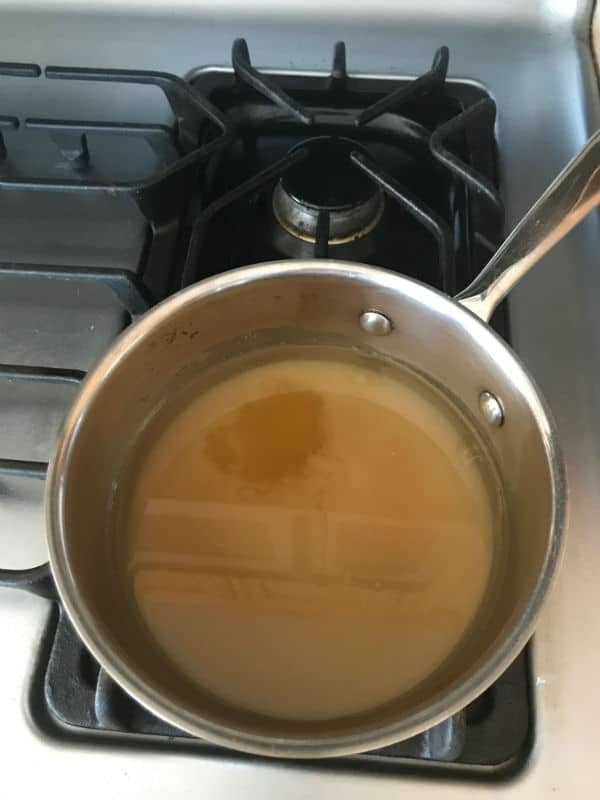 Meanwhile prepare the simple syrup by combining all the ingredients in a saucepan and when it starts to boil reduce heat and simmer for 10 minutes.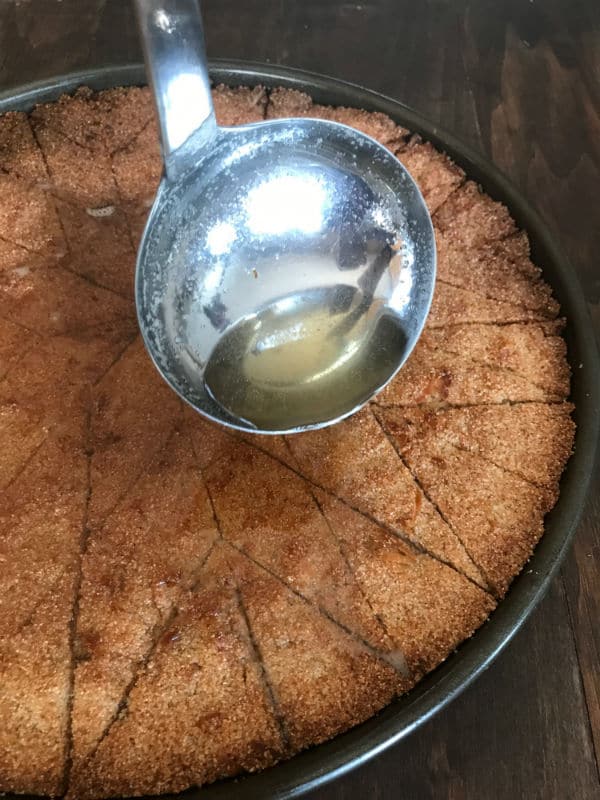 When the basbousa is done, you just drizzle the hot syrup over the hot basbousa. Now this is another debatable point, usually when drizzling middle eastern desserts with simple syrup like knafeh, one of the two has to be hot while the other is cold or room temperature. For the basbousa it is a different story, I usually drizzle while both are hot or else my basbousa will be crunchy and will harden. Some people say that when both are hot they end up with a hard basbousa. So here is what I've done. I finish my syrup almost 10-15 minutes before the basbousa is done, so the basbousa is hot and the syrup is neither too hot nor too cold…. how about that!!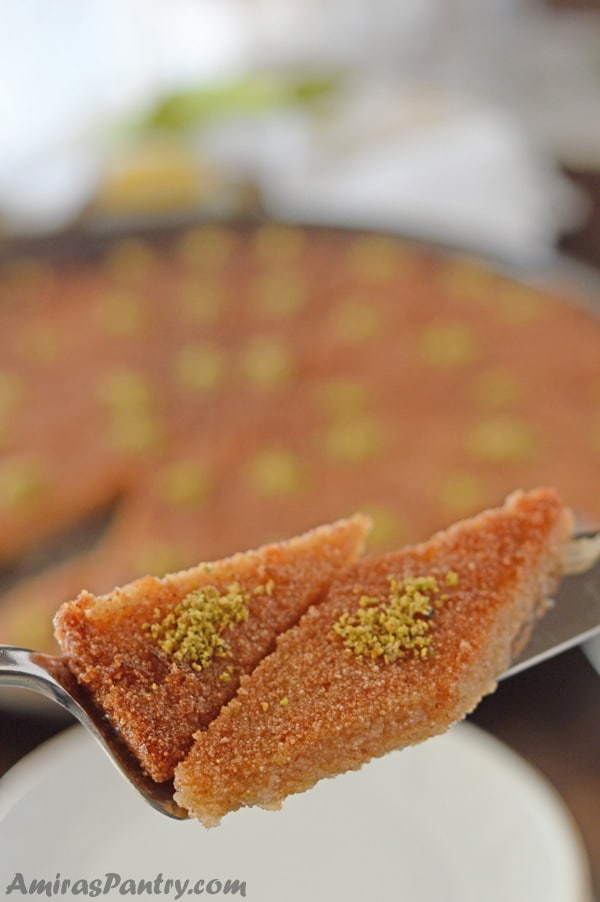 Another important factor is the size of the pan, it has to be 11-12 inch pan. I've tried making it in a bigger pan and doubled the recipe but the result was not comparable at all to what I've got with a 12 inch pan.
If you are persistent in making basbousa, I expect you're going to try for a couple of times until you master the art of mixing and baking basbousa. Aaaaand if you just want a straightforward recipe that does not require much skills yet yields a very widely acceptable basbousa follow my original and first recipe for basbousa here. I've also a lot of basbousa and semolina recipes, be sure to check them out.
You'll notice in the video below that I've used regular coconut flakes, but after experimenting I've found that fine unsweetened coconut flakes work the best. Also some people are using corn syrup instead of honey, I've tried both and let me tell you that honey is waaay better than corn syrup, So if you have honey do not hesitate to use it. These were all my notes regarding this recipe for basbousa.
I hope you'll like this recipe and please if you make this recipe, snap a pic and hashtag it #amiraspantry — I love to see your creations on Instagram, Facebook, Twitter!
Don't want to miss a recipe? Sign up for the FREE Amira's Pantry newsletter delivered to your inbox with lots of tips and surprises! And stay in touch with me on Facebook, Twitter, Pinterest, and Instagram for all the latest updates.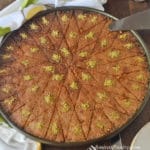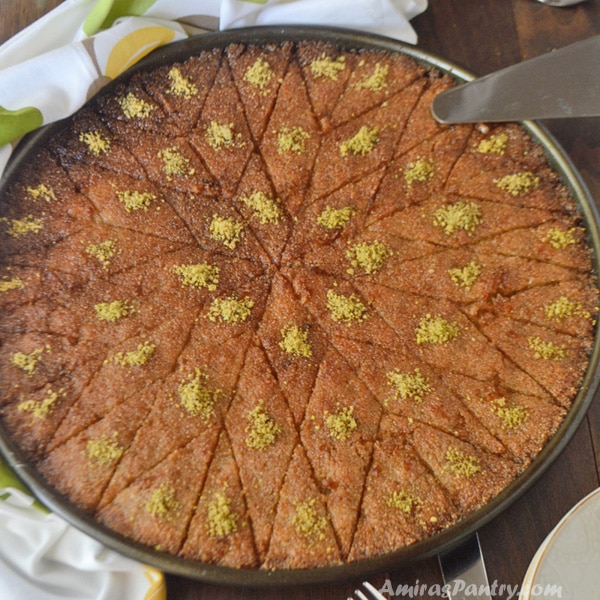 Basbousa
An Egyptian semolina cake that is tender, sweet and so delicious.
Ingredients
1/2

cup

1 stick unsalted butter.

1/4

cup

milk.

1/4

cup

honey.

3/4

cup

sugar.

2 1/2

cup

farina.
optional:
1/2-1

cup

unsweetened finely shredded coconut flakes.

Nuts of your choice.
Simple syrup:
1

cup

sugar.

1

cup

water.

2

Tablespoons

honey.

1/4

teaspoon

lime juice.
Instructions
Preheat oven to 350F.

In a saucepan over medium-low heat add butter, honey and milk.

When the butter is melted and the mixture is not boiling, add sugar, stir to dissolve.

Add coconut flakes if using and mix well then turn the heat off.

Add the farina and mix until just blended, do not over mix.

Butter a 12 inch round pan with low rim, spread the mixture evenly.

Dip your fingers in water and press the mixture evenly in the pan.

Cut the basbousa into the desired pieces, squares, diamonds or triangles add nuts if using then let it sit for 10-15 minutes.

Bake for 15-20 minutes . If necessary broil on low until it gets golden brown.

Meanwhile make the simple syrup, by combining all the ingredients together, bring to a boil then reduce heat and simmer for few minutes.

When the basbousa is done, remove from oven and pour the warm syrup immediately.*

Cover with foil and let it cool completely.
Recipe Notes
* I try to finish my syrup about 10-15 minutes before the basbousa is done so it is not too hot and not room temperature either… say post for details about this matter.
You might also like: