This is a recipe I make at least once a month, it gets put on the menu a lot. Tender and juicy chicken meat, topped with a crispy and tart skin. This is the second way my kids would eat bone in chicken.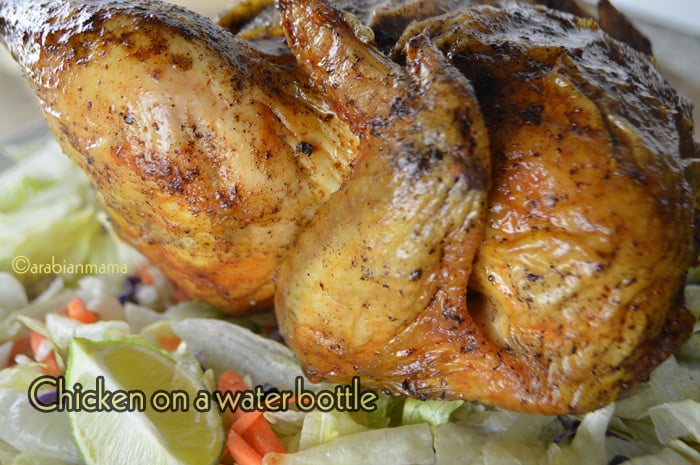 Chicken on a bottle or a can is a famous recipe and probably you've heard of it many times before. What I've heard and noticed is that, it really does not matter what is inside the can or the glass bottle, weather you poured in water, beer, stock, herbs… it is the idea of putting the chicken in this way that really matters.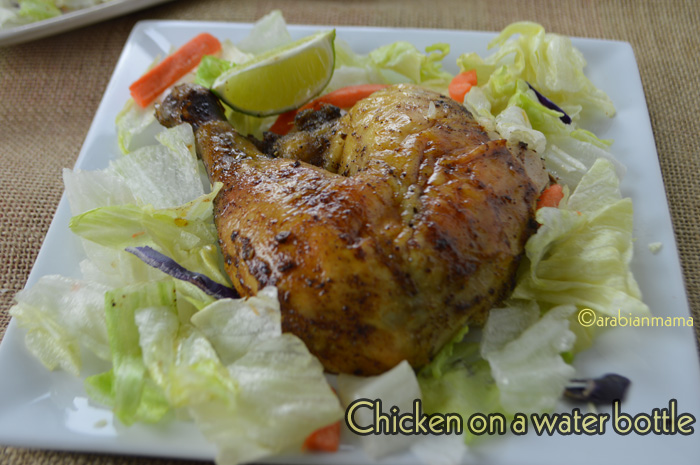 Placing a chicken vertically -not lying on its back as usual- makes the juices drip in the pan under it , hence allowing the skin to be crispy all over. Also, this way allows the breast to be closer to the source of heat as it takes longer to cook , leaving you with a tender , evenly cooked bird.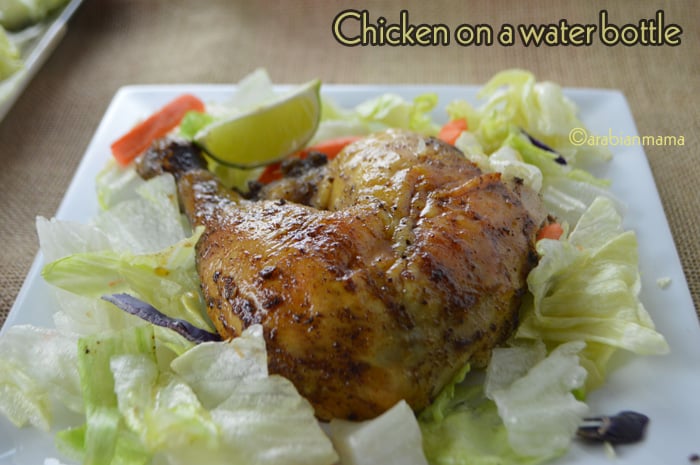 Marinade the chicken with whatever you like here I've marinated it with some garlic, cardamoms, sumac, salt and freshly ground black pepper. When it was almost done I brushed it with a more tart combination yielding a very tender meat with a nice golden crispy and tart skin.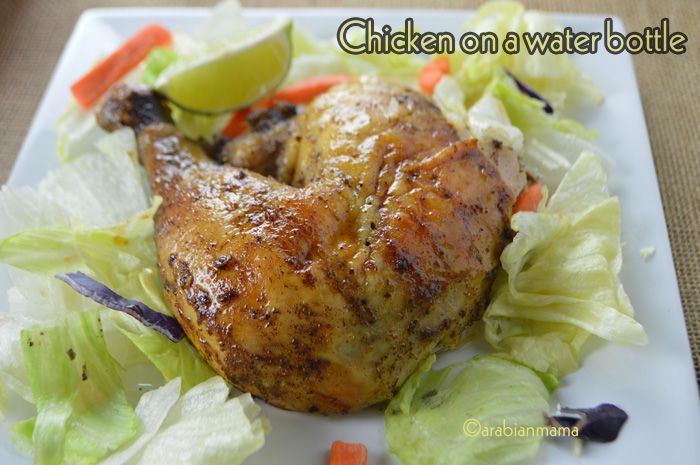 This chicken is perfect for the cold fall weather as it will make your home warmer and fill the hungry tummies 🙂
Here is a video showing you how to prepare this lovely easy chicken… Enjoy!!!
Djaaj al eneena- Chicken on a glass bottle
Ingredients
For the marinade
1.5

tsp

salt.

1

tsp

black pepper.

1

tsp

sumac.

2

garlic cloves.

1

tsp

ground cardamom.

1

Tbs

olive oil.
Brushing sauce
Juice of one lime.

1

Tbs

dried thyme.

1/4

c

olive oil.
Instructions
First mix the ingredients of the marinade and rub the whole chicken inside out.

Marinade in the fridge for 3 hours minimum.

Fill a glass bottle with water, place the bottle in an oven dish and pour about 2 cups of water in the dish.

Place the chicken on top of the bottle leg side down and put in a 500F pre-heated oven for 15 minutes.

Reduce heat to 350F, cover the chicken with foil and leave it there until almost done, about one hour.

Unwrap the chicken brush with the sauce, then back into the oven for another 10-15 minutes.

Serve hot with your choice of side dish.

Enjoy
Sign up and learn more about Mediterranean flavors