INCREDIBLY fluffy dinner rolls.
Total time
2
hours
15
minutes
Tender, fluffy, milky and buttery dinner rolls from scratch. Fluffy yeast rolls, make it for your next brunch or may be in Thanksgiving and I guarantee you the best Thanksgiving rolls ever.
This recipe originally published October 2017. Updated for some housekeeping things on March 2020. No change to the recipe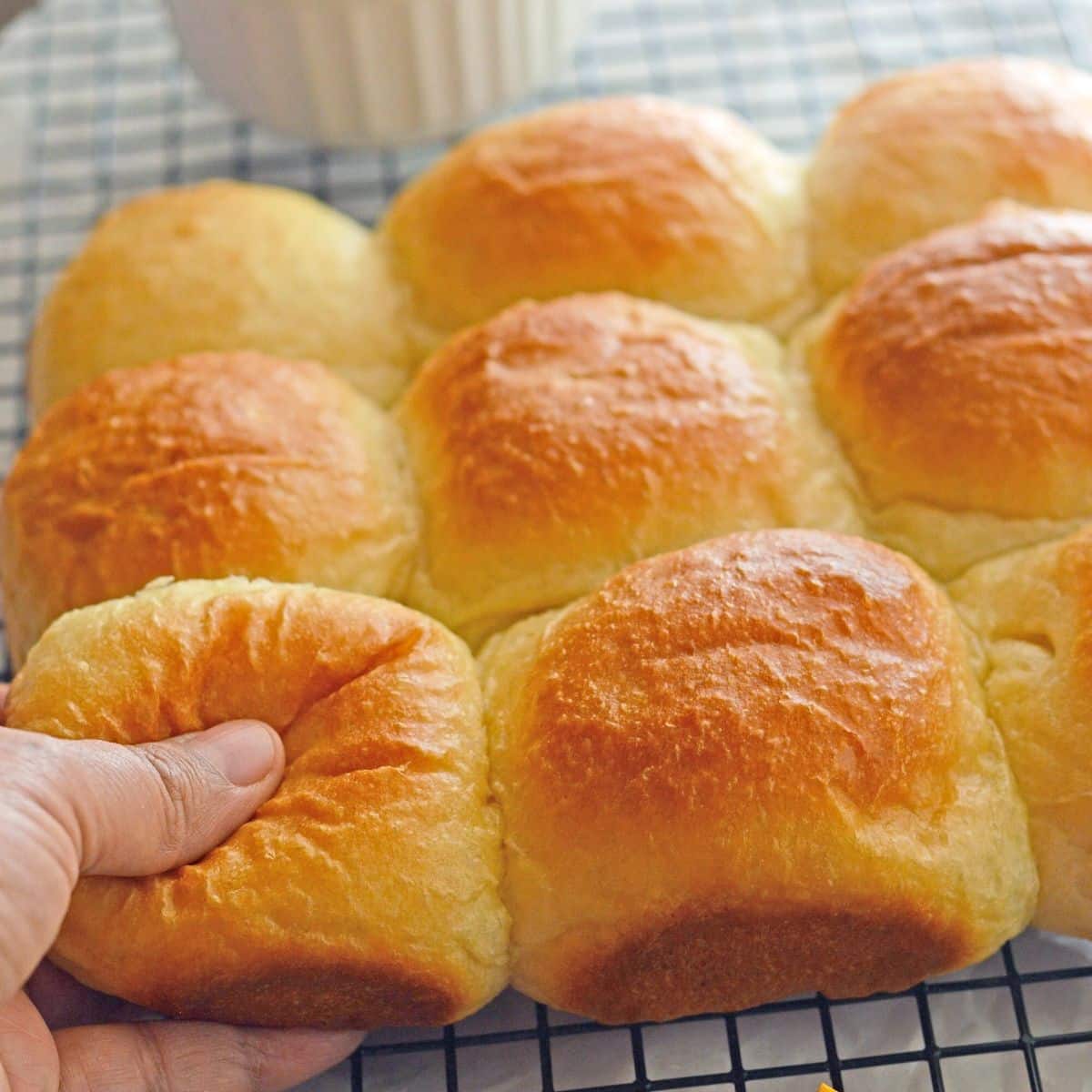 Fluffy dinner rolls
These dinner rolls are simple to make with great results each time.
My kids devoured those rolls with some whipped honey cinnamon butter. Great to accompany any meal or as a snack by themselves. This is also great as a homemade buns recipe.
My hubby loves bread, I am not a big fan of the everyday loaf of bread. But for sure I eat bread and love anything bread-y ( which means carb loaded anything). Think donuts, cakes, bagels, cinnamon bread and garlic bread . Recently, bread rolls has been added to this list.
I'm kind of flatbread girl, after all I am a Mediterranean. I have a big list of bread- especially flatbread -recipes on the blog from all over the region but for bread rolls.. it was not my thing. I generally feel somehow intimidated by making bread rolls so this homemade bread rolls recipe was kind of a big deal for me.
I've made it three times now and every single time I've had success.I've always feared that after all this kneading, waiting, punching, and then rolling and waiting again that I will end up with flat, dense little rocks? But this was a winner!
Even if you are not a bread maker this is a great foolproof recipe that will not fail you. Even if you are a weird, no bread roll eater like me you're gonna become one. No I assure you you'll become obsessed with bread rolls. BUUUUt not just any bread rolls .
How to make fluffy rolls?
Sooooo let's see it in action.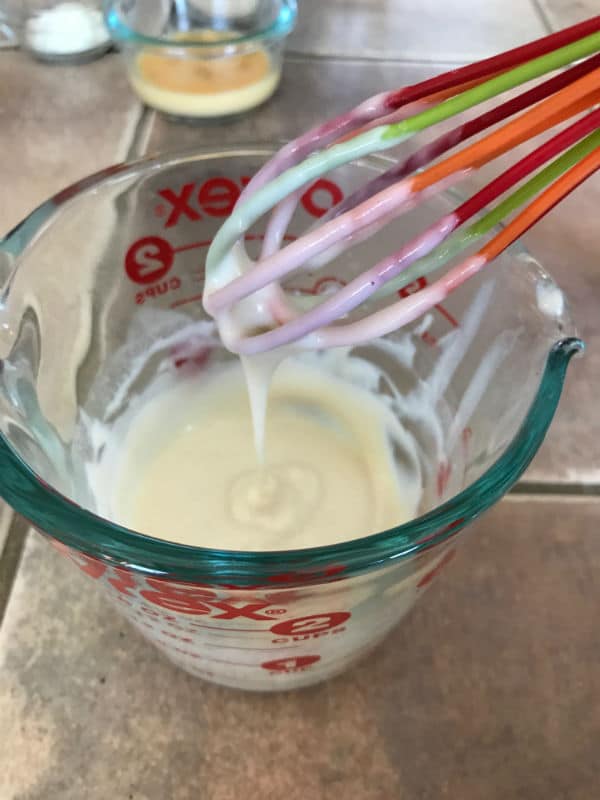 In a microwave safe bowl, combine flour and ½ cup of milk, whisk to combine. Microwave on high for 25 seconds then stir. Keep microwaving for 15 seconds and stirring until you get a béchamel or gelatin like mixture.
This step can be done in a saucepan over medium heat, just make sure not to overdo it and cook it to a complete hard béchamel we want a loose roux consistency.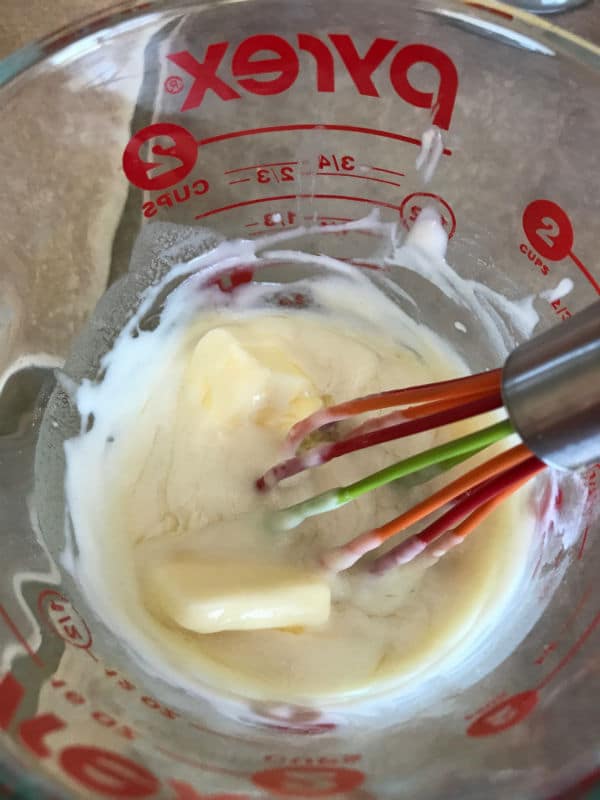 Add butter, the remaining milk and stir. Then add eggs and mix well. Butter and milk should be COLD to lower the mixture temperature or else when you add the eggs, you will end up with cooked scrambled eggs swimming in bechamel like sauce :).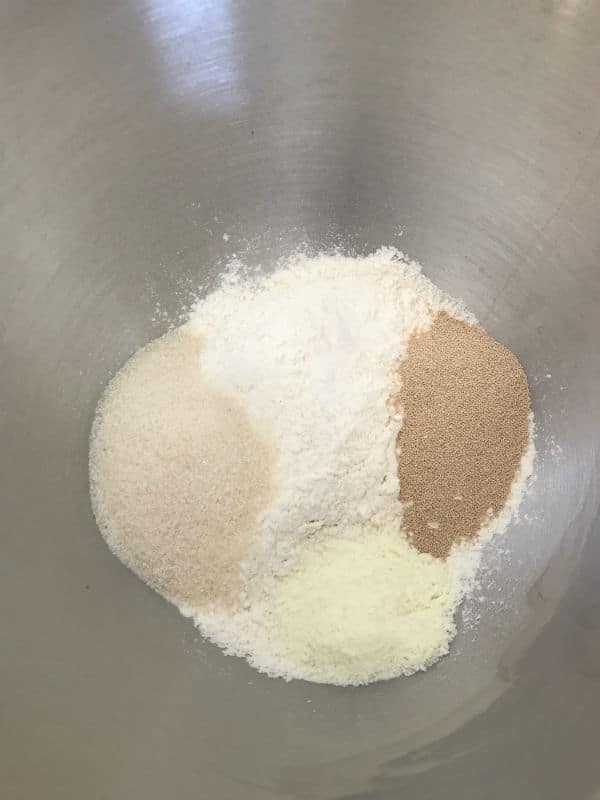 In you mixer bowl, combine all dry ingredients well.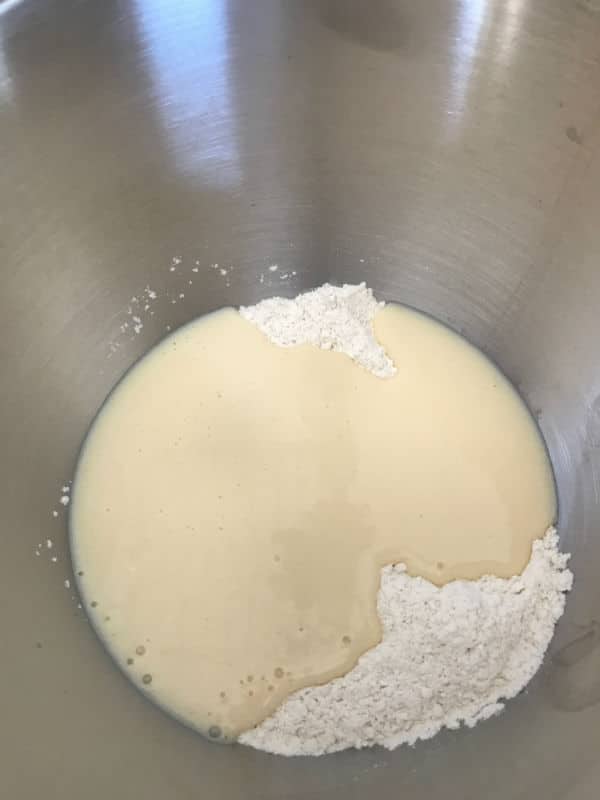 Add wet ingredients and knead the heck out of it for a good 15 minutes until it is slightly sticky but not messy.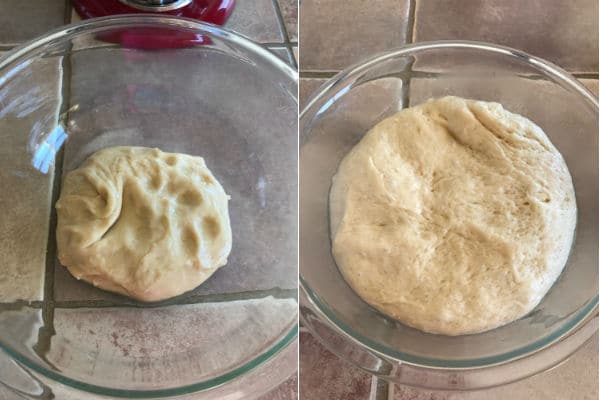 Place the dough in a greased bowl, cover and let it rise.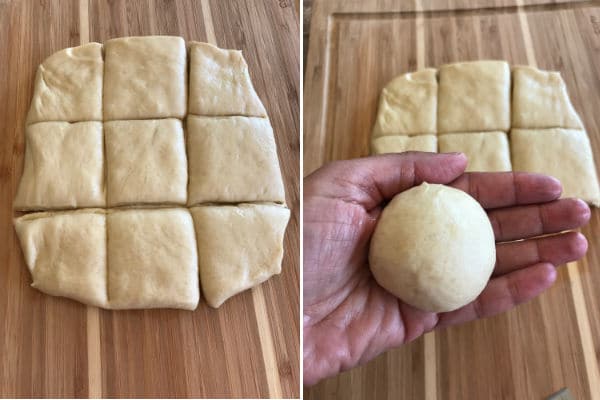 Convert the dough onto a clean surface, divide into 9 equal parts and shape into balls.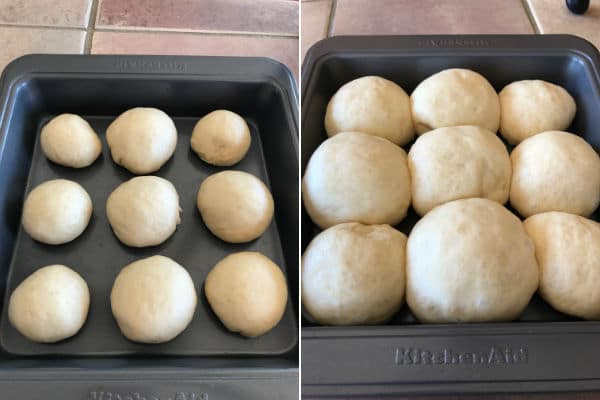 Arrange balls in your baking pan , cover and let the dough do its final rise for about 30 minutes.
Bake until top is golden brown and brush with some melted butter to add to its awesomeness :). Return to oven for a minute or two more.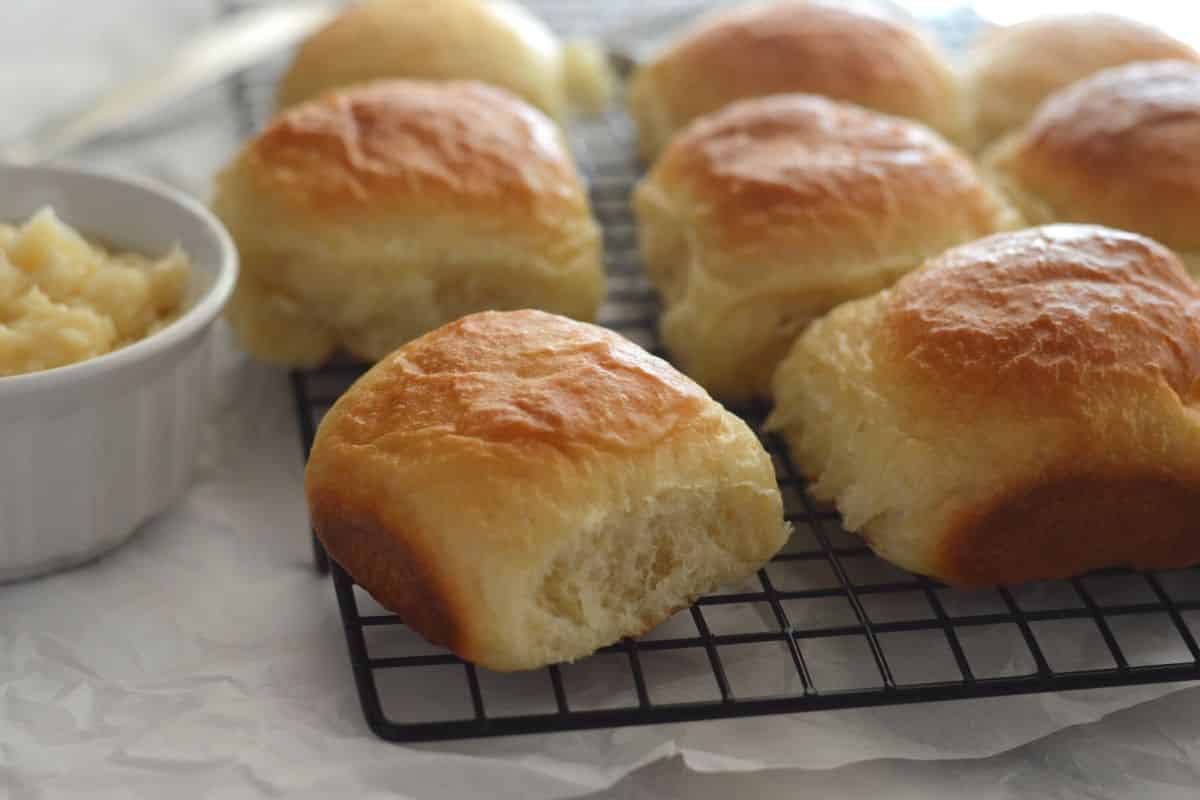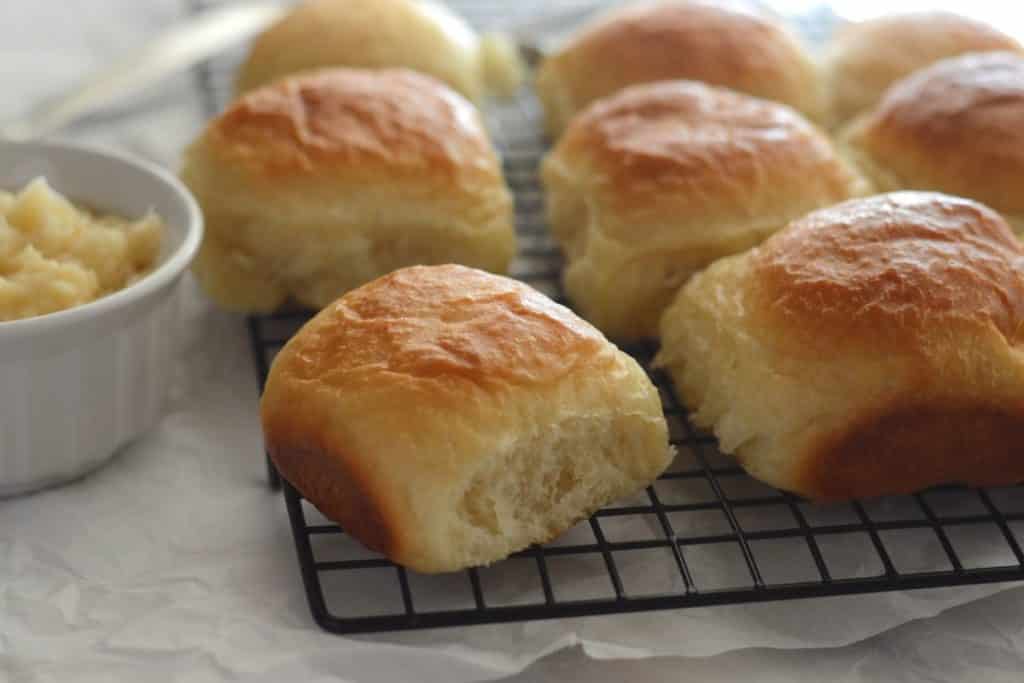 Perfectly browned all around, fluffy and insanely delicious bread rolls. I could not wait to finish the shots, the smell was heavenly good. I highly recommend that you double or maybe triple the batch, as 9 is not enough... not even C L O S E.
Related Recipes
Incredibly delicious and satisfying sweet bread rolls for your morning coffee or afternoon snack. This is a recipe from my grandma's kitchen, no wonder it is a family favorite.
I hope you'll like this recipe and please if you make this recipe, snap a pic and hashtag it #amiraspantry — I love to see your creations on Instagram, Facebook, Twitter!
Don't want to miss a recipe? Sign up for the FREE Amira's Pantry newsletter delivered to your inbox with lots of tips and surprises! And stay in touch with me on Facebook, Twitter, Pinterest, and Instagram for all the latest updates.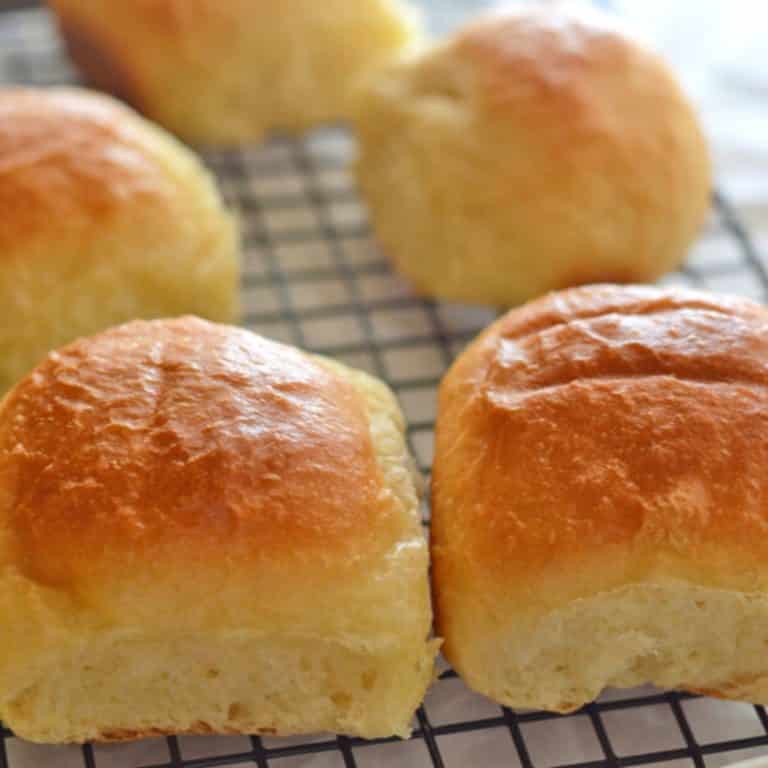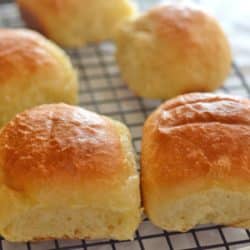 Ingredients
1 ⅔

cup

AP flour.

½

cup

+ 3 Tablespoons milk.

4

Tablespoons

unsalted butter.

Cold

1

large egg.

2

Tablespoons

sugar.

¼

teaspoons

salt.

1

Tablespoon

dry yeast.

1

Tablespoons

dry milk.

melted butter for brushing the rolls.
Instructions
In a deep measuring cup/bowl combine ½ cup of milk + 3 Tablespoon from the flour you've measured.

Microwave the mixture for 25 seconds on high, stir then microwave for another 15 seconds, stir to combine.

Then microwave for 5 seconds intervals stirring in-between until you reach a thick gelatin/béchamel like consistency. *

Add butter and stir until COLD butter melts. Then add the remaining 3 Tablespoons of COLD milk and stir.

Add the beaten egg and stir until everything is well combined.

In your mixer bowl, combine the remaining flour, salt, sugar, yeast and dry milk.

Pour in the wet ingredients and mix for at least 10 minutes until your dough is elastic.

Cover and let it rise for an hour.

Convert the dough onto a clean surface, divide into 9 equal parts and shape into balls.

Place in your 9x9 baking pan , cover and let it rise for another 30 minutes.

Bake in a 350F pre heated oven for 13-15 minutes.

Take it out of the oven brush with melted butter the bake again for a couple of minutes.

Take it out and let it cool a bit before handling.

Enjoy
Notes
* This step can be done in a saucepan over medium heat, just make sure not to overdo it and cook it to a complete hard bechamel we want a loose roux consistency.
Please check the nutrition disclaimer policy.
Sign up and learn more about Mediterranean flavors
Time to show you off!!