Total time
4
hours
50
minutes
Hibiscus popsicles, homemade, fresh and totally easy to make. A 2 ingredients recipe with tons of flavors to choose from. A refreshing treat to help you cool down from the heat!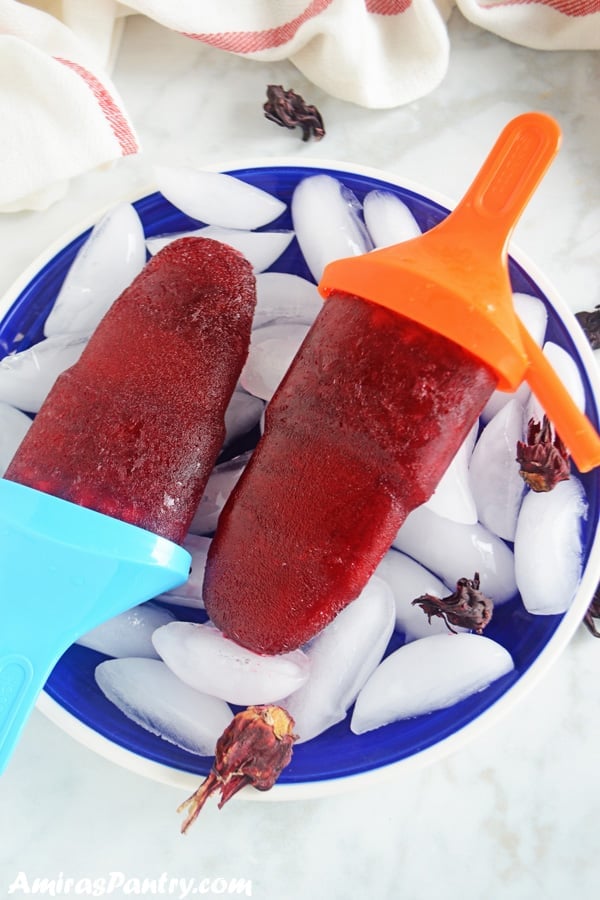 Hibiscus popsicles
Popsicles are not a common term in Egypt or at least when I was growing up. Instead we had "Granitas". If you google granita, it will show up as a semi-frozen treat, something like slushies. But what we had back then were really popsicles, the one that is sold in plastic tubes.
My mom did not allow us to have those popsicles when we were young. So here is a confession, I used to take my allowance and buy it from the school's cantine. School's cantine is something like school's cafeteria except it did not sell hot lunches at my time.
Anyways, I used to have fun with my friends buying different flavors of popsicles and sharing with each other without our parents knowing that 😂. Sorry mom.
Hibiscus tea, is one of my favorite drinks that comes right after black tea. I like it hot in winter days and a refreshing cold in summer. It is sweet, tangy with a beautiful color. Making popsicles out of hibiscus tea came naturally specially in hot summer days. Sucking on it is thirst quenching.
This hibiscus popsicles can be flavored in a variety of ways plus you can stick in as many whole fruits as you wish or skip the fruit altogether if this is your thing. It will come out refreshing and flavorful each time.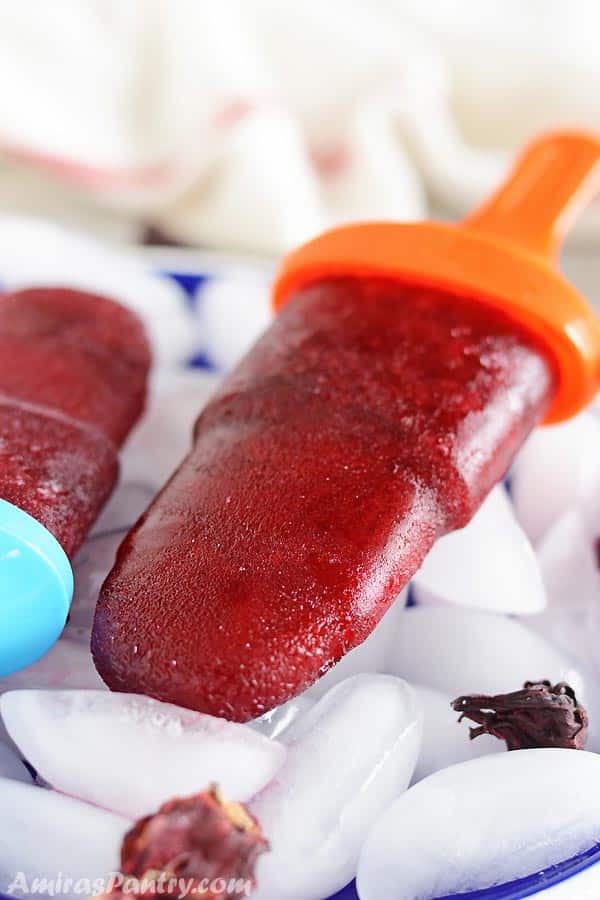 How long does it take for popsicles to freeze?
Freezing times vary depending on many factors. The effectiveness of your freezer, your pop base, and the type of mold you're using are all factors that affect freezing time. In general though, water based popsicles like ours here will freeze at 0°C. This typically takes about 4-5 hours.
How do you make soft popsicles?
Good news, these hibiscus popsicles do not freeze rock hard. It freezes just enough to hold its shape, yet it will remain icy and slushy specially if the temperature did not go below zero. This is due to the sugar ratio in these popsicles. If you are going to sweeten the popsicles with honey or maple syrup and not using sugar, some people suggest using fruit purees or pectin.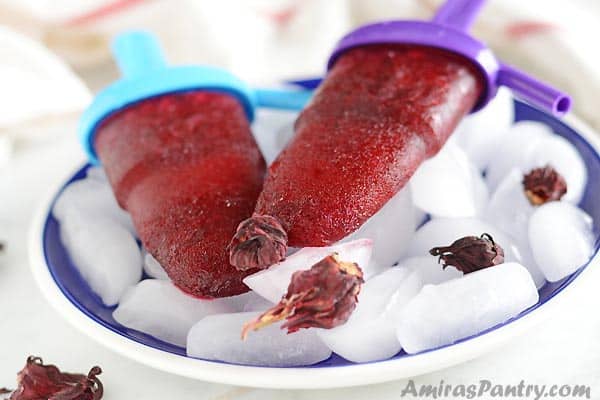 How to make real fruit hibiscus popsicle?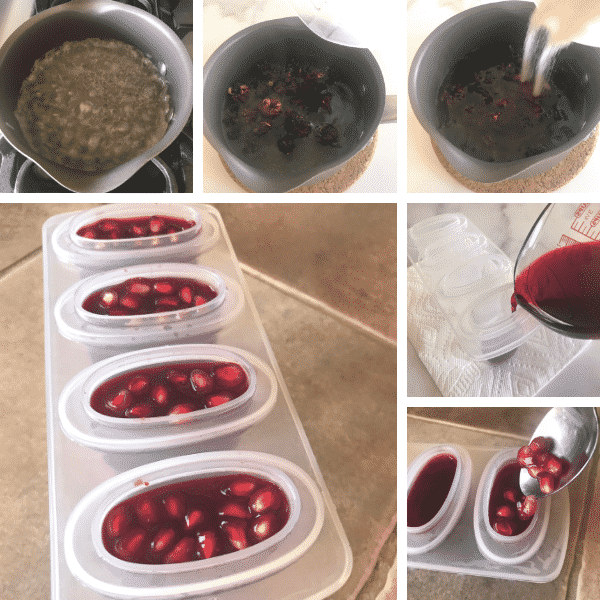 Boil water in a sauce pan over medium-high heat.
Once water is rapidly boiling, turn heat off and remove pan from heat. Add hibiscus flowers.
Stir in sugar until completely dissolved, cover and let it steep and cool down for 45 minutes to 1 hour.
Strain mixture and pour into popsicle molds. Freeze for an hour or an hour and a half without the sticks.
Add your fruits , in this case I used some pomegranate seeds. Feel free to push them inside the semi frozen popsicles so they are not only at the top. I liked mine on the top of the molds as shown above.
Freeze for another 3-4 hours with sticks on.
Other fruits to add
I liked the addition of pomegranate seeds as I felt it goes pretty well with the hibiscus. Strawberries, mangoes, kiwi.. are among other fruits you can add, just make sure to cut them in small pieces to fit in.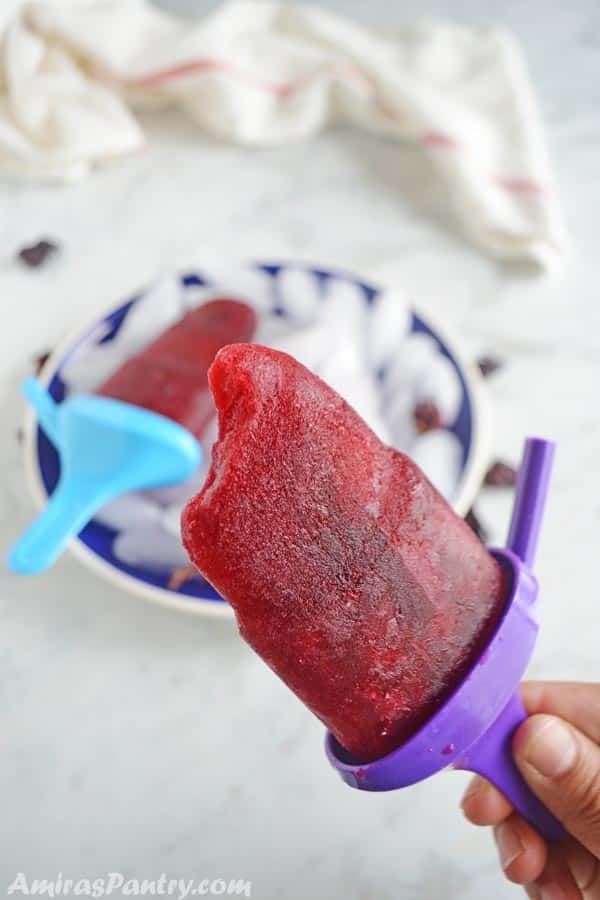 Other flavors for the hibiscus popsicles
I've tried several other flavors, but plain remains my favorite. You can try adding a cinnamon stick to the boiling water, cardamom, cloves, ginger, lemon, orange blossom or rose water. Feel free to play even more with a combination of flavors.
Other frozen treats on the blog
You might need
The following are affiliate links. We are a participant in the Amazon Services LLC Associates Program, an affiliate advertising program designed to provide a means for us to earn fees by linking to Amazon.com and affiliated sites.

These popsicles molds were used in the making of this recipe. We like it as it has a place at the bottom to catch the dripping and comes with a straw for the kids to drink the dripping juice.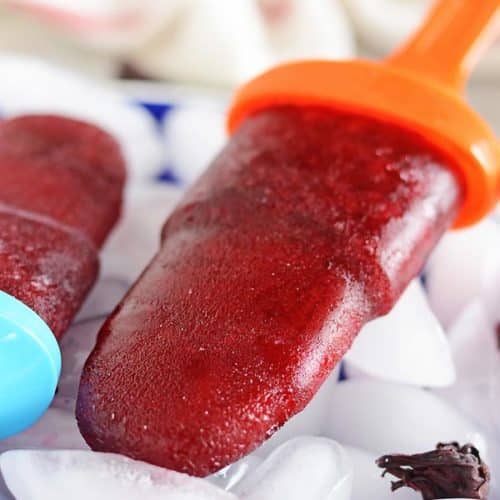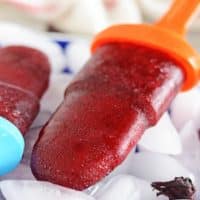 Ingredients
1 ½

(12oz) water.

⅓

cup

(10g) Hibiscus flowers.

⅓ - ½

cup

(75g-110g) sugar. Note1

Flavors of your choice. Note2

6 Tablespoons pomegranate seeds.
Instructions
In a sauce pan over medium-high heat bring the water to a boil. Turn heat off and remove pan from heat.

Immediately stir in hibiscus flowers and sugar until dissolved.

Add any other flavors you are using at this time as well.

Cover and let it steep and cool completely for almost 45 minutes.

Strain mixture and pour into popsicle mold, freeze without the sticks for about 1.5 hours until it forms a slushy consistency.

Add pomegranate seeds on top then insert sticks.

Freeze for another 3-4 hours or until completely firm.

To get the popsicles out, you may want to put in warm water for just 15-20 seconds.
Notes
Note1 : you can use a sweeter of your choice or honey for a naturally sweetened popsicle.
Note2: You can make it as is, my favorite. Here are some suggestions for flavors use either one or more of cinnamon, cloves, cardamom, rose water or orange blossom water. I've also tried dissolving one Tablespoon of tamarind concentrate into the hot hibiscus mixture, tastes magnificent.
Nutrition
Calories:
58.4
kcal
|
Carbohydrates:
15.3
g
|
Sugar:
15
g
|
Vitamin C:
0.3
mg
|
Calcium:
5
mg
Sign up and learn more about Mediterranean flavors