This traditional Middle Eastern drink is a dessert by itself, it is rich, creamy and downright decadent. I've lightened it up a bit, by making it less starchy and less sweet, but it's still just as homey and delicious.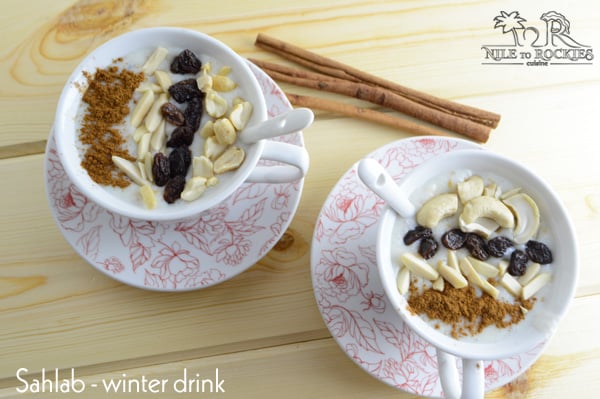 It is definitely Winter, at least in this half of earth. It was super cold in the eastern coast and thank God, this storm did not reach us here in Colorado, we've had some days already and it was time for a break.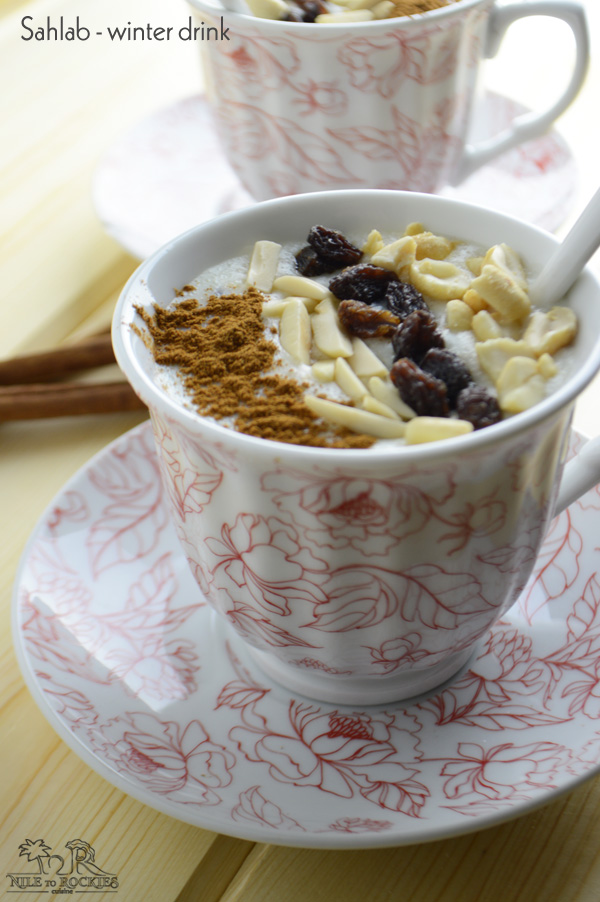 Each time I call my mom I find her under blankets, all sorts of covers, heated and non heated, her bones are aching, her shoulders are tight ... poor thing. It has been raining and gloomy in Egypt for almost this whole entire week, and when it is raining there, it is a mess. Most streets get muddy and the traffic goes crazy - as if it is not already 😳.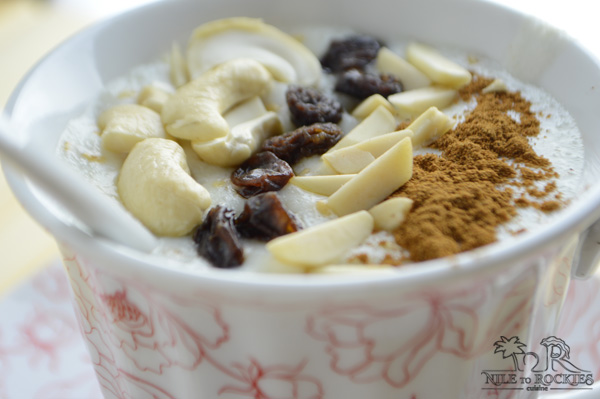 When it gets that cold in Egypt we think of soups and hot drinks, specially the widely spread Lentil soup, the spicy Halabessa and this traditional Arabic drink Sahlab .
Sahlab is widely spread all over the region, I have not got to its origin yet, but I am sure of one thing, it is energetic, sweet and 😋delicious.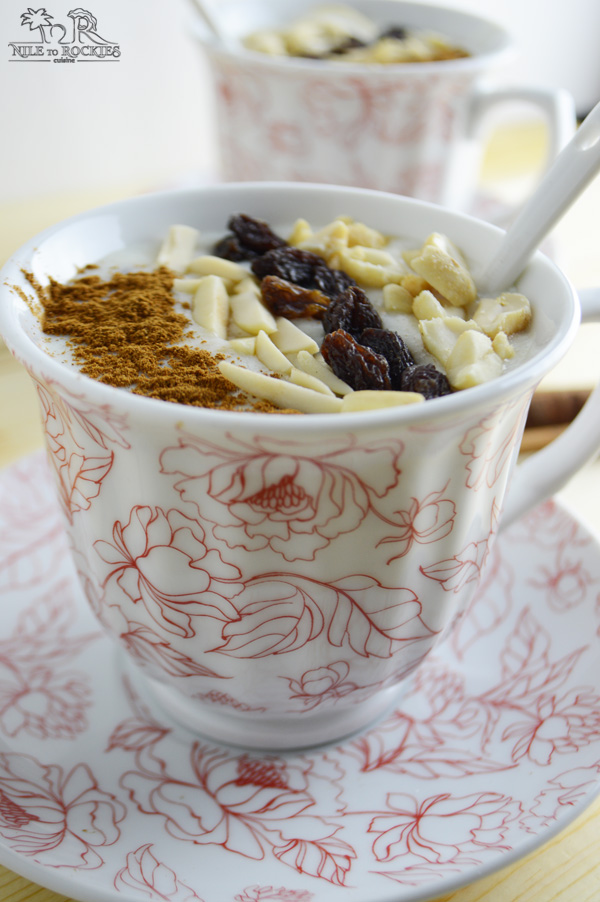 Sahlab is usually sold as powder, you just buy it and mix it with milk, heat until bubbly and thick. Here in Colorado I find prepackaged sahlab mostly with rose water flavor added which does not appeal to my family, hence we had to make our own sahlab powder and give it a try, and I'm glad I've done this, much better, less sweetened and with no strange ingredients.
I've made mine less thick and less sweetened, so feel free to add more of the powder for a more thickened one or add more sugar to your cup for more sweetness. Sahlab should be enjoyed with lots of nuts, raisins and cinnamon on top, but if you do not like any then skip it, it is your cup anyways:☕.
Here is a short and quick video on how to make homemade sahlab.. I hope you'll give it a try and come back to tell me what do you think?... Enjoy!!!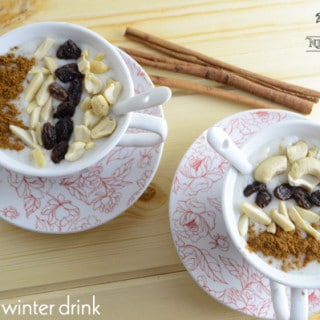 Ingredients
1

c

dry powder milk.

1

c

powder sugar.

1

c

unsweetened coconut flakes.

1

c

rice - preferred short grain.

4

Tbs

corn starch .

1/2

tsp

vanilla powder.

1

Tbs

mastic.
Optional
2

tsp

cinnamon powder.

1/2

c

toasted sesame seeds.
When serving
Your favorite nuts

more cinnamon and raisins.
Instructions
Grind the rice until fine powder, grind the mastic as well.

Add all the ingredients together - except for the ones for serving- and mix well.

Store in an air tight container until you are ready to use.
To use
In a sauce pan over medium heat, add 2 cups of milk to 6 Tbs of the powder you've made, and mix well.

Keep stirring until the mixture gets thick and bubbly.

Pour into serving cups, garnish top with nuts, cinnamon and raisins.

Enjoy!!!
Notes
If you want your sahlab a little sweeter you can add more sugar to it while it is cooking on the stove top.
If you are used to a super thick sahlab then add more of the powder you've made until you reach your preferable thickness.
Sign up and learn more about Mediterranean flavors