An easy, fast and hearty egg dish that is loaded with herbs and perfect for just about any meal. Beat the eggs with some herbs, flour, onions and season with salt and pepper then bake in the oven. The result will be a dish that hovers between quiche and omelet.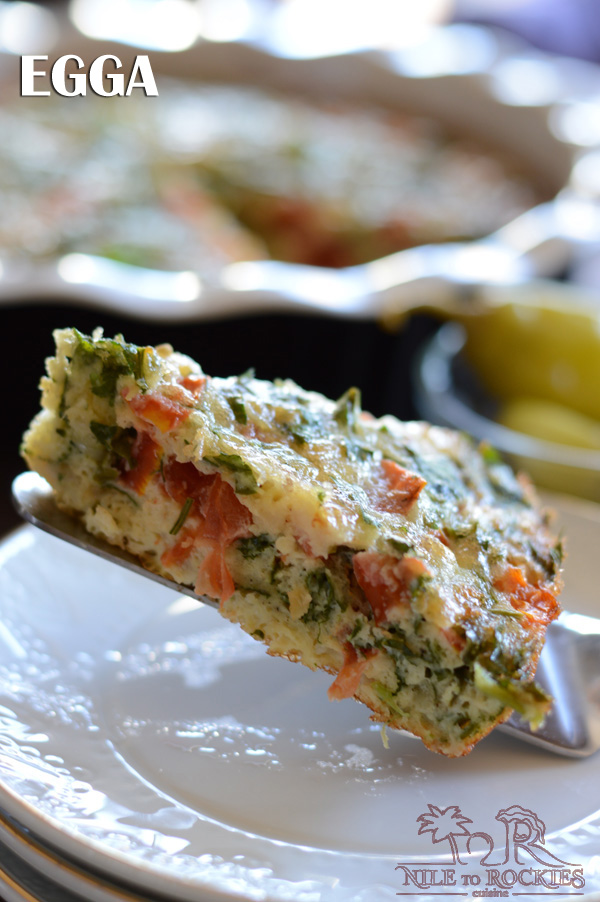 This dish is very popular in Egypt, it is as popular as fool, everybody eats it poor and rich, although I highly doubt that the poor are able to afford it anymore as egg price skyrocketed recently. For this dish you saute a lot of onions and then wait for it to cool down then add eggs, chopped herbs, flour then season well and pop in the oven for about 30 minutes, let it cool down and serve. Many people like this even cold, but for me I like having my eggs hot or warm.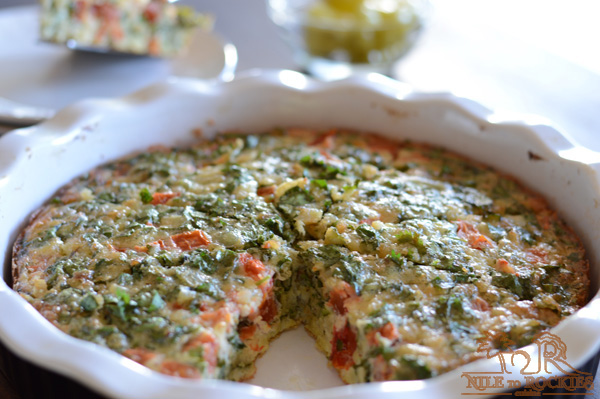 Egga should be greener than how I made it, but I was afraid that my kids will not touch it if it is greener than this, and I was positive that if I made it greener, probably my youngest will ask " is this the green eggs and ham of Dr. Suess ?!!!" :/. So to be safe I decreased the amount of herbs by almost 50%, so if you want the authentic Green egga, feel free to double the herbs.
I remember that I hated this dish when I was little, whenever my mom makes it, I just turn my head away and refuse to eat no matter how she tried to convince me. So I was very hesitant to try making this dish as I was almost sure it will go to a waste and nobody will eat from it. Luckily, this did not happen.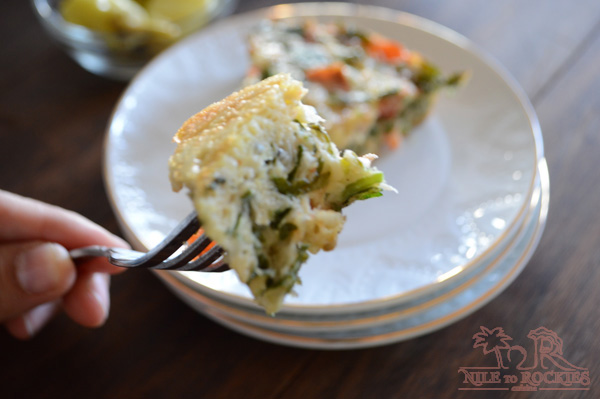 The reason I hated the egga dish before was that, it had that bitter taste that I could not tolerate, a friend of mine suggested that this might be to over sauteed onions. May be mom browned the onions- as my late father liked everything deeply fried- to the extent that it gave this bitter taste to the whole dish. So, I only sauteed my onions until they were light golden and to my surprise I did not get that taste anymore.
Feel free to use whatever herbs you have but cilantro is essential. Some people do not use dill, others do not use parsley or use more/less of a certain herb . I also added some cubed tomatoes just to give this dish some color, but this is not authentic. Next time I am going to try adding some bell pepper as well, I bet this will give it a nice taste and smell.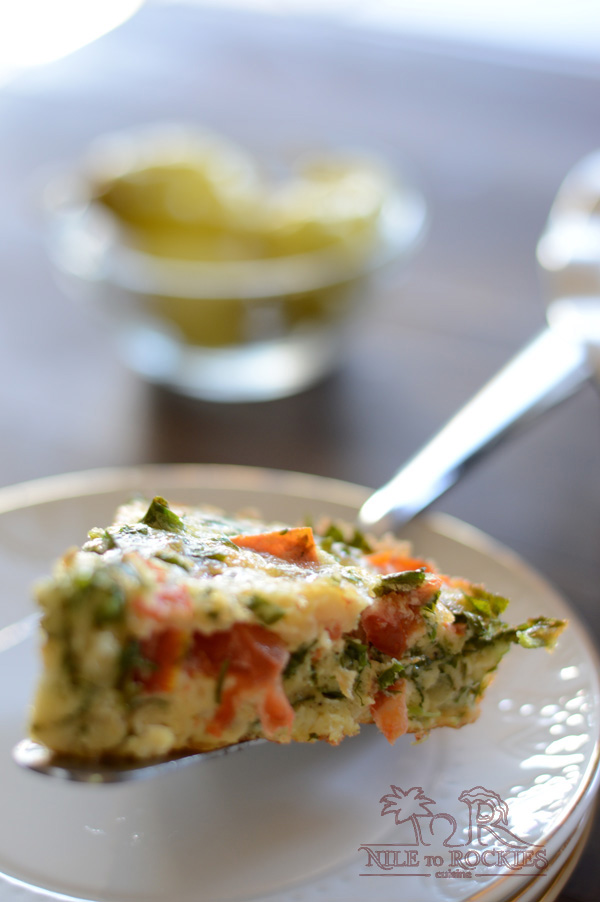 If you need a fancy breakfast this weekend I cannot recommend this recipe enough, you can also make it ahead put in the fridge and reheat in the oven the next morning, so tasty and filling. You can also pack egga wedges for your lunch this week with some cheese and extra veggies. This is really an any meal dish ….. Enjoy!.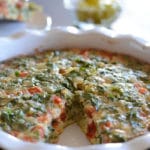 Egga : Egyptian frittata
Ingredients
1/3

cup

oil.

2 1/2

cup

onion

coarsely diced, about 2 medium onions.

7

large eggs.

1

cup

fresh cilantro

chopped.*

1/2

cup

parsley

chopped.*

1

Tablespoon

dill

chopped.*

3

Tablespoon

flour.

1/2

teaspoon

Baking Powder.

Salt and black pepper.

Optional : 1 medium tomato

diced
Instructions
In a pan over medium heat, saute the onion until it reaches light golden color.

Let it cool down completely.

Add all other ingredient to the onion and mix well.

Pour in a well prepared oven dish.

Pop in a 325F oven and bake until done.

It is done when a toothpick inserted in the center comes out clean.

Let it cool down and enjoy.
Recipe Notes
Dill is optional , not many people add dill to their egga dish, other herbs are to your liking. Some people like adding cilantro more than parsley or vise versa.
Need more Egyptian breakfast recipes?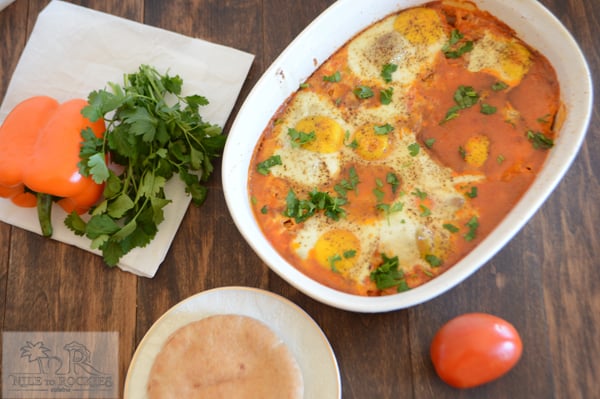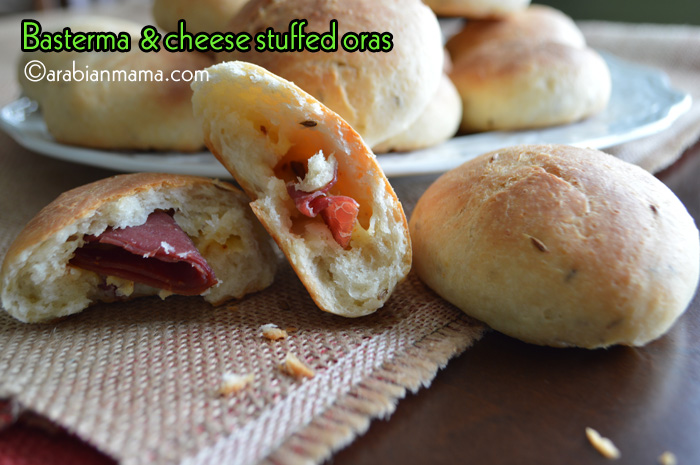 Breakfast basterma stuffed Oras