Have you ever gotten home from the grocery store or come inside from the garden and wondered how to store parsley so that it stays fresh and lasts a while? I know that keeping produce fresh is one of the best ways that we can reduce food waste in our kitchens. So, if you are wondering how to store parsley read on to find out my best tips.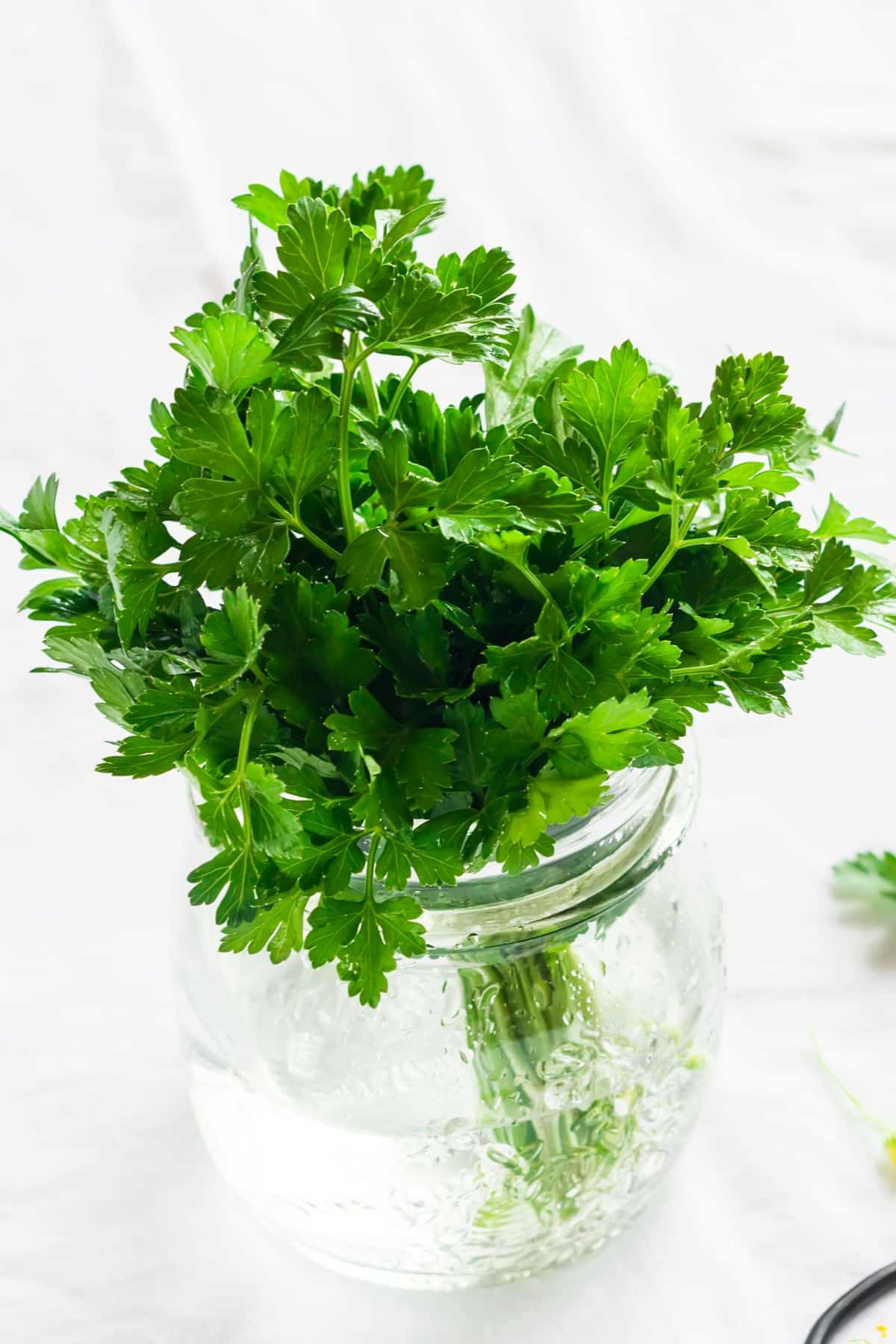 Why You'll Love Using Fresh Parsley
Fresh parsley is a staple ingredient in many recipes and adding it to your dishes can make them come alive with flavor.
It also adds a beautiful pop of color to dishes when you use it as a garnish.
And, it's easy to grow so you don't have to worry about finding it in the store if you want to use fresh parsley.
Benefits of Parsley
Parsley is an amazing herb. Not only does it have bright color with a fresh taste but it also provides many health benefits. So, you can feel good about using it in your recipes and feeding it to your family.
It is a rich source of vitamin K, which is important for healthy bones and blood clotting. It also has antioxidant properties as well as anti-inflammatory compounds that can help to reduce inflammation in the body.
Difference Between Flat Leaf and Curly Parsley
Parsley comes in two main varieties: flat leaf, also called Italian parsley, and curly leaf parsley. Flat-leaf parsley has a slightly more bold flavor, while the curly variety is a little milder. The leaves of the flat leaf are also flatter and larger than those of the curly variety, which can make it easier to chop for recipes.
I personally use flat-leaf most often because I think the flavor is stronger and more pronounced. But, both are great for adding to recipes and as a garnish.
How to Store Parsley
When it comes to storing parsley, you'll want to keep it fresh so that you can use it in recipes whenever you need it. Here are some tips for how to store your parsley:
I've found that it's best to treat a bunch of parsley like it's a bunch of flowers. Trim off the ends of the parsley, and fill a glass jar with fresh cold water. Then slide the parsley into the water and put it in the refrigerator. The parsley will last for up to a month this way, so you can always have fresh herbs on hand whenever you need them.
You can also wrap the parsley in damp paper towel and store it in an airtight container or a sealed plastic bag in the refrigerator. This will keep it fresh for about four days.
My mom always buys a lot of parsley, her favorite way is to wash parsley well, and place in a colander to dry or you can use a salad spinner, and cut parsley using kitchen shears. Then she layers them in an air-tight container separated by kitchen towels to absorb excess water. Hers last in the fridge for 1-2 weeks.
How to Freeze Parsley
The best way to freeze parsley is to cut it up into chunks and then place the parsley in a freezer-safe container like ice cube trays and cover it with an oil like olive oil. This way, you can take out as much or as little as you need whenever you want to add some flavor to your dish.
Recipes Using Fresh Parsley
No matter how you choose to use it, I hope that these tips help you store your parsley so that you can enjoy it for as long as possible.