Crunchy shredded phyllo dough, beautifully wrapped around your favorite kind of ice cream, probably sprinkled with nuts and with a drizzle of honey, this is a heavenly combination of flavors. Knafeh ice cream cups is my favorite summer/Ramadan treasure.
Knafeh is one of the most popular desserts in Ramadan, back in the old days we only had two kinds of Knafeh, stuffed with nuts or with Ashta or cream filled Knafeh. Now, each time I visit Egypt during Ramadan I find new recipe to serve knafeh, one of which was so weird that I had to try it. It was red velvet Knafeh, a combination of two worlds that should never be combined!!. It was so expensive and it ended up in the trash can, a waste of our hard earned money I know .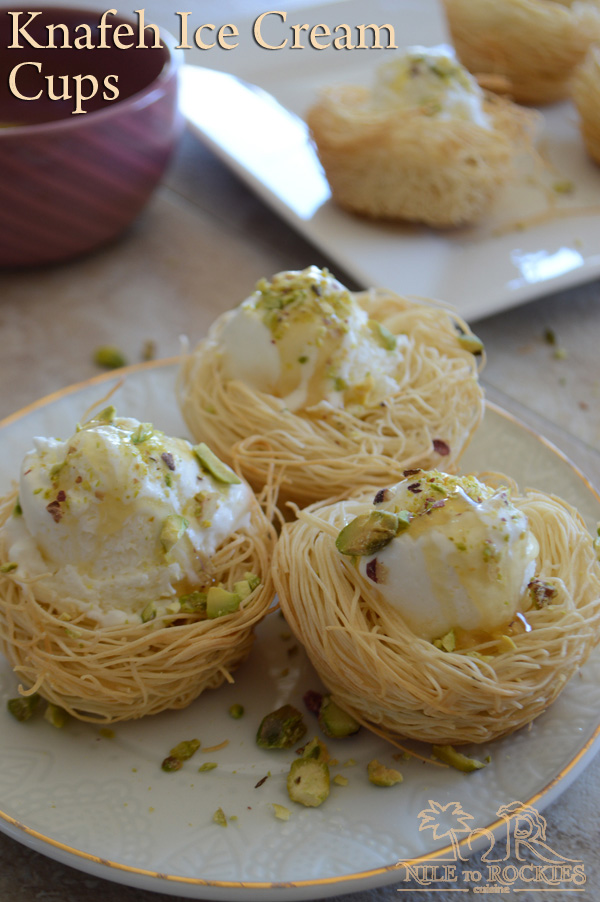 As you might know, the holy month of Ramadan started yesterday Monday June 6th, and it is our first Ramadan here in USA since may be 4 or 5 years ago. We spent Ramadan here before when it was in Winter/Fall time but since it shifted into Summer, this is our first one. So, with that said, not being in Egypt does not mean that I do not have crazy Knafeh recipes. I thought why not venture in this Knafeh mania myself and create something unique – at least for me – and who knows, may be it will be nice.
As it is Summer and heat is getting up with each day, I thought of ice cream,I was so skeptical that this recipe will go well but it was amazing, dare I say it was one kind of Knafeh that everyone loved. I've used my homemade Lebanese ice cream, freshly made with mastic flavor and it was oh so great. Kids loved it with vanilla ice cream and one with strawberry. So the kind of ice cream is really up to you, see what you like most and go ahead for it.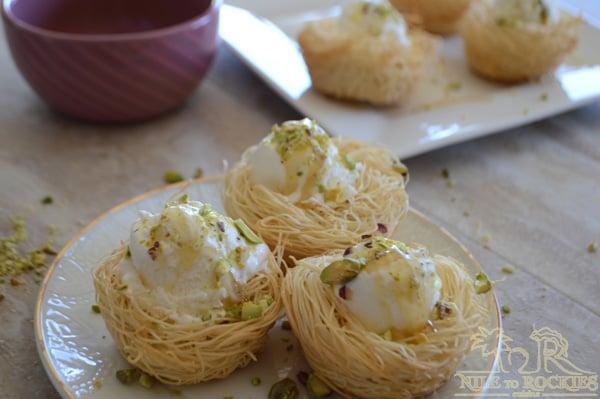 Usually, Knafeh is brushed with loads of butter and when it is out of the oven we drizzle it with simple syrup. I did that for a couple of the cups and left the others without the simple syrup, and really I felt that you do not need the extra sugar. After I scooped the ice cream in, I sprinkled top with some crushed pistachios and a little drizzle of honey, this was healthier and tastier. Make it even healthier by using a healthy oil – like avocado/coconut – with the butter.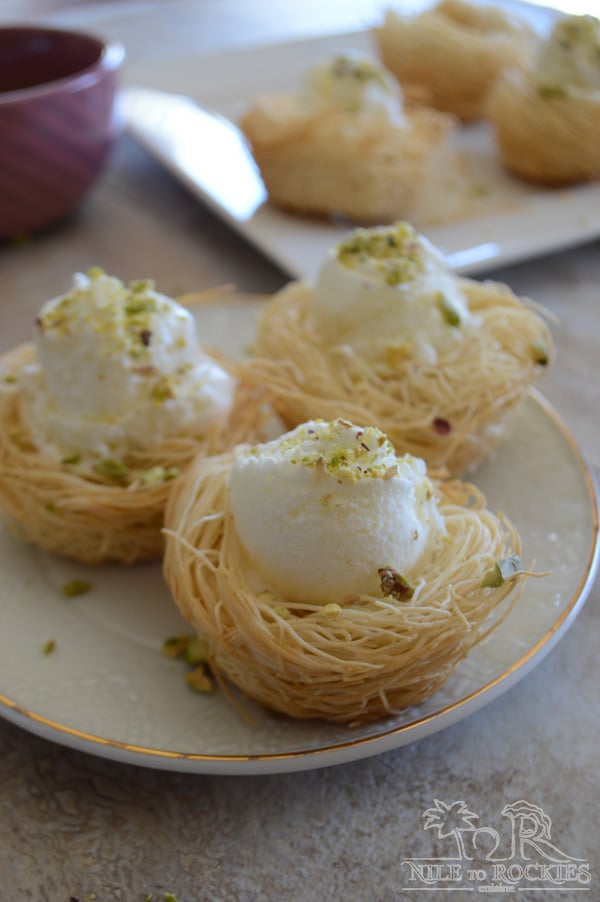 Always scoop the ice cream right before serving, do not scoop and freeze with Knafeh, as it tends to loose its crunchy-ness in the freezer. And as always….. Enjoy!!
Ramadan Mubarak to all those around the world who are celebrating this holy month, May Allah accept our good deeds.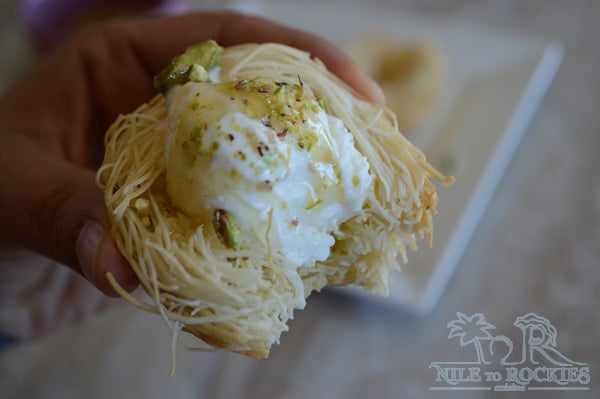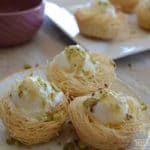 Knafeh ice cream cups
A delicious Summer/Ramadan treat.
Print Recipe
Ingredients
1/4

to 1/3 packet of shredded phyllo dough.A packet is usually 450gm.

1/4

cup

melted butter.

Ice cream of your choice.

Optional : Simple syrup or honey.

Ground nuts of your choice.
Instructions
Start by dividing the shredded phyllo dough (Knafeh) into 6 equal parts.

Brush each part with melted butter or butter/oil combination.

In a cup cake pan, roll the knafeh dough around until you form a nice cup.

Bake in a preheated 350F oven until it is golden brown.

If using, drizzle the knafeh cups while hot with simple syrup or honey.

Right before serving, scoop you favorite ice cream into the knafeh cups, sprinkle nuts on top and drizzle with more honey.

Enjoy!!
Need more Ramadan treats?