A delicious cross between pizza and pie that is very flaky without using butter.
Looks like pizza, but it is not a pizza. Looks like a pie, but this is not your ordinary pie. This dish is a combination of both with so very new toppings. Flaky that you will not believe it does not have butter!!!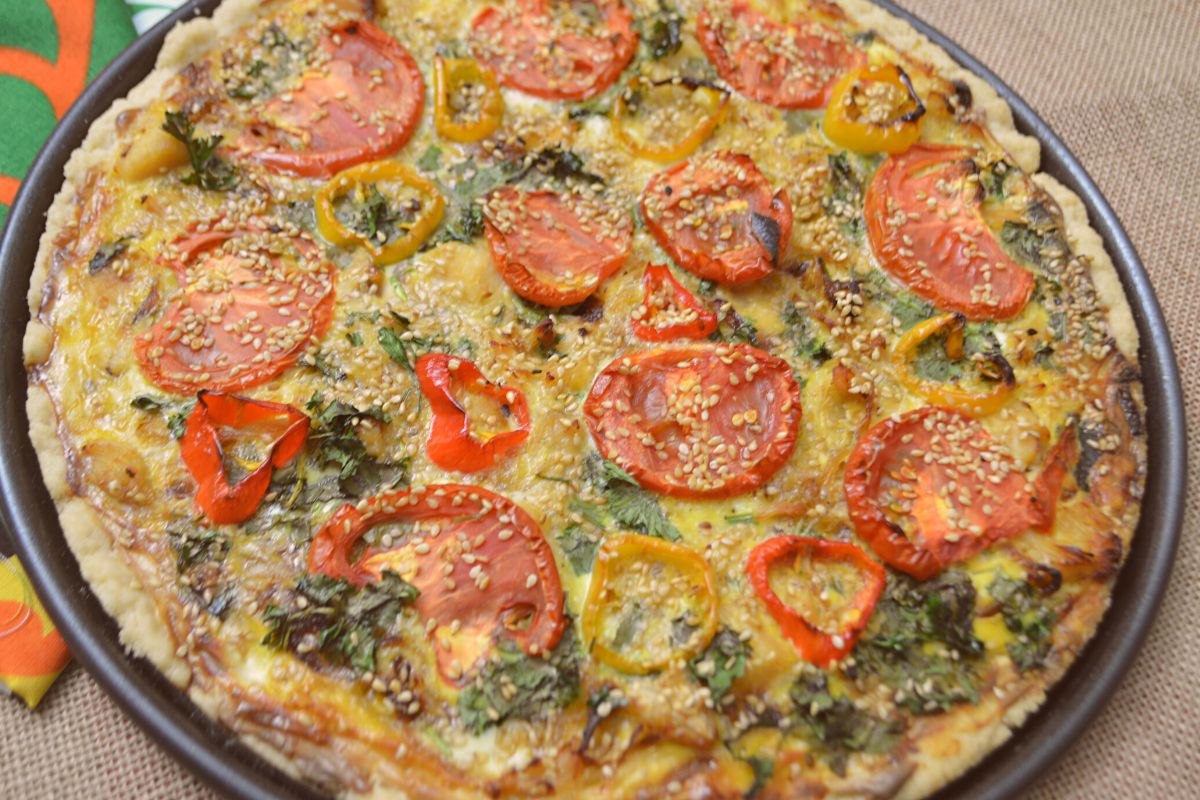 Merayesha is a term coming from the word "reesh" which means feathers in Arabic. Why calling this dish that weird name well simply because you are supposed to finely slice cooked chicken meat into very long think strips that looks like feathers.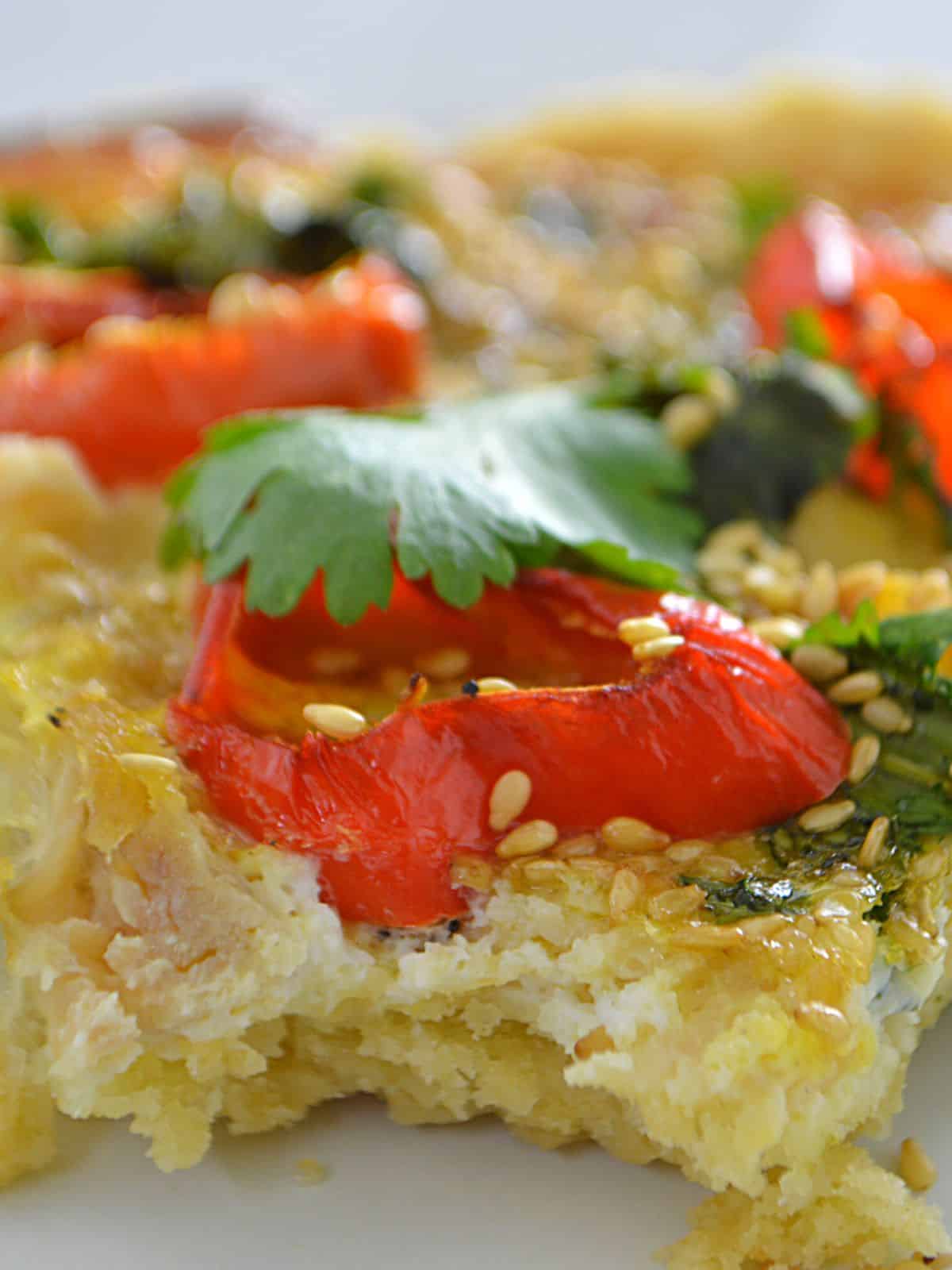 This dish was so new to me, when we were first introduced I fell in love from the first sight :). My Libyan friend told me that this is a very old recipe that many Libyans haven't heard about it before!!!. I have the feeling that the cream cheese coat was not there in the old time and it was maybe introduced later… or may be it was some sort of goat cheese layer back then, as cream cheese is not as popular in the region specially in the old days.
Somehow the sesame seeds adds a new dimension to this dish and gives it more authenticity. I really liked every bite of this merayesha. I highly recommend making this dish as is at first and then if you want , play with the ingredients as you like to adapt. But I'm sure most people will - at least- like the idea.
This recipe called for chicken meat that should be smoked, I've used a special and easy trick to smoke my canned chicken breast, but of course you are welcome to use any smoking technique you like.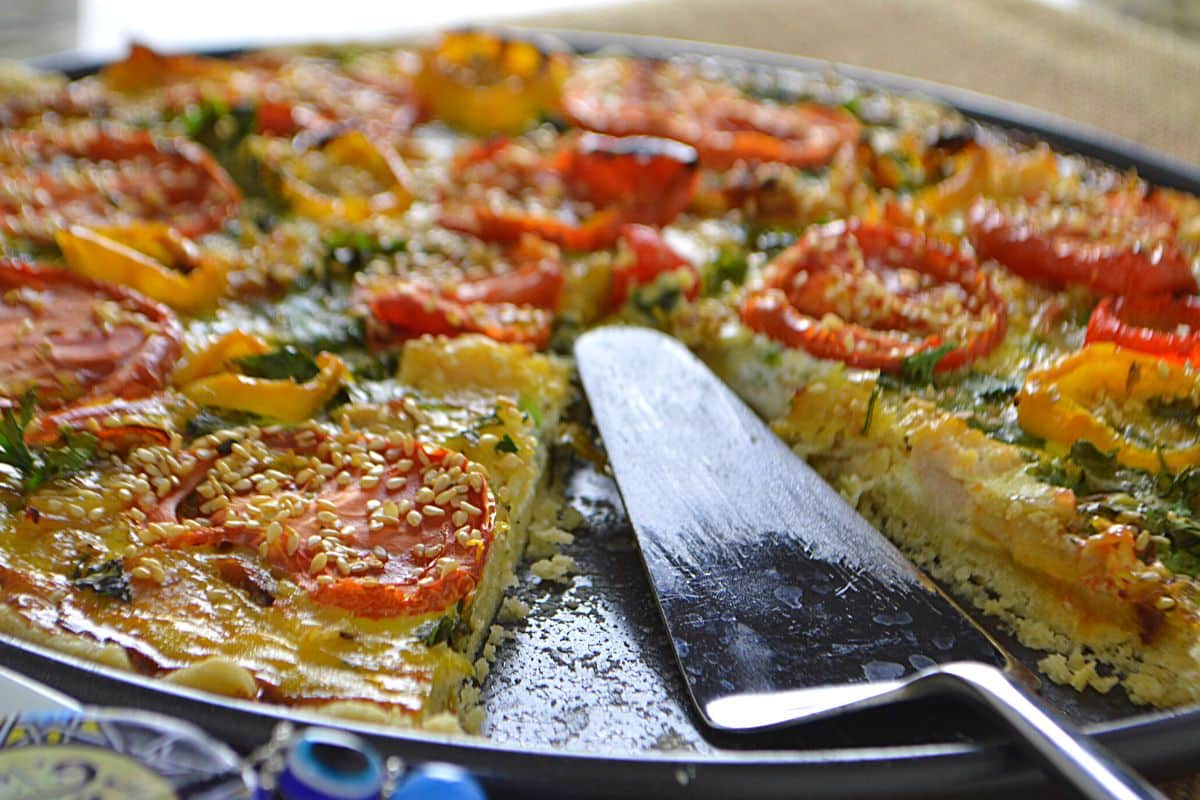 A final note: I have been bombarded on youtube by comments saying this is not a Libyan recipe, I have no idea if this was true or not but I am just relaying a message from my friend saying " If you do not know this recipe it does not mean it is not". And I tell you Libyan or not this is a very good recipe to enjoy.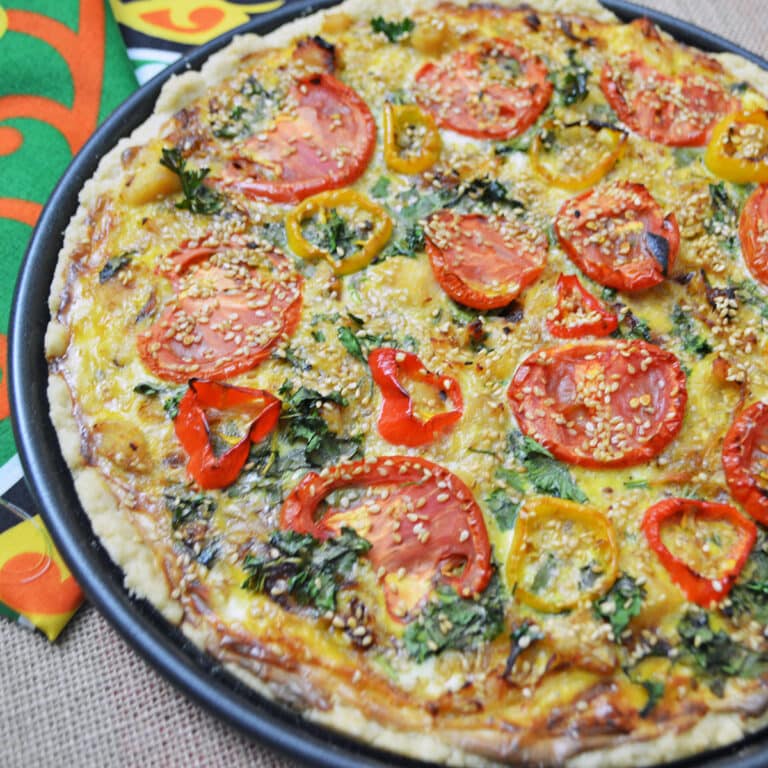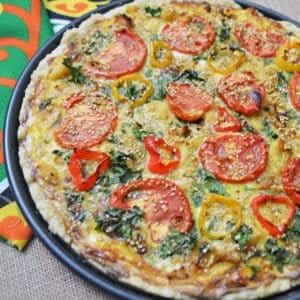 Savory Pie
A delicious cross between pizza and pie that is very flaky without using butter.
Print
Pin
Rate
Ingredients
For the crust
2 ½

cups

A.P. flour

¾

cup

Oil.

⅓

cup

water.

1

teaspoon

baking powder.

⅛

teaspoon

salt.
The topping:
1

cup

cooked chicken- shredded

I've used a can.

2

eggs

1

cup

cream cheese.

¼

cup

milk

1

medium onion.

diced.

2

Tablespoons

olive oil

1

tomato

½

cup

cilantro

chopped

½

cup

parsley

chopped

½

Tablespoon

sesame seeds

bell pepper

any variety

salt and pepper

to taste
Optional:
a piece of charcoal

I've used one that is for Nargila.
Instructions
Heat 2 Tbs of oil and sauté the onion rings until it is light brown then turn off the heat.
Make the crust
Mix the flour, baking powder and a dash of salt together in a deep bowl.

Pour the oil and mix well then the water mixing well too. Until you feel the oil and water are incorporated in the flour then kneed by hand to get a nice firm dough.

If you feel the dough is still crumbling and needs more wet rub your palms with about a Tbs of oil and kneed again on the other hand if you feel it is a little watery add 1Tbs of flour at a time and kneed as well

let it rest for 10 minutes covered on the counter top.
Make the topping
To add a smoking flavor to the chicken here is a trick - You can add smoking liquid to the chicken but I prefer doing this. Put a piece of charcoal on your stove top, When it gets red, turn it to the other side. Be very careful when doing this and keep an eye on it. Using a piece of foil make a small plate.

Make a well in the chicken and place the foil plate there.Place the hot charcoal piece on the foil plate then pour about teaspoon of oil over it and cover immediately with foil. It will smoke the chicken nicely.

Mix the cream cheese, ¼ c milk, salt and pepper ,until you get a creamy soft mixture
Assemble the dish
Roll the dough on a parchment paper rotating every now and then until you reach the pan size- I've used a 12" pizza pan then turn the dough into the pan, peel the parchment paper

Adjust the dough so that you have an edge - like what you do to make a tart.

Spread the cream cheese mixture on the dough and smooth evenly then add the onion to the chicken , season.

Beat the eggs and pour over the chicken.

Top with parsley, cilantro, tomato rings and bell pepper. Sprinkle with sesame seeds.

Bake for 15 minutes or until the edges are golden brown then reduce the heat to 350F, cover with aluminum foil and bake for another 30 minutes until done.
Nutrition
Calories:
249.8
kcal
|
Carbohydrates:
16.2
g
|
Protein:
6.2
g
|
Fat:
18.3
g
|
Cholesterol:
44.9
mg
|
Sodium:
276.5
mg
|
Potassium:
223.6
mg
|
Fiber:
1
g
|
Sugar:
1.3
g
|
Vitamin A:
11.5
IU
|
Vitamin C:
23.4
mg
|
Calcium:
4.1
mg
|
Iron:
7.3
mg
Sign up and learn more about Mediterranean flavors