Batbout is a kind of flat bread that is really has a strange name because, you see, in Arabic language Battah is the duck so does this bread makes you look like a duck!! 🙂 which is in our culture a couch potato !!! I have no idea, but what I know for sure is that this bread turned out grrrrrreat. You can make this plain with only one layer of dough and this case it is called Batbout.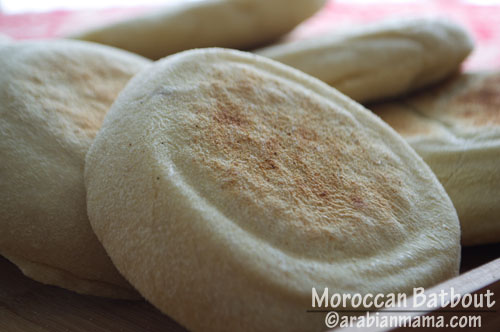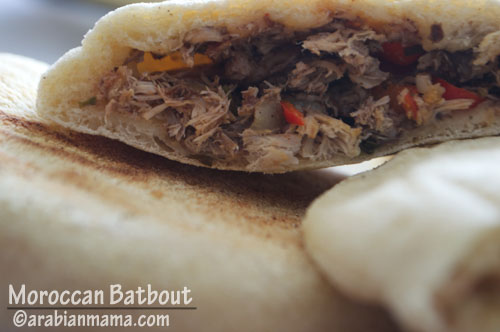 Or put some meat stuffing in the middle of two layers and in this case called Batbout Moamer.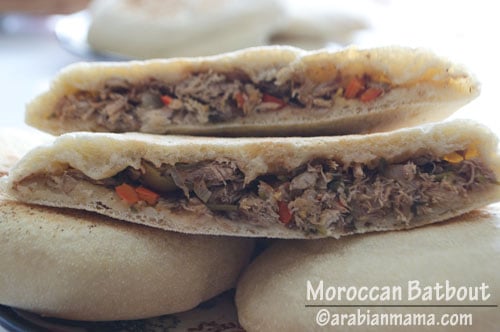 Batbout is also called Mekhmar and the stuffed one is called Mekhmar Moamer.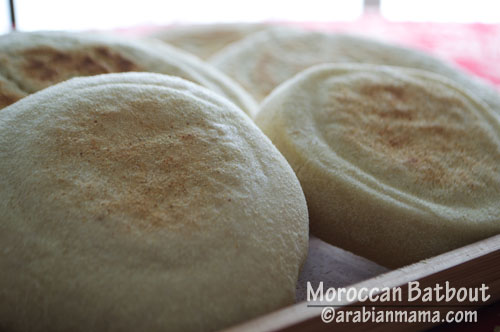 It is very soft and chewy from the inside. I really liked working with this dough as it should be very very sticky, which was fun for me as I've had some little hands helping along too :). I expected this to be more like the Pita bread but it has a totally different feeling in your mouth.
This bread is made by flattening an all purpose flour sticky dough in a bed of fine semolina... really cool. You can stuff this with almost anything, traditionally ground meat, but we did not mind stuffing it with left over chicken. I'm thinking of mixing the east with the west next time and go Mexican by stuffing it with some beans and chillies, I bet it is going to rock. You can eat it plain with honey,butter,jam , cheese and so on. So let your imagination go wild in this one, it is very forgiving and will trun out fantastic with almost anything in your mind.
Here is a video - I've tried to make it as short as possible - that shows ingredients and steps for making Batbout.
Thanks for reading, have a wonderful day.