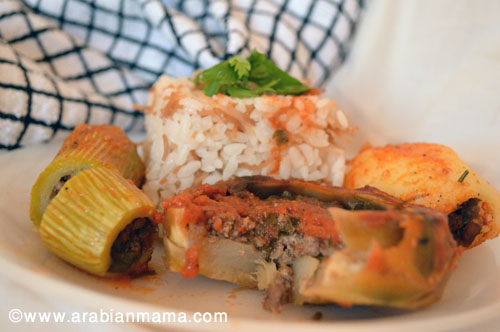 The Muslim nation has started the holy month of Ramadan almost a week ago. Ramadan is one of the most important months of the year for Muslims. In this month – as most of you know – we fast from dawn till sun set, we do not eat or drink anything for the whole day, so when it is time to break our fasting day you can see lots of good and yummy stuff set on our tables. Families usually gather a lot in those holy days to eat, you can see relatives you haven't seen since last Ramadan. For some families – like my hubby's- Ramadan seems like a month of Thanksgiving.
We usually start breaking our fasting day by dates, some refreshers and/or hot soup then we go to pray and after that we set on to start our meal. We do lots and lots of oriental and yummy dishes. One of them is our dish today stuffed artichoke, potato and zucchini dish.
We will need:
1 pound of small potato peeled and cored.

1 pound of zucchini peeled and cored.

1 pound of artichoke hearts .

2 pounds of ground beef

1 large yellow chopped onion.

1 cup of chopped parsley – optional

1 can 16oz of tomato sauce.

salt and pepper to taste.
First you start by sauteeing the onion in a 2 Tbs of oil- any kind- then add the ground beef,stir well add the parsley,salt and pepper. When it is done set aside until it cools a bit.

Fill your veggies with the beef mixture, arrange in an oven dish. Add some salt and pepper to the tomato sauce and pour over the veggies. Leave it in a 350℉ for an hour or until done.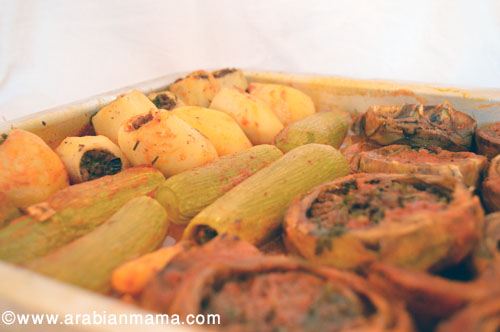 Serve hot with rice.