For almost two years, one of our dear friends here asked me several times to make him Harissa, well I have no problem with that except that I did not know what he was talking about!!! When I googled Harissa all what came up was the Tunisian Harissa dip wich probably all of you already know, but what he was talking about seemed to be sort of dessert. Finally, with his help, I was able to reach a version that is so close to what he meant.
Harissa is sort of Basbousa stuffed with a thick layer of coconut, raisins and nuts. It is solely sold in Alexandria - Egypt. When I was talking with dad he even told me that there is another version of Harissa sold in Damietta - another region in Egypt- that is completely different!!!!
Now for the recipe:
You will need to whip up a batch of

Basbousa

mix, for this 13x9 pan I made 1.5 .

3 cups of shredded sweetened coconut flakes.

1 cup of raisins.

1 cup of nuts- any kind you prefer I used almonds.

1/2 cup of cracked nuts to garnish - I used hazelnuts.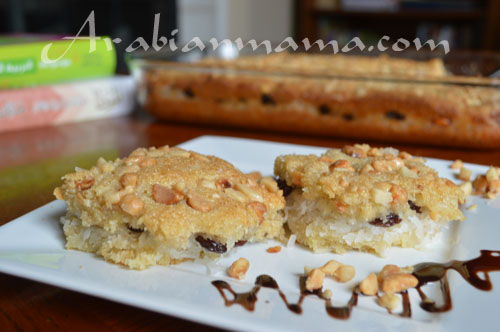 For the syrup:
1 cup of granulated sugar.

1 cup of water.

1tsp of lemon juice.

A dash of vanilla.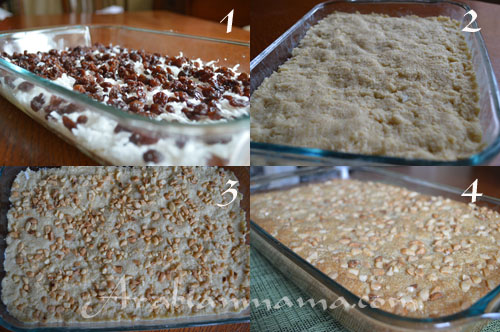 Spread 2/3 of the batter in one layer then on top of that spread the coconut flakes, raisins and nuts if any.
Cover with the remaining 1/3 of the batter and garnish the top with more nuts.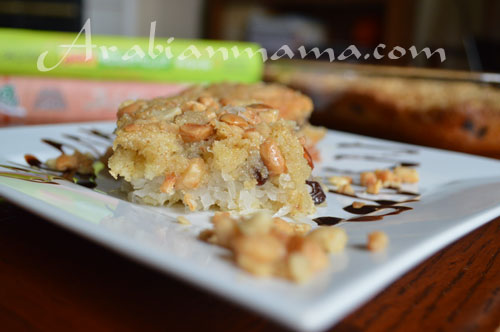 Put you pan in a 350F oven for almost 40 min or until golden brown.
Meanwhile prepare your syrup by dissolving the sugar in the water bring to a boil, then reduce heat and add the vanilla and the lemon juice. Simmer for about 15 minutes or until thickened a little.
Pour the syrup over the harissa while both are still hot. Let it cool down, then serve.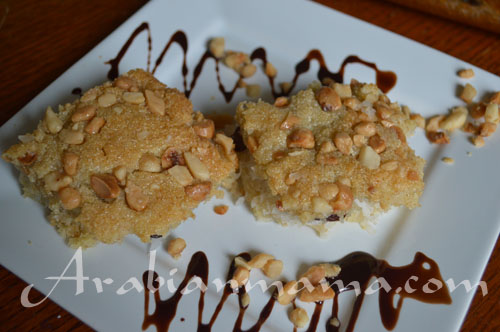 I have to tell you I was very proud of myself that finally I could make my friend's wish come true 🙂
and I am proud that I am the first one - I think so - on the internet to introduce you to the Alexandrian Harissa.
Now for some info. about the charming Alexandria.
It is the second largest city in Egypt, was founded by Alexander the great, and located on the southern cost of the Mediterranean of Egypt.
I hope you liked the dish and the tour, see you soon folks.