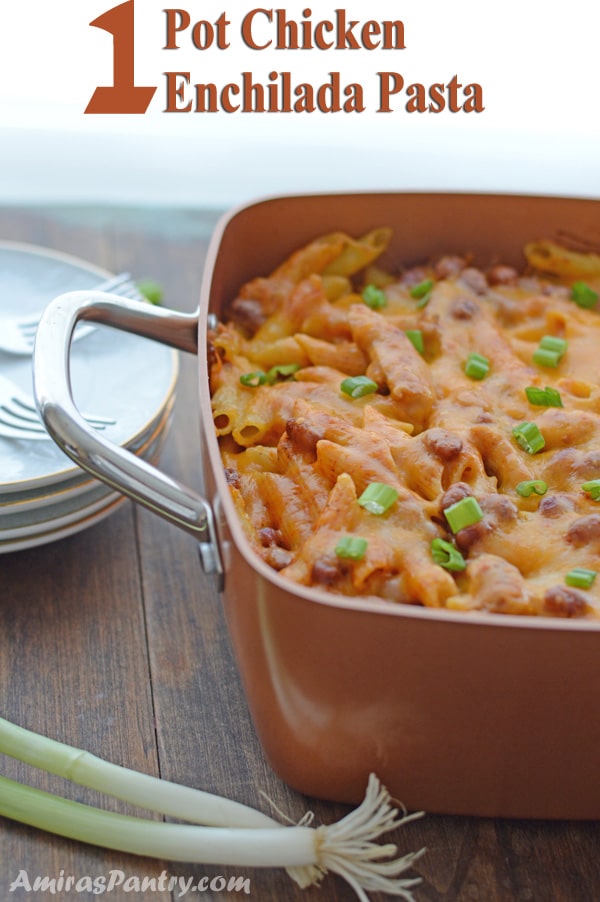 One pot cheesy pasta that is hearty, comforting, and saucy! A quick fix for dinner for those busy weeknights.
I first learned about enchiladas when my oldest was in 3rd grade, that is almost 5 years ago. It was the first time in my life hearing about that strange term!!. He ate enchiladas at school and he liked it so I had to search it up and try to recreate it at home.
To give you a hint about my oldest son, he is very and I mean VERY reluctant to try any new food and he always sticks to the safe side by only eating what he already know. So I was really surprised that he tried something he did not know and he actually liked it. When he was little, it took me a whole year to convince him to try eggs!!
As most of you know that enchiladas are basically tortillas filled with a variety of ingredients mostly meat with cheese or a combination of vegetables as well. When I first tried enchiladas, I was afraid that some of my kiddos will not like it as it contains beans. But fortunately they did not mind it at all, I think it is the sauce that made them like it. My kids will eat almost anything saucy especially tomato sauce.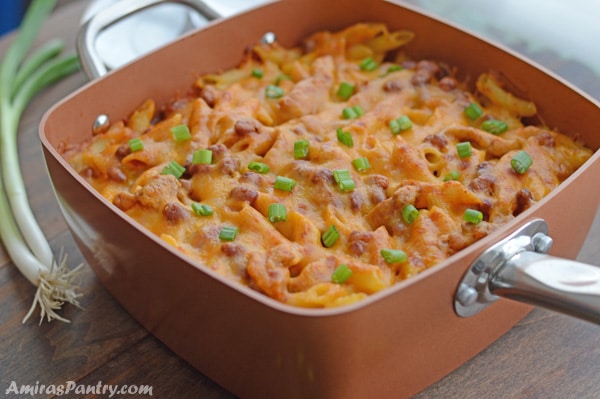 We've had a mourning week last week, in Egypt, it has been hard as there was an attack that left many people dead. My oldest had a tragic week at school as one of the older kids committed suicide, which traumatized children, teachers and parents. This was like stabbing me in my heart, I am seriously freaking out, waking up at night to check on the kids, talking to them regularly trying to know what is going on in their little minds, imagining that boy in his last moments, his family, what are going through and praying for all those who have lost loved ones.
It has been really stressful, this is the first time in my life to be close to suicide and I have never imagined that I will be panicking that much. I hope this will never happen again. Teen suicide seems bigger now and closer.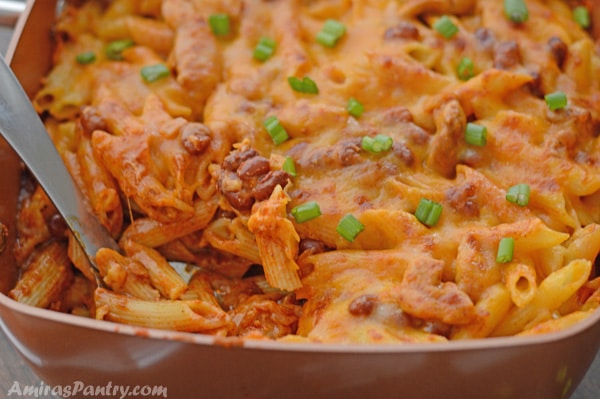 Pasta is the first food that comes to my mind when I am stressed out. This pasta dish is easy and real comfort food. So let me show you how I made this
If you have a pan that goes on stovetop as well as oven, this would be great. Everything will cook in 1 pot. So first, saute onions and garlic.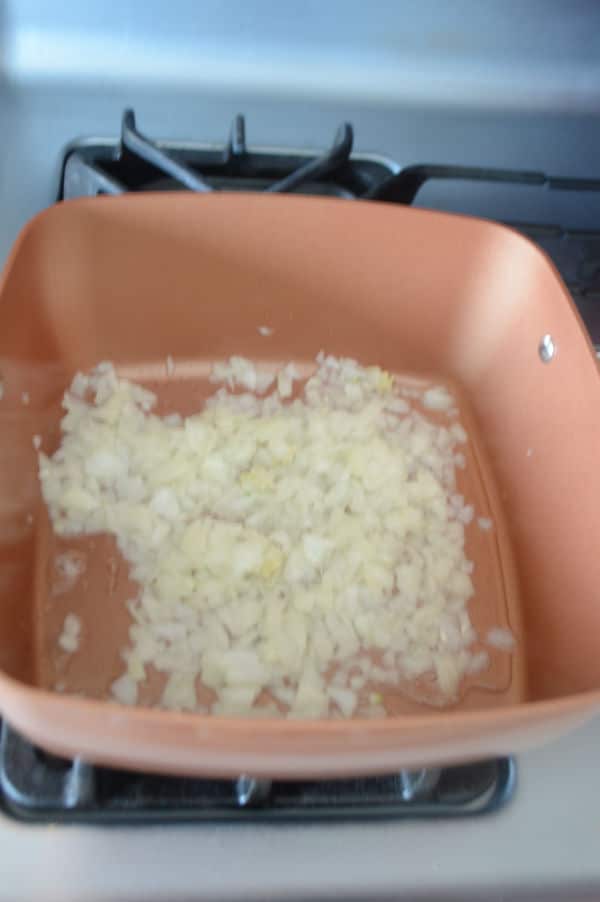 Add chicken or minced beef and stir.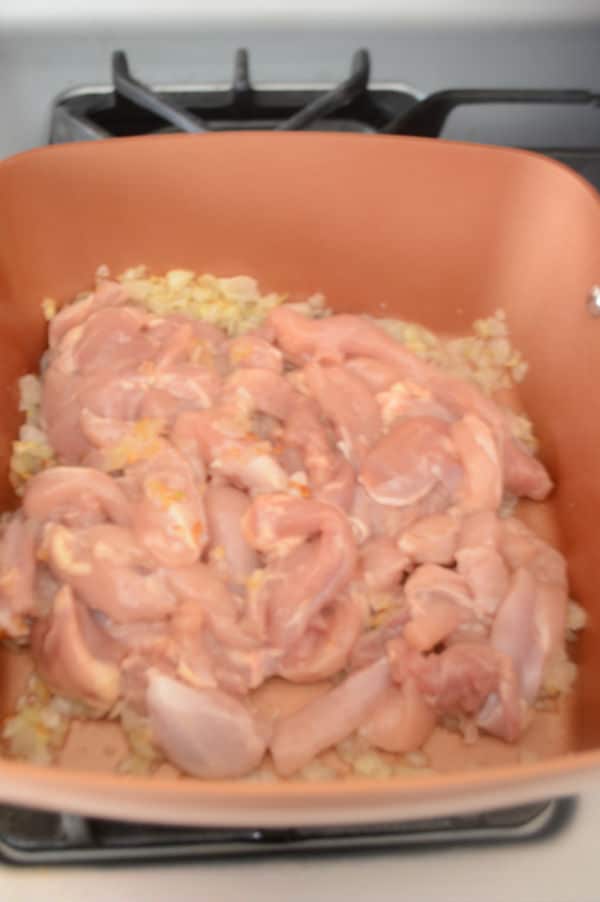 Meanwhile heat the sauce with spices in another pot or a microwave dish and cook pasta.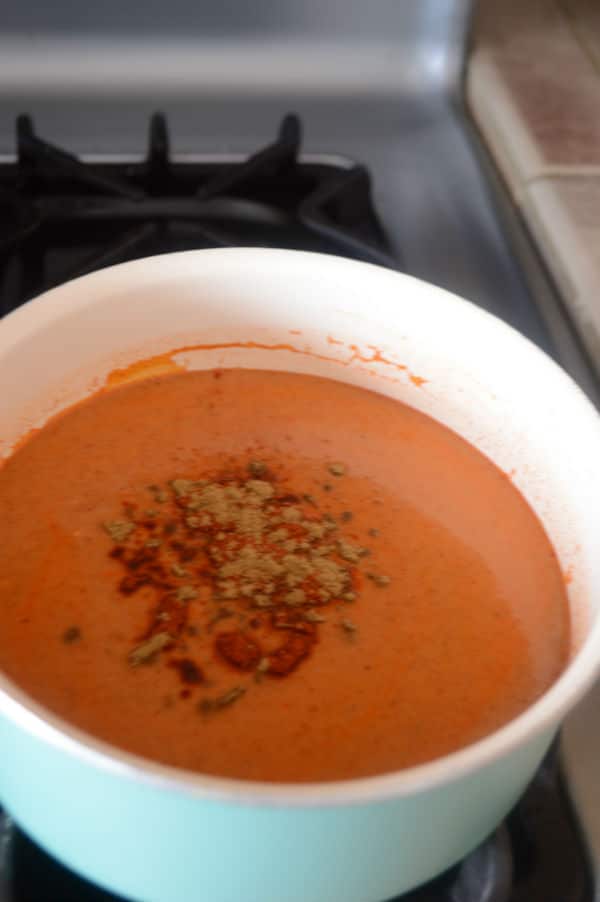 Pour pasta over the chicken.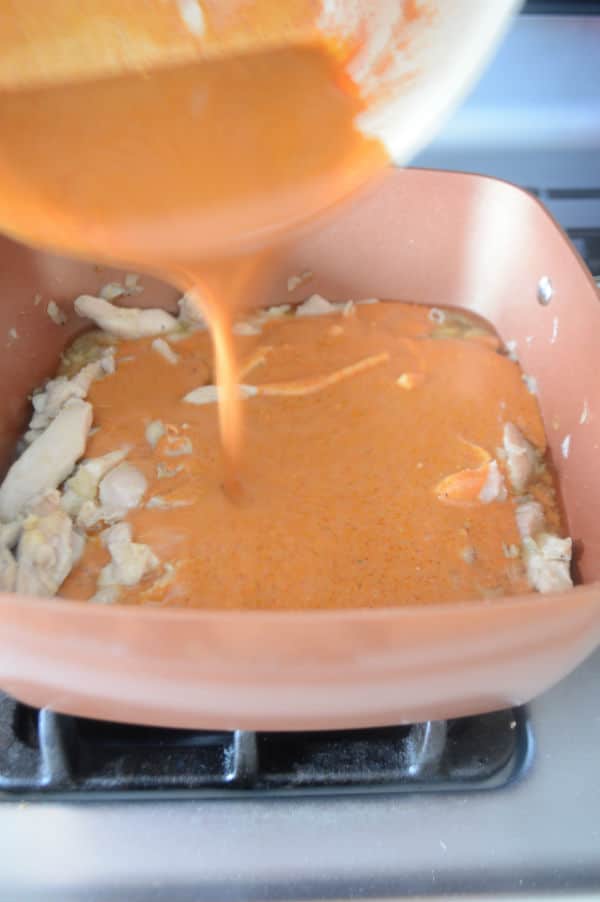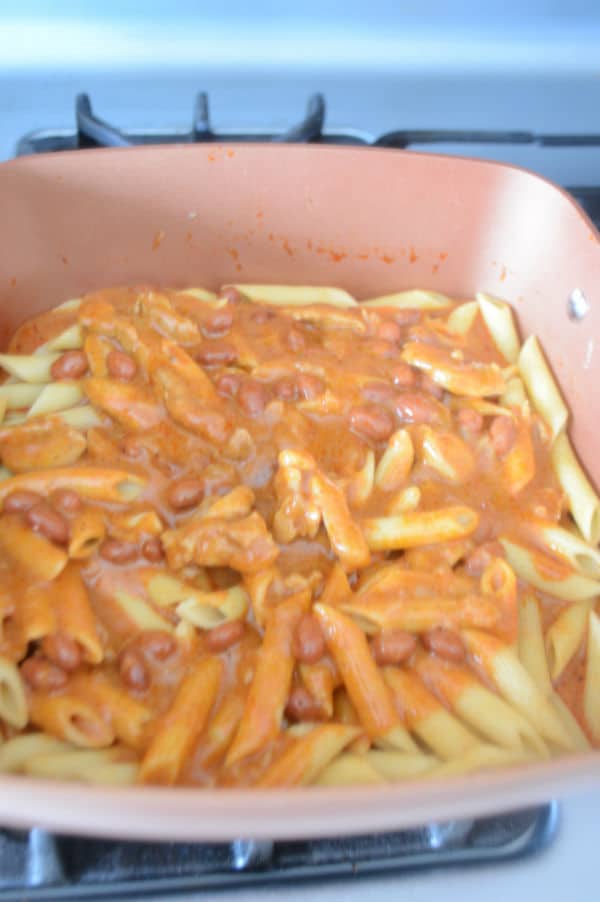 Add beans and let them simmer a bit to get to know each other well.
Start layering the pasta and cheese with the bean and chicken sauce.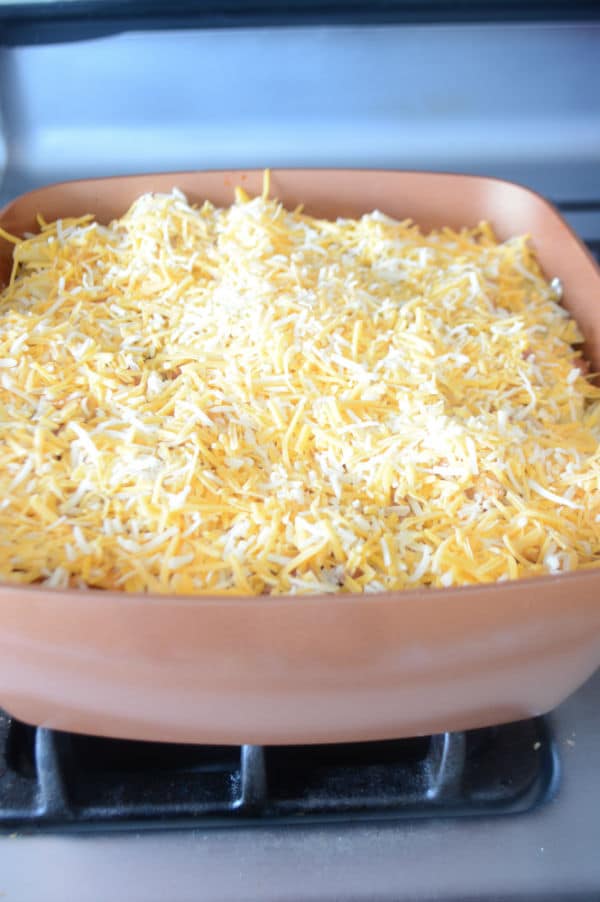 Bake in the oven until cheese melts and becomes bubbly.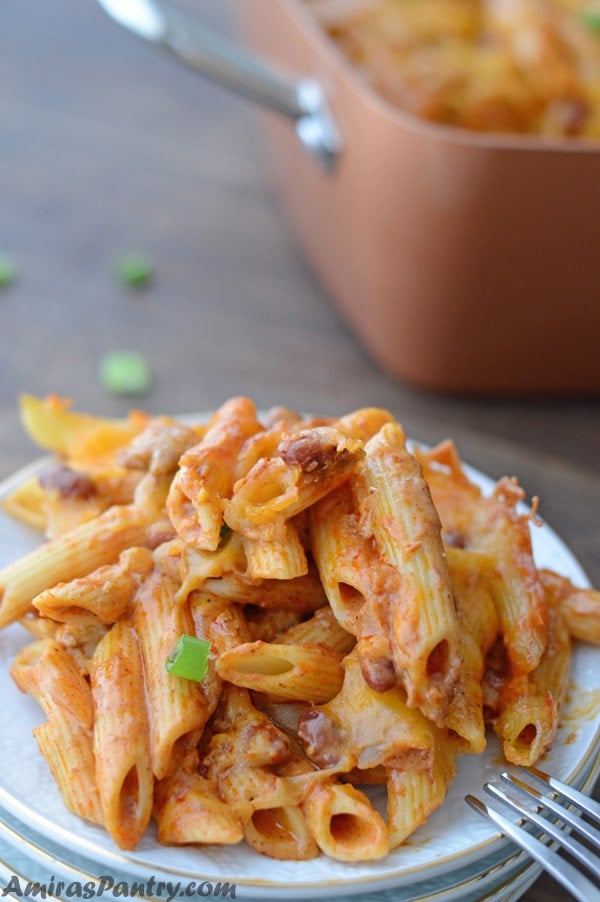 This is a very easy 1 pot dish, very suitable this time of the year. Especially with Cinco de Mayo approaching, as this recipe can be easily doubled or tripled to feed a crowd.
I hope you'll like making and eating this lovely pasta dish. Until next recipe... enjoy your week..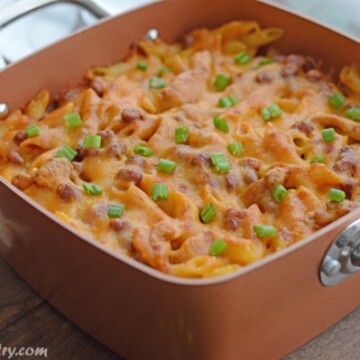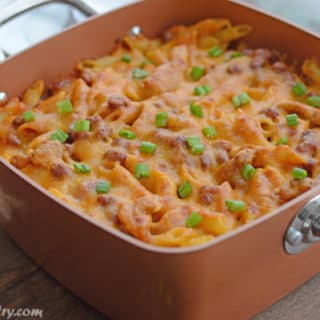 Ingredients
2

cloves

garlic

, minced.

1

medium yellow onion

, chopped.

3

Tablespoons

vegetable oil.

salt and pepper.

1

lb

. chicken thighs/breast

, cut into think strips.

1

(28 ounce) cans enchilada sauce.

½

cup

sour cream.

½

teaspoon

cumin.

¼

teaspoon

smoked paprika.

1

can

(15.5 oz) beans, any type you like.

12

oz

. uncooked pasta

3

Cup

cheddar cheese

, grated

TOPPINGS:

tomato

green onions

cilantro

black olives

, sliced
Instructions
Heat a large, deep skillet over medium high heat. saute oil and garlic for 7-10 minutes.

Add chicken strips, salt and pepper, cook until no longer pink.

In the mean time cook pasta according to package directions.

In a sauce pan heat the enchilada sauce, chicken broth, stir in the sour cream and add cumin and paprika.

Pour the sauce over the chicken, stir in the beans and cook for another 5 minutes.

Take ⅔ of the mixture out of the pan.

Layer half of the pasta over.

Pour ⅓ of the remaining sauce over the pasta.

Add 1 ½ cup of the cheese.

Layer the rest of the pasta over.

Top with the remaining sauce on top.

Sprinkle the rest of the cheese on top.

Cover the pan and put in a 350F oven for 10 minutes or until cheese melted.

Turn on the broiler for about 2-3 minutes until the cheese gets nice and golden.

To serve:

Top with chopped cilantro, green onions, diced tomato or olives.
Sign up and learn more about Mediterranean flavors