Have you ever tried to make turkey meatloaf only to end up with a dry one? Check out this recipe and you'll never look back, you'll never believe the secret ingredient you can add to make a flavorful, moist turkey meatloaf.
My kids enjoy ground meat, any sort of ground meat. This Kofta recipe is one of their favorite. If you are into meatloaves here is a beef meatloaf recipe that they enjoy.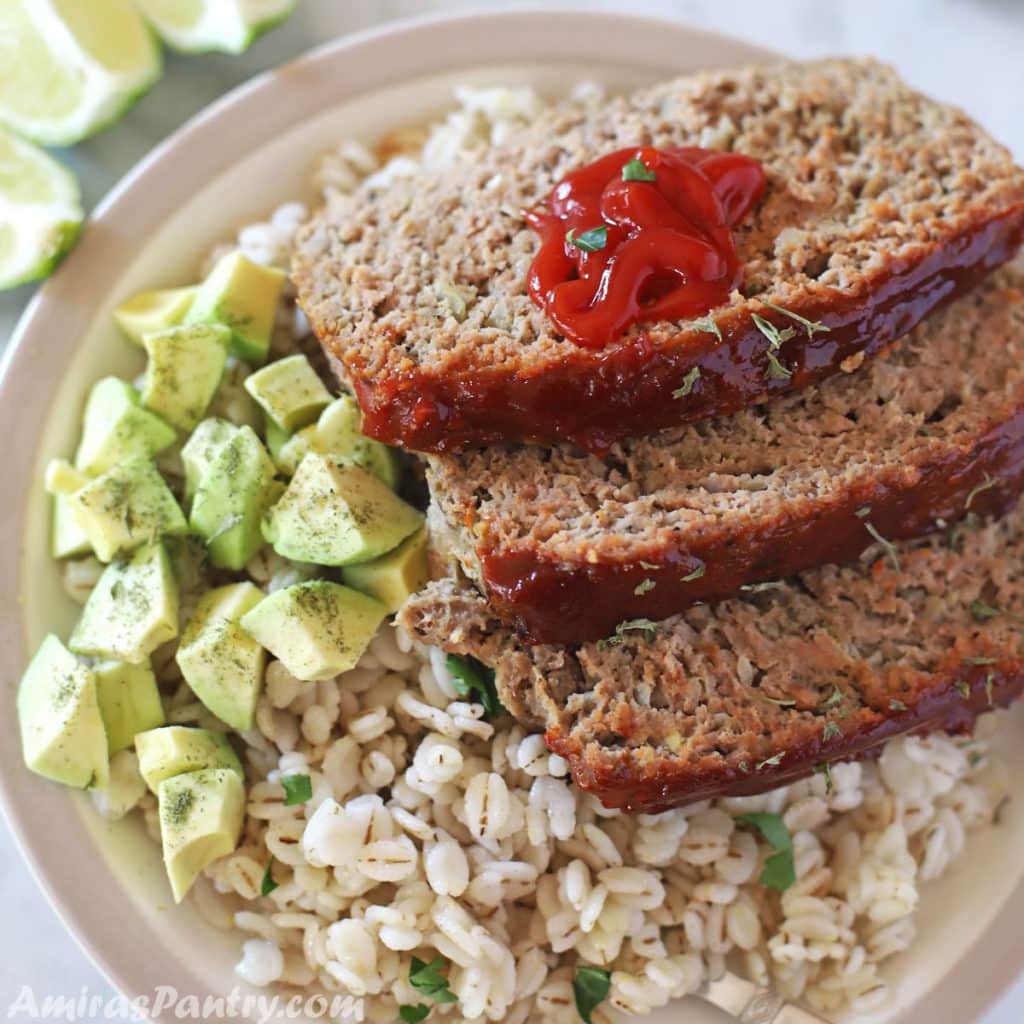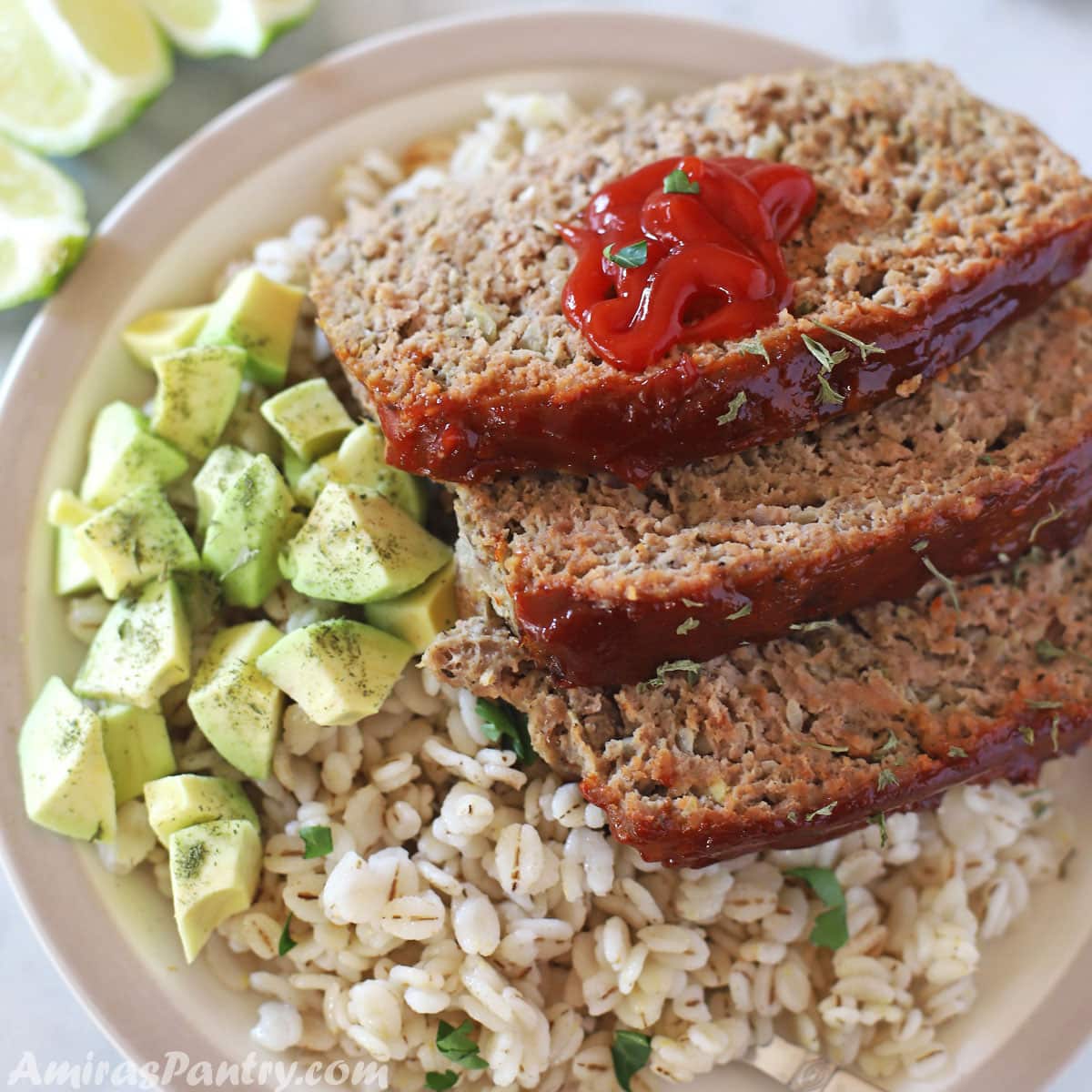 Turkey Meatloaf
I never really had turkey meatloaf when I was growing up, ground turkey was not a thing there when I was little. I liked the idea of having a leaner ground meat as an option, but never actually enjoyed it as it should be. I've had turkey meatloaves on occasions but it was always bland and dry. I tried a recipe before but my kids turned away from it.
In fact this bothered me a lot, so I set out on a mission to make a nice moist turkey meatloaf that my kids will actually enjoy. After some trials I added a secret healthy ingredient.. that was... avocado🥑.
If you are not a big fan of avocado, do not worry it will not make your meatloaf taste like one. Evidence is in my oldest kid!! He hates avocado to an extreme point, even more than he hates broccoli. I've tried a lot but he just still not there yet. I have to tell you I was skeptical and made some chicken for him as I was sure he wouldn't touch this meatloaf. Eventually I did not make real efforts, like mashing the avocados so finely, to hide it.
To my surprise, he actually ate it and even asked for it the second day.. until now I did not tell him it had avocado though😄.
How to make turkey meatloaf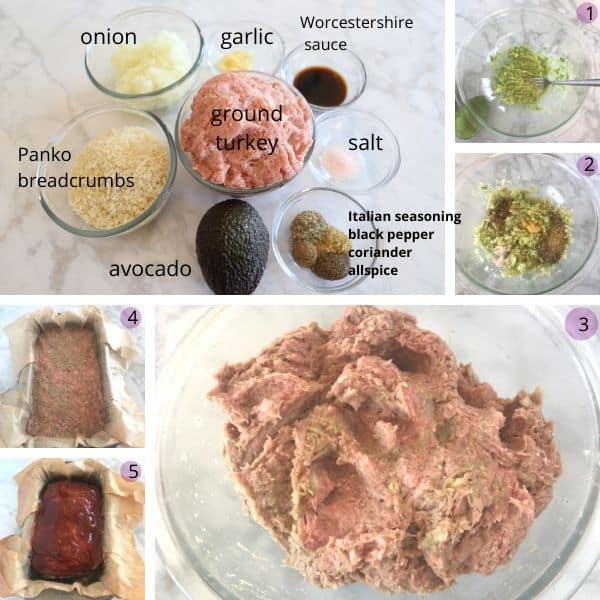 Cut the avocado in half and scoop up the flesh in a deep bowl. Mash with a fork. If you have picky eaters you might want to mash it really well to eliminate visible clumps.
Add chopped onions, garlic, bread crumbs and all the spices. Mix well and let it set for 10 minutes.
Add the ground turkey and lightly mix until incorporated
Shape on a piece of parchment paper then left and place into your baking pan. Bake for 40-45 minutes.
In a small bowl mix the sauce ingredients then pour over the meatloaf then return to oven for 10 more minutes.
Turkey meatloaf without eggs
Actually this came by accident. You see the first time I tested this recipe I added eggs, second time I forgot🙄. I took my family's opinion and they liked the eggless meatloaf more. So you might want to test that too on your family and check which one they like more. But let me assure you both are tasty and moist.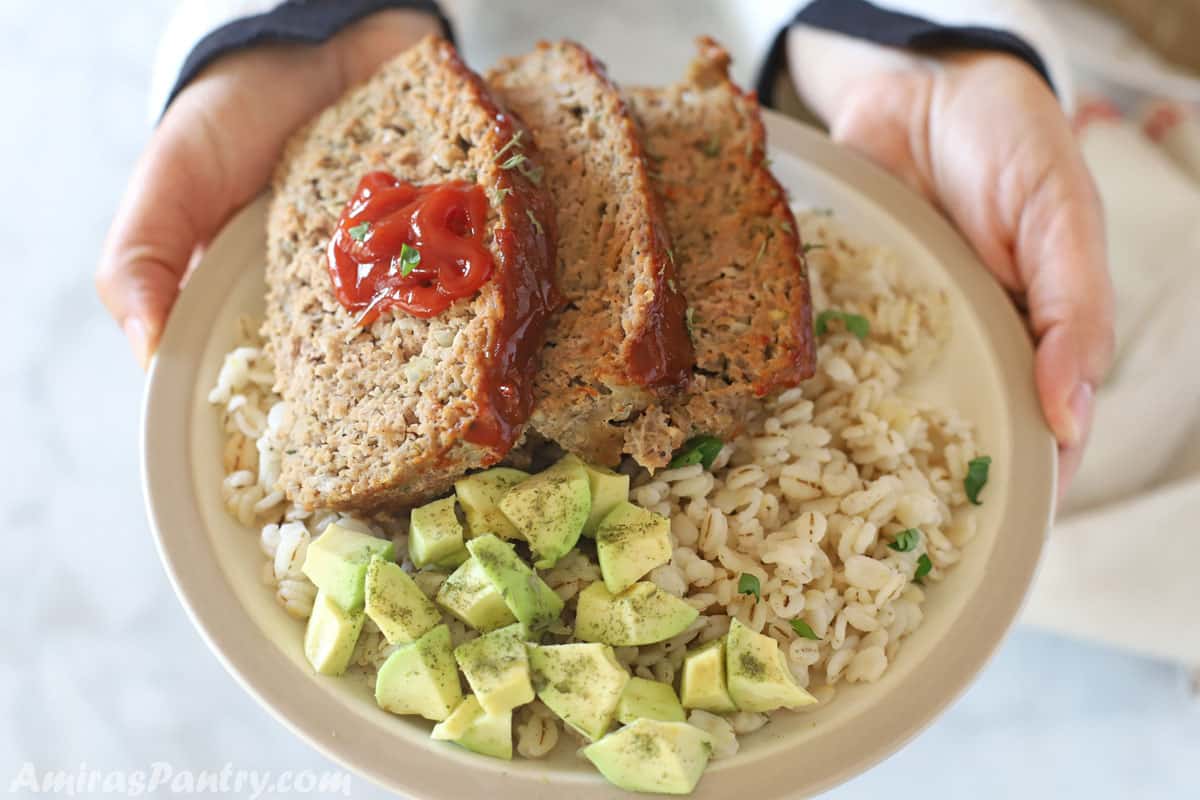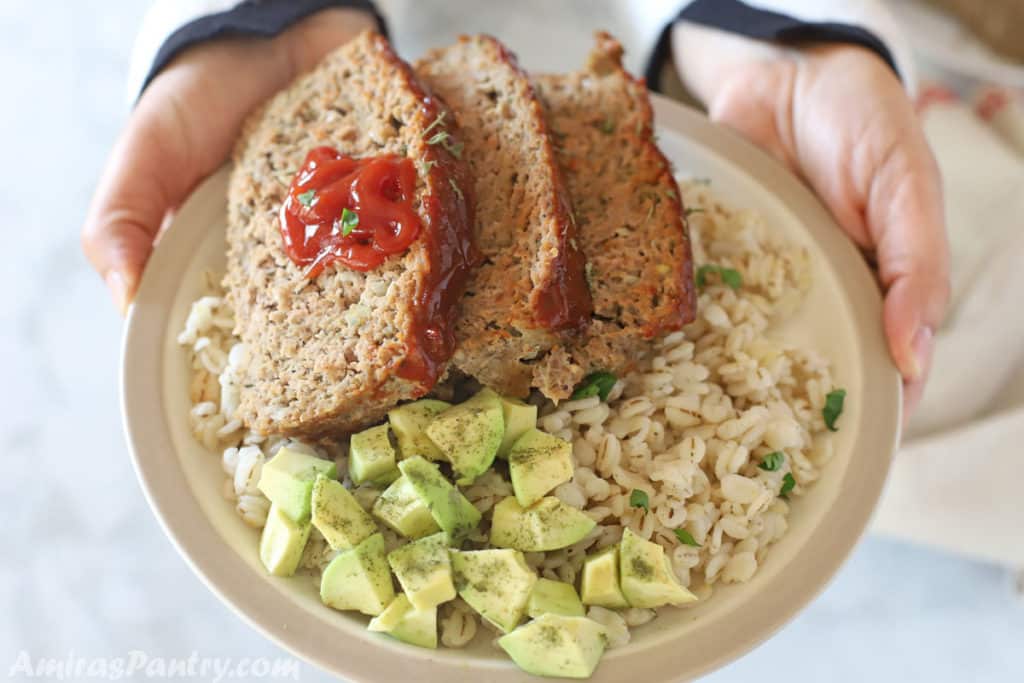 Tips for making meatloaf
If you want your meatloaf browned all around, bake on a baking sheet and not in a loaf pan.
How to tell if your meatloaf is done? If you have a meat thermometer then it should register between 165F-170F. If you don't then it should feel somewhat firm when you press on it and the juices run clear.
Make it gluten free by using gluten free breadcrumbs or swap for equal amount of oats.
Make it low carb and use almond flour.
Moist Turkey Meatloaf
If you like this recipe do not forget to give it a ⭐⭐⭐⭐⭐ star rating and attach a photo of your finished dish. It is always a pleasure of mine to see your photos and check your own take of the recipe. Thank you.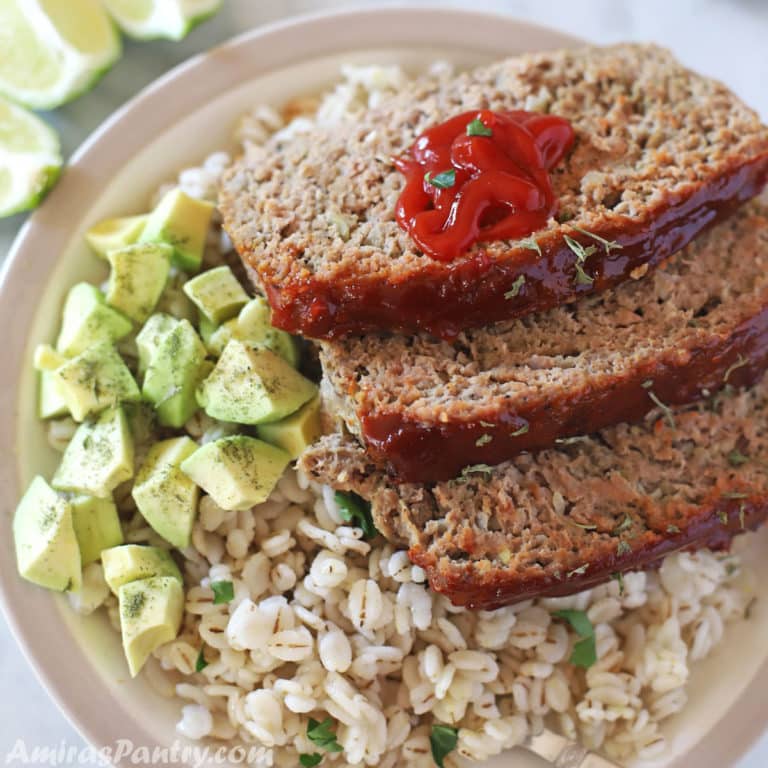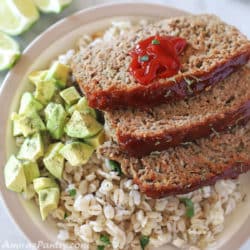 Turkey meatloaf
An incredibly moist and flavorful turkey meatloaf with breadcrumbs and avocado.
Print
Pin
Rate
Ingredients
1

(160g) ripe avocado.

Note1

1

(150g) onion.

1

cup

(65g) Panko breadcrumbs.

1

teaspoon

pink salt

or to taste.

3/4

teaspoon

Italian seasoning.

1/2

teaspoon

allspice.

1/2

teaspoon

ground coriander.

1/2

teaspoon

ground black pepper.

3

large garlic cloves

crushed.

1 1/2

Tablespoon

Worcestershire sauce.

2

large eggs

lightly beaten, optional. (Note2)

2

pounds

ground turkey meat.
For the glaze:
1/4

cup

barbecue sauce.

1/4

cup

ketchup.
Instructions
Preheat your oven to 400F

In a deep bowl, scoop up the avocado flesh and mash with a fork.

Add all the spices, taste the mixture and adjust seasoning if needed. Let it set for 10 minutes.

Add the eggs if using then lightly mix in the ground turkey.

Shape on a piece of parchment paper large enough to fit in a 9x13 loaf pan.

Bake for 40-45 minutes.

Prepare the glaze in a bowl, then spread over the loaf.

Return to oven for 5-10 more minutes.

Take the loaf out and wait for it to cool down a bit before slicing.
Notes
Note1: One of my kids does not even like the sight of avocados and I was worried that he might sense what is in there. Surprisingly, he did not even ask when he saw some green bits here and there as I did not mince it super fine.
Note2: I have tried both versions and tested it on my family. Personally adding eggs made the turkey unnecessarily over moist which is hard to believe when it comes to turkey meatloaves. But it was too tender for our taste. I have to say now of my kids liked it with eggs more.
Serving suggestions: Here are some of our favorite sides to go with the meatloaf. Try this fragrant yellow rice or give this rice pilaf a try. Here's my favorite brussels sprouts dish or may be this roasted butternut squash.
Values calculated without the eggs and using pink salt.
Please check the nutrition disclaimer policy.
Nutrition
Calories:
180
kcal
|
Carbohydrates:
13.1
g
|
Protein:
23.8
g
|
Fat:
3.3
g
|
Polyunsaturated Fat:
0.3
g
|
Monounsaturated Fat:
1.6
g
|
Cholesterol:
56
mg
|
Sodium:
230.2
mg
|
Potassium:
120.1
mg
|
Fiber:
1.8
g
|
Sugar:
3.1
g
Sign up and learn more about Mediterranean flavors