I've been sick in bed for almost a week. Kids go to school, kids bring in common cold viruses from school, everybody at home is sick and eventually I get it ... sounds familiar?. Bottom line: kids should never go to SCHOOL :).. just kidding if they stayed at home I will go nuts in only 2 days.
So what is more nourishing than dates to boost your health and ability to heal - at least from my opinion? I am a true believer in dates may be because I was born in Saudi Arabia the land of palm trees :).
This is by far the best date cake I've ever tried. Every one liked it, even my 3 years old. It was moist, fluffy and not too sweet. I highly encourage you to try it.
We'll need:
1 cup of pitted dates - almost 16 ones- soaked in 1 cup of hot water for 30 minutes.

1/2 cup of powdered sugar.

1 cup of all purpose flour.

1/2 cup of oil.

2 eggs .

A dash of vanilla powder.

1/2 tsp of cinnamon.

1 Tbs of baking powder.
For garnishing I've made soft toffee and used walnuts, so to make the toffee: 2 cup of white sugar + a can of cream.

Using your blender, beat the eggs,vanilla and cinnamon. Then add the sugar and the oil until all are mixed well.
Add the dates with the water to the blender and blend again.
Sift the dry ingredients together then pour the wet mixture over and mix well. You'll notice that the wet mixture still got some date clumps in it but it is ok, actually it adds texture to the cake.
Pour the cake mixture in a prepared oven pan and bake in a 350F oven until done, almost 25-30 minutes. take it out and let it cool. Meanwhile make the toffee.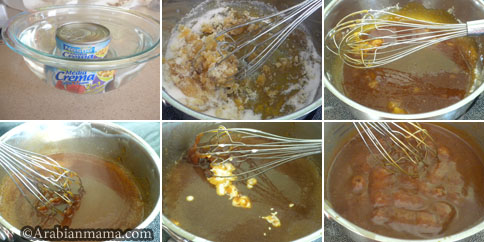 Be very careful when making the toffee as it is so hot. Please declare the kitchen a NO ZONE for kids and pets. First put your cream can in a very hot water for at least 30 minutes. Put 2 cups of sugar on medium heat and stir every now and then be careful not to let it burn. Let the sugar melt on medium-low until it is completely done and is turned into liquid form. Carefully add the cream and stir quickly until all the lumps disappear and the mixture is thicker.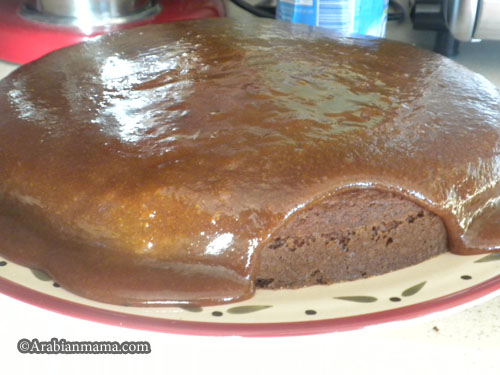 Pour the toffee over the cake and garnish with extra nuts if you want.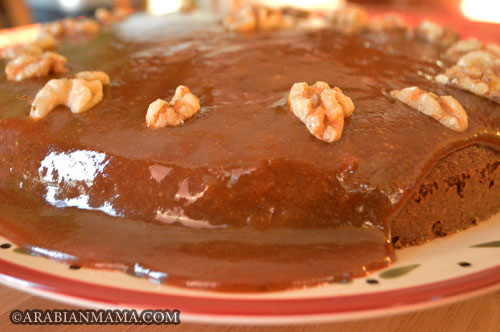 You can eat it without the toffee or make any other garnish of your choice. Powdered sugar, caramel, frosting or plain it is delicious by all means.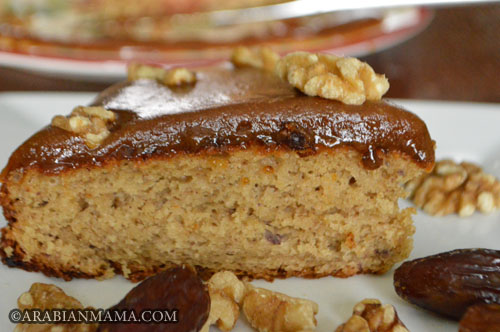 Serve and enjoy.
Now, I would like to share some of my favorite things:)
In my humble opinion the best dates ever are grown in Madina, Saudi Arabia. There are so many kinds sold in Madina here are some of them.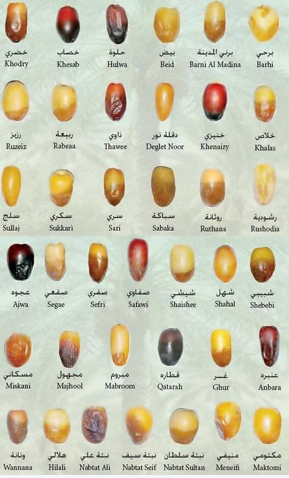 Now off for some history:
Madina is one of the most sacred places on earth for Muslims as there was our prophet lived for many years of his life. There also lies his mosque, his house and his grave.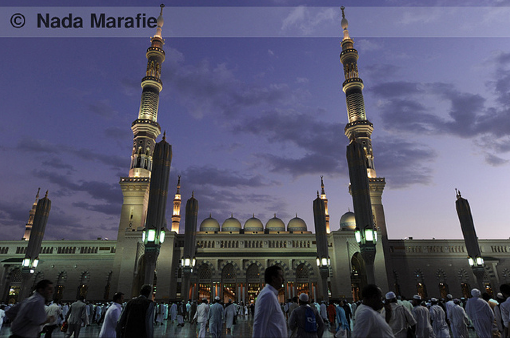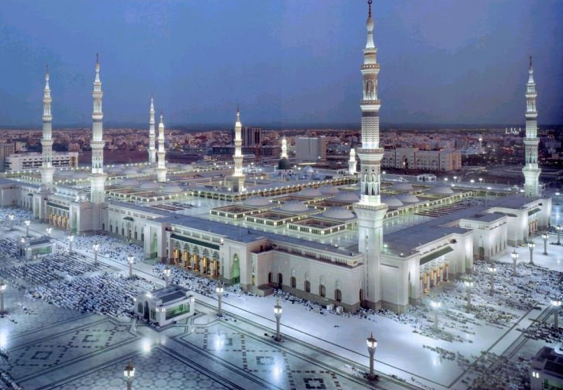 I hope you've liked today's dessert and enjoyed the quick trip.
Photo credit here, here and here