Flavorful rice and meat dish, and as Sasha says try not to pass out from the wonderful aromas filling your home while cooking this amazing 5cs spices dish.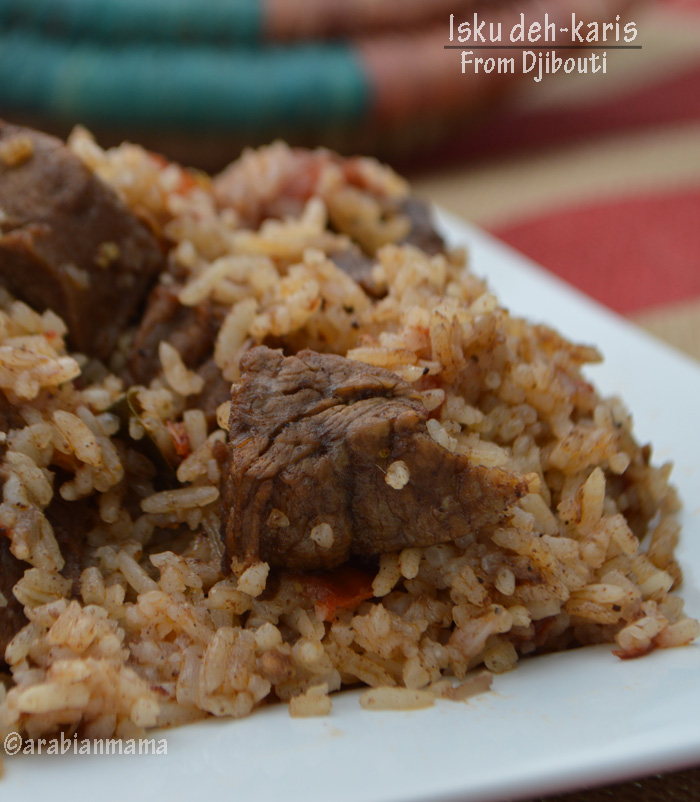 MENA cooking club challenge this month is to cook from Djibouti, and to your - and my- surprise I was the host of this month's challenge! :). I have little to NO experience at all in Djibouti cuisine but after some research I came up with a couple of recipes and this was one of them from Sasha's beautiful blog.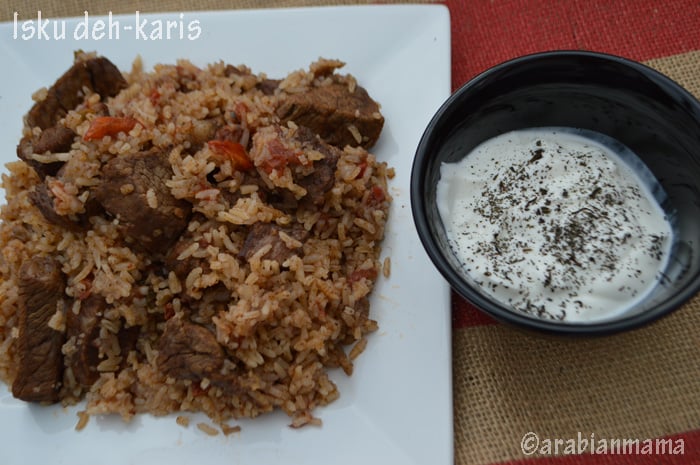 It was very hard to know how this dish is pronounced and finally I've found an Arabic forum that has a post about this dish, and oh my, the pronunciation in Arabic did not sound inviting to eat at all :).
Hubby was so pleased with the flavors, to tell you the truth I thought it would be more like the Saudi Kabsa, but it turned out totally different thanks to the - what I call - 5Cs spices in this aromatic dish, Cumin, Cardamom, Cinnamon, Cloves and Cayenne. Can you smell these beautiful aromas all in one pot?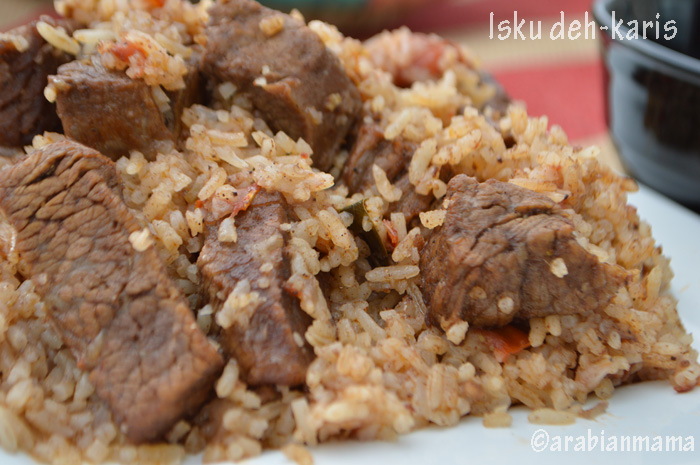 After hubby filled his tummy and showed appreciation, I told him the name, he was like WHAT?!! his reaction was hilarious :). Do not let this hold you back from trying this authentic dish, it is very easy to make and a one meal dish. I've served this with yogurt dip .
I've cheated in this recipe a little and made it with beef instead of lamb as we cannot tolerate lamb in our home. Next time I would make this recipe with chicken breast I bet it is going to rock the audience.
Here is a short video on how to make this aromatic rice dish. Enjoy the rest of the week.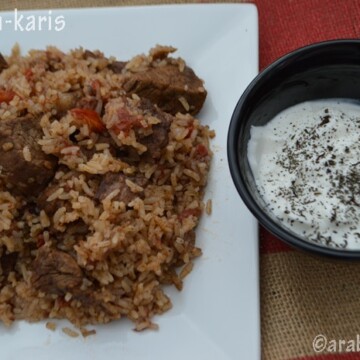 Ingredients
1

pound

lamb

cubed

1

onion

chopped

2

Tablespoons

oil

1

teaspoon

cumin

1/4

teaspoon

cloves

1

teaspoon

cardamom

1/4

teaspoon

cayenne

or to taste

1/2

teaspoon

cinnamon

1

garlic clove

1

14 oz can diced tomatoes

1

cup

water

plus extra as needed

1/2

cup

long-grain rice

salt & pepper
Instructions
In a large pot or skillet, heat the oil, sauté onions for 1 minute then add cumin, cardamom, cayenne, cinnamon and cloves. Continue to cook for a couple of minutes more until onion is tender.

Add the meat and stir to brown the meat well.

Next add the tomatoes and water, cover and let the meat cook until completely done. Check it with a fork.

Add the rice, salt and pepper and enough water for your rice to cook.

Cover and let it cook until rice is done.

Serve warm with your choice of salad. I served it with yogurt dip.
Sign up and learn more about Mediterranean flavors