Flavorful rice and meat dish cooked in one pot. Skoudehkaris is a traditional dish from Djibouti.
Next time, try Mansaf, a rice and lamb dish from Jordan.
❤️ Why You'll Love It
A very flavorful dish.
Family friendly comfort food.
A one pot meal that you can add upon.
Traditionally made with lamb but can be adapted to any meat you have or make it meatless.
📝 Ingredients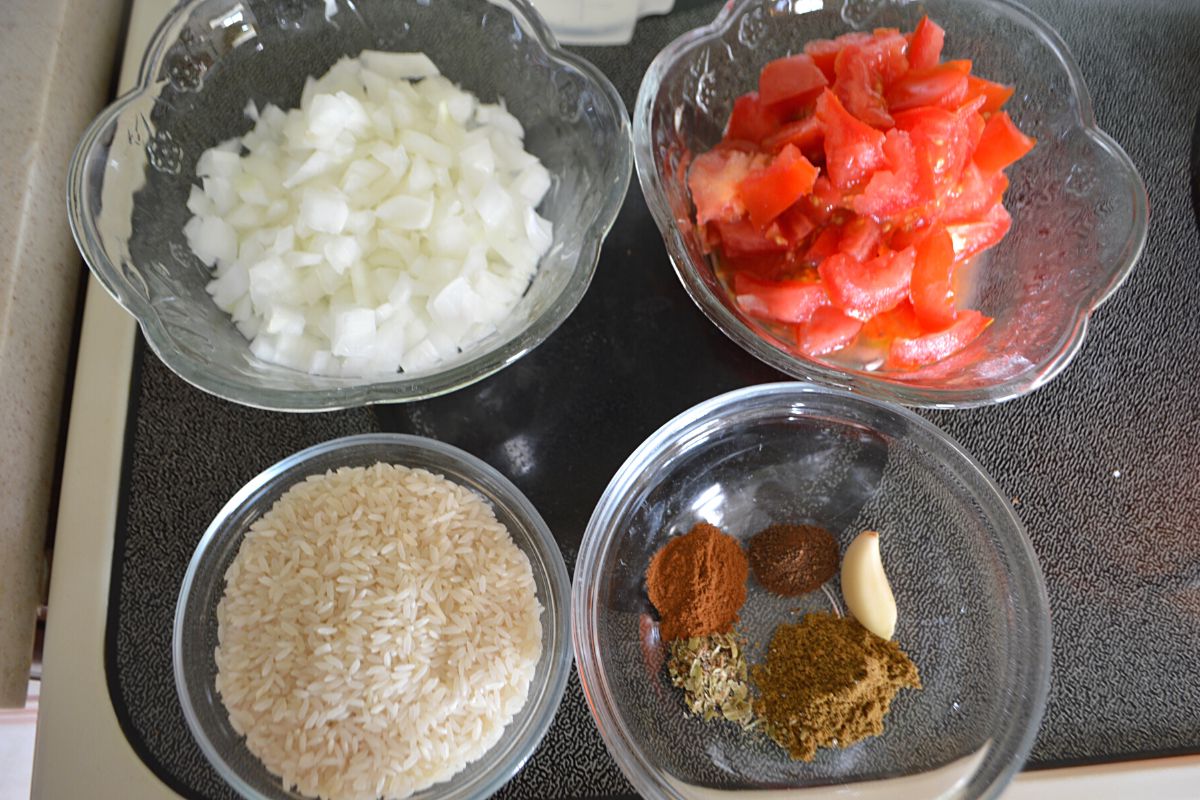 📋 Ingredient Notes
Rice, you can use any sort of rice you like.
Meat, as said before this dish is traditionally made with lamb chunks but you can use any meat you like.
Onions and garlic as flavor base.
Diced tomatoes.
Olive oil.
Spices, are the heart and soul of this recipe. Cumin, cayenne, cinnamon, cloves and cardamom are used.
🥄 Instructions
In a large pot heat the oil, sauté diced onions for 2-3 minutes until translucent. Add minced garlic and continue to cook for another 30 seconds. Add cumin, cardamom, cayenne, cinnamon and cloves. Cook for a couple of minutes more.
Add the meat and stir to brown the meat well from all sides.
Pour in the canned tomatoes, water, cover and let the meat cook until completely done.
Add the rice, salt and pepper and enough water for your rice to cook. Cover and let it cook until rice is done.
💡 Expert Tips
Add a tablespoons of tomato paste to the pot for a more vibrant red color.
You can use fresh chopped tomatoes if you do not like the canned ones.
Add some chili peppers to the spices if you like more heat.
🧺 Storage
Place leftovers in an airtight container and refrigerate for up to 3 days. Reheat on stove top.
🍽️ Serve With
This dish is loaded with aromatic spices and always like to serve such dishes with a yogurt based side dish. This tzatziki works great and for a drinkable yogurt you might consider serving with Ayran.
📣 Related Recipes
Chicken Kabsa is the national dish of Saudi Arabia and many of the gulf area countries. Chicken cooked with rice all mixed together with a special flavor blend.
Egyptian meat fattah is a wonderful dish made with rice, meat and bread.
I hope you'll like this recipe and please if you make this recipe, snap a pic and hashtag it #amiraspantry — I love to see your creations on Instagram, Facebook, Twitter!
Don't want to miss a recipe? Sign up for the FREE Amira's Pantry newsletter delivered to your inbox with lots of tips and surprises! And stay in touch with me on Facebook, Twitter, Pinterest, and Instagram for all the latest updates.
If you like this recipe do not forget to give it a ⭐⭐⭐⭐⭐ star rating and attach a photo of your finished dish. It is always a pleasure of mine to see your photos and check your own take of the recipe. Thank you.
What's new? Check out Amira's Pantry Store on Amazon where you'll find all kinds of nostalgic goodness! Thanks so much for being a part of Amira's Pantry!
First published Sep 10, 2014 . Last updated August 3, 2022 with important tips, clear step by step instructions and readability.