An easy 30-minute chicken mushroom casserole for those weeknights when you need something quick and healthy. Creamy delicious and you won't even miss the extra calories.
This creamy Mushroom Chicken recipe takes less than 30 minutes for a quick and easy weeknight dinner. Delicious, tender chicken in a creamy mushroom sauce for a busy weeknight dinner.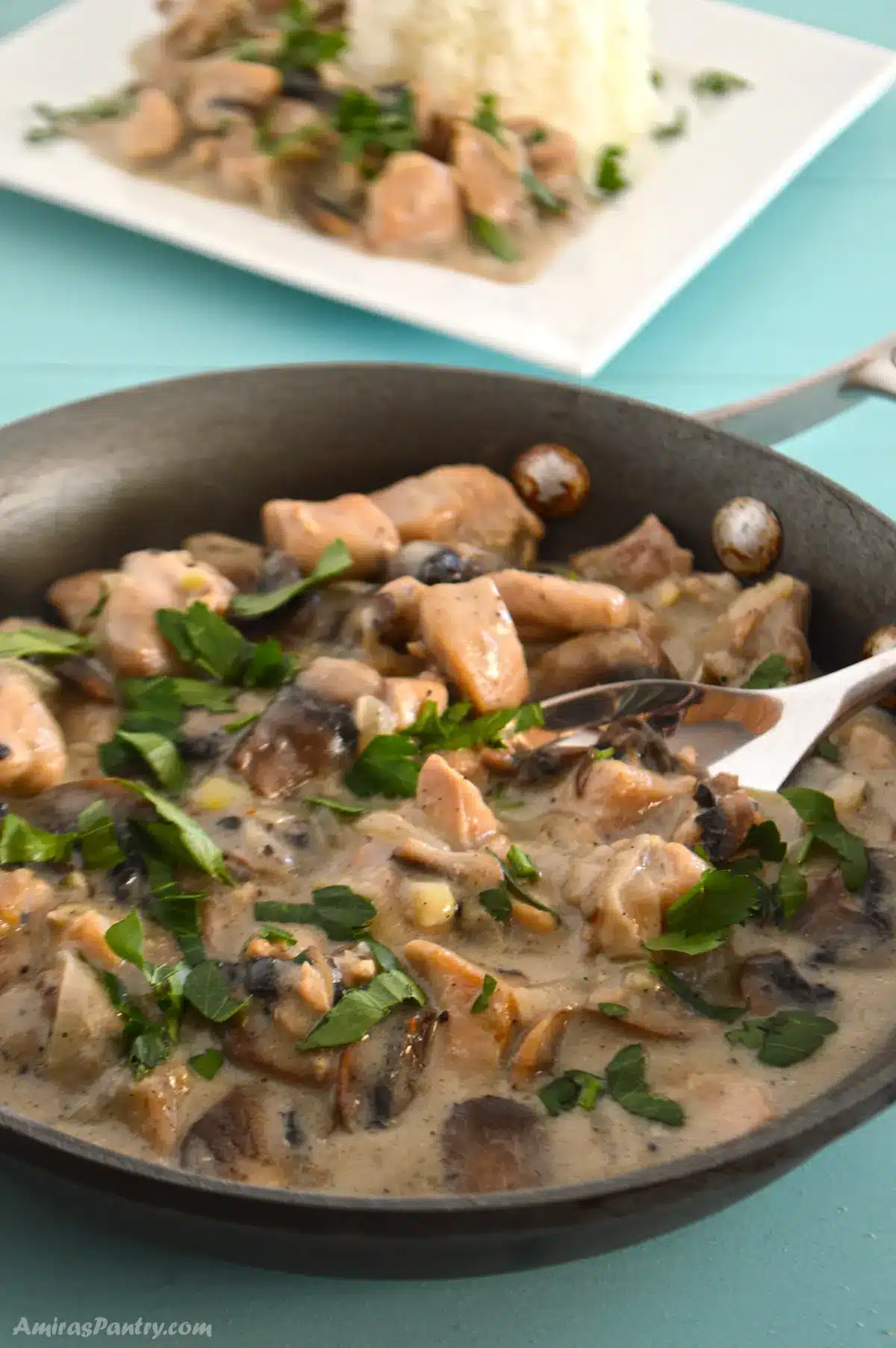 Jump to:
❤️ Why You'll Love It
A casserole dish made easy on your stove, no need to turn the oven on.
Simple yet flavorful and rich with just few pantry ingredients.
Needs just 10 minutes of prep time, perfect for busy back to school weeknights.
A family favorite delicious dinner for over 15 years and counting.
There are a lot of versions of this classic Chicken Mushroom recipe but this one comes without the extra calories, easy, and has stood the test of time
📝 Ingredients
Note: This is an overview of the ingredients. You'll find the full measurements and instructions in the recipe card (printable) at the bottom of the page.
Chicken, I prefer using chicken thighs but chicken breasts work too.
Mushrooms: I like using Cremini mushrooms for this recipe but you can also use baby Bella mushrooms, white mushrooms or any kind of mushrooms you like
Chicken broth.
Olive oil and butter.
Flour
Optional milk.
Salt and black pepper + extra optional spices
🥄 Instructions
Note: This is an overview of the instructions. The detailed instructions are in the recipe card below.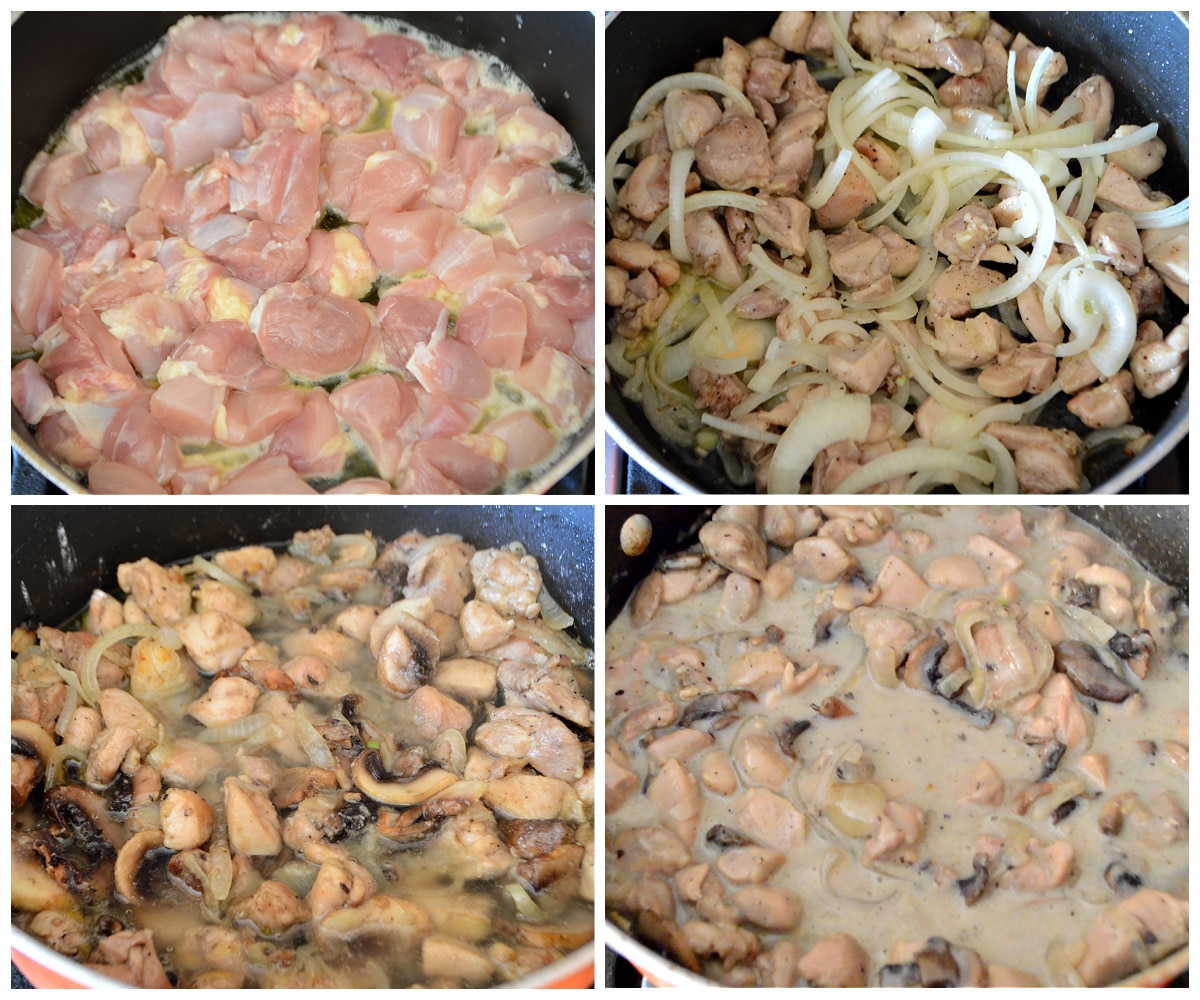 In a large skillet melt butter and oil on medium-high heat, add chicken and cook until no longer pink.
Add sliced onion and continue to cook for another minute or two.
Add mushroom and cook. Season then sprinkle with flour. Mix flour in then add chicken stock/broth.
Mix everything well and add milk if using.
💡 Amira's Tips
You can make this recipe with all oil, I like using a little butter for a richer taste.
Use canned or fresh mushrooms, any kind of mushrooms you have.
Use shiitake mushrooms for a fancier dish.
I liked adding a pinch of cardamom powder and dry oregano but you can add any spices you like or make it with just salt and pepper.
After you finish cooking let the skillet rest for 2-3 minutes then check the consistency of the sauce. If it was too runny for your liking dissolve flour in a little bit of water (about 1 teaspoon in a tablespoon of cold water or milk) and stir it until it thickens to your liking. If it is too thick add a splash of liquid, broth/milk or water.
🧺 Storage
Leftover chicken casserole can be refrigerated in an airtight container for up to 4-5 days.
🍽️ Serve With
👩‍🍳 Variations
Add a clove of fresh garlic or garlic powder for another layer of flavor.
Garnish the dish with some fresh herbs like parsley, dill or green onions for more color and flavor.
For a gluten free casserole use cornstarch instead of flour.
For a heavier casserole you can use heavy cream, cream cheese, sour cream or a can of cream of mushroom soup or cream of chicken soup.
Sprinkle top with some mozzarella cheese and pop in the oven until cheese melts for cheese lovers.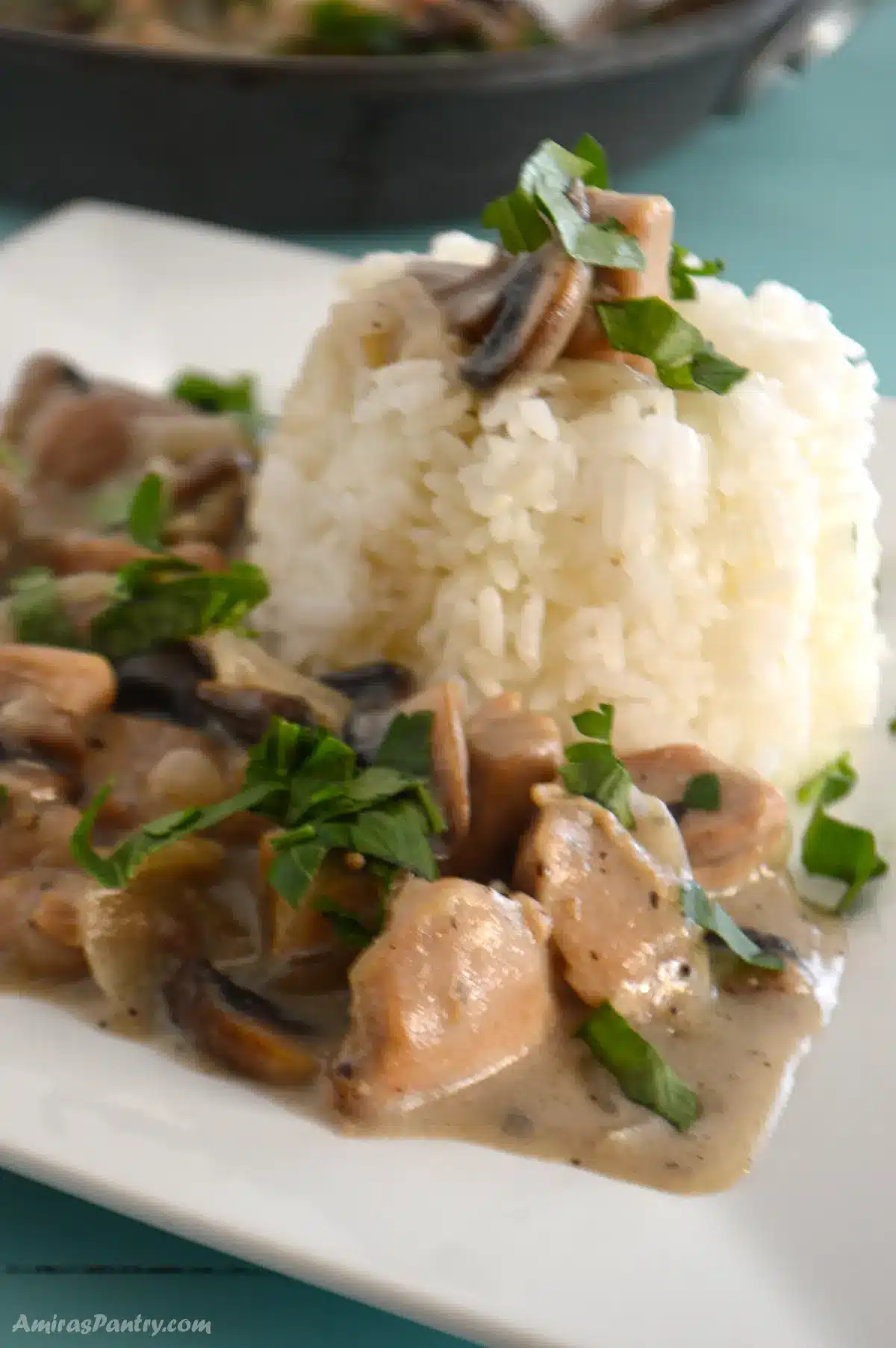 📣 Related Recipes
I hope you'll like this recipe and please if you make this recipe, snap a pic and hashtag it #amiraspantry — I love to see your creations on Instagram, Facebook, Twitter!
Don't want to miss a recipe? Sign up for the FREE Amira's Pantry newsletter delivered to your inbox with lots of tips and surprises!
If you like this recipe do not forget to give it a ⭐⭐⭐⭐⭐ star rating and attach a photo of your finished dish. It is always a pleasure of mine to see your photos and check your own take of the recipe. Thank you.
What's new? Check out Amira's Pantry Store on Amazon where you'll find all kinds of nostalgic goodness! Thanks so much for being a part of Amira's Pantry!
🥣 Equipment
The following are affiliate links. We are a participant in the Amazon Services LLC Associates Program, an affiliate advertising program designed to provide a means for us to earn fees by linking to Amazon.com and affiliated sites.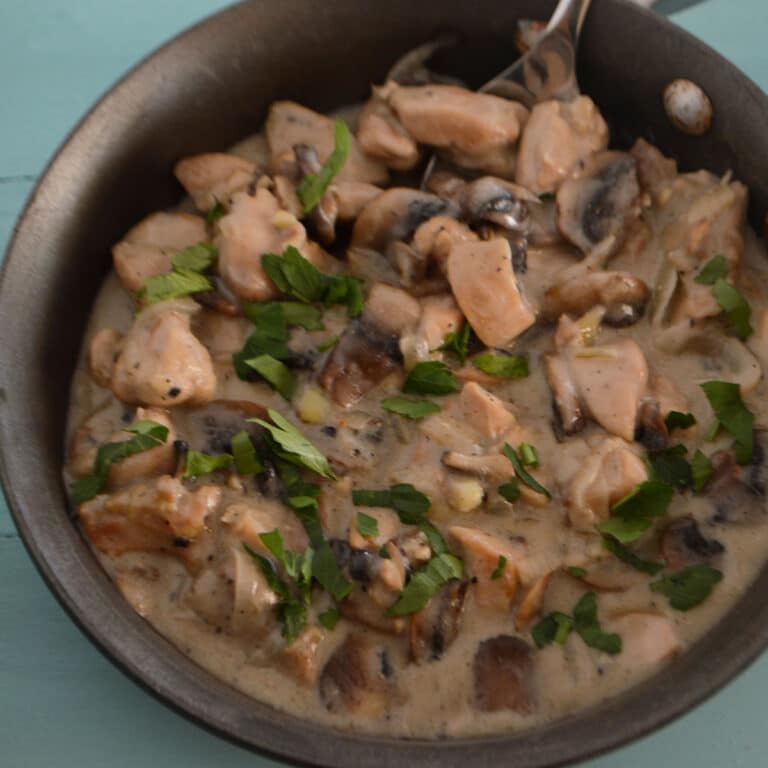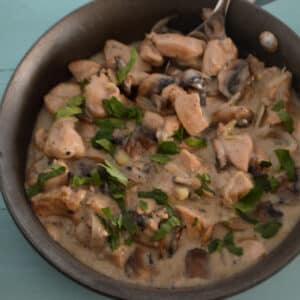 Chicken Mushroom Casserole
An easy 30-minute chicken mushroom casserole for those weeknights when you need something quick and healthy. Creamy delicious and you won't even miss the extra calories.
Print
Pin
Rate
Ingredients
5-6

large boneless chicken thighs /breasts

fat trimmed and cut into 1-inch cubes.

1

Tablespoon

olive oil

1

Tablespoon

butter

Salt and Pepper to taste.

½

lb

mushroom - thickly sliced.

1

medium onion

sliced

3

Tablespoons

all purpose flour

1

cup

chicken broth
Optional:
¼

cup

milk

¼

teaspoon

cardamom powder

¼

teaspoon

dry oregano
Instructions
In a large pan over medium heat, melt butter with olive oil, toss the chicken and stir, season with salt and pepper, oregano and cardamom if using.

Keep stirring until chicken turns white and water reduced,

Add onion and stir for 2 minutes.

Add mushroom and stir.

Sprinkle the flour, mix well until no visible flour is seen.

Add broth and stir, let it thicken for a minute or two then add the milk if using.

Let the chicken cook for another 3-4 minutes until you are sure it is completely done.
Nutrition
Calories:
259
kcal
|
Carbohydrates:
10
g
|
Protein:
31
g
|
Fat:
10
g
|
Saturated Fat:
2
g
|
Polyunsaturated Fat:
2
g
|
Monounsaturated Fat:
5
g
|
Trans Fat:
0.03
g
|
Cholesterol:
138
mg
|
Sodium:
361
mg
|
Potassium:
615
mg
|
Fiber:
1
g
|
Sugar:
3
g
|
Vitamin A:
69
IU
|
Vitamin C:
3
mg
|
Calcium:
50
mg
|
Iron:
2
mg
Sign up and learn more about Mediterranean flavors
First published Apr 5, 2016 . Last updated Sep 2, 2023 with important tips, clear step by step instructions and readability.
👩‍🏫 My Personal Experience
My little one, 5 years old (2016), is a super funny guy, I like being with him and I enjoy mothering him a lot. He is really cute and he is the last grandchild on both sides of the family, so he always feel he is young and small. He really wants to grow up quickly - all kids do-, but he is more anxious than my other two boys were, may be because he feels that others are doing stuff that he cannot yet do, like cutting things with knives, going alone to bring mail and so on.
This drove him to be very very helpful, when he sees dad coming with shopping bags, he just runs offering help, when he knows it is time to bring trash and recycle out, he gets really annoyed if he did not participate.
Last week he had spring break, and it happened that my birthday was on this week too. In the morning I heard something going on down in the kitchen so I went to check what is going on, to find him there standing on a chair making breakfast for EVERYONE, he already had poured tea , and he was upset that I woke up before he fully prepared the breakfast table. He wanted to make mommy a surprise breakfast for her birthday... how sweet is that.
Away from the fact that I was scared to death😱 that he poured boiling water to make tea, I was really proud of him and how he wanted to surprise me and tried the best he could not to make loud noises so he will not wake anyone up before his surprise is complete, he really did put on a lot of effort there.
This guy is the one who is willing to try and eat anything as long as mom and dad are eating it, so when I made this chicken I was 100% sure that my kids will not touch it as they do not like mushroom. So, I made this oven fried chicken for them to eat. To my surprise he preferred this saucy chicken instead while my other two gulped on the fried chicken!!!
Bottom line is, you'll enjoy this recipe, and if you have a kid like mine, he will probably enjoy it too.