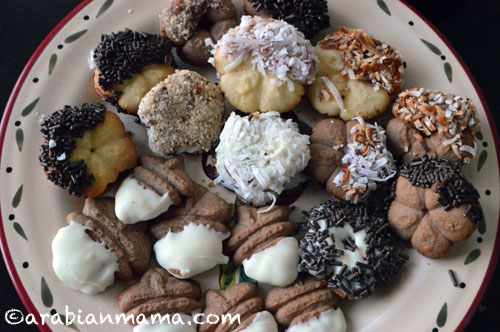 Big feast (Eidul Adha) which is one of the most big celebrations among Muslims allover the world. Although it is a meat Eid which means it is full of traditional meat recipes like fattah.kebdah and more, we have so many delicious cookies on the table like Kahak .
One of the easiest cookies very well knows and very well desired by kids is the betefour pronounced betty-four. When I was young -ages ago 🙂 – betefour came in two colors – white and brown- and in almost one shape- two circles or flower shaped glued together with jam. Now betefour comes in so many different shapes and some people make it in more than these traditional two colors. It is easy to make,assemble,very buttery. sweet and very very delicious. I hope you will try them and enjoy them as much as we do.
To start you will need:
2 cups of

cold

ghee

.

1 cup of powdered sugar

2 eggs

2 1/2 cup of flour

vanilla

2 Tbs unsweetened cocoa powder- or more as you desire.

2 tsp baking powder.
For the finishing touches you can use:
Jam for gluing two together – any kind preferably apricot but I had only strawberry.

Roasted crushed nuts.

Roasted or non roasted coconut flakes.

Melted chocolate.

dried fruits.

Chocolate/colored vermicelli.
Now let's start:
Mix

the ghee and the sugar until you get a nice white creamy mixture. Add the eggs one by one then the vanilla.

Add the flour and the baking powder little by little while mixing until you get a nice dough that does not stick to your fingers.

Divide your dough in two adding cocoa powder to one half. I've added 3 Tbs as we like it that way.

In a prepared cookie sheet form your dough into a small balls – half the size of a ping bong ball- press it lightly against your cookie sheet with a fork to form marks on top of it, or if you have a cookie press use it to make the shapes that you like.

Bake for 10 – 15 minutes in a 325F preheated oven or until the edges are golden brown.

On a cooling rack let your cookies cool before the final presentation.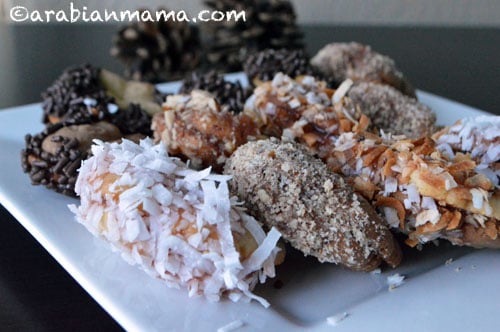 Now for the garnish you can leave it plain as is or glue each identical two with Jam then add some to the tip then dip it in coconut flakes or nuts or just glue them and leave them without anything at the top. You can melt chocolate and dip it in then leave it to harden.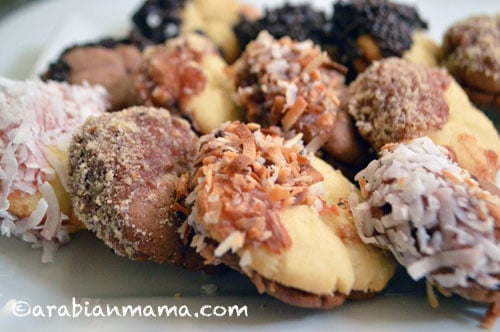 I've covered some in white chocolate then coconut flakes and it was divine.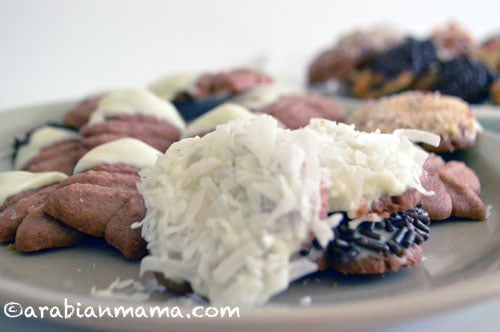 Really the possibilities are endless… so let your creativity flow.
Enjoy the cookies with family and friends….. Happy Eid.