One of the many delicious Middle Eastern flat bread. Easy to make and tastes incridibly good.
Enjoy this homemade khameer, a delicious old-fashioned Emirati bread. Tender, rich rounded bread with golden top that you'll sure to enjoy.
This recipe originally published July 2017. Updated for some housekeeping things on March 2020. No change to the recipe!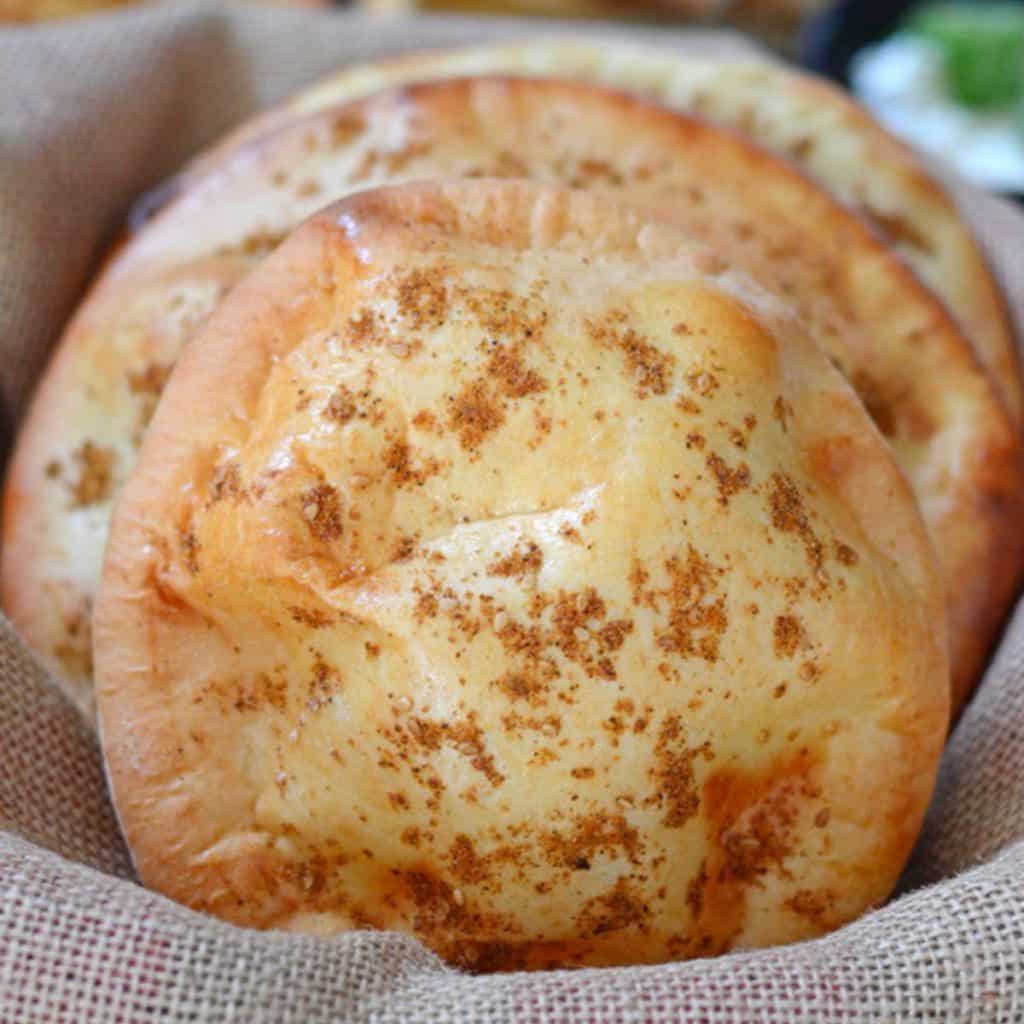 Khameer bread
Emirati people enjoy this bread as it always brings back good old memories. I've seen many recipes online, many uses dates to sweeten the bread and others uses saffron or turmeric to add flavor and yellow color. I've asked an Emirati friend about this bread, she gave me a simple form of this bread for busy moms that does not require the hassle of soaking the dates and dissolving saffron threads. Tastes super delicious for any stuffing you like.
Back in the old days they used to bake these in coal ovens which no more exist. These days for modern home they have special small oven you can bake it in. Unfortunately this kind of ovens are not available in the US, so I baked mine in my home oven and it turned out great, chewy, thick, tender and flavorful.
Let me lure you a bit to try this recipe. You've got falafel recipe or maybe you just slow cooked a traditional foul medames for a classic Middle Eastern breakfast/lunch but you are craving a nice puffy flat bread to go with it.
You dream of making pockets - but not the usual pita pockets - or simply tear up chunks of hot white flat bread with steam escaping dipping it directly into your bowl of beans... can you feel the bliss of the moment?
How to make Khameer?
Welcome to the heaven of homemade bread. Here is how to prepare it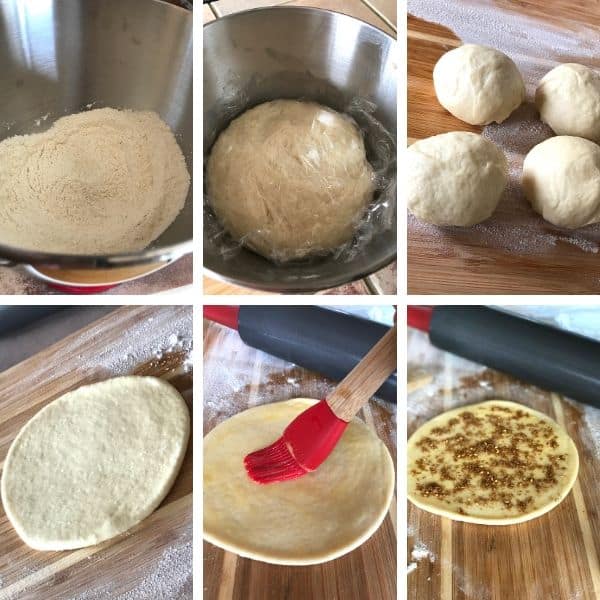 In your mixing bowl, combine flour, yeast, dry milk, salt, sugar and baking powder.
Add oil and water then mix until you get a consistent and sticky dough. Cover and let it rise.
Divide the dough into 4 balls, let it set for 10 minutes covered.
Roll into a thick circle and brush with eggs.
Sprinkle top with Za'atar or sesame seeds and bake in a VERY HOT oven.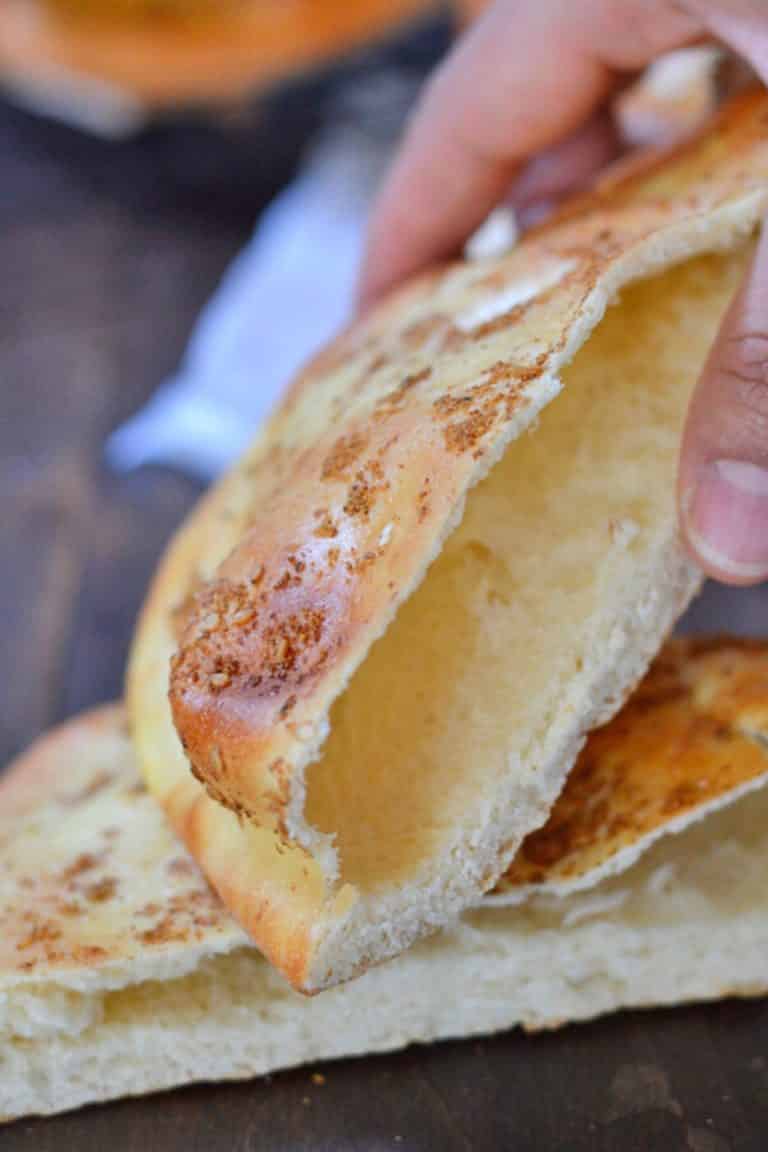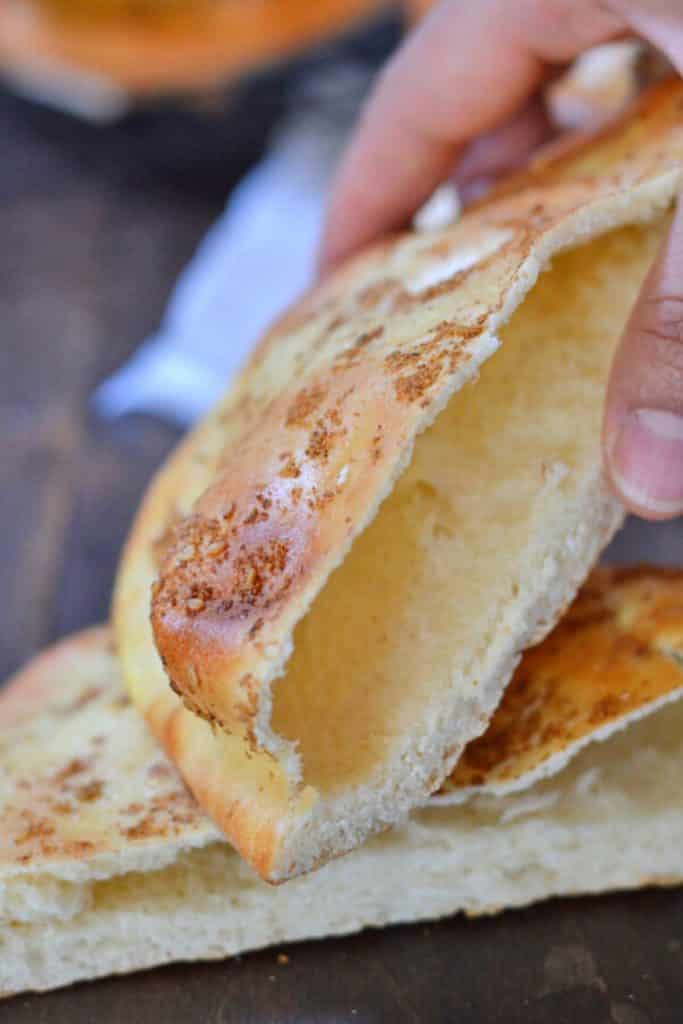 You can stuff your khameer with cream, honey, date or date paste and nuts for a sweet stuffing. Or you can go the savory way and stuff it with falafel, cheese, labneh, basil, black olives ... etc. If you are going to stuff it with sweet variations then do not top with za'atar.
Related Recipes
Unleavened bread is easy to make and does not require any special ingredients or equipment. All you need is flour, water, olive oil and salt.
I hope you'll like this recipe and please if you make this recipe, snap a pic and hashtag it #amiraspantry — I love to see your creations on Instagram, Facebook, Twitter!
Don't want to miss a recipe? Sign up for the FREE Amira's Pantry newsletter delivered to your inbox with lots of tips and surprises! And stay in touch with me on Facebook, Twitter, Pinterest, and Instagram for all the latest updates.
You may need:
The following are affiliate links. We are a participant in the Amazon Services LLC Associates Program, an affiliate advertising program designed to provide a means for us to earn fees by linking to Amazon.com and affiliated sites.

If you need an oven safe cooling racks. Heavy gauge wires, all stainless and not flimsy.



If you like this recipe do not forget to give it a ⭐⭐⭐⭐⭐ star rating and attach a photo of your finished dish. It is always a pleasure of mine to see your photos and check your own take of the recipe. Thank you.
Related Recipes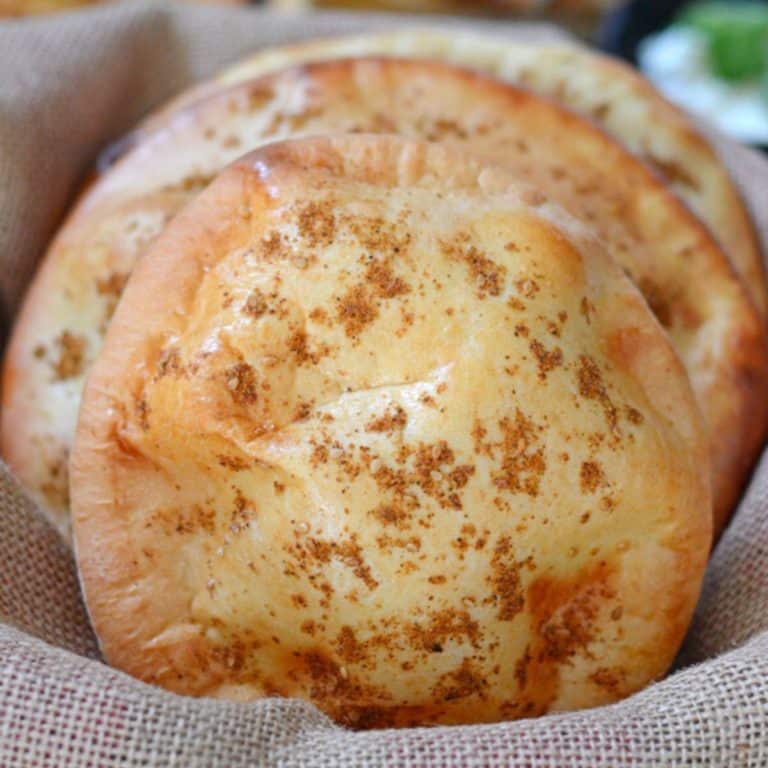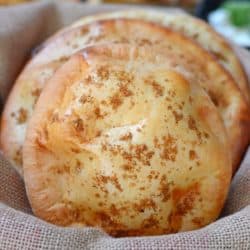 Khameer bread
One of the many delicious Middle Eastern flat bread. Easy to make and tastes incridibly good.
Print
Pin
Rate
Ingredients
2

cups

bread flour.

2

Tablespoons

dry milk.

2

Tablespoon

sugar.

½

Tablespoon

dry yeast.

½

Tablespoon

baking powder.

1

teaspoon

salt.

2

Tablespoons

oil.

½ - ¾

cup

warm water.
For the top: ( optional)
1

egg.

2

Tablespoon

Za'atar or sesame seeds.
Instructions
Preheat your oven to 550F. Note1

In your mixer bowl, combine the first 6 ingredients and mix well with a fork.

Add the oil and start mixing, gradually add water until you reach a consistent soft dough, keep kneading for at least 10 minutes.

lightly oil the bowl and the dough, cover with plastic wrap and let it rest until doubled in size, will take around an hour depending on your kitchen temperature.

Take the dough out, cut into 4 equal parts, shape each part into a ball, cover and let it rest for 10 minutes.

Roll each ball into a circle no more than ¼ inch thickness, cover and let it set until you finish the rest of the balls.

On your cooling rack, carefully flip the pitas on the other side so the face that was on the counter is now facing up. Note2

Brush with egg and sprinkle some sesame seeds or Za'atar in top.

Open the oven door carefully trying to put your face away from the heat of the oven, bring the middle rack of your oven out a little and place the cooling rack with the pita on it. Push the oven rack in and close the oven door.

Bake for about 2-3 minutes until it puffs nicely and the top is little browned. Note3

Take it out of the oven and with a spatula take the pita off the cooling rack and let it cool completely.

Give your oven 2-3 minutes to get back to the high temperature before placing the next pita in.

When the pitas are completely cooled, store n a zip lock bag.
Notes
Note1: I've set my oven on the highest temperature and let it preheat for almost an hour to ensure high temperature. I have an old oven that needs time to heat up.
Note2: If you do not have a cooling rack, place the Khmeer directly on your oven rack.
Note3: After almost 2 minutes your khameer should be nicely puffed and ballooned, you can turn on your broiler for like 20-30 seconds to brown the top or leave for another minutes to brown all over.
Serve with:
This bread works great with almost anything like this shakshuka for breakfast or to scoop up all the delicious sauce in this Moroccan meatballs.
Please check the nutrition disclaimer policy.
Nutrition
Calories:
333.3
kcal
|
Carbohydrates:
58.6
g
|
Fat:
5.7
g
|
Saturated Fat:
1.5
g
|
Polyunsaturated Fat:
0.9
g
|
Monounsaturated Fat:
2.2
g
|
Cholesterol:
50.3
mg
|
Sodium:
798.5
mg
|
Potassium:
166.2
mg
|
Fiber:
1.9
g
|
Sugar:
8
g
Sign up and learn more about Mediterranean flavors