Tabouli is a vibrant, refreshing salad loaded with fresh parsley. Salty and tangy this salad is a favorite on any Middle Eastern dinner table. Check out my tips for an authentic Lebanese tabouli.
Tabouli salad is the darling of all Mediterranean salads. Not for its simplicity only, but for its rich and tangy flavors. A handful of ingredients and you are off to an edible garden right on your dinner table.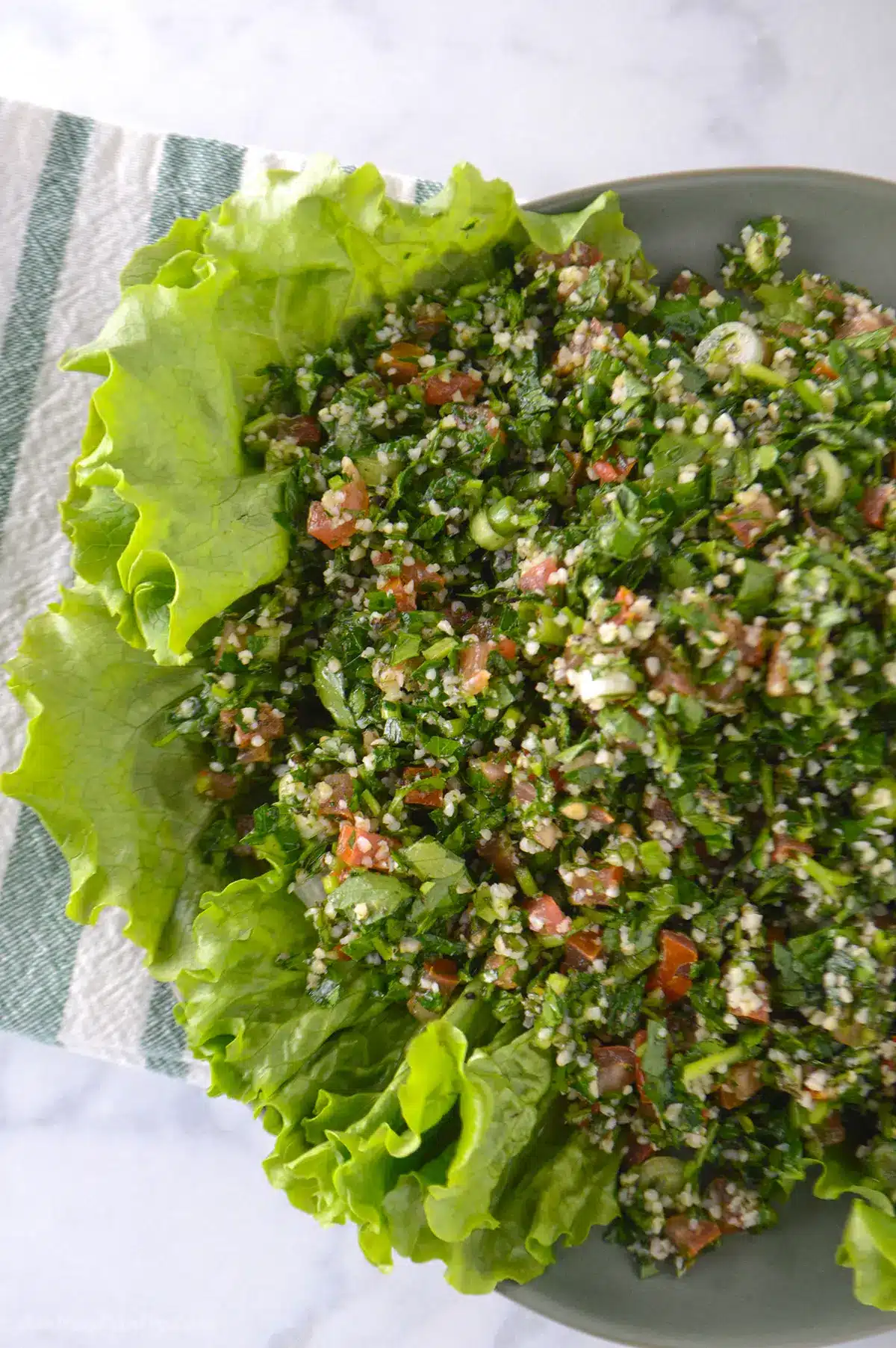 Tabbouleh salad is my absolute favorite salad to make and eat. In the Levant part of this world, no banquet or gathering is completer without Tabuli. Scoop Tabouli, the traditional way, with Romaine lettuce leaves or simply enjoy it with a fork. Delicious, lemony and full of addicting earthy flavors.
Best served with grilled meat(s) such as this kofta kebab, Shish tawook, shish kebab and so delicious alongside stuffed grape leaves.
Jump to:
📝 Ingredients
Note: This is an overview of the ingredients. You'll find the full measurements and instructions in the recipe card (printable) at the bottom of the page.
🥄 Instructions
Note: This is an overview of the instructions. The detailed instructions are in the recipe card below.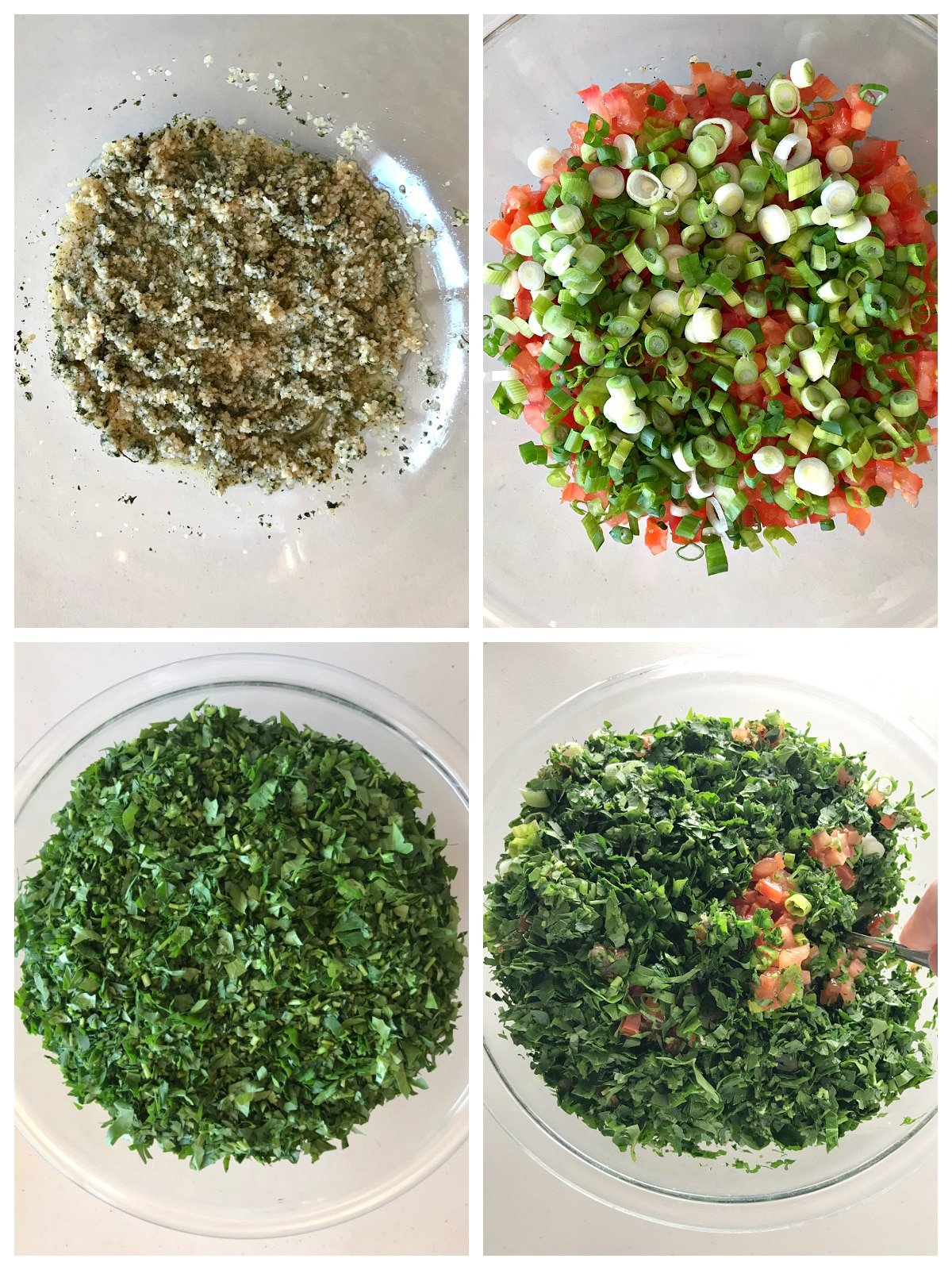 In the bottom of a large bowl, combine washed bulgur, dry mint if using and lemon juice. Mix everything well.
Add finely chopped tomato as a layer over the bulgur and do not mix it in. Layer green onions on top of the tomato layer.
Finally top all those with a big layer of parsley and do not mix. Cover with plastic wrap and refrigerate.
30 minutes to 1 hour before serving, take the bowl out, uncover, and add salt and olive oil and mix well. Cover and refrigerate until you are ready to serve.
💡 Amira's Tips
In all honesty these should be called my Lebanese friend tips. She gave me to the point tips for an authentic Lebanese tabouli.
Do not use food processor: When it comes to chopping parsley, no one can beat my mom, really she is a pro in this. I do not know how she does this but she can chop parsley very very finely- of course her kitchen turns into a mess afterwords. Being always busy with my work back in Egypt, when I tried to make tabbouleh I used my food processor trying not to make a mush out of the parsley. So never, never ever use a food processor, this was very offensive to my Lebanese friend when she knew.
Do not add cucumber: this one was really a surprise for me.. what!! no cucumber. She told me you can add cucumber but don't you dare call it tabbouleh, tabbouleh salad does not have cucumber in it.
Do not use pomegranate molasses: well, usually I do not, but I know people who do use it like my sister. So for tabbouleh use only lemon juice.
Do not soak bulgur: yes, this was another surprising fact about authentic tabbouleh, bulgur should only be rinsed several times and that's it.
Add salt only before serving: when you add salt long before serving your tabbouleh will be wilted as the vegetables will release their water and won't look as appetizing.
Use hard tomatoes and chop everything finely:chop onions and tomatoes finely and try to use the hardest tomatoes you can find.
👩‍🍳 Variations
You can add Arabic baharat or 7-spice if you like to.
Although my Lebanese friend does not like calling these variations tabouli but you can try making it with quinoa, barley, lentils and I've even seen apple tabbouleh!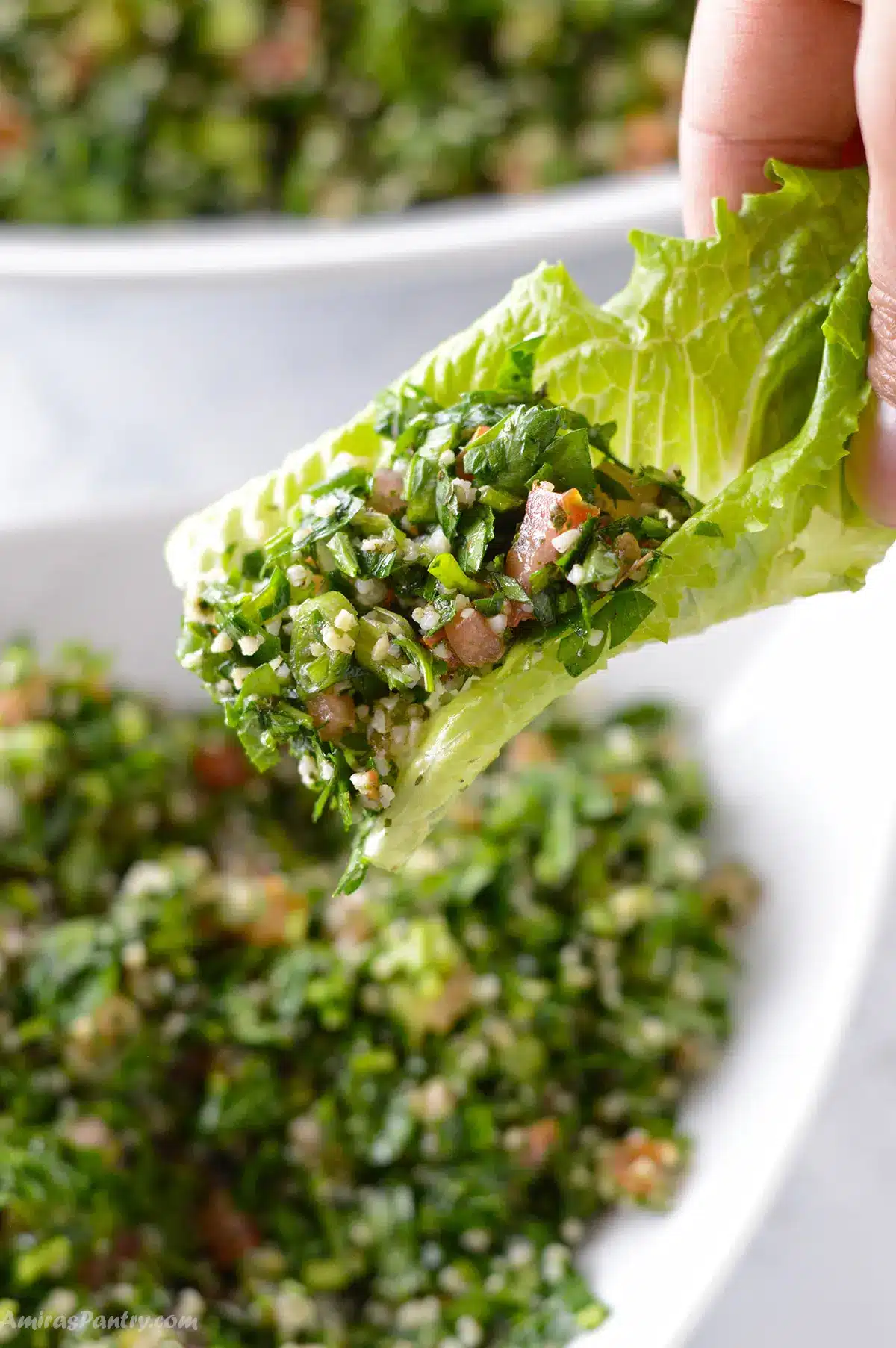 💬 FAQs
What is a tabouli salad traditionally made from?
Tabouleh is made of parsley, green onion, tomatoes, bulgur and mint. All in a salty, lemony dressing. The main ingredient here is fresh parsley.
How healthy is tabouli?
Tabouli is known for being a healthy vegan salad that is loaded with fibers, minerals and healthy fats. The fat in the olive oil is unsaturated fat hence it is not the harmful one.
Is tabbouleh served hot or cold?
Cold, I've never seen it served hot or room temperature. It is always chilled. If you have sensitive teeth though, you can serve it room temperature.
How do you eat tabouli?
Tabouli is a great side dish traditionally scooped or wrapped in Romaine lettuce. You can also have it with a fork. It makes a great side dish with falafel and also grilled meats.
👩‍🏫 My Personal Experience
I fell hard for this salad when I was just 9 years old!. It is strange that I got hooked at such a young age. This shows you how much I am into lemony dishes. Tabulah was not popular in Egypt back in the early 80s. We were at a Palestinian's friend house for dinner and she made it, my mom happily left with a recipe that has been a favorite since then.
These days you can see lots of Tabouli recipes online, with quinoa with couscous and even one with apples!. These were the words of one angry Lebanese friend, who is thinking that Tabouli is being abused on the internet.
Although I am a fan of recipe renewal and thinking outside the usual, ,she got a point guys, all those other recipes should be called "Tabouli inspired".
The good news is, I got you some great tips from my friend for an authentic Lebanese Tabouli recipe. Tabouli is a labor of love, it requires patience and practice to finely chop everything, but the reward is a fantastic bowl that everyone will rave about.
📣 Related Recipes
More Lebanese Recipes
Get ready for some delicious, comforting and hearty Lebanese Lentil Soup. It's a perfect meal on the go, to make at home or take to work.
Try this delicious and easy to follow Lebanese Rice Recipe, perfect side dish for any Middle Eastern meal. Garnish with fresh herbs or toasted pine nuts to boost flavors.
Lebanese Pita Bread Recipe is a pillowy fluffy bread of the Middle East that store bought cannot even come close to.
🥣 Equipment
The following are affiliate links. We are a participant in the Amazon Services LLC Associates Program, an affiliate advertising program designed to provide a means for us to earn fees by linking to Amazon.com and affiliated sites.
Don't want to miss a recipe? Sign up for the FREE Amira's Pantry newsletter delivered to your inbox with lots of tips and surprises!
If you like this recipe do not forget to give it a ⭐⭐⭐⭐⭐ star rating and attach a photo of your finished dish. It is always a pleasure of mine to see your photos and check your own take of the recipe. Thank you.
What's new? Check out Amira's Pantry Store on Amazon where you'll find all kinds of nostalgic goodness! Thanks so much for being a part of Amira's Pantry!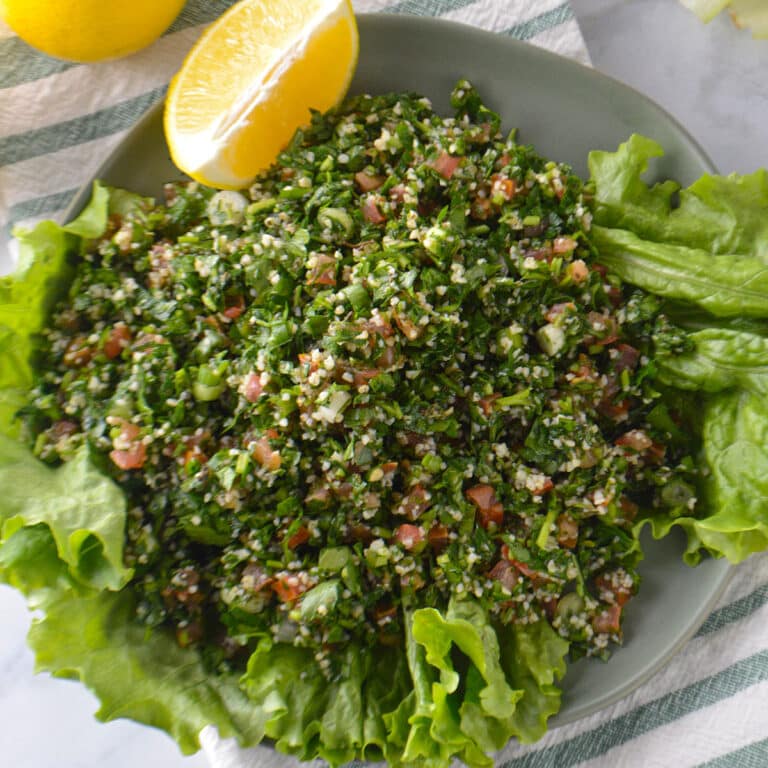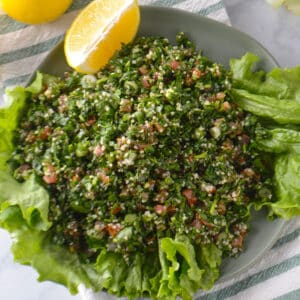 Tabouli Salad
Tabouli is a vibrant, refreshing salad loaded with fresh parsley. Salty and tangy this salad is a favorite on any Middle Eastern dinner table. Check out my tips for an authentic Lebanese tabouli.
Print
Pin
Rate
Ingredients
½

cup

fine #1 bulgur wheat

about 70g

½ to ¾

cup

fresh lemon juice.

(Note1)

2

Tablespoons

dry mint

(Note2).

3-4

Roma tomatoes

firm and finely diced.

5

green onions

(65g) cleaned trimmed and sliced (white and green).

3

bunches fresh flat-leaf parsley

about (330g) , finely chopped.

½

cup

olive oil

(120ml)

1 ½

teaspoon

salt

, or to your liking
Instructions
Wash bulgur thoroughly, do not soak, drain. Place in a deep bowl.

Pour over lemon juice and dry mint if using, mixing them all well. (Note3)

Layer the other ingredients as follows, tomatoes, green onions and parsley.
If you are serving it right away (not recommended):
Let it set for about 30 minutes.

Add salt and oil, mix everything well together and refrigerate for at least an hour.

If you are serving it after 8 hours or more (recommended):

Cover and refrigerate for at least 8 hours.

Before serving by one hour, add salt, oil then mix everything well and refrigerate again for 1 hour.

Serve with romaine leaves or eat it by a fork.
Notes
Note1: Be aware that lemon juice tartness fades over time, meaning it will be so tart if you used it right away. But it was just perfect the next day.
Note2: You can use ⅓ cup finely chopped fresh mint leaves.
Note3: Some people like adding Arabic Bharat to the bulgur as well but I like it with only fry mint.
Nutrition
Calories:
217
kcal
|
Carbohydrates:
13
g
|
Protein:
2
g
|
Fat:
19
g
|
Saturated Fat:
3
g
|
Polyunsaturated Fat:
2
g
|
Monounsaturated Fat:
13
g
|
Sodium:
103
mg
|
Potassium:
183
mg
|
Fiber:
3
g
|
Sugar:
2
g
|
Vitamin A:
473
IU
|
Vitamin C:
15
mg
|
Calcium:
21
mg
|
Iron:
1
mg
Sign up and learn more about Mediterranean flavors
First published May 10, 2016 . Last updated Aug 24, 2023 with important tips, clear step by step instructions and readability.