Life feels a little uncertain these days, with all these daily news and updates things are getting scary, people feel more confused and panic. Everybody is shopping for almost everything!! stores are empty and with the concept of social distancing .. it is really getting weird.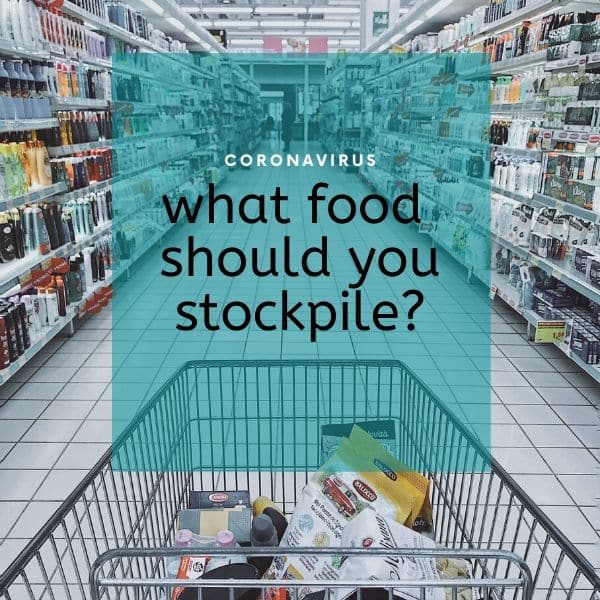 What food should you stockpile?
Yesterday I've sent an email to my subscribers about some creative food workarounds at times like this. I've been receiving questions regarding what to stock, for how long, menu ideas and so on. So I decided to halt my recipes for this week and start a series to help you through this hardship that we are all going through.
Among all this uncertainty, one thing is for sure we need food. And we worry about food especially if you have kids at home. I wish I could tell you do not store food but it has been highly recommended and advisable to store food. But the question is for how long?
Up until now 2 weeks of supplies is required. Extending that to 3 weeks is a more precautious approach.
Advice
Consider your space first. Your pantry size, fridge and if you have a deep freezer.
Do not overstock and be responsible. Do not just go and wipe the shelves clean of a certain product(s).
Do not buy products you do not like or use.
Do not buy a lot of bread as it takes up a huge space in your freezer plus you can easily make your own.
Go grocery shopping early in the morning. Walmart announced that they will close their door at 11:00 pm and reopens at 6:00 am so why not go there as early as possible.
Consider shopping in small local stores. Try Indian, Asian or Middle Eastern food. A tip from a dear reader.
If you cannot find rice or pasta, check out the aisles for vermicelli noodles. Surprisingly people do not pay attention to them and they are a great substitute for rice and pasta and they make a great quick dessert as well.
Buy couscous, barley, quinoa, farro, bulgur or any grain you like. They all make great subs for rice. Be creative and do not limit yourself.
Beans and lentils: are the first to come to mind. Buy canned or dried depending on the space you have, canned takes more space of course. They are a good source of protein and very versatile. Incorporate them with some rice and pasta for a recipe that will last days or make delicious lentil soups/stews.
Eggs: another source of protein that is not only for breakfast. Crack an egg in a bowl of soup, make some fried rice with eggs, Egyptian frittata, potato shakshuka or just hard boil them.
Milk: it is hard and requires more space in your fridge to stock up on regular milk. Your other options might be cans of evaporated milk, condensed milk, dry powdered milk or may be nut milk.
Beef: ground beef are more economical and does not take much space. Besides a Costco package of ground beef can last us 3-4 days and we can do wonders with it.
Chicken: go for boneless skinless if you do not have space but if you do then you might want to consider cut up drumsticks and thighs as they cost less.
Butter and cheese: both are freezable and come very handy when making almost anything plus they are available in every store so far.
Olive oil: essential for your Mediterranean cooking.
Vegetables and fruits: onions and garlic are essentials for many recipes. I can leave onions at room temperature for more than two weeks but for garlic I like to finely mince them then freeze in sandwich bags. Other vegetables and fruits can be bought frozen or you can freeze them yourself. You also have the option of getting them canned if you have some pantry space.
Rice, pasta and noodles: if anything fails a bowl of pasta with butter and Parmesan cheese or rice and beans will do the trick. Filling carbs are comforting and easy to make. This pasta bake is a kid favorite and lasts for days. Here are some pasta and rice ideas
Baking ingredients: if you have kids at home, baking projects are the best in killing time, making memories and get them away from their devices. Make sure you have flour, wheat flour, yeast and baking powder.
Alright, now what?!
This is all for now folks. Be flexible and creative and if there is an item or two you cannot find then do with what you have. Take care of yourself and follow the guidelines to stay safe. In the mean time think of those around you and not just yourself. Check on elderly neighbors or people in need, be generous and not greedy. We are all in this together and we will go through this together.
I hope this has been helpful. Would love to hear your thoughts in the comment below and if you have any problem, need help figuring out what to cook with the things you have in your pantry just tell me in the comments and I will be glad to help. I am sure many will chime in and help you out as well.
Stay safe.