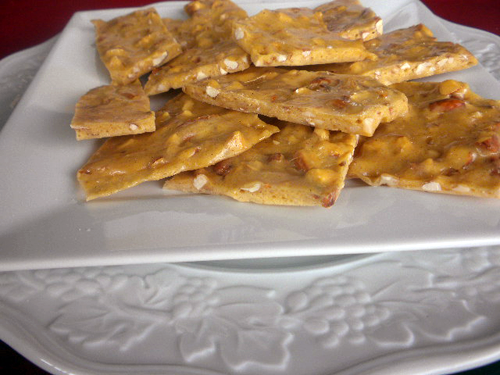 We've decided to make a homemade gift basket for the teachers this holiday season. We usually, as a class parents, gather money and buy gift cards . But this year we decided to get more personal and make homemade gifts. I always feel that homemade gifts shows that you really care and it does not matter how expensive a store bought gift is , a homemade one is definitely way way better and always leaves a better impression and a big smile on the other person's face - which is your sole purpose of gifting. I'll be posting about things that we make every now and then, and finally will show you the final product of this DIY teacher's gift basket.
Kids were thinking of including cookies and sweet desserts and when they saw this almond brittle recipe in parents magazine they decided to go for it first because it looked to yummy and second it was so easy for the kids to make by themselves. Here is my sweet heart Hassan following the recipe ALL BY HIMSELF , he was so excited and proud too .... and so do I 🙂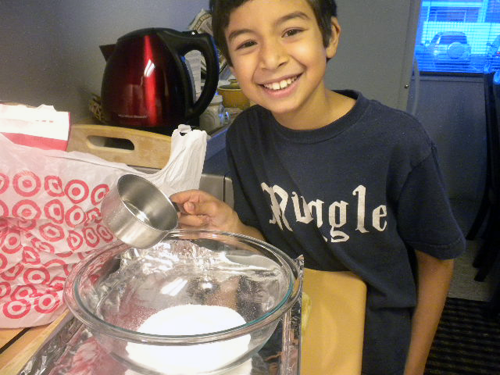 Isn't he sweet!!! God they grow so fast :/
For the Almond Brittle you will need:
1 cup of sugar.
1 cup of light corn syrup.
1 cup of sliced almond - we did not have sliced so we crushed some also we made another patch with pecan was so yummy.
A dash of salt.
1/2   tsp of cinnamon.
1      Tbs of butter.
1/2  tsp of vanilla extract.
1      tsp of baking soda.
How to make it:
First line a large baking sheet with foil and spray or brush with oil. Then in a bowl - microwave safe one - add sugar,corn syrup, salt and almonds together you do not need to mix them.
Microwave on high for 6 min. stirring every 2 min - be cautions as it will be hot so stay close to young ones - and scrap the sides and bottom of the bowl.
Then add the rest of the ingredients, microwave again for 2 min. stirring in the middle. Add the baking soda, mix , then carefully pour in your baking sheet. Spread the candy with the back of a spoon to approximately 1/4 of an inch thickness.
Let it cool for 30 min. then break into pieces.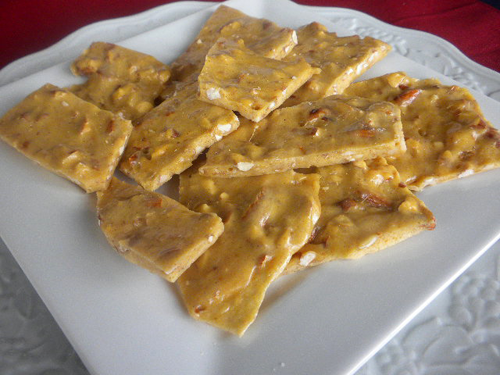 We packed them in a small cello goodie bags with cute hearts for the teachers.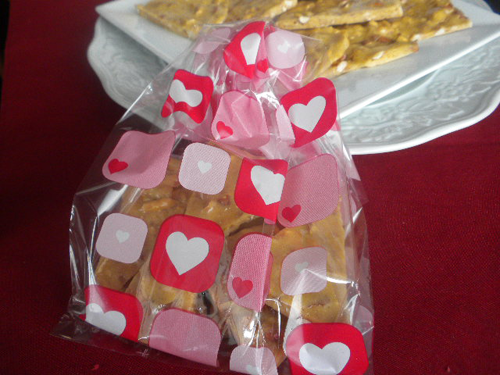 I hope you liked the idea.