A creamy banana-less Nutella protein smoothie. Great for breakfast or after school snack.
Nutella breakfast smoothie is perfect for breakfast or for an after school snack. Sweet, chocolate-y filling and banana-less kind of smoothie.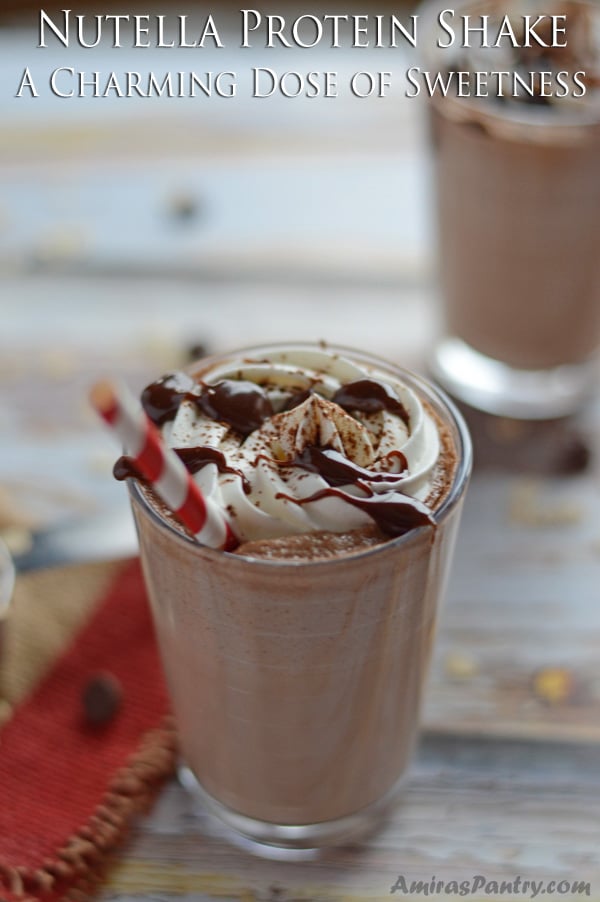 Everyone here is Egypt thinks that we do not have enough food in Colorado!!. When they see my boys, their first words are "OMG, don't you have enough food in the US or mom doesn't cook for you anymore?!!". Regarding that I am a food blogger this last statement is a disgrace . Obviously I cook, and 85% of what I cook they eat but they just , somehow, do not get fatter easily. I wish I know their secret!! really they eat well - most of the time- but it always seems like they eat and I am the one who gets fatter.
My oldest seems to be riding a roller coaster recently. One day he is obsessed with chicken thighs, the other day he cannot stand them!!! Is it something hormone related. He is going through this stage of his life where you know, a girl wanna look more ahem like a girl and a boy wanna be more muscular.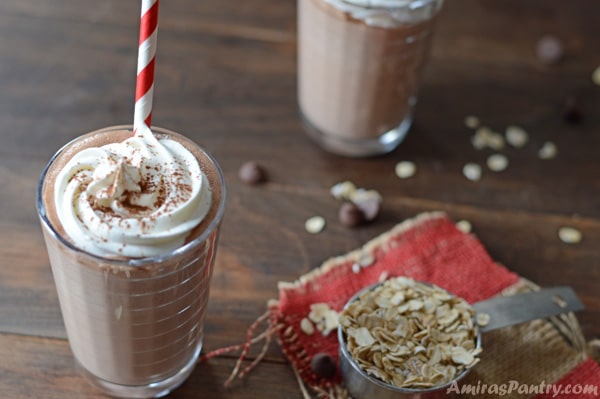 One day he got so excited about protein powder, seems that his friends are consuming it to build more muscles. Off to the store we went to get him the kind that he wants. A giant tub has been sitting on my countertop for weeks now and he just lost interest and does not like it. Aaaand to tell you the truth, the boy got a point, we've tried many brands but most of them are hard to swallow, chalky and thick.
One of my friends suggested that I made a fruit smoothie and add some protein powder to it. My kid love chocolate, if it were my other kid I would go for strawberry smoothie but this one is obsessed with chocolate. Most of the smoothies start with a... you know frozen banana which is a no no for him. I have no idea from where he got this banana harting gene, but I knew if I added a banana, even a tiny bit he will taste it and refuse to drink.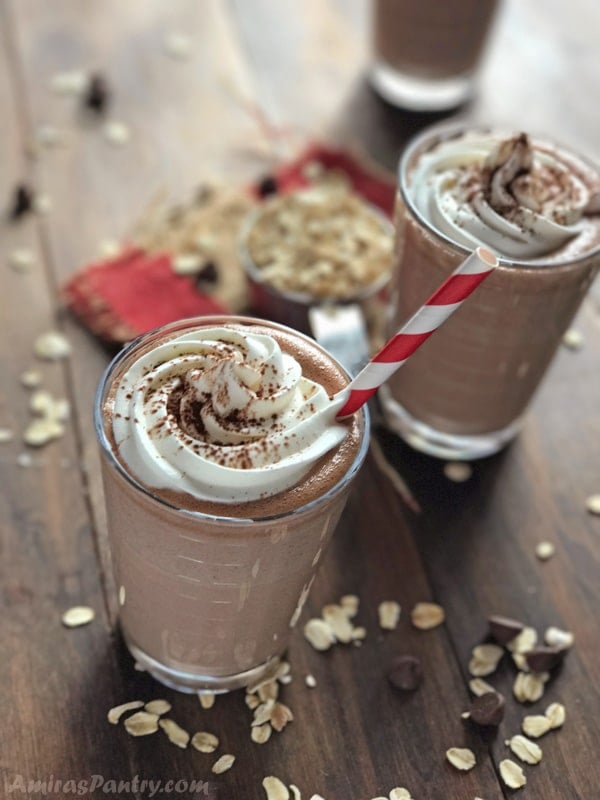 Adding some oats did the job of thickening and added more nutrients as well. Nutella - his/our love- made it so delicious and gave the flavor a big kick. For a creamier smoothie I've used heavy whipping cream but you can opt for low fat and skimmed milk. Obviously, I've made this for my kiddos who are as stated before super skinny so I did not count or bother to watch the calories in this drink . I even topped it with some whipped cream to lure them more hehehehe.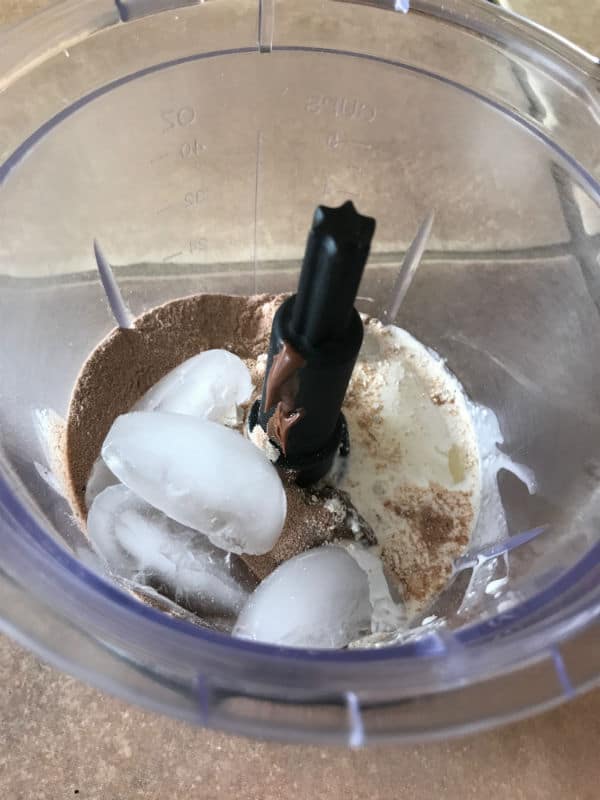 There are actually no steps for this simple drink just put everything together and errrrr in the blender. This should be consumed immediately as you know, most protein powder sets very quickly and will make it harder to swallow.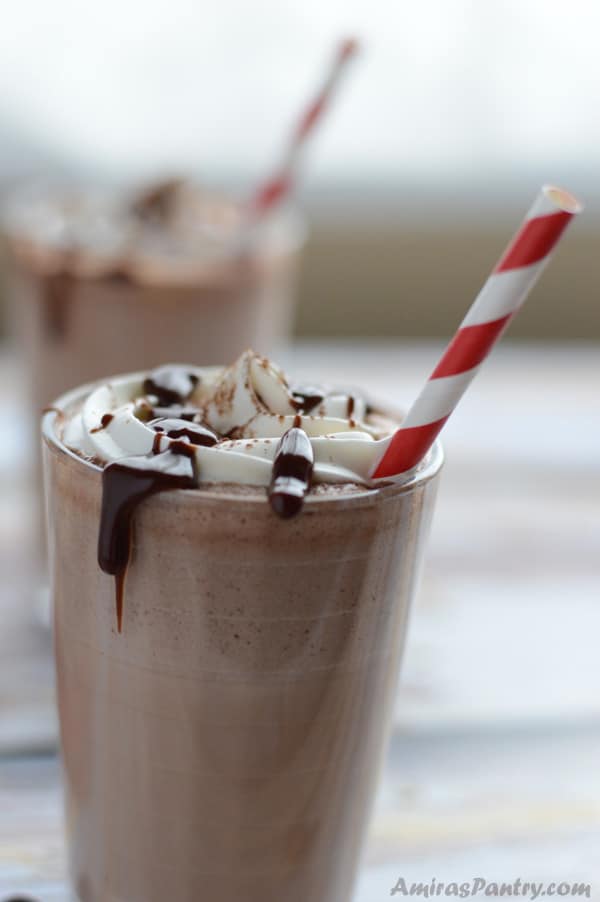 For a more cup licking recipe, I topped it with chocolate syrup... so yummy. I just wanted to take a sip to taste it and ended up drinking a whole 6oz cup. Seriously a very dangerous and addicting drink.
Mission accomplished and he finally drank the smoothie and even asked for more. Now I just need to sit back and relax watching the muscles grow hehehe.

Now tell me do you have a teen in your home? How do you help them grow both physically and emotionally?
I hope you'll like this recipe and please if you make this recipe, snap a pic and hashtag it #amiraspantry — I love to see your creations on Instagram, Facebook, Twitter!
Don't want to miss a recipe? Sign up for the FREE Amira's Pantry newsletter delivered to your inbox with lots of tips and surprises! And stay in touch with me on Facebook, Twitter, Pinterest, and Instagram for all the latest updates.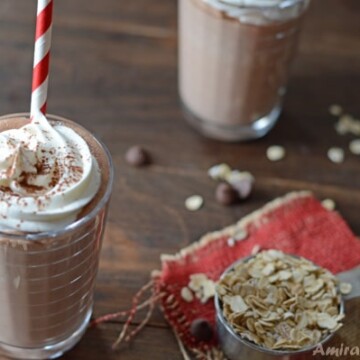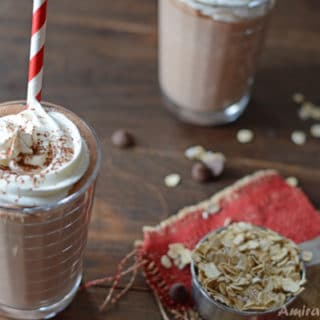 Nutella protein shake
A creamy banana-less Nutella protein smoothie. Great for breakfast or after school snack.
Print
Pin
Rate
Ingredients
½

cup

milk.

½

cup

heavy whipping cream.

1 ½

Tablespoons

Nutella cream.

¼

cup

oatmeal

well grounded.

1

scoop of chocolate-flavored protein powder.

6

cubes of ice.

Optional

for garnishing: whipped cream, chocolate syrup, chocolate chips, cocoa powder…
Instructions
In your blender, add all the ingredients together and blend until smooth.

Pour in cups and decorate with whipped cream, chocolate syrup- if using.
Sign up and learn more about Mediterranean flavors