Rich and sweet phyllo layers stuffed with nut mixture to make the best baklava ever.
Sweet, buttery and flaky baklava is a crowd pleaser and an all time favorite dessert. Learn how to make the best traditional baklava that is rich and nut loaded with just few ingredients. And I am going to tell you why this recipe is the best in a few.
If you are depending on store-bought baklava to satisfy your baklava cravings then don't. Making homemade baklava is easier than you think, do not be afraid about dealing with phyllo dough. With some tips and tricks this recipe is going to be your go to party dessert.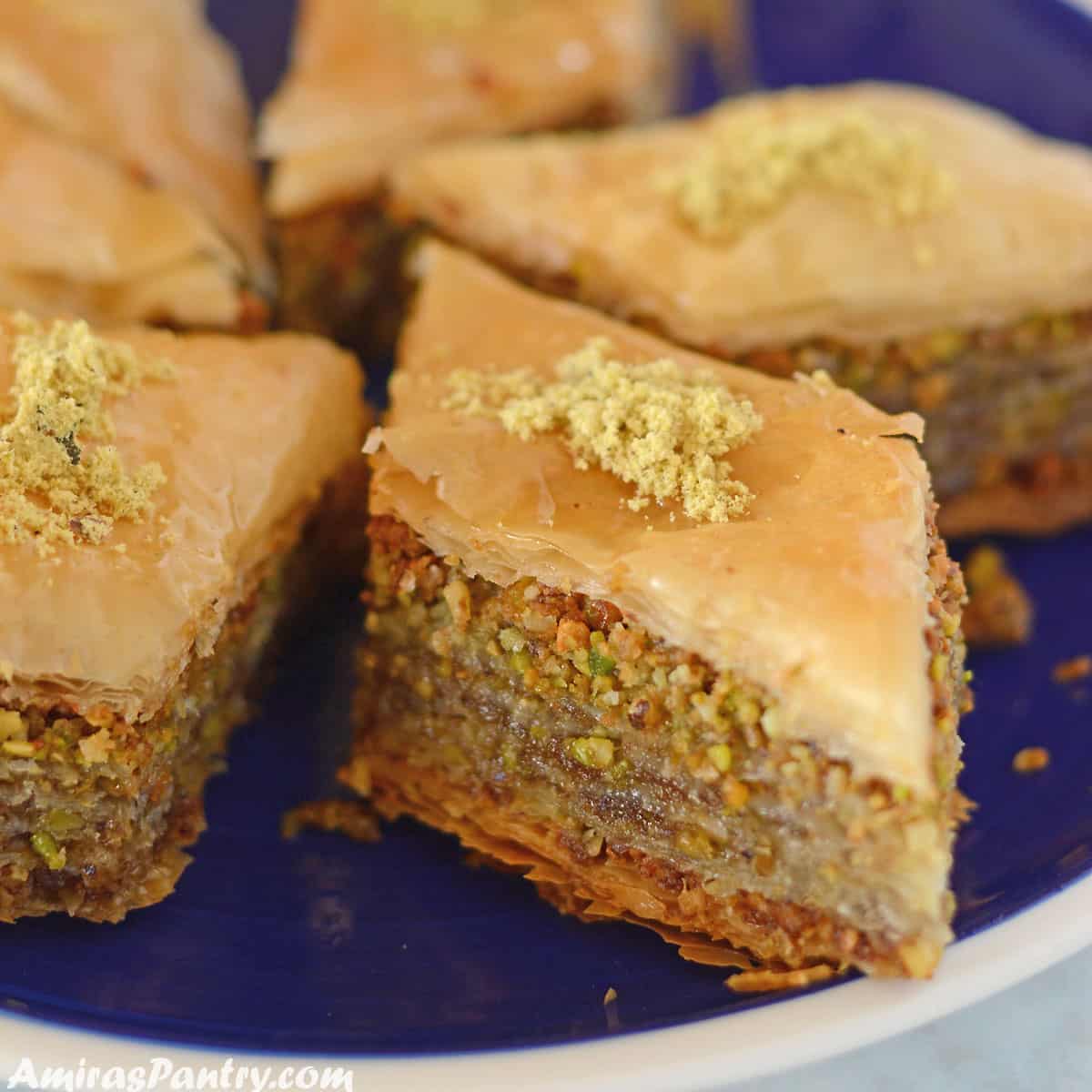 The best Baklava
This is the best baklava recipe I've ever made, and since I've done it I did not go back to the old way. You see I've grown up eating baklava on a regular basis specially in gatherings during feasts and Ramadan. Everyone I knew used to divide phyllo sheets in half like what we did in this phyllo meat pie here, and then stuff the nut mixture just in the middle. Not anymore. By dividing the sheets into 4 or 5 sections, stuffing and layering nuts in between these sections you get a mush better, taller and crisper baklava. A bakery style baklava indeed that everyone will think you just got it from a high end Greek restaurant.

Homemade Baklava is way better than the store bought ones. Why you ask? well first of all it is fresh and you can feel it in the crunch of the phyllo layer. Second: it is filled to the brim with your favorite nut mixture, my favorite is walnuts and pistachios. Third: the syrup, which makes all the difference. To be honest there are several baklava out there that is too sweet, and this comes from a sweet tooth Mediterranean girl, so imagine how sweet they can get. Plus you can flavor the syrup of your baklava however you want. Vanilla, cinnamon, rose water, orange blossom water...etc. Add to all the above that making your own baklava is cheaper and so easy.
By easy, I mean it does not require any special skills or baking strategies. No complicated steps, just layering, brushing and more layering of phyllo sheets. It does require some work but oh it is so worth it. and with this simple step by step images, it is going to be easier on you especially if this is the first time you try it. So without further ado, let's jump in.
How to make Baklava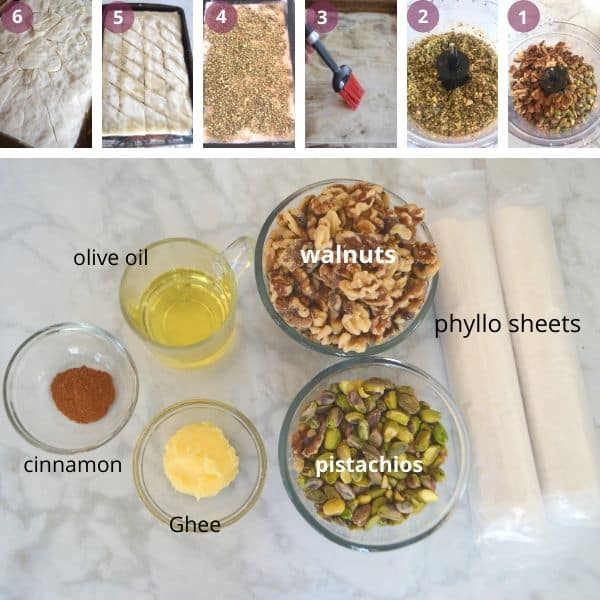 Baklava ingredients
Baklava step by step
In the food processor add a pound of nuts with some cinnamon and honey or simple syrup. This step came from my sister and it is optional but it makes the filling less likely to fall out of your baklava.
Usually I do not like processing my nuts in the food processor as I like feeling and tasting the nuts. One of my friends though suggested that I try to make them a little coarse as it makes it easier for spreading and cutting afterwards and she was right.
Melt ghee and add the oil if using, then layer 2 sheets of phyllo dough and brush with the fat mixture paying more attention to the edges. Continue layering couple of sheets and brushing until you are done with 10 sheets.
Spread about 1 cup of the mixture on top of the first 10 sheets.
We'll use just 5 sheets for the second section of the baklava. So layer those sheets as before brushing in between. Then spread some nut mixture. Continue to do so until you are left with the last 10 sheets for the top part. Spread the last amount of nut mixture then layer those 10 sheets as the final section brushing in between as well.
Cut the phyllo into diamond shape, squares, or as I used to do before as show in picture 6. I used to use some cookies cutter to make a shape in the middle then cut lines from those shapes to the outer edge. This is so much fun and everyone loved the look.
Bake until golden brown. Pour simple syrup on while it is hot, just make sure that you've prepared the syrup early enough for it to cool and come to room temperature.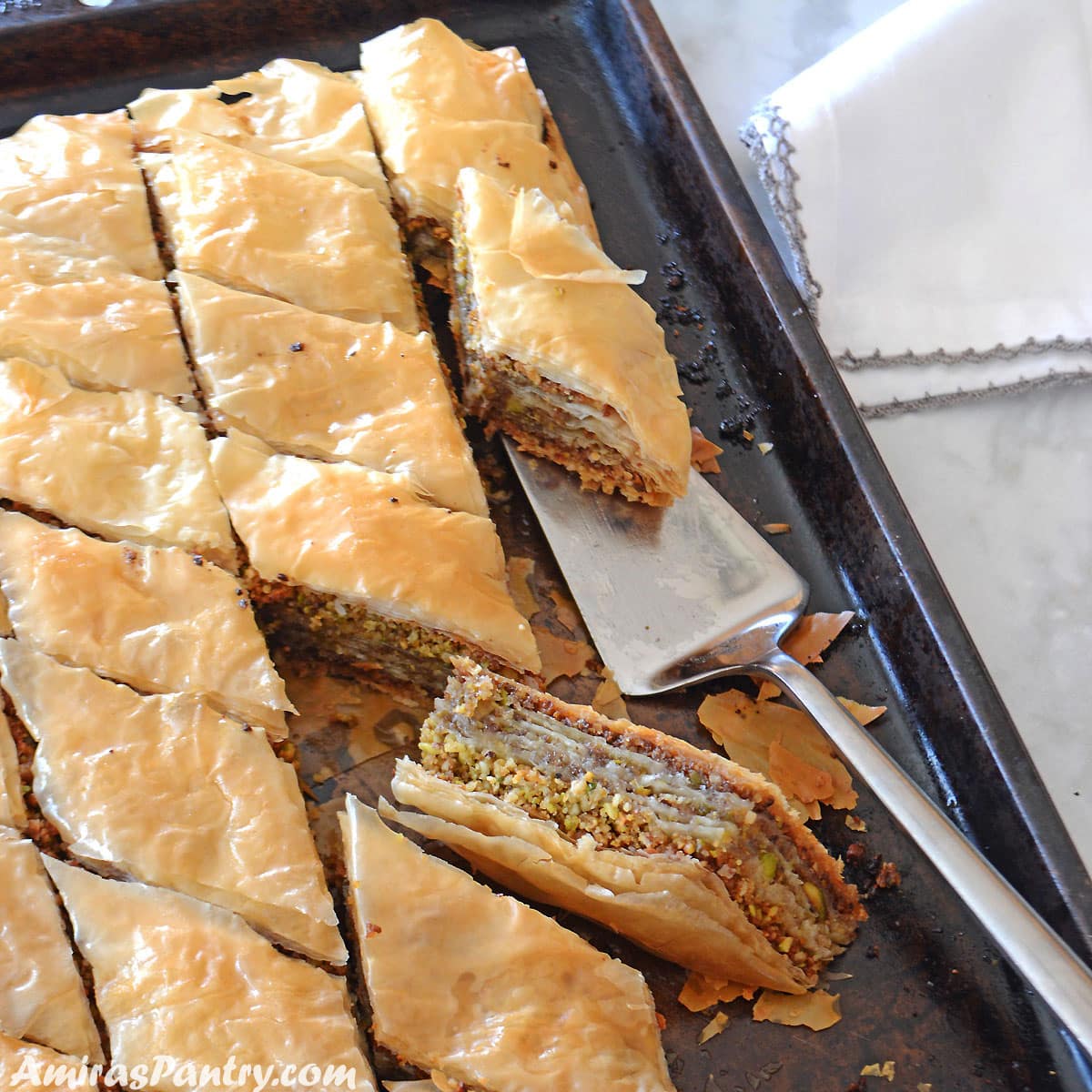 Tips and tricks for making Baklava
Other phyllo desserts to enjoy
Related Recipes
Baklava Recipe
If you like this recipe do not forget to give it a ⭐⭐⭐⭐⭐ star rating and attach a photo of your finished dish. It is always a pleasure of mine to see your photos and check your own take of the recipe. Thank you.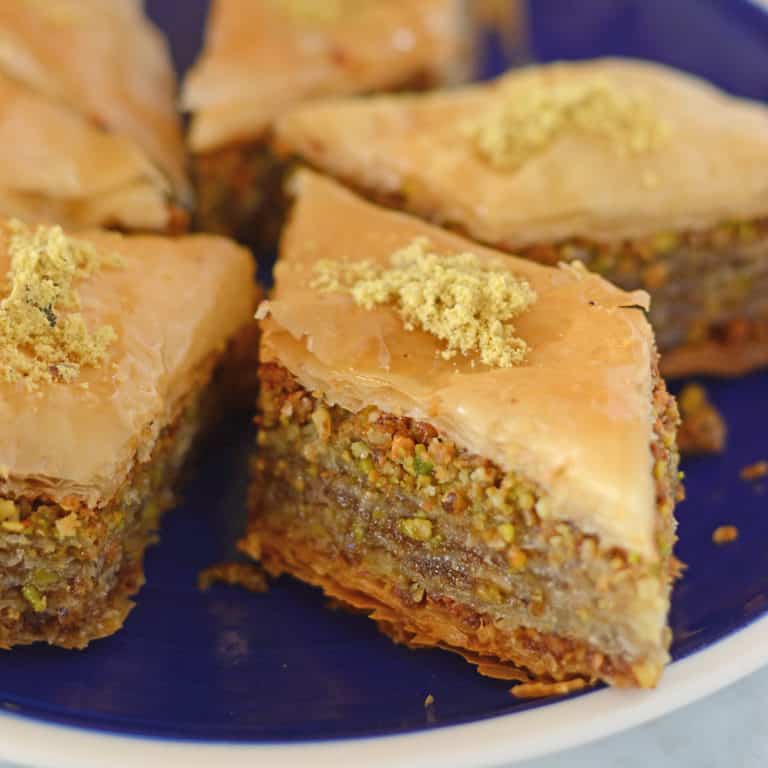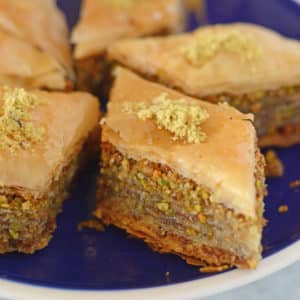 Baklava
Rich and sweet phyllo layers stuffed with nut mixture to make the best baklava ever.
Print
Pin
Rate
Ingredients
1

(16oz) package phyllo dough.

¾

cup

light tasting olive oil

¼

cup

ghee.

Note1.
For the filling
1

lb (450g)

mixed nuts.

Note2.

1

teaspoon

ground cinnamon.

¼

cup

honey/simple syrup or corn syrup.
For the simple syrup
1

cup

(225g) granulated sugar

1

Tablespoon

lemon juice.

(juice of half a lime).

¾

cup

(170ml) water.

1

teaspoon

vanilla extract.

Note3.

¼

cup

honey.
Instructions
Thaw the phyllo package according to package direction.
Make the syrup:
Combine all the ingredients in a sauce pan over medium high heat, lightly stirring. When it boils, reduce heat to low and let it simmer for about 10 minutes. Turn off the heat and let it cool completely.

Pulse or chop the nuts and mix with cinnamon, add the honey or syrup and mix well.
Layer the Baklava:
Melt ghee in a sauce pan, be sure not to burn it. Take it out of the heat and add the olive oil.

Brush a suitable oven dish or baking sheet lightly with the fat. Note4

Start layering the phyllo sheet brushing each couple of layers.

Do so until you are done with 10 the phyllo sheets.

Spread about ¼ of the nuts mixture then layer another 5 sheets brushing in between.

Continue this pattern until you are left with the last 10 sheets of the phyllo for the final layer. Note5

Preheat the oven to 350F.

Cut the phyllo sheets in diamonds, squares or any shape you like.

Bake for 50 minutes to an hour or until it is puffy and golden brown.

Pour the cooled syrup over the baklava, you'll hear it sizzle and smell the goodness.

Let it cool completely then serve.
Notes
Note1: I've started using olive oil along with ghee to lighten up my phyllo a bit. But you can use whole butter/ghee or olive oil.
Note2: You can use mixed nuts of your choice or use a certain type of nuts that you like. I've used an equal amounts of walnuts and pistachios.
Note3: Feel free to flavor the syrup however you like to. Examples are: a stick of cinnamon, orange peel, rose water, cardamom, saffron, orange blossom water...etc.
Note4:  It was hard for me to find a suitable sized oven dish to hold my phyllo sheets without trimming them so I've used a large enough baking sheet. If you cannot find one that is large enough for your phyllo, then just cut the phyllo dough to fit in the pan you have.
Note5:  Some math is needed for these steps guys so I will give you an example here: for instance I had 35 phyllo sheets in my package so here how I've done it:
Bottom layer 10 sheets then ¼ of the filling
then 5 sheets topped with ¼ of the filling
then another 5 topped with ¼ of the filling
then another 5 topped with ¼ of the filling
Finish this off with a final layer of 10 phyllo sheets.
Another time I had 40 sheets so I started with 10 and ended with 10 then divided the other 20 sheets into 4 (5 sheets) layers.
Please check the nutrition disclaimer policy.
Nutrition
Calories:
227.6
kcal
|
Carbohydrates:
20.9
g
|
Protein:
3.5
g
|
Fat:
15.6
g
|
Saturated Fat:
2.9
g
|
Polyunsaturated Fat:
5.2
g
|
Monounsaturated Fat:
6.5
g
|
Cholesterol:
3.8
mg
|
Sodium:
68.9
mg
|
Potassium:
118
mg
|
Fiber:
1.5
g
|
Sugar:
11.4
g
|
Vitamin A:
1.3
IU
|
Vitamin C:
1.1
mg
|
Calcium:
1.7
mg
|
Iron:
5.4
mg
Sign up and learn more about Mediterranean flavors