Supermoist and packed full with cinnamon and cream cheese filling, this is a finger liking cake that has been a center piece in our gatherings. Enjoy it with friends or better have it all for yourself 😋 with your afternoon tea or coffee.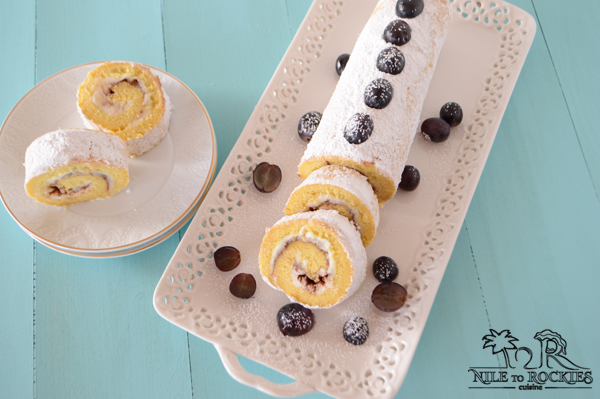 We love anything and everything cinnamon. I'm discovering many ways to enjoy cinnamon roll like desserts each day and this recipe is one of the easiest roulades you can ever make.
The cake is a foolproof, if you follow the steps correctly, there is no chance of failure here. This is a very delicious and easy coffee cake recipe.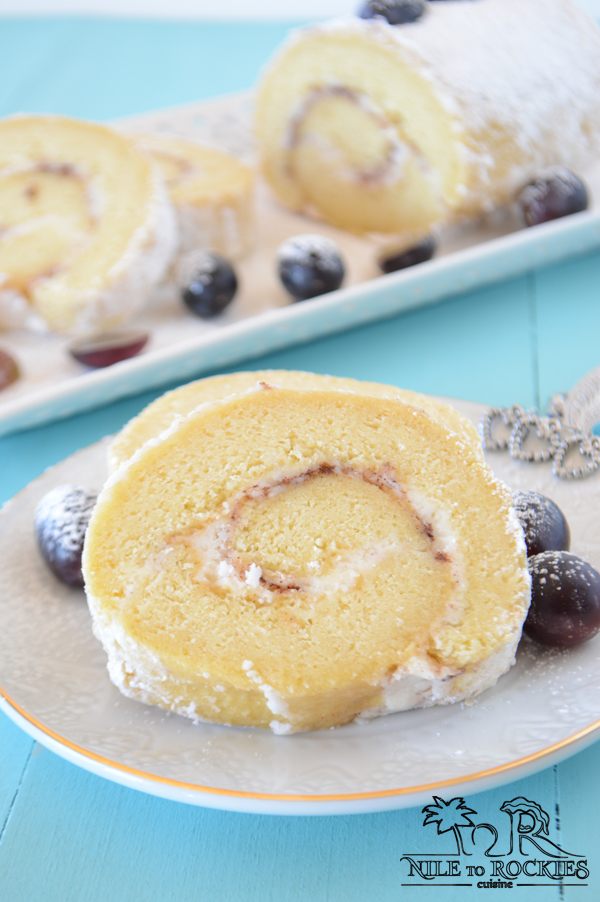 I've fallen in love with Cinnabon from the first day it opened its doors in Egypt, way way back in the old days may be 12 years ago, I do not exactly remember. Let me make something clear here, Cinnabon in Egypt is much better than here in the US - or at least in Colorado- they make the most heavenly delicious cinnamon and caramel sauce in the whole world.
I do not know why it is so dramatically different than here- although it should not-, so a word of advice, if you happen to be in Egypt do not miss the chance to grab one of their rolls and make sure it is covered all over with all sorts of goodies, you'll thank me later.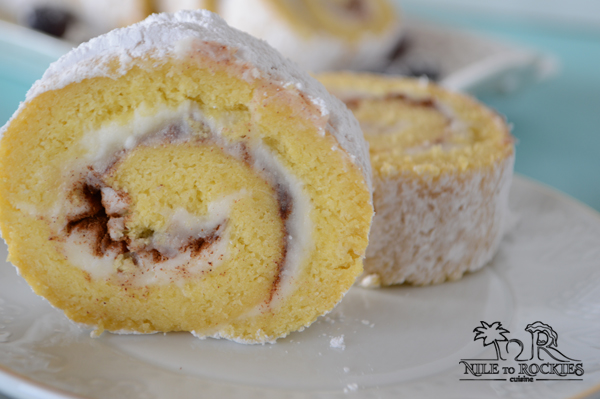 My kids are crazy about anything cinnamon too, starting from cereal, pancakes, cinnamon roll, cinnamon layers , .. and this recipe is not different.
This cake has never stayed in my home for more than 12 hours, it is usually gone sooner. My kids have it as a breakfast, snack, after dinner treat and all year long dessert, so I try to serve it along with some fruits to justify having more than one piece.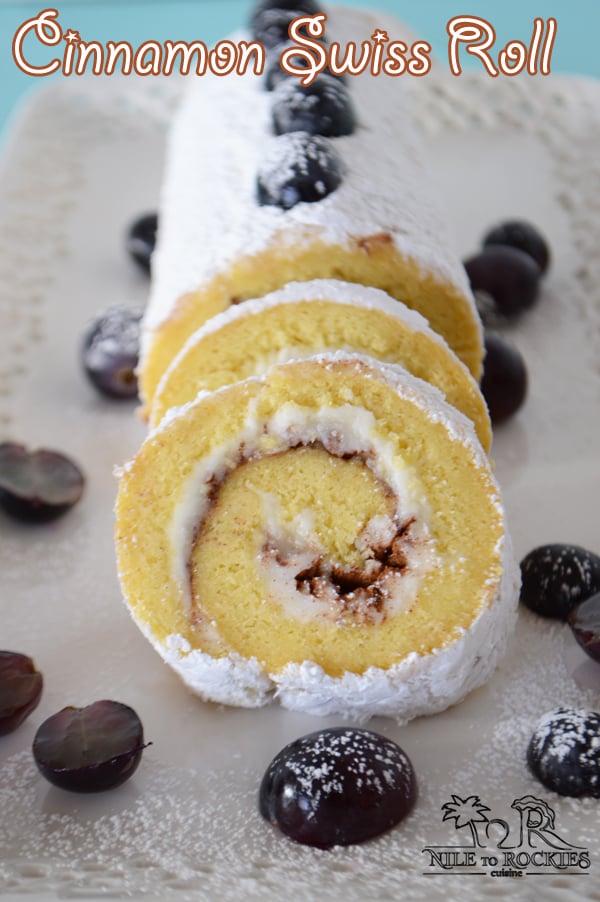 I've made it many times before when I had guests coming over or in potlucks and it is always a winner and everyone asks for the recipe. You do not really have to be that careful when unrolling this cake as actually it does not matter if it cracked, we'll dust it with some powdered sugar and it will take care of those cracks, so do not panic.
I'll leave you now with the recipe and the video hoping that you'll have the chance to try it soon.
Until next time, take care and Enjoy!!.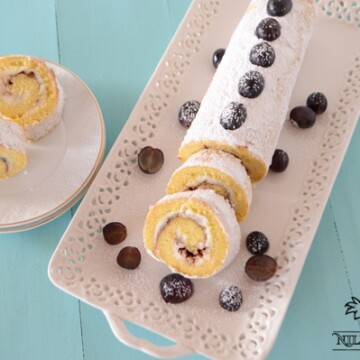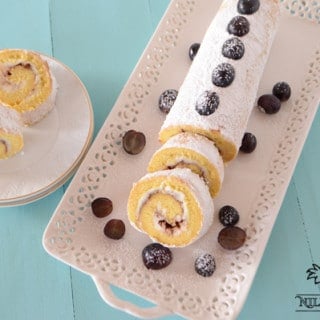 Ingredients
For the roulade
4

eggs - separate the whites from the yolks

we'll need both.

A dash of vanilla powder- almost 1/8 teaspoon.

1/4

teaspoon

white vinegar.

1/4

cup

lukewarm water.

1

cup

powdered sugar.

1

cup

A.P flour.

1

Tablespoon

baking powder.
Filling
1/3

cup

unsalted butter.

1/3

cup

cream cheese.

1

cup

of powdered sugar.

1/8

teaspoon

of vanilla powder or 1/2 teaspoon of the liquid.

*Cinnamon powder.

More powder sugar for dusting.
Instructions
Start by beating the egg whites with a dash of vanilla powder, it will foam, continue beating until it forms medium peaks.

In a bowl, whisk together the eggs yolks and vinegar. Add sugar and continue mixing.

Add the water and mix well.

Sift the flour with the Baking powder, gradually add to the egg yolk mixture and mix until all the flour disappears.

With a spatula, fold in the egg whites with slow gentle strokes.

Pour the batter in a prepared oven dish lined with parchment paper and sprayed with cooking spray.

Bake in a 350F pre-heated oven for 10- 12 minutes.

While the cake is in the oven, prepare the filling by beating all the ingredients together until you get a nice creamy filling and set aside in your fridge.

Place a clean tea towel on your kitchen counter-top and dust it with some powdered sugar, around 1/3 cup.After the cake is done, immediately flip it over the sugar coated towel. Remove the parchment paper and roll the cake using the towel, let it cool down covered for an hour or so until completely come to room temperature.

Unroll the cake and fill it with the cream cheese filling then sprinkle the top with cinnamon.

Roll the cake again, cover with plastic wrap and refrigerate for 2-3 hours before slicing.

Dust with more powdered sugar before serving.

Enjoy!
Notes
*You can use cocoa powder instead if you do not like cinnamon.
Sign up and learn more about Mediterranean flavors
Can't have enough cinnamon in your life? Here are some more to inspire you.