Drumsticks swimming in a poodle of tahini sauce.
Total time
4
hours
15
minutes
Tender, fall apart chicken swimming in a poodle of tahini sauce. Creamy, delicious and so simple. A Middle Eastern chicken recipe for serious eaters.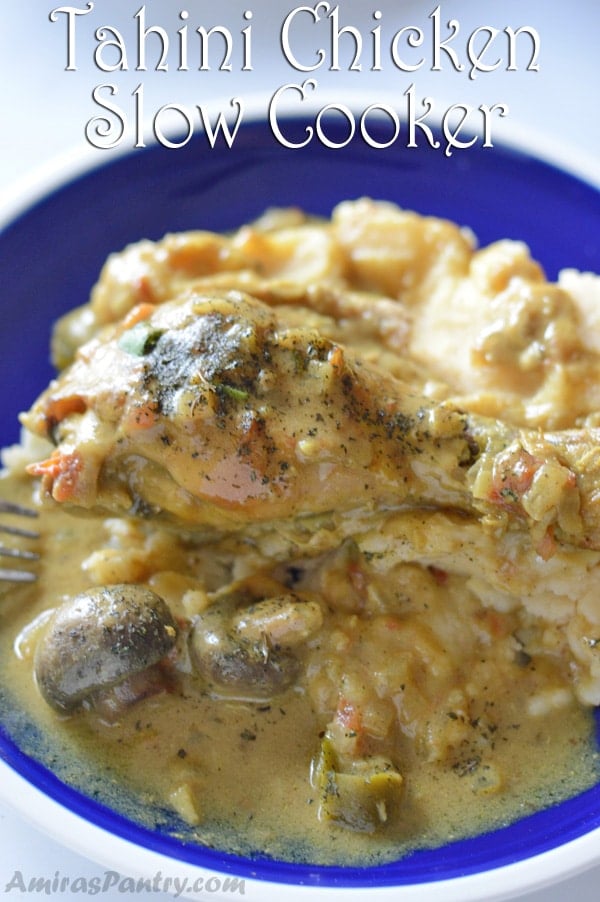 Do you think Tahini gets nervous around me? Since my tahini sauce recipe got many of you trying and liking it, I've got into a tahini obsession syndrome. From there, I haven't stopped harassing it. It made the most amazing sauce for my grilled chicken salad then adding it for roasted aubergine salad, making baba ghanoush, going forward to Halva or halawa ending up in making the tahini paste itself.
If you ever wondered what to do with tahini? or if you ever wanted to venture in cooking with tahini, you've come to the right place my friend. This ground sesame seeds paste is recently having a moment in the food world. The good news is, you do not have to go to a Middle Eastern market to get it. In fact, I've seen it in all the major stores around here.

The bad news is : my kids STILL do not like tahini or hummus! 😳 How devastating is this for a mom from the Middle East.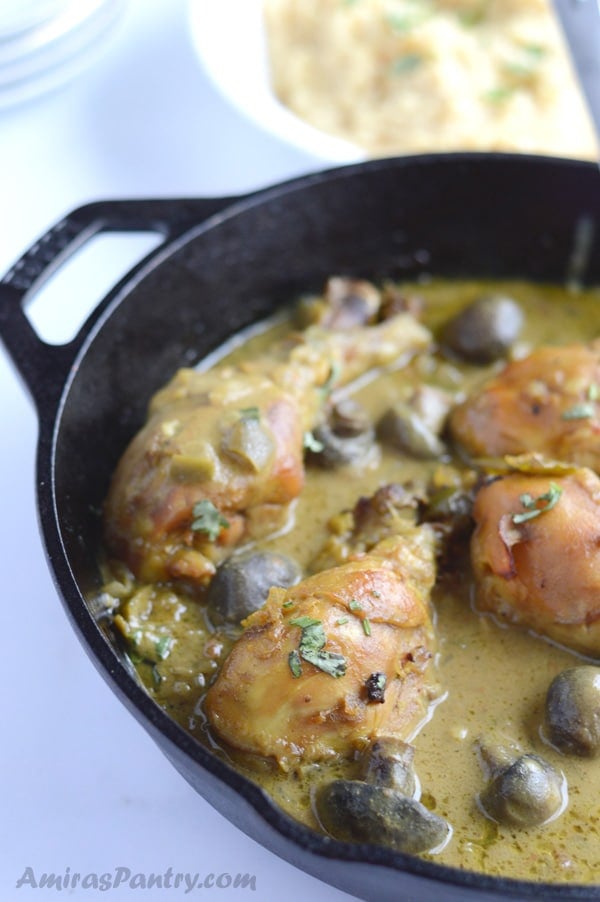 This idea originated as a simple way to trick my kiddos to accept the tahini taste, they actually ate the chicken and I have also shredded the chicken and made delicious wraps for them ... still no tahini sauce included.
They have liked the chicken as it was very tender and fall apart kind of chicken but they did not touch the sauce because: a) it had tahini b) it had mushrooms .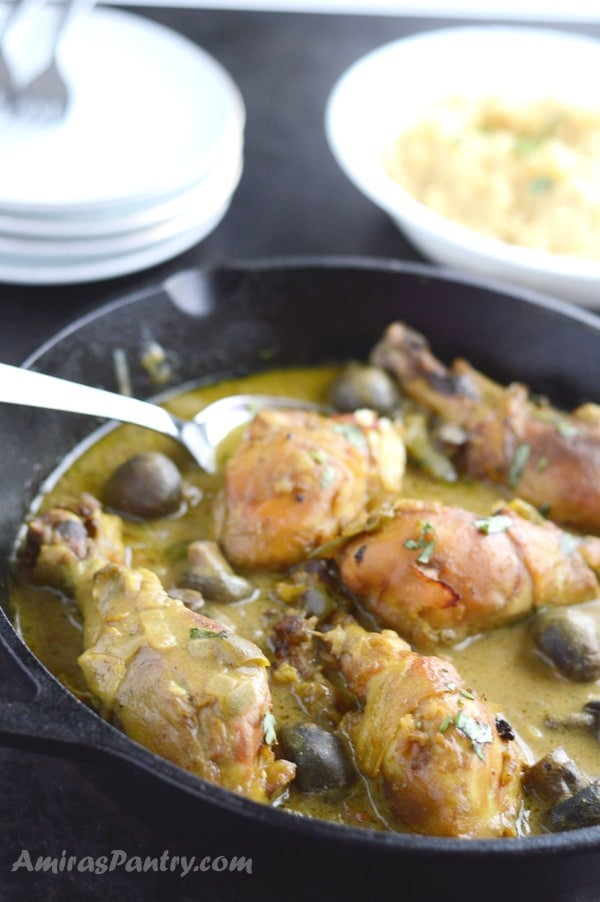 Sooo,
I am still trying to make them like tahini taste, even my saucier does not like it :(, he only ate Halawa and that's it. What really makes me sad, is that it is a thing I've liked since I started crawling!!.
Anyways I think I will need more tahini seducing recipes to lure them, so expect a tahini-palooza coming up your way.
Let's get working on this recipe.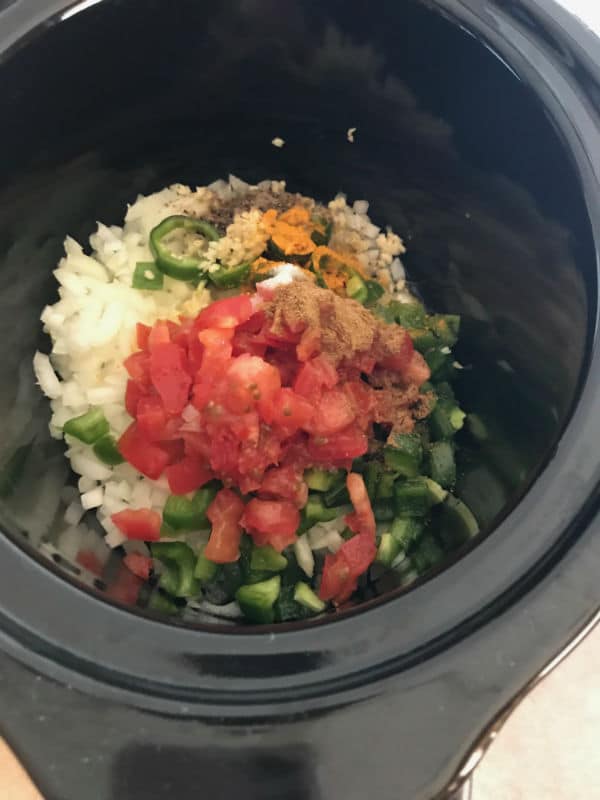 I loaded my sauce with onions, garlic, bell peppers and tomatoes. The sauce was creamy with chunks of these delicious veggies floating. If you want a less chunky sauce reduce the veggies or increase them if you would like to.
There is no right or wrong here, you are the boss here. Just make sure to add the onions and garlic, they are very important. Add spices and mix everything well.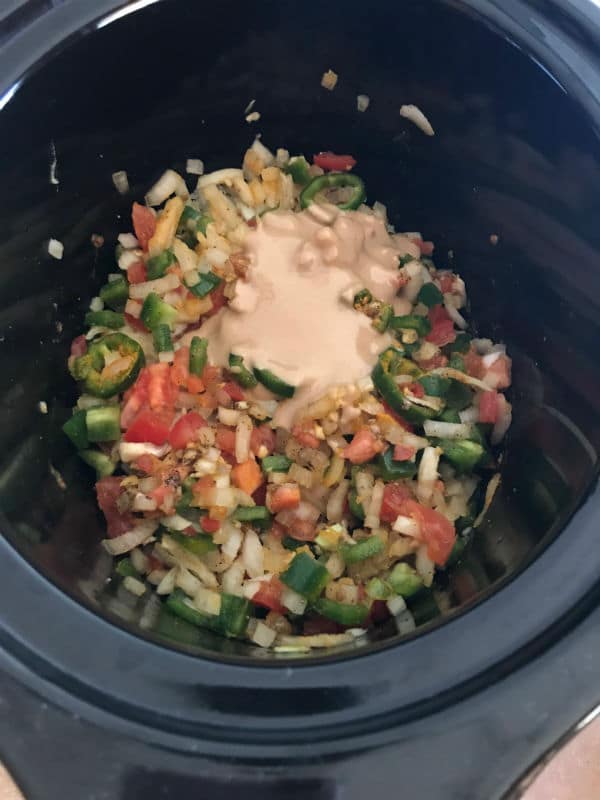 Now add tahini paste, lemon and vinegar. Some tahini out there in the market contain sugar and or color, try to stay away from those brands. If you have time you may want to try your hands and make your own tahini paste, it is very rewarding and tastes very fresh and nutty. ِ
Although tahini is everywhere, I advise you to make a trip to the Middle Eastern grocery, you'll find a variety of tahini brands to choose from, read labels and compare.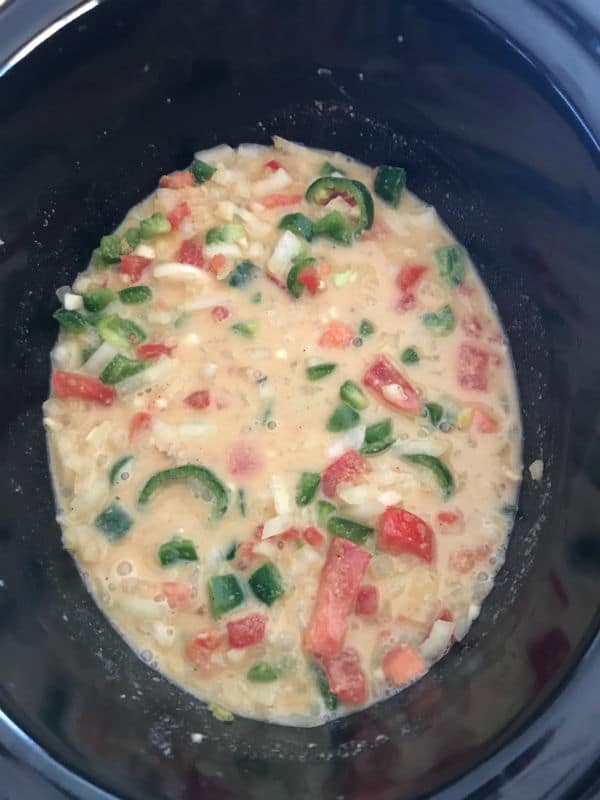 Now add the stock and mix everything well together. If you are new to using tahini, it will be easier for you to dissolve tahini in a separate bowl with some of the stock then add to the rest of the ingredients in your crock-pot.
Because I am familiar to tahini usage, I did not mind doing it all in the crock-pot, for a beginner this might be inconvenient.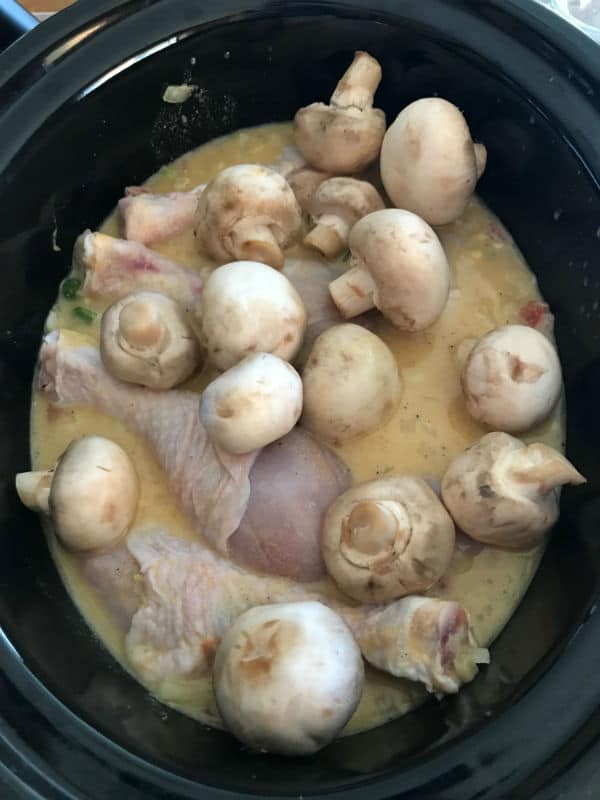 Now add the chicken and toss them well to cover with the sauce. Add the mushrooms, whole or sliced, set and forget. After this has finished cooking and before serving it, I've popped them in the oven for about 15 minutes. I did that to get a thicker sauce and crispier skin for me and my husband.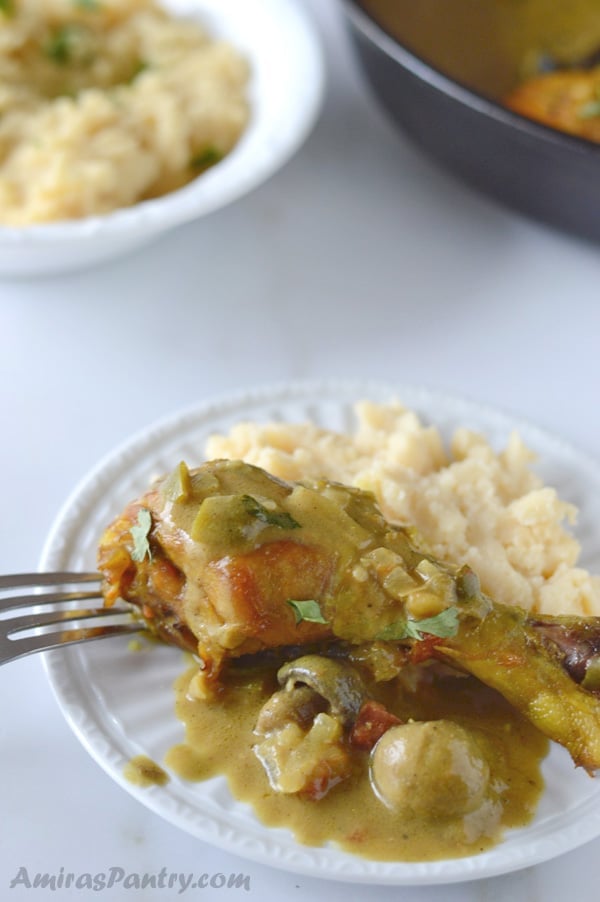 My kids enjoyed the chicken so much as it was super tender, they do not like to chew on hard or dry meat. You might as well get amazed to know that my kids do not like their bacon crispy!! Especially my little guy, he liked it so much.... minus the sauce of course :). I served this with mashed potatoes and couscous.
I hope you'll like this recipe and please if you make this recipe, snap a pic and hashtag it #amiraspantry — I love to see your creations on Instagram, Facebook, Twitter!
Don't want to miss a recipe? Sign up for the FREE Amira's Pantry newsletter delivered to your inbox with lots of tips and surprises! And stay in touch with me on Facebook, Twitter, Pinterest, and Instagram for all the latest updates.
Related Recipes
This lemon herb tahini is the perfect blend of tangy lemon, fresh herbs, and nutty tahini. A delicious twist to the classic tahini sauce that will add a burst of flavor to everything on the table.
Craving something creamy and delicious? Try making this tahini sauce recipe! With some simple ingredients and just 5 minutes of your time you'll creat a healthy, perfect dip, spread, or salad dressings.
Tahini pasta is a quick delicious vegan pasta recipe or a side dish. This creamy lemony tahini pasta sauce is a wonderful alternative to the traditional tomato pasta sauce.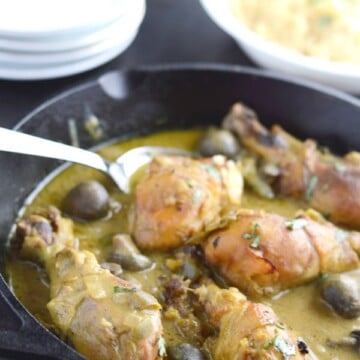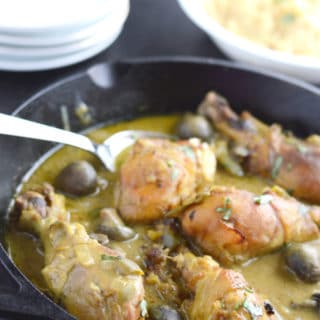 Tahini Chicken Slow Cooker
Drumsticks swimming in a poodle of tahini sauce.
Print
Pin
Rate
Ingredients
1

cup

diced onion.

2

Tablespoons

garlic

minced.

¾

cup

diced tomato.

½

cup

diced green bell pepper.

1

diced Jalapeno

optional.

2

teaspoons

salt

or to taste.

1

teaspoon

freshly ground black pepper.

½

teaspoon

ground cumin.

½

teaspoon

turmeric.

2

Tablespoons

lime juice.

2

Tablespoons

white vinegar.

⅓

cup

raw tahini paste

recipe here https://amiraspantry.com/tahini-authentic-middle-eastern/.

1 ½

cup

chicken stock / water.

8-10

drumsticks.

1

cup

mushrooms

diced or whole.
Instructions
Combine all the ingredients , except for the chicken and the mushrooms, in the crockpot and mix very well.

Add the drumsticks trying to turn them all to be covered with the sauce.

Add the mushrooms, cover and set on hight for 4 hours.

After the 4 hours, the sauce will be watery and delicious.

If you want a crispier chicken with a more thick sauce, transfer the chicken and sauce to a pan and pop in 1 350F oven for 15 minutes.

Enjoy with mashed potato and couscous.
Sign up and learn more about Mediterranean flavors