Baba ghanoush/ ghanouj or even papa ganoush is a smoked eggplant dip that is insanely delicious.
Like the Tahini sauce, Baba ghanoush is an authentic Middle Eastern dip, that almost everyone has his favorite version of. Here is a basic recipe for this amazing roasted eggplant spread. So let me show you how to make baba ghanouj.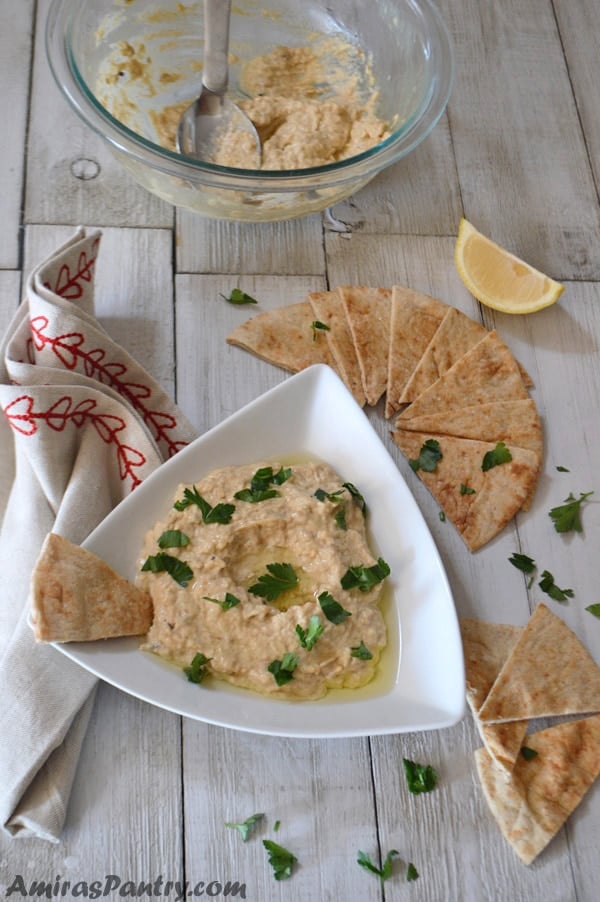 I grew up to a father who was crazy about eggplants, really, my late father used to love eggplants in almost any form, and along the way came the eggplant baba ganoush dip. I've had Baba Ghanoush for dinner, breakfast and even as a snack with some bread. For Egyptians, it is there as a dip, or as we like to call it salad, to accompany our meals. From kebab, kofta, grilled fish, mah-shi to foul and falafel.
You might be wondering why we are so crazy about baba ghanouj? I'll tell you what is in Baba ghanoush so you can understand. Of course first ingredient is eggplant, smoky roasted delicious eggplant, along with tahini, garlic, lemon, olive oil and some spices.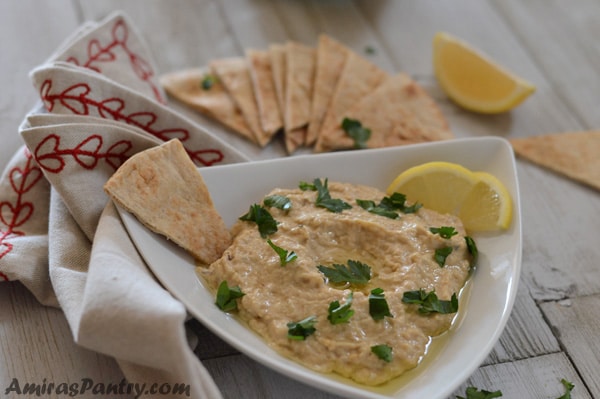 The origin of this recipes, according to many Arabic websites, goes back to the first century. Some say it originated in Lebanon, others say in the Levant area in general.
There was this priest named father Ghanoush, who was very lovable and kind. Many people loved this man and one of the people in his village, some stories says student, made this dish for him. Because he was so generous, he refused to eat it all by himself and made a feast of it. The good man invited the whole village and everyone loved it and so they named it after the priest "Baba Ghanoush" or Father Ghanoush. Pretty interesting.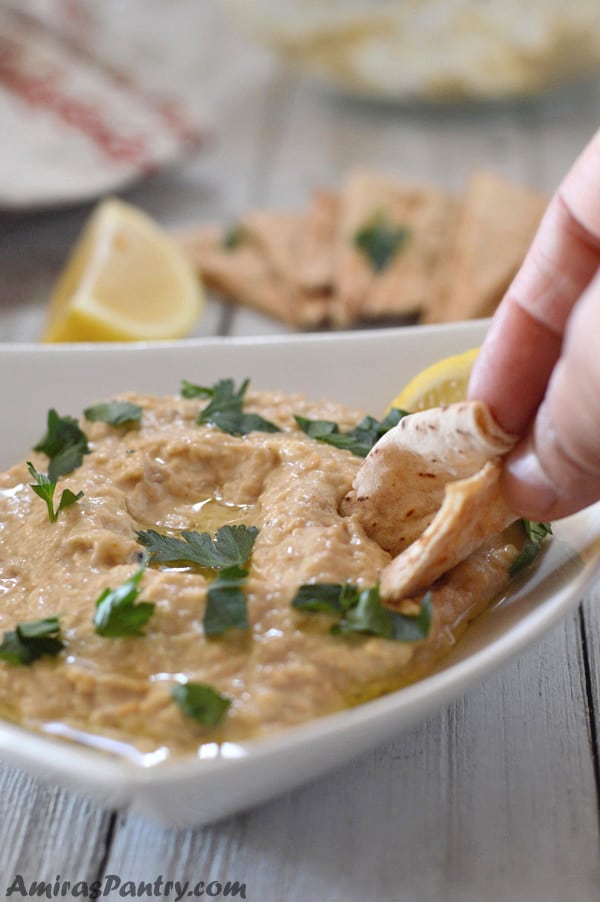 Many people are confused about how to roast eggplant for baba ganoush. I grew up to a mom, grand moms, great grand moms, and everyone else in Egypt who roasted tahini over their gas stovetops. It makes a wonderful, tender, smoky eggplant flesh. I can also suggest using your grill. But, if this is not your thing, for health or other issues, you can happily oven roast it whole and I saw others slice eggplants then broiling them in the oven. So you choose what is best for you, but for me I always do it that way even when I had an electric coil stovetop. But do not forget to open the windows please 😀.
Let's show you how to make it.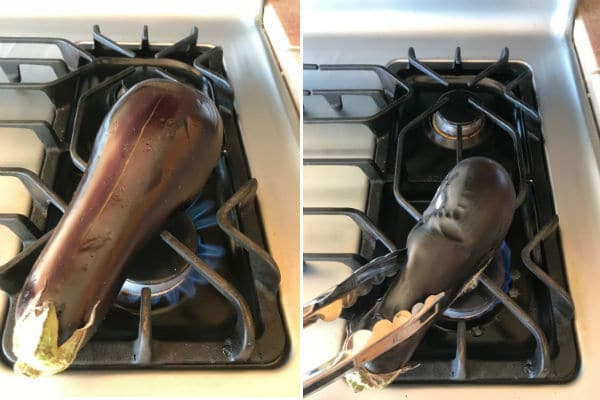 Of course, first step is roasting the eggplant as I've indicated before. Here I am roasting it until it is very tender, this step will take from 12-15 minutes. Just make sure that the eggplant is cooked everywhere. Poke it with a fork near the bottom and near the stem to make sure it is completely done.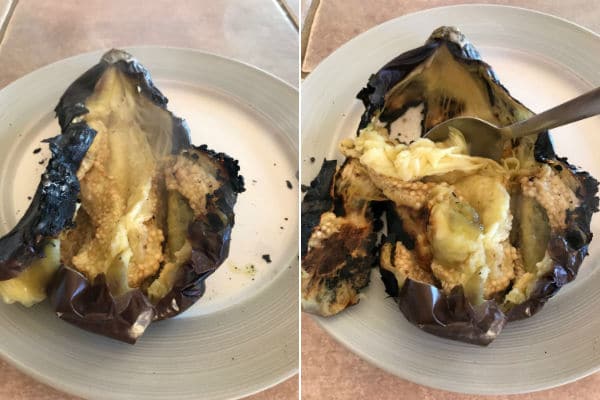 Wait for 5 minutes until it cooled down a bit, then scoop up the goodness inside. Here is another thing, I actually like getting bits of the burnet skin with the flesh, not much but this kind of intensifies the flavor. If you are freaking out of this then don't, by all mean go with what will make you more relaxed and comfortable enjoying this dish.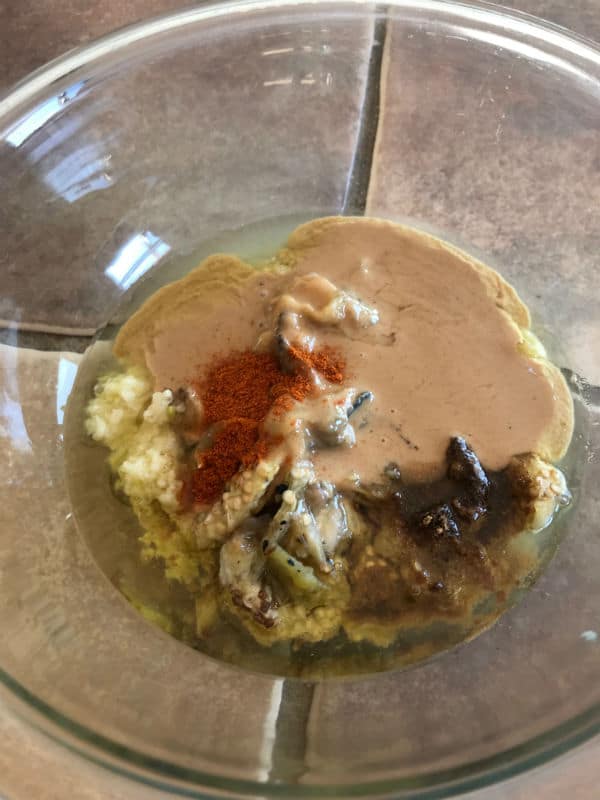 Now in a deep bowl mix all the ingredients along with the eggplant flesh. I like to mash everything together with a fork, some people find it more convenient to put everything in the food processor and give it a twirl. This is a matter of personal preference as well, I like feeling and wrapping my tongue around some stringy eggplant flesh.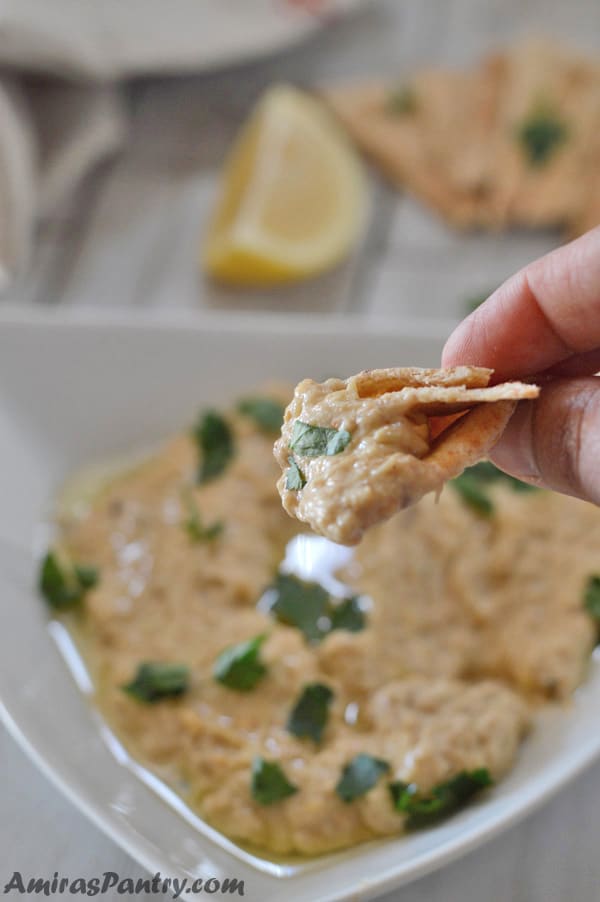 Now this is a basic recipe which means you can also tweak it a little and add either one or more of the following:
A small chopped onion.
Roasted then diced red bell pepper.
Roasted chilis.
Chopped parsley.
Pine nuts.
Roasted whole garlic on top.
These are some of the add ons that Egyptian restaurants might serve. I actually like mine basic, simple, smoky and delicious.
Baba Ghanoush is a party favorite in the Middle East, it pairs very well with grilled meat, and frankly I find it pairs very well with almost anything. I would slather it to everything I eat even cheese! Yes, seriously I can have a pita pocket slathered with baba ghanoush and stuffed with cheese. CRAZY GOOD 😋.
I hope you'll like this recipe and please if you make this recipe, snap a pic and hashtag it #amiraspantry — I love to see your creations on Instagram, Facebook, Twitter!
Don't want to miss a recipe? Sign up for the FREE Amira's Pantry newsletter delivered to your inbox with lots of tips and surprises! And stay in touch with me on Facebook, Twitter, Pinterest, and Instagram for all the latest updates.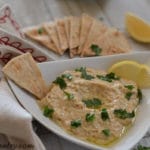 Baba Ghanoush
A creamy garlic-y eggplant dip that is very rich in flavor.
Ingredients
1

1lb large eggplant.

3

medium garlic cloves

minced yields (1/2 Tablespoon).

1/4

cup

tahini.

1/4

cup

olive oil.

2

Tablespoon

lemon juice.

1/2

teaspoon

ground cumin.

1/8

teaspoon

cayenne pepper

optional.

Salt to taste.

1/4

cup

chopped flat leaf parsley

optional.
Instructions
Cut a slit in the eggplant and roast on the stove top or in your outdoor grill, Cook, turning occasionally with tongs, until completely tender and well charred on all sides. Set aside until it cools down.See notes for other cooking options.*

When it is cooled enough to handle, scoop the soft flesh with a spoon and set aside in a deep bowl.

Add all other ingredients, stir vigorously with a fork  until eggplant breaks down into chunks and everything is well incorporated.

Serve with pita bread or vegetables as a dip.
Recipe Notes
* You can cook eggplants using a broiler by placing the eggplant on a foil lined baking sheet, turn on the broiler to high and broil eggplant. Make sure to turn occasionally until it is well charred on all sides and tender.
May I suggest: