Soak up the last rays of summer and enjoy the final days of the grilling season with this flavorful, flaky, tender whole grilled trout…. but grilled the Middle Eastern way.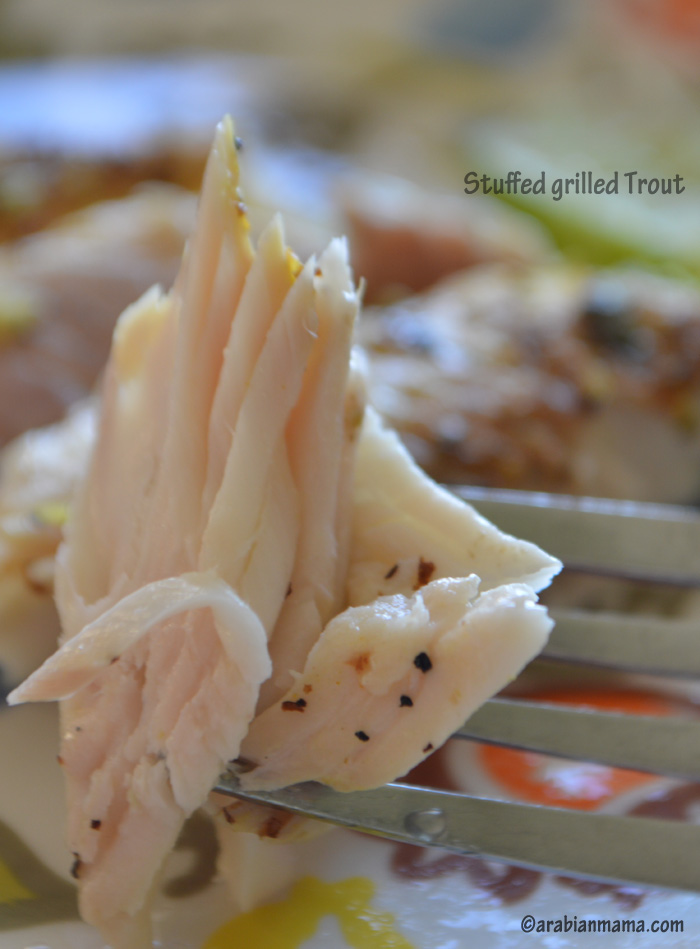 First of all, please accept my apologies for the look of my blog, I'm trying to give it a face left but I messed up and I need an expert's hands here 🙂 . I just couldn't wait until the process is done to continue blogging… Isn't blogging an addiction!!!?
Anyways, I had to show you this before summer is over, and as the weather is getting colder some days here is Colorado, I've got the feeling that Winter is around the corner … just call it a Winter-fobia syndrome 🙂
Back to our fish, I was very amazed when I first got here to see grilled fish with its skin directly on the grill. You might be asking why? well, because in the Middle East – or at least in Egypt- our grilled fish is covered with bran then grilled. The most common fish to be done this way is the whole Trout and whole Tilapia with skin.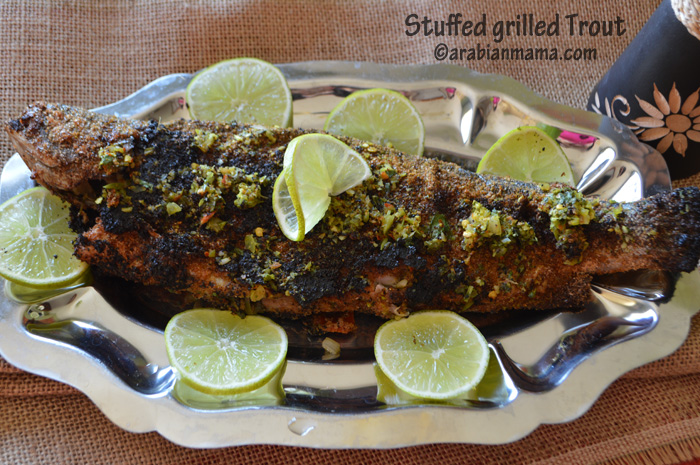 I like the trout more in this recipe, some people like tilapia more as it is a thinner fish and this makes its flesh absorbs more marination than trout . To me trout turns out very flaky, flavorful and irresistible.
Make sure to clean the inside of the fish very well with a sharp knife, rinse it with water and stuff it with this aromatic combination of bell pepper, cilantro, onion and tomato seasoned with cumin, salt and vinegar.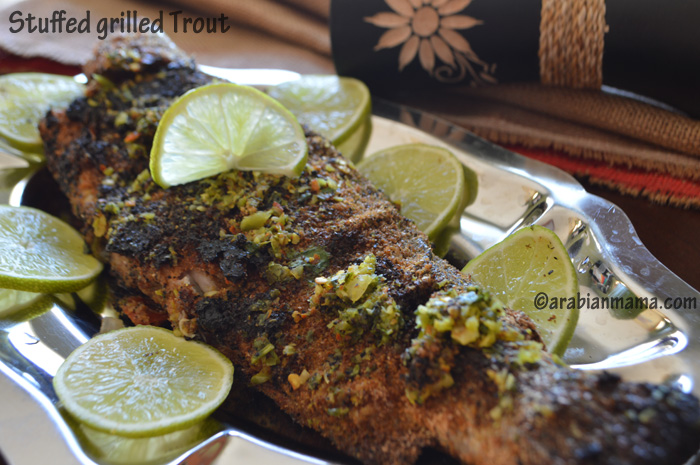 Cover your fish completely with bran and let it rest in a thick bed of bran then grill. After grilling while it is still hot dip it in another flavorful solution , let it soak a little then enjoy with white rice or your favorite sides.
We usually eat grilled trout with white rice and tahini sauce or baba ghanoush. I'll try to post about these sauces soon.
I hope you'll try grilling your fish this way next time you eat trout. Try this recipe before we start shoveling 😐
Here is a short but detailed video on how to make this grilled trout. Have a great weekend.
Stuffed grilled trout
2014-09-04 21:08:43
Ingredients
4 trout fish almost 3.5 lbs.
3 C bran.
For the stuffing
1.5 C chopped cilantro.
1 large onion chopped.
1 medium tomato, cubed.
1 large red bell pepper, cubed.
2 Tbs powdered cumin.
1 Tbs vinegar.
1Tbs oil.
salt.
For the dipping - a solution to dip fish in after grilling
4 garlic cloves.
1/2 C chopped cilantro.
1/3 C bell pepper, cubed.
1 Tbs powdered cumin.
1 tsp turmeric.
2 limes.
2 Tbs vinegar.
Salt
Chili powder - to spice things up if you like.
Instructions
Start by cleaning your fish very well with a sharp knife and rinse with cold water.
Mix the stuffing ingredients well together.
Stuff your trout with the vegetable mixture.
Until you are done with them all.
Cover the fish with bran very well, press to make it stick to the fish, then lay them down on a thick bed of more bran sprinkled on a grilling sheet, then place on your grill.
Meanwhile, prepare the dipping solution by mixing all the ingredients - except for the lime- in a food processor, pulse until incorporated.
Squeeze the limes , cut the rinds in quarters then add a cup of hot water. Mix the lime water mixture with the processed ingredients above and pour in a dish that can take the whole fish.
Your fish should be on the grill for 40-50 minutes, turning them once midway.
When your fish is done take it out and dip in the after grilling solution for two minutes each side.
And now it is done. Peel and enjoy the flaky flavor of the trout fish.
Notes
The stuffing vegetables mixture can be enjoyed with white rice.
Try tahini sauce or baba ghanoush as sides with this dish.
Amira's Pantry https://amiraspantry.com/