Tater tot casserole is a super easy weeknight dinner for your family. Cheesy, crispy on the outside yet creamy inside hot and bubbly casserole that is a mean in itself.
[mv_video key="pxsqracablm2aqkqxbk3" title="BEST TATER TOT CASSEROLE" thumbnail="https://mediavine-res.cloudinary.com/v1570852085/qr3eorellw1z7lfplj2s.jpg" volume="70" doNotOptimizePlacement="true" doNotAutoplayNorOptimizePlacement="false" ratio=""]
If you love hot and bubbly casseroles, you'll definitely need to try this low carb zucchini casserole or this green beans casserole for dinner soon.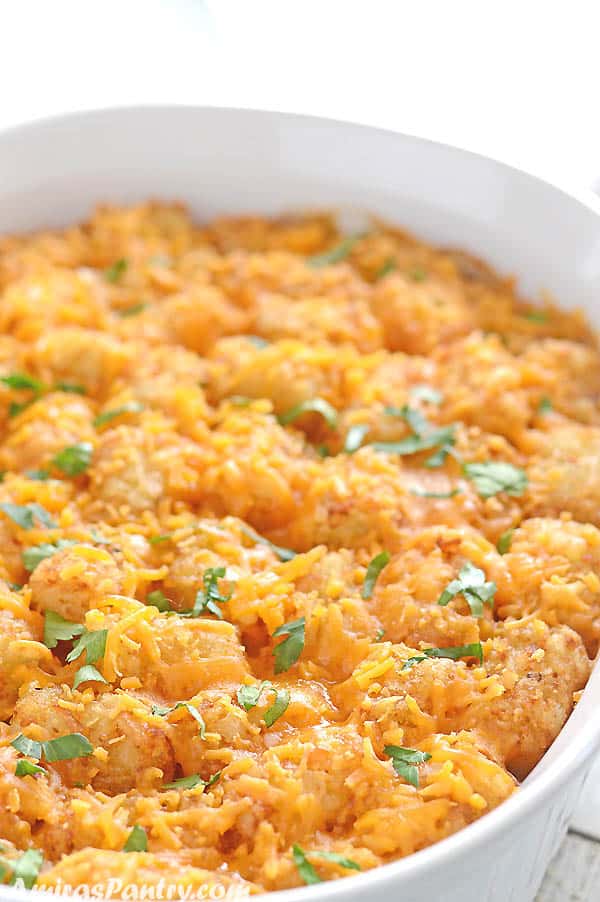 Best tater tot casserole
Seriously, this is the best tatter tot casserole because it is so easy to make and so versatile, you can literally clean your fridge or freezer and make this casserole. Whatever meat you have, with whatever veggies you have plus a creamy sauce, cheese and of course tater tots. The best, so easy and so kid friendly (and of course this Mexican tater tot casserole as well).
Ground beef is an all time favorite for my kids and I always have browned ground beef in my freezer so this is a recipe I can prepare and pop in the oven in less than 15 minutes!!. You can never go wrong with ground beef around kids, I feel they all like it.
I've used frozen corn in this recipe because this is what I had in my freezer, you can use canned or fresh vegetables. Try peas, beans, carrots, mushroom or a combination this recipe is very forgiving. Also if you want to make even easier, make this a casserole with cream of chicken can. You can also make this tater tot casserole with chicken. Really the only ingredient that you should have is the frozen tater tots!!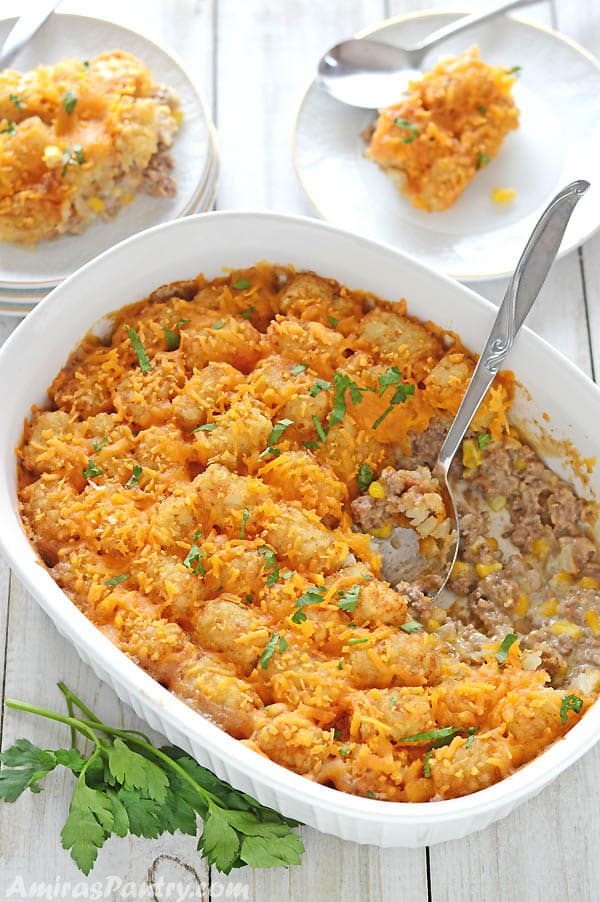 What is tater tot casserole?
Let me first tell you what exactly is a tater tot? Tater tots are sort of shredded potato formed into a small cylinder and fried, so you can say it is another form of fries. I was not raised to tater tots, we do not have such thing in Egypt and I think it is still not there as I haven't seen it in the market when I was there in the summer. Read more about tater tots nutrition here.
Tater tot casseroles are a classic American family of hot dishes, an easy and convenient comfort food for the family to enjoy. It is also great for parties as if literally feeds a crowd.
What goes with tater tot casserole?
Tater tot casserole is a complete meal by itself, but I always serve it with green salad on the side. You can also roast extra veggies and serve.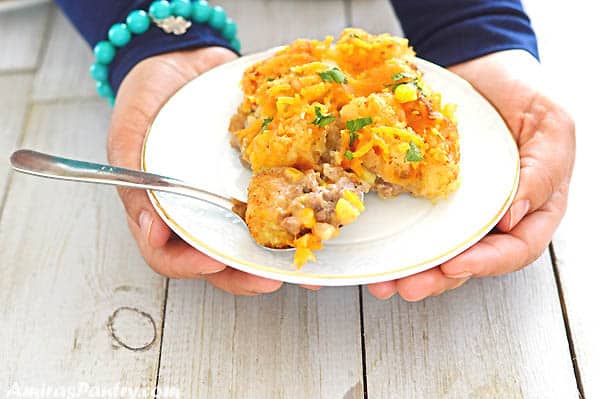 How to cook tater tot casserole?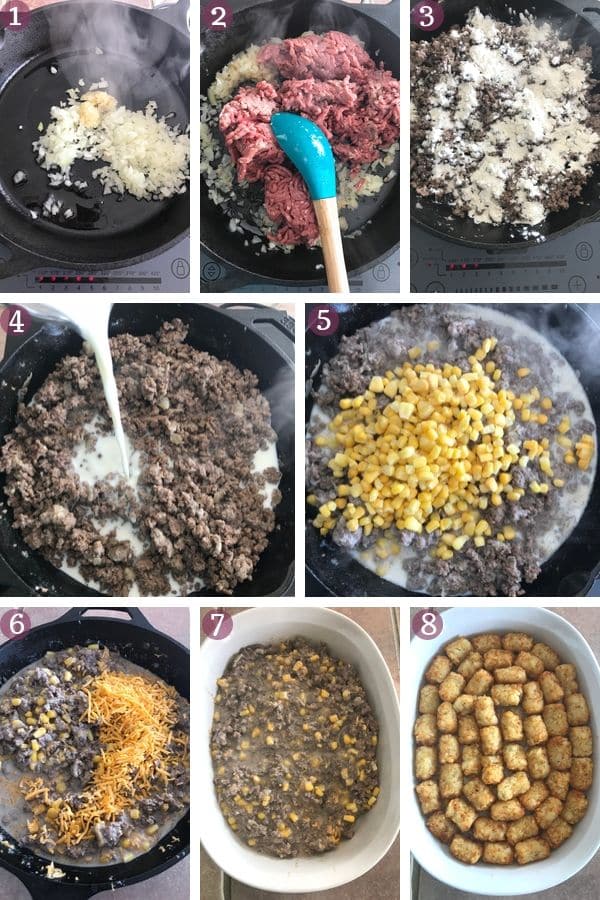 In a non stick or cast iron skillet saute onion and garlic until fragrant, this will take from 1 to 1.5 minutes.
Add ground beef, here I used lean ground beef that was 92%. Brown beef until there is no visible pink spots. Season the ground beef with salt, pepper, cardamom and cinnamon.
Sprinkle 1/4 cup of flour over the beef and mix it in.
Pour milk and mix well, you can use stock or heavy cream for a richer flavor.
Add whatever veggies you like, personally we like peas but this time I added corn as this is what I had in the freezer.
Mix in some cheddar cheese or any cheese you like.
Pour the mixture in you oven dish and level the surface, check seasonings.
Arrange tater tots nicely on the top then pop in the oven for 20 minutes, take it out and add more cheese then pop in the oven again until hot and bubbly.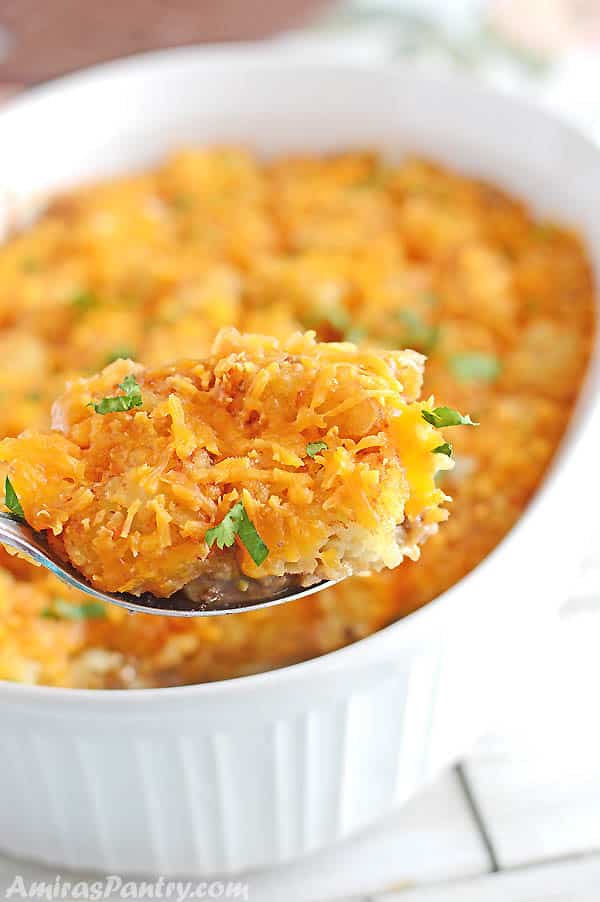 Notes about the tater tot casserole:
For a crunchier top you can either pop your tots in the oven before adding them to the casserole so they get all nice and crunchy for 10 minutes while you are preparing the dish. You can also skip the top cheese part and put all the cheese under the tots.
Make sure to season the dish well and taste the mixture before covering it with cheese the the tots.
As I've stated before any meat, veggies, cheese can go into this dish it is totally up to you.
Adding bell pepper to the meat mixture made it smell like heaven for me but one of my kiddos still does not like bell pepper cooked!! so that's something to consider adding if you love bell peppers.
You can also make this in your slow cooker, just put everything in there, cover and cook on high for 3 hours or low for 6 hours until heated thoroughly. You will not get much crunch on the top but the edges will crunch really nice.
More ground meat casseroles
Best Tater Tot Casserole
quick & delicious casserole. Versatile...turkey, beef, pork, lamb meats, tomato or cream based soups work, add a layer of grean beans, carrots or corn and you have a complete meal. Vary the spices & it's a new casserole each time you make it. It is something thay you can even make the day before and put in your fridge