Easy molten lava cake, portioned and perfect for parties and gatherings or perhaps for a naughty midnight snack 😉. Take less than 10 minutes to prepare, no egg separation is required.
Nest time try this easy lazy cake filled to the brim with chocolate or may be this magical chocolate cake.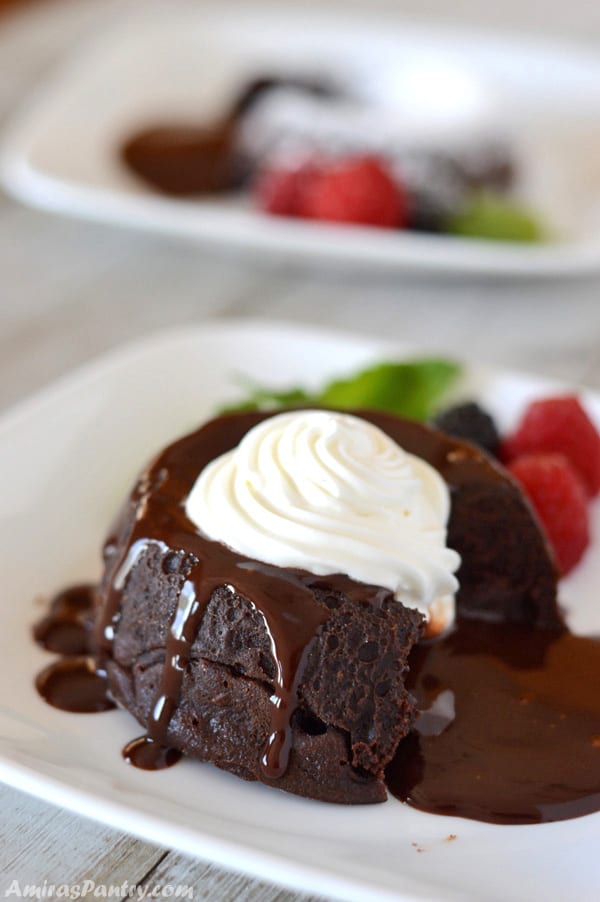 Simple chocolate cake with a chocolate volcano in the middle. Guys, this is the best chocolate lava cake recipe I've made so far. It is moist and cakey from outside with a gooey and saucy chocolate center. It is hard to believe how easy you can make such a decadent chocolate dessert.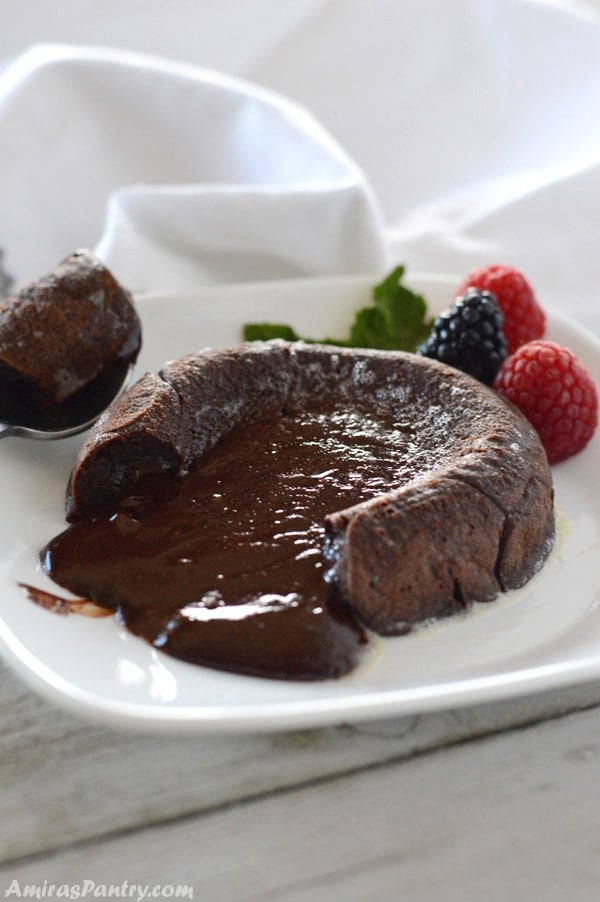 Not all chocolate lava cakes are born equal and I assure you, you'll fall in love with this one. It just tastes like you went to a restaurant and had a gourmet style lava molten cake. So addicting especially that it is so easy to make and can be made in advance!! How lovely is that?!!
Whip up a batch, portion, cover and refrigerate... That's it.
Pop one in the oven 8 minutes and you'll have a freshly baked dessert darling to devour. Top it with a scoop of vanilla ice cream, Chocolate syrup, whipped cream, fresh fruits... whatever your heart desires.
This is the right answer to your chocolate cravings with a good book 📚 or late at night...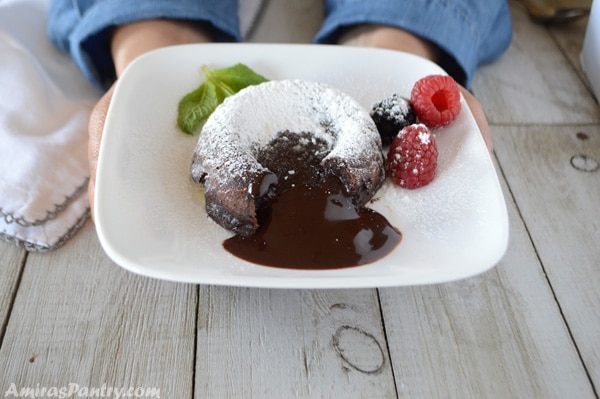 I do not know why I crave desserts when reading, especially a good book. I love reading, but reading in English is a little bit of a challenge for me. I can read so fast in Arabic, to the point that if I got really interested in a book I cannot put it down until I finish it.
Although I am fairly good at English, my reading is still slow!! Do you have any tips or tricks to read faster?
Sometimes I meet people who never read, and the reason is always "lack of time". I am not judging here but seriously guys, if you do not read, you are missing A LOT. One of the things that I love most about being in the US is the public library, back in Egypt and at my time growing up we only had libraries at schools and even some schools did not have libraries at all!!!
I am a huge fan of reading because reading has really changed my life.
Reading allowed me to change my perspective and look at things from others point of view, it challenged me to think, it allowed me to get to know other cultures, transferred me to another world and gave me a break from the real life. I personally think everyone should read and find time for reading no matter what, even 10 minutes a day.
I am a mom of 3 very active and demanding boys, recipe developer, photographer, video maker and a business owner. I have a lot to do and so many things to learn about for my business and I think every one of us has a lot going on already. But let me try to convince you to try to find a time, maybe commit to 10 minutes reading before bed each night?. I assure you they will be 30 before you know it :).
So hop on to your kitchen, make these little ramekins and enjoy a book.
P.S.: If you have any book recommendation please leave a comment below, I would like to see what you've found interesting.
How To Make Chocolate Molten Lava Cake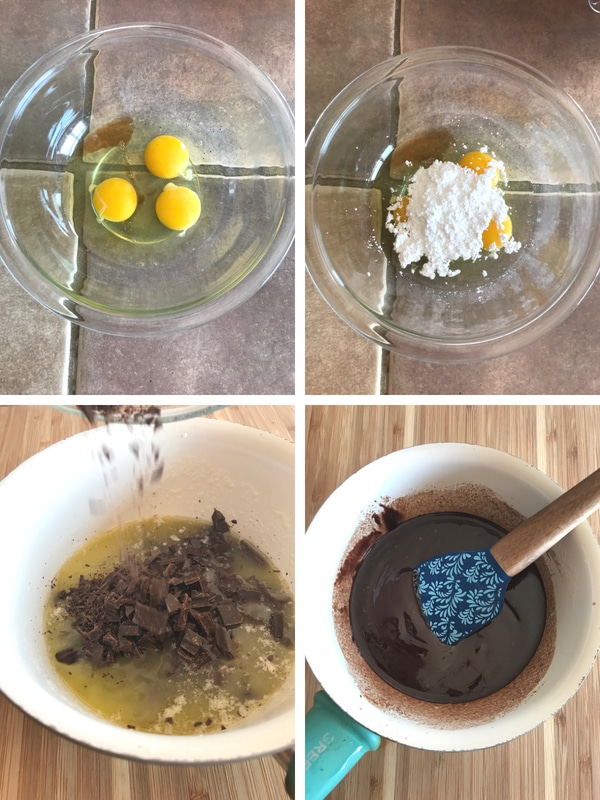 In a bowl, add eggs, vanilla extract and sugar, beat till they are well mixed.
Melt butter on stove top, I repeat stove top unless you are well experienced in doing that in the microwave. I've microwaved butter in microwave on several occasions but this time it exploded when I opened the microwave door causing a mess and minor burns for me and my son who was standing right next to me. If you follow me on Instagram, you've probably already saw the disaster in action.
Use a good quality chocolate bar for baking, I'll say go to 60-70% cocoa bars. Cut the bar into pieces with a sharp knife and add to the warm butter to melt the chocolate as well.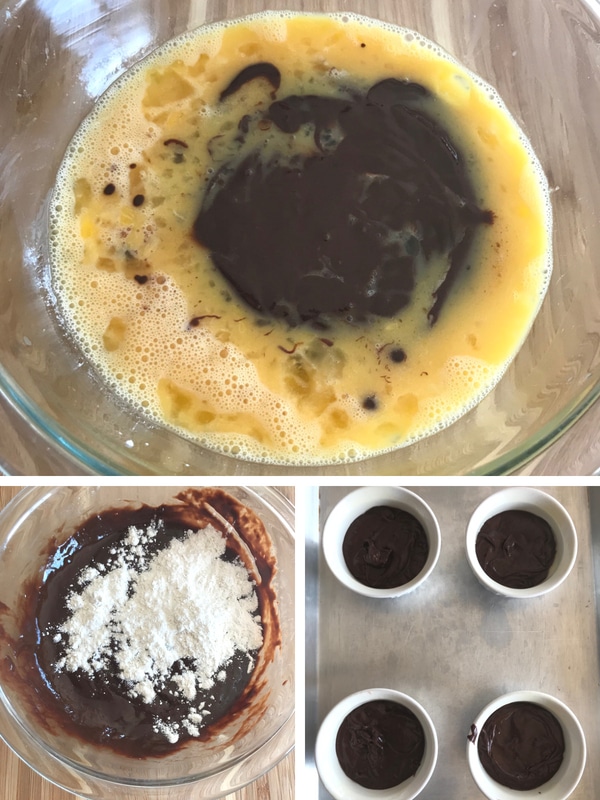 Now pour the chocolate mixture over the egg mixture and mix well.
Add in the flour and a pinch of salt and mix just until everything is well incorporated.
Pour into prepared ramekins and bake for 11 to 12 minutes. The cakes should come out solid on the outside and looks very liquid on the center, do not be tempted to bake it more.
If you are baking one ramekin at a time, I would say 8 minutes is enough.
Dust with powdered sugar, add an ice cream scoop on top or a dollop of whipping cream... serve it in any way you like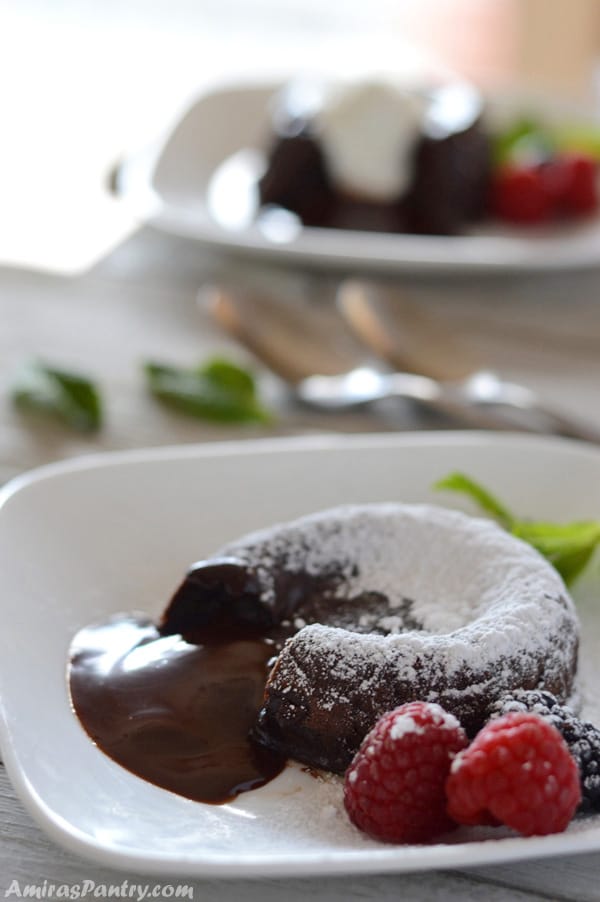 What I really love about this recipe is that:
It is portioned really well.
It can be made ahead of time.
It can be enjoyed in so many ways.
It has whole eggs in it, not just the yolks.
I hope you'll like this recipe and please if you make this recipe, snap a pic and hashtag it #amiraspantry — I love to see your creations on Instagram, Facebook, Twitter!
Don't want to miss a recipe? Sign up for the FREE Amira's Pantry newsletter delivered to your inbox with lots of tips and surprises! And stay in touch with me on Facebook, Twitter, Pinterest, and Instagram for all the latest updates.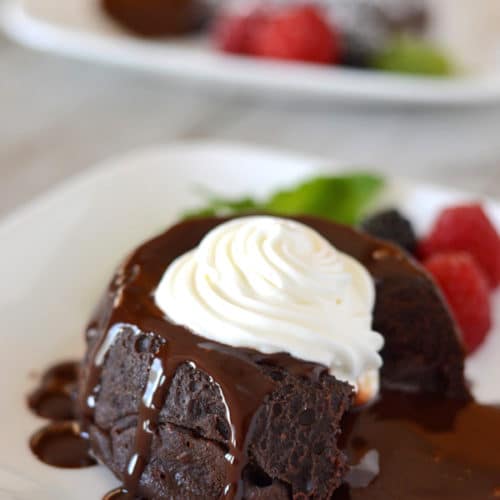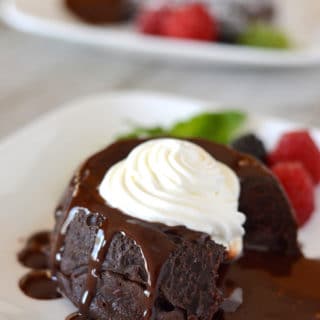 Chocolate Molten Cake
Easy molten lava cake, portioned and perfect for parties and gatherings or perhaps for a naughty midnight snack 😉. Take less than 10 minutes to prepare, no egg separation is required.
Print
Pin
Rate
Ingredients
6

ounces

bittersweet chocolate.

1/2

cup

unsalted butter.

3

large eggs.

1

teaspoon

vanilla extract.

3

Tablespoons

powdered sugar.

2

Tablespoons

AP flour.

A dash of salt.
Instructions
Melt butter, add chocolate and mix well.

In a large bowl, beat eggs, vanilla extract and powdered sugar.

Add the chocolate mixture to the egg mixture and mix well.

Now mix in the flour and salt.

Pour into two prepared ramekins and bake for 11 minutes only until the edges are solid but it is wiggly from the center.*

Let it cool down for a minute and flip on serving plates, garnish with whipped cream on top or powdered sugar and fruits on the side or with a scoop of vanilla ice-cream.
Notes
You can make these ahead, pour in ramekins, or keep the batter in a container, cover and refrigerate for up to 24 hours. Take it out of your fridge and allow to come to room temperature before baking.
If you are baking only one ramekin my recommended time is 8 minutes.
Nutrition Facts
Chocolate Molten Cake
Amount Per Serving
Calories 499.4
Calories from Fat 383
% Daily Value*
Fat 42.5g65%
Cholesterol 201.6mg67%
Sodium 95.2mg4%
Vitamin A 1090IU22%
* Percent Daily Values are based on a 2000 calorie diet.
Nutrition
Calories:
499.4
kcal
|
Fat:
42.5
g
|
Cholesterol:
201.6
mg
|
Sodium:
95.2
mg
|
Fiber:
2.9
g
|
Sugar:
21
g
|
Vitamin A:
1090
IU
Sign up and learn more about Mediterranean flavors