Garbanzo bean hummus, one of the epic Middle Eastern recipes. Homemade hummus recipe from scratch, you'll never go back to the store bought tubs.
Total time
1
hour
40
minutes
Creamy hummus, one of the epic Middle Eastern recipes. Homemade hummus recipe from scratch always tastes better, you'll never go back to the store-bought hummus.
Tahini is a must in this recipe but we will explore other variations as well, here is how to make your own tahini paste.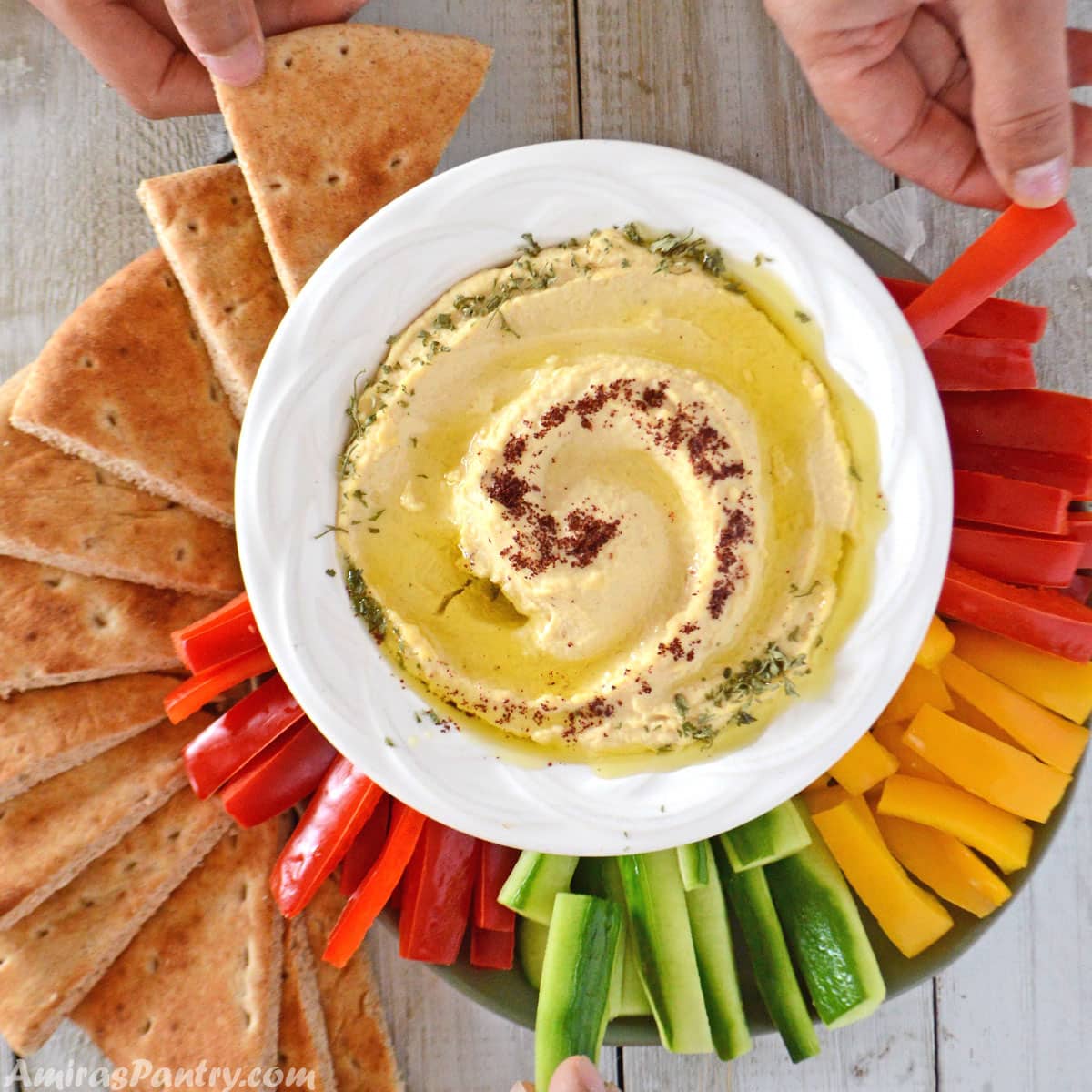 Hummus salad
Yes, in the Middle East we call this salad and not dip " salatet hummus" this is the name in Arabic. Hummus is one of the well known Middle Eastern dips across the US if not the whole world. I was seriously shocked that I did not have one yet.
This is the classic hummus recipe that I grew up with. It has been in the family for like forever and I honestly think it is the best hummus dip recipe.
What is Hummus exactly?
The word "Hummus" means chickpeas in Arabic language. In the Middle East " Hummus salad" generally means the Hummus dip that you probably know.
Hummus salad/dip is a levantine dip made of mashed cooked chickpeas. Basic Middle Eastern hummus is surprisingly simple and made with just few ingredients: chickpeas, tahini, olive oil, garlic and lemon juice. and some simple seasonings.
Origin of Hummus
Well, another surprise here, many regions claim to be the origin of this fantastic dip. Although the exact origin is still unknown , it is well known that chickpeas were cultivated in the Mediterranean and Middle east thousands of year ago.
According to wikipedia, a 13th century cookbook found in Cairo/Egypt had a similar dish without garlic nor tahini and using vinegar instead of lemon juice.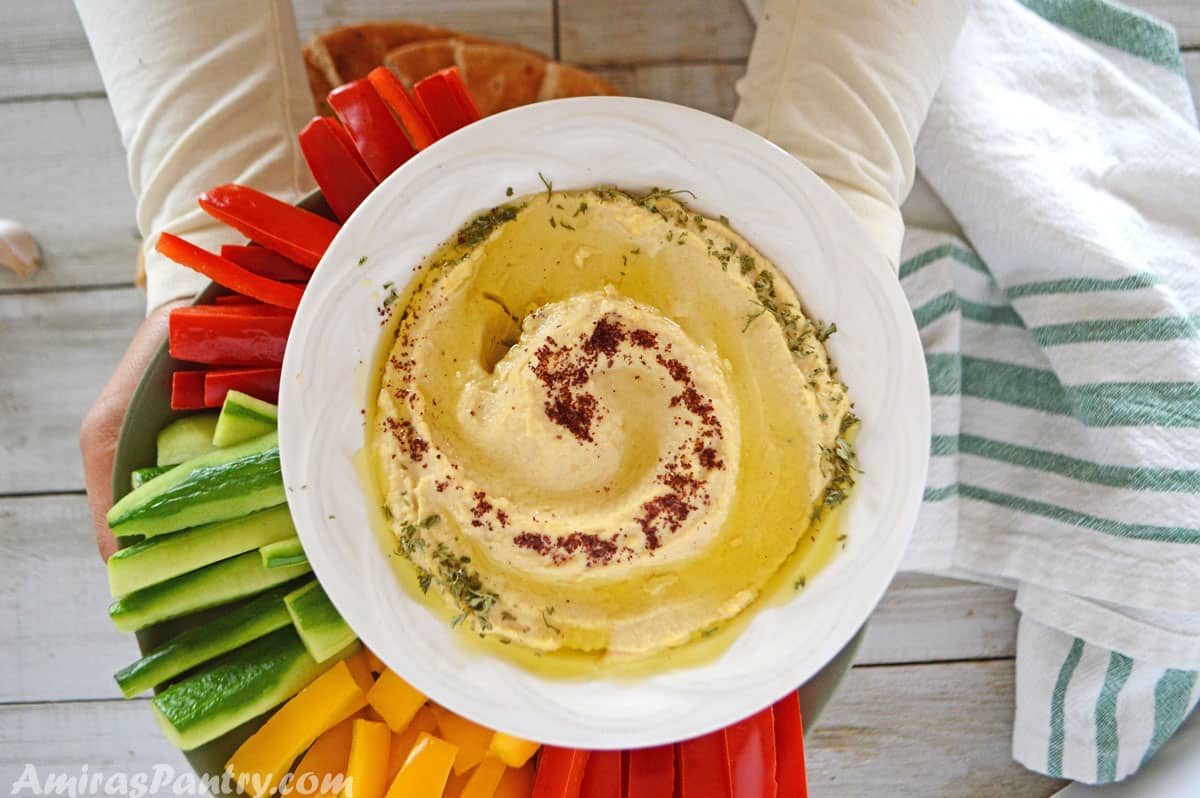 Hummus tips:
Dry or canned chickpeas? Personally, I always try to go for the dry as this is what I am used to. I never saw my mom make hummus with canned chickpeas. But if time is a constraint, or for any other reason you decided to use canned chickpeas then place them drained in a sauce pan and boil for like 15 minutes until they are very tender.
Aquafaba: is the water left off cooking chickpeas or the liquid in the canned ones. Some people believe it has gaseous qualities, some people even say it is dangerous to consume during pregnancy and for the gut health. So discarding the water is a common practice, but that does not mean you have to. Aquafaba amazingly whip up just like egg whites!! which gives my hummus a lighter color and texture.
Peeling chickpeas: seriously guys who has the time for that anyways?!. None and I mean NONE of my ancestors skinned the chickpeas to make hummus. BUT, some people say it makes your hummus crazy ultra smooth. If you have that time I recommend getting dry chickpeas and cook it from scratch.
How to get a whiten hummus color? restaurants in the Middle East serve hummus with lighter color than what we have here in the US. It is not as dark beige it is much whiter. Many people strive to do that at home by mixing in 1 tablespoon of yogurt or 2 tablespoons of buttermilk and sometimes people add a little bit of whipping cream or sour cream with an ice cube. I've tried that and did not like it, but this is an option for you if you would like to try.
Tahini substitutions: I get it, I have a kid who is allergic to tahini and sesame seeds. You can use all natural peanut butter, almond butter, cashew butter, pine nut better or any nut butter you have just make sure it is all natural, meaning only the nut is used with no additives. You can also use sesame oil, my kid is allergic to sesame anything but not the oil!! so if this is your case you can use it too. If you have a party of so many allergies going on, then leave it out, it will taste more like chickpea spread but it will be better to keep everyone safe.
A weird tip here, I do not add olive oil to my hummus while making it. I serve it with a drizzle of olive oil on top and mix in as I eat. There is no scientific reason behind this…. it is just me and what I grew up eating. So you are welcome to add olive oil while making your own hummus.
How to perfectly cook chickpeas for hummus?
It is so easy to cook hummus, it just needs some time to soak. But I know life happens and we sometimes forget to soak overnight so I will show you an alternative way.
Soak chickpeas overnight in cold water to cover by 2-3 inches, stir in ¼ teaspoon baking soda for each cup of dry chickpeas.
Drain and rinse chickpeas thoroughly with cold water.
Place chickpeas in a pot, cover with cold water and bring to a boil.
Reduce heat and simmer to cook for 60-90 minutes stirring and checking in between for doneness. In case of hummus, cook it for 90 minutes until very very tender. Do not forget to check the water level every now and then.
Drain chickpeas and use in your recipe.
If you do not have time soak chickpeas for an hour in hot water with baking soda.
Make ahead tip
Cook chickpeas and freeze them in freezer bags. When ready to use take them out and thaw in refrigerator. You can also prepare the sauce in advance and place in a container in your refrigerator. Here is what you'll do to freeze the cooked chickpeas:
It is recommended that you cook the chickpeas a little firmer if you are going to freeze them as they will be used and cooked again in another recipe.
Drain chickpeas, let it cool completely and pat dry with a kitchen towel.
Line a baking sheet with parchment paper and place chickpeas in a single layer. Flash freeze them in the freezer for 1 hour.
Take them out and place in a zip lock bag, store in freezer for up to a month.
Homemade Hummus dip recipe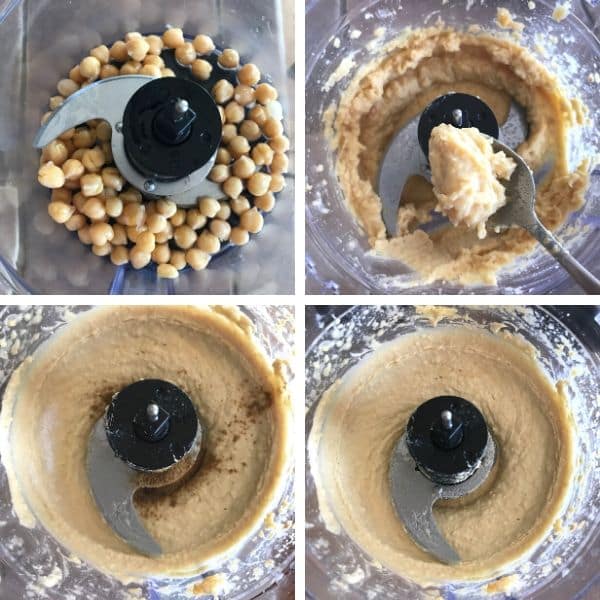 Place cooked chickpeas with some cooking water in your food processor and pulse until creamy. You will need to stop and scrape the sides to make sure that everything is evenly processed.
Add the rest of the ingredients and process well until everything is incorporated.
What do you eat with hummus?
I can scoop up hummus and eat it with almost anything. Hummus is usually served as an appetizer or dip with pita or any sort of flat bread. It is also used as a spread in falafel and fool sandwiches. Grilled meat or fish is never complete without a plate of hummus on the side. It is great for breakfast, lunch or dinner.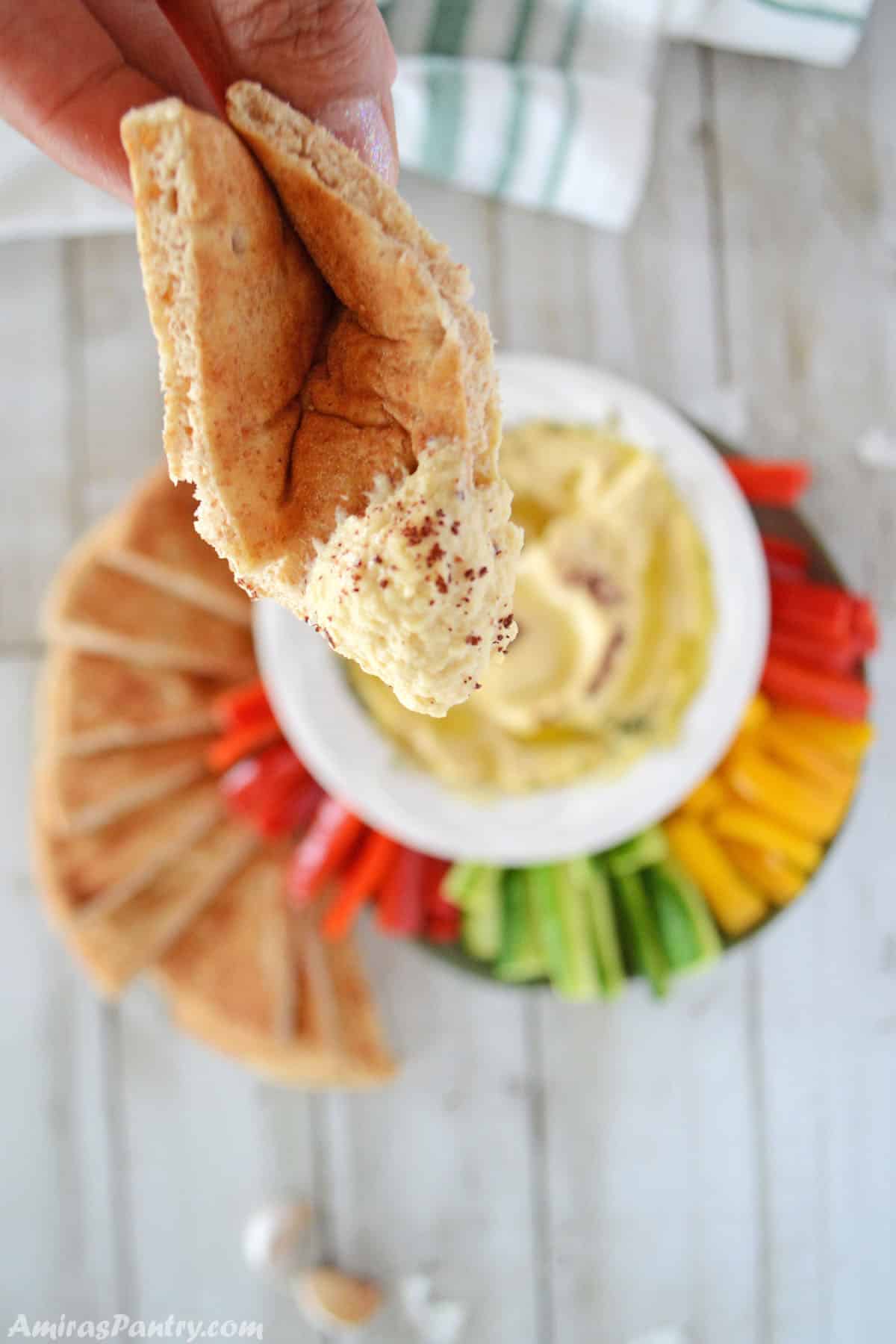 Delicious and beyond any store bought variety. Personally, I think traditional hummus with pita is hard to beat.
Related Recipes
More Snack Recipes
Bring the flavor of your favorite chips to your kitchen with this recipe for homemade Doritos. Snack time just got better!

I hope you'll like this recipe and please if you make this recipe, snap a pic and hashtag it #amiraspantry — I love to see your creations on Instagram, Facebook, Twitter!
Don't want to miss a recipe? Sign up for the FREE Amira's Pantry newsletter delivered to your inbox with lots of tips and surprises! And stay in touch with me on Facebook, Twitter, Pinterest, and Instagram for all the latest updates.
If you like this recipe do not forget to give it a ⭐⭐⭐⭐⭐ star rating and attach a photo of your finished dish. It is always a pleasure of mine to see your photos and check your own take of the recipe. Thank you.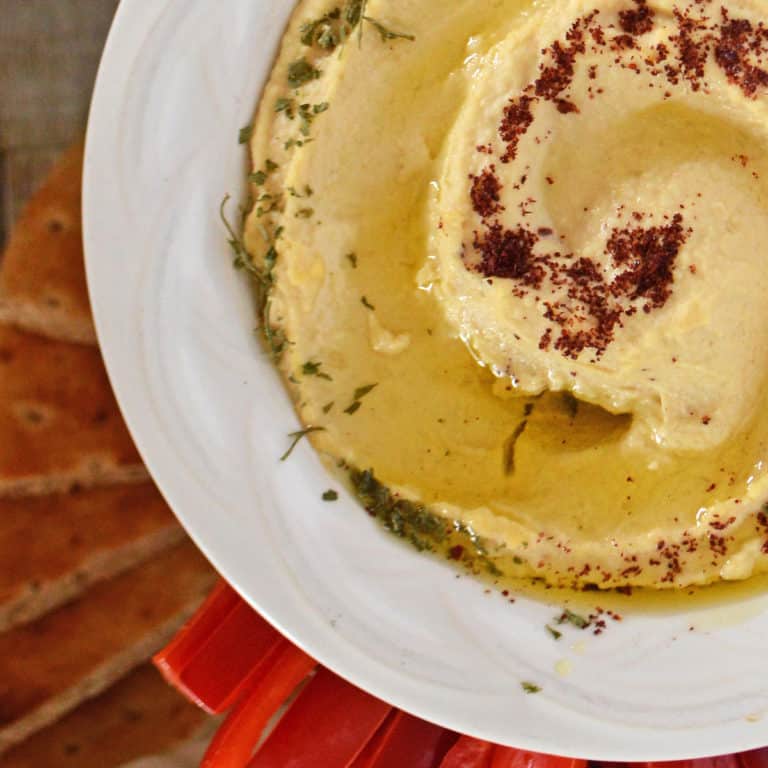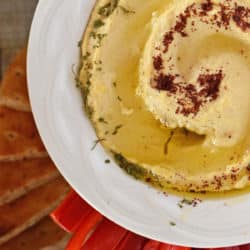 Authentic Hummus
Garbanzo bean hummus, one of the epic Middle Eastern recipes. Homemade hummus recipe from scratch, you'll never go back to the store bought tubs.
Print
Pin
Rate
Ingredients
For cooking the chickpeas:
⅔

cup

dried chickpeas

or use 1.5 cups of already cooked chickpeas. Note1

¼

teaspoon

baking soda.

Water to cook chickpeas
Tahini spice mix:
¼

cup

cooking water

divided.

3

Tablespoons

lemon juice.

Note2

1

Tablespoon

white vinegar.

Note2

3

Tablespoons

tahini paste.

2

small garlic cloves

minced.

1

teaspoon

cumin.

2

Tablespoons

extra virgin olive oil.

Note3

Salt to taste.
Instructions
Cook Chickpeas:
Soak chickpeas overnight in cold water with baking soda.

Drain chickpeas and rinse under running cold water. Place in a saucepan, cover with water, boil then reduce heat if necessary to prevent overflow. Continue to cook until very tender this will take probably 60-90 minutes. Drain keeping the cooking water. Set aside to cool down.
Making the hummus:
In your food processor add Chickpeas and two tablespoons of the cooled cooking water and process scarping the sides and bottom of the bowl.

Add tahini, lemon juice, vinegar and pulse until well incorporated and creamy.

Add garlic, cumin, salt, and mix.

If the mixture is too thick for your taste mix in the remaining 2 tablespoons of cooking water.

Taste to adjust salt.

Serve drizzled with 2 Tablespoons olive oil.
Notes
Note1: You can also use a 15oz can of chickpeas, drained and rinsed well then boiled for 15 minutes with baking soda to make it softer.
Note2: Some people use all vinegar and others use all lemon. The measures above are the right mix for our taste.
Note3: As mentioned above I do not add olive oil while making the hummus rather I drizzle mine on top and mix while eating. This is just my personal thing, otherwise you can add the oil to the hummus while making.
Serve with:
Serve hummus as a dip with different veggies or with pita bread, try it with the Egyptian mahlab bread as it tastes great with crunchy bread as well. Hummus can be served as a side with kofta, beef kebab or chicken kebabs.
Please check the nutrition disclaimer policy.
Nutrition
Calories:
163
kcal
|
Carbohydrates:
13.8
g
|
Protein:
4
g
|
Fat:
11
g
|
Polyunsaturated Fat:
3.2
g
|
Monounsaturated Fat:
6
g
|
Sodium:
156
mg
|
Potassium:
133.9
mg
|
Fiber:
3
g
|
Sugar:
0.2
g
|
Vitamin A:
20
IU
|
Vitamin C:
6.1
mg
|
Calcium:
57
mg
Sign up and learn more about Mediterranean flavors
This recipe originally published May 2018. Updated for some housekeeping things on March 20120. No change to the recipe!