A coconut yogurt farina cake soaked in simple syrup and decorated with nuts
Basbousa, an Egyptian semolina cake with yogurt is one of the best Egyptian desserts that comes out fairly quick. One bowl, mix and dump kind of recipe, yet is hard to make perfect. Today I am sharing the BEST basbousa recipe that everyone was raving about.
Authentic Egyptian basbousa recipe that is soft and stays soft. A delicious coconut, yogurt and semolina/farina cake that gets sprinkled with nuts and drizzled with syrup to put the final seal of perfection.
Basbousa/basboosa is a term in the Middle east that refers to a very sweet semolina - sort of- cake. Verbally in Arabic we can call our loved ones "basbousa", I sometimes call my little kid " basbousty" which means my basbousa or like saying my sweet.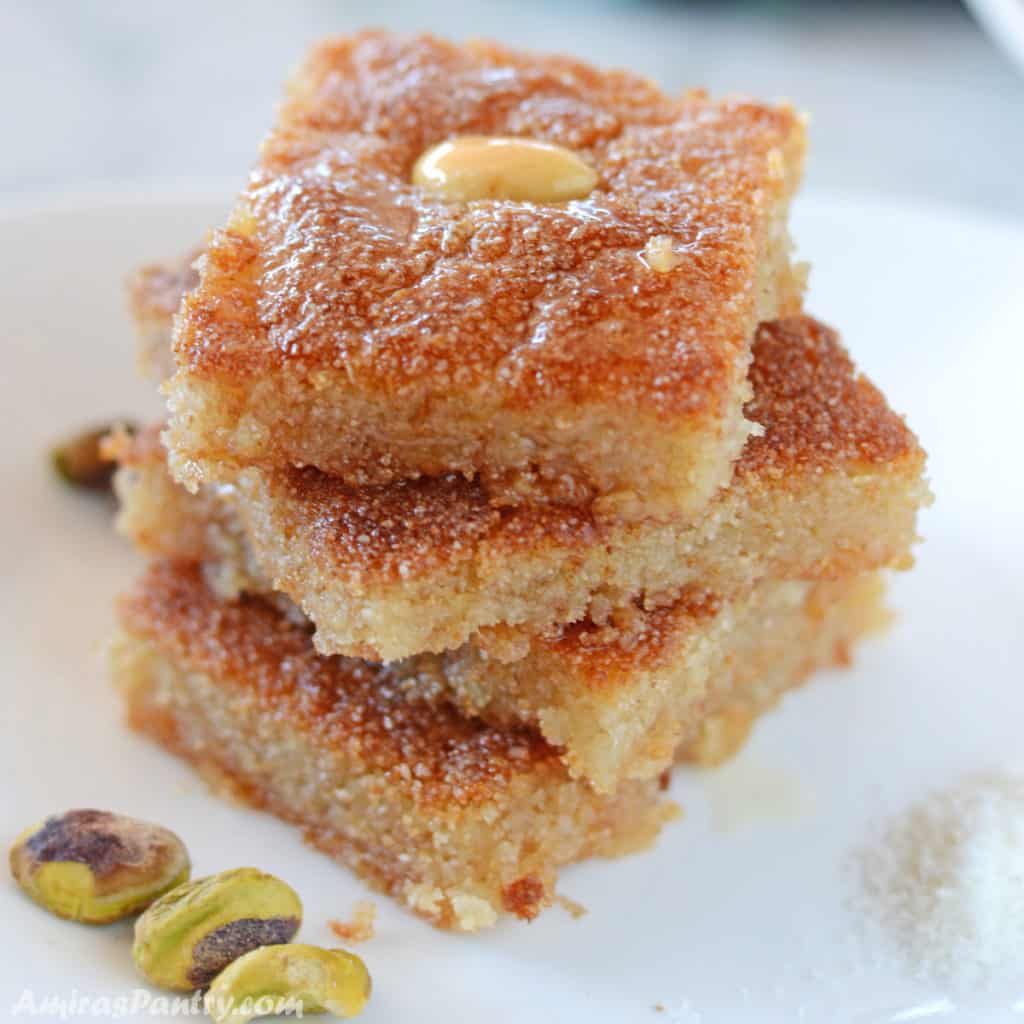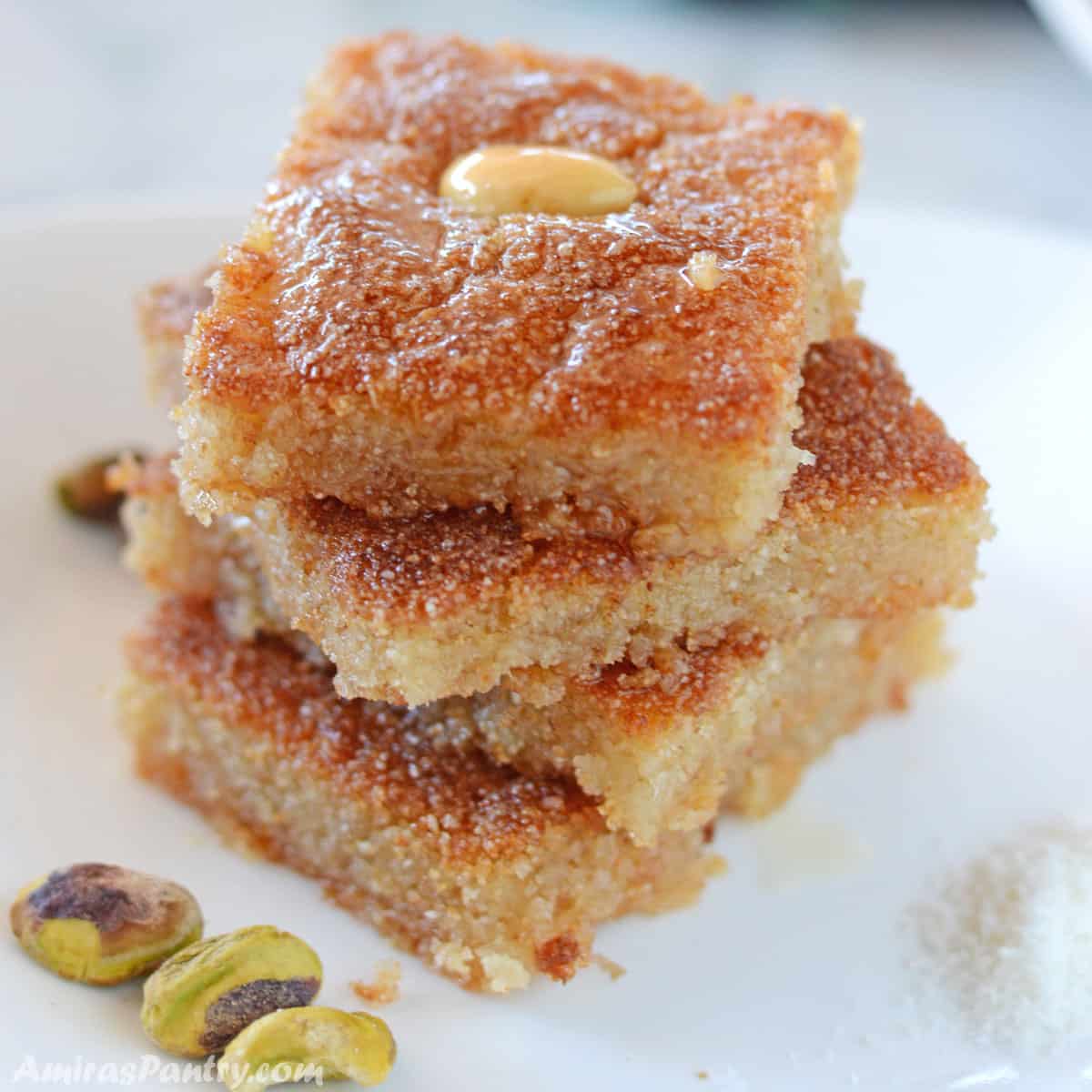 Basbousa
There are lots of recipes online for basbousa some call for milk some for buttermilk some even add all-purpose flour to it, but this recipe is - in my humble opinion- the best and closer to what is served in Egypt.
Basbousa is sold in every corner in Egypt. Each bakery shop has its own lovely basbousa. It has a secret that has been not revealed yet, but we are trying and will continue to try and we will never stop. Determination is the KEY 🔑to success.
This is a recipe that I've made probably a hundred times throughout my U.S. life. I've made a couple of enhancements and achieved a very satisfying result so far. It is not thick, it is not overly sweetened, the coconut flavor is not overpowering and it is moist and tender and keeps moist and tender for a as long as you have it.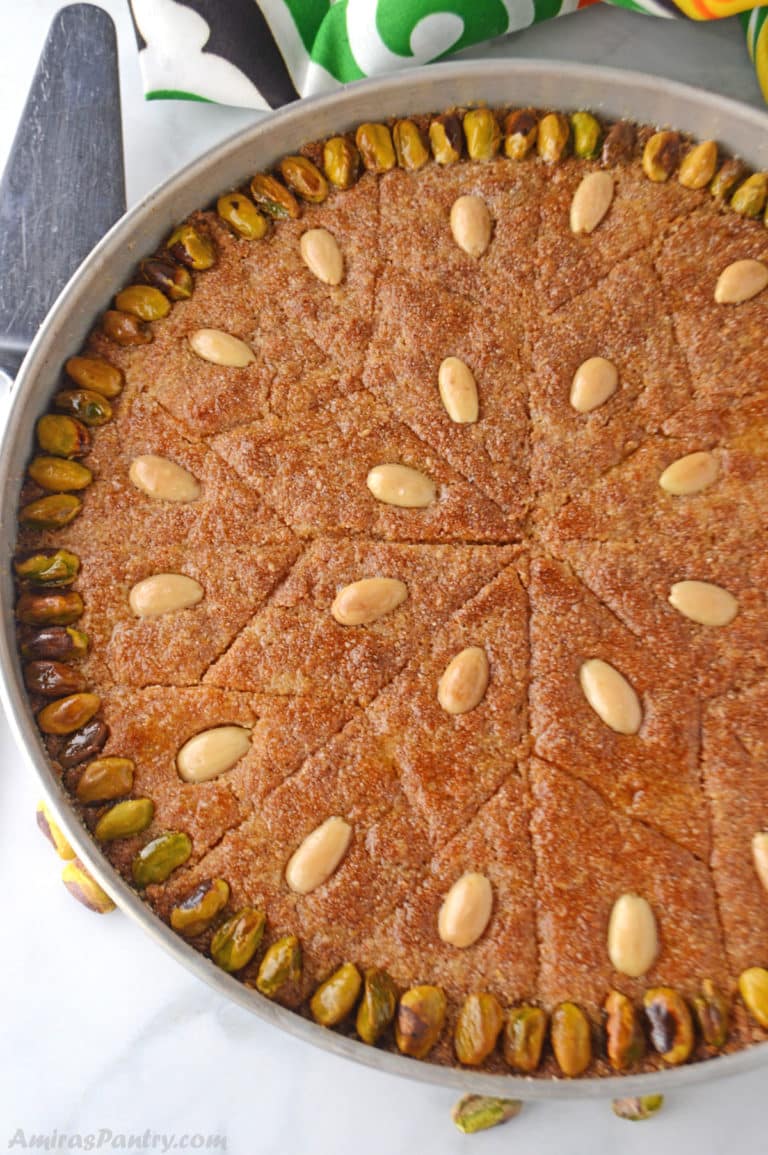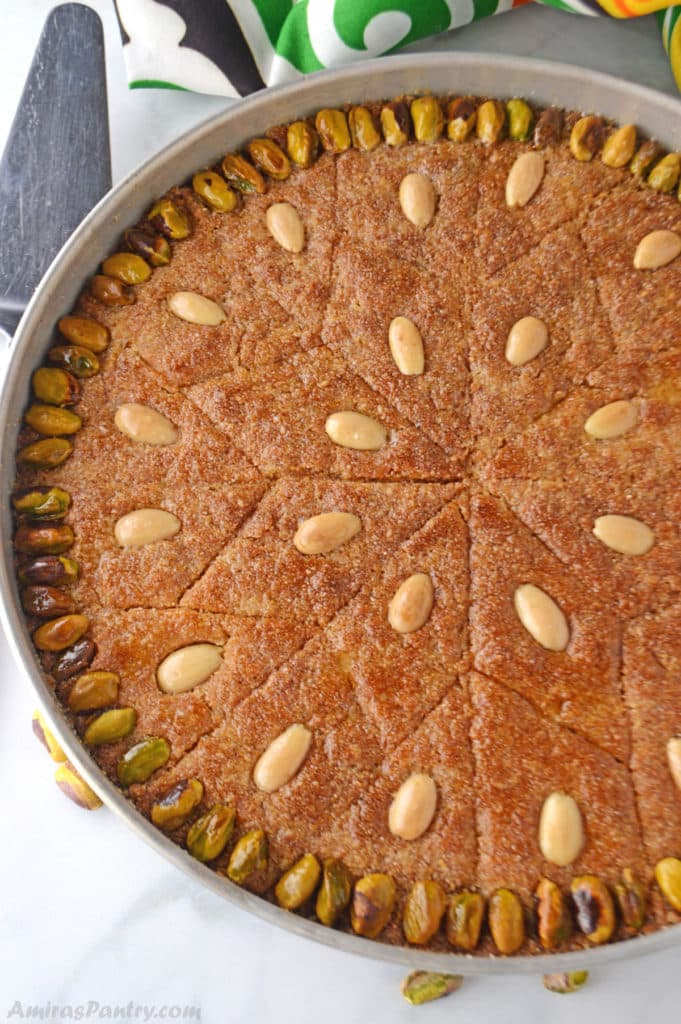 What you'll need
Basbousa tips:
I've used a couple of tricks I've learned so far:
-I've used Ghee, which in my opinion made a noticeable difference in taste. Clarifying a cup and a half of unsalted butter will get you a little over one cup of ghee and we will need only ½ cup. Clarified butter is not that hard to make.. check out my tutorial here.
Brush the baking sheet/pan with tahini and ghee, the raw tahini paste works wonders keeping the basbousa soft and it helps with coloring the bottom as well. Do not go overboard though, too much tahini will make your basbousa taste more like Halva.
Mix in a tablespoon of honey or corn syrup with the batter. It helps to stick everything together.
Always and I mean ALWAYS with any basbousa recipe, cover it after you've poured the syrup and while it is hot for 5-10 minutes. Actually if you have time, cover it and let it soak in the syrup overnight or until it cools completely. Some chefs though say it is unnecessary, but so far I have found this tip useful.
And that's pretty much it. I've made my basbousa in a 12 inch rounded baking sheet to end up with pieces that is a little bit over 1cm thickness. If you would love a thicker basbousa, bake it in smaller pan, like 9", and you can easily double/triple the recipe so do whatever seems perfect for you.
Difference between semolina and farina
I get asked this question almost weekly. Here in the US we only have two options either semolina or farina. In the Middle East though there are three options and all are called semolina. There are fine, medium or coarse. Here is a picture of the two different grains we have here. I like using the farina as I always feel semolina will make it cakey which is not the texture of basbousa. You can find more about the brands I typically use here.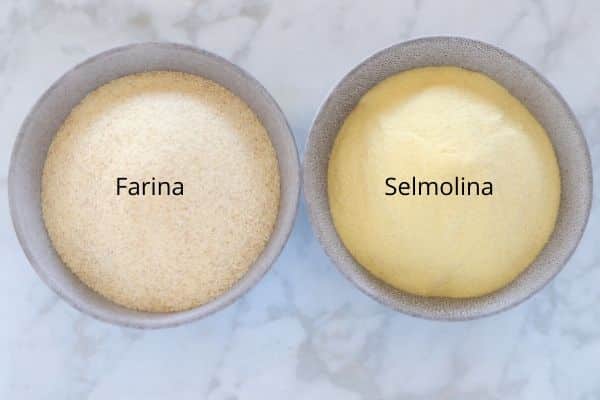 How to make basbousa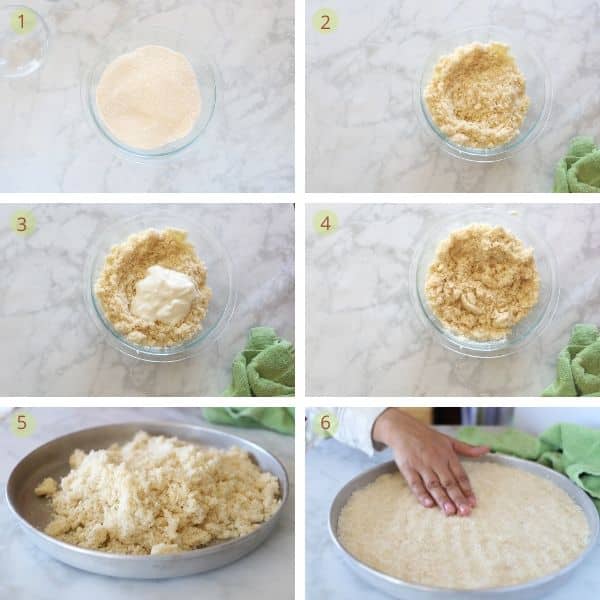 In a deep bowl, add farina, sugar, baking powder and coconut flakes if using. Mixing everything well.
Melt ghee and dissolve honey in it. Pour ghee over the dry ingredients and mix well with a spoon until you feel that all farina granules have been well covered with ghee mixture. You'll end up with a well-wet sandy textured mixture.
Now add the yogurt to the mix.
Mix just enough until it disappears in the mixture. Do Not Overmix, if you are afraid you might overmix the ingredients, use your hands.
Brush the baking sheet/pan with tahini and ghee. This is a tip I've got from many cooks, I used to brush mine with melted butter though. Dump in your baasbousa mix.
Spread the farina mixture evenly on the pan pressing down with your fingers.
How to cut basbousa like a pro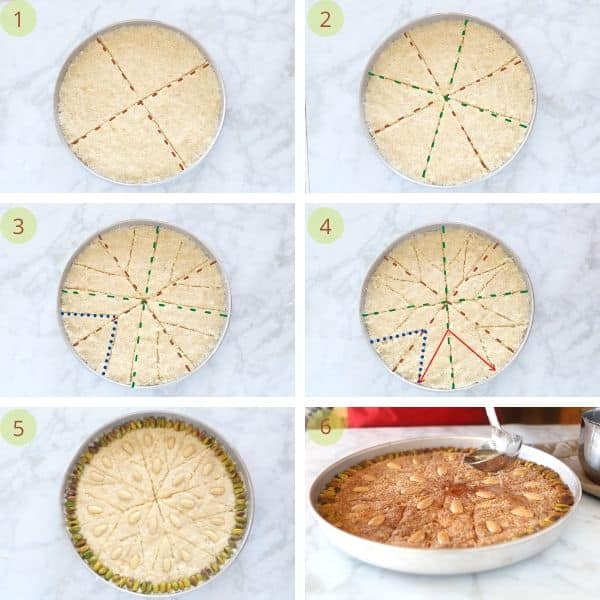 You'll need a knife and dip it into some melted butter or ghee. Cut the basbousa into quarters, follow the brown dashed lines.
Dip your knife again and cut each quarter in halves, follow the green dashed lines.
Dip again and make a V shape in each quarter, follow the blue dotted lines.
Dip again and cut the large pieces in two following the red arrows to make a star shape.
Decorate with nuts if desired in any way you like. My guests just like the decoration above with pistachios and almonds so I stick to that each time.
Bake as directed below. While it is baking make the syrup and then immediately pour the hot syrup over the hot basbousa carefully.
How to bake basbousa
Baking basbousa right is probably one of the mistakes many do. If it stays too long it will form something like a crust and will be very hard. Bake basbousa in 350F preheated oven, on the middle rack, until the edges start to brown but do not leave it more than 15 minutes even if you did not notice it browning. Now move the pan to the upper shelf of the oven and continue baking until it is nicely browned. Some people like broiling the top, but being me I can easily forget about it until I see smoke coming out of my oven. This whole process should not take you more than 30-35 minutes. Do not be tempted to leave it longer.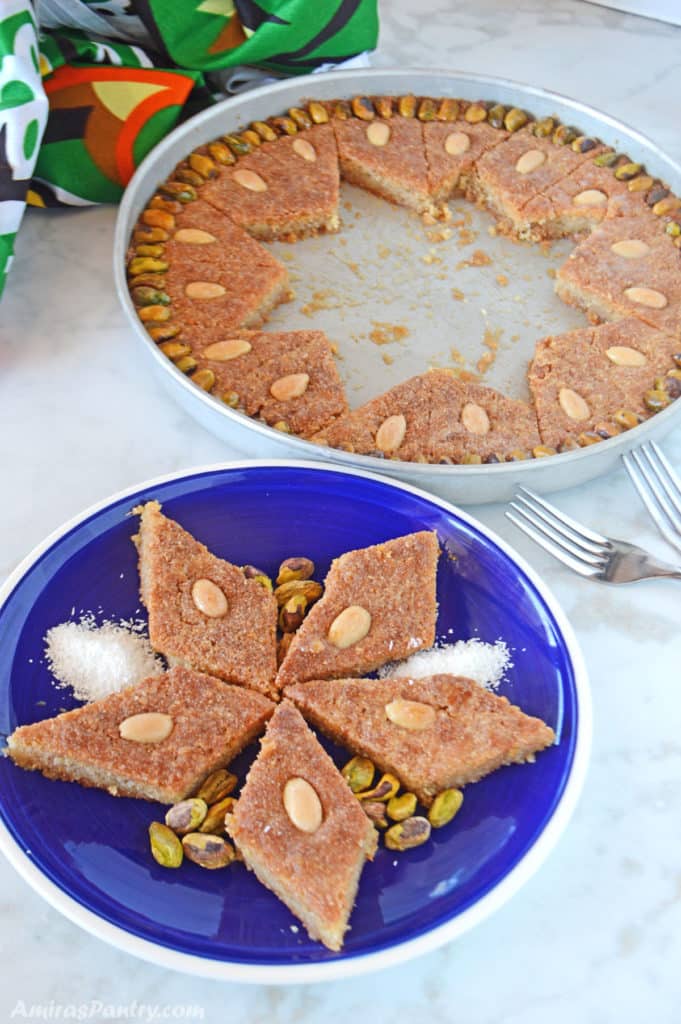 More Middle Eastern desserts
I hope you'll like this recipe and please if you make this recipe, snap a pic and hashtag it #amiraspantry — I love to see your creations on Instagram, Facebook, Twitter!
Don't want to miss a recipe? Sign up for the FREE Amira's Pantry newsletter delivered to your inbox with lots of tips and surprises! And stay in touch with me on Facebook, Twitter, Pinterest, and Instagram for all the latest updates.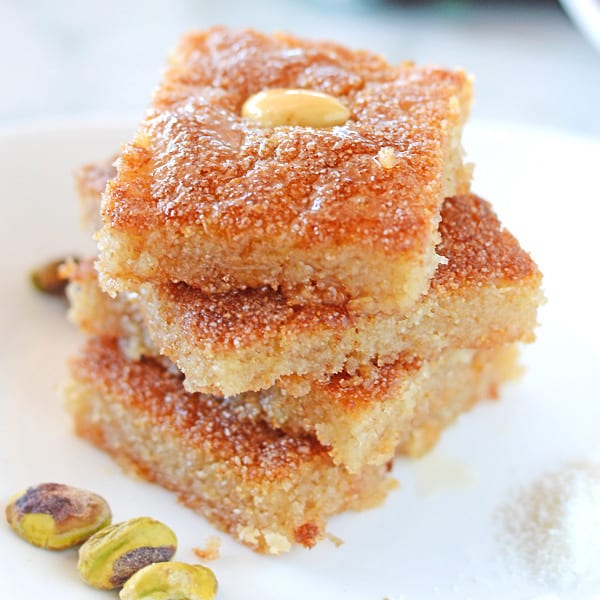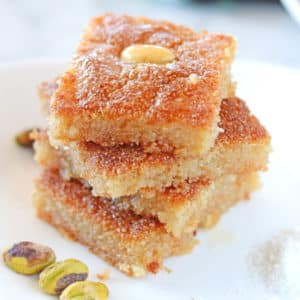 Basbousa
A coconut yogurt farina cake soaked in simple syrup and decorated with nuts
Print
Pin
Rate
Ingredients
1 ⅔

cup

(306g) Farina.

½

cup

ghee.

1

Tablespoon

honey.

½

cup

(116g) sugar.

½

cup

(97g) plain yogurt.

½

Tablespoon

(6g) baking powder.

½

cup

(45g) unsweetened coconut flakes

finely shredded. Note1

0.5

Tablespoon

tahini.

plus 1 Tablespoon ghee to brush the bottom.
For the syrup:
1

cup

sugar.

1

cup

water.

1

teaspoon

lemon juice.

2

Tablespoon

honey.

½

teaspoon

vanilla extract.

Note2

Nuts for garnishing

Note3
Instructions
Make the cake:
In a deep bowl, combine farina, baking powder, sugar and coconut then mix well.

Melt the ghee in the microwave or stove top then dissolve the honey in it.

Add the ghee mixture to the bowl of dry ingredients and mix well to combine.

Add the yogurt and mix, just until everything is well incorporated.

Brush a round 12 inch baking sheet with the tahini and spread the basbousa mixture evenly.

Spread nuts on top evenly to decorate.

Bake in the middle of your oven until edges start to brown, this took about 10 minutes. Then move the basbousa up to the higher shelf and let it continue cooking until golden brown will take anywhere from 15 to 20 minutes.
Make the syrup:
When you move the basbousa to the upper shelf start making the syrup.

In a small saucepan over medium heat, combine syrup ingredients and bring to a boil.

When it boils, reduce heat and simmer for 10 minutes.

Turn heat off and keep the syrup warm.

When basbousa is done, turn off your oven and take it out.

Pour the syrup evenly and cover the basbousa immediately with foil. Return to the TURNED OFF oven for 5-10 minutes.

Take it out, cut and enjoy
Notes
Note1: Using coconut flakes is optional, if you do not like it then do not use and follow the same instructions. Many people though, find it highly recommended to add at least a couple of Tablespoons of coconut flakes. I have to say coconut helps with the texture so if you do not like it consider adding 15-20g, you will not taste it.
Note2: Using nuts is optional as well.
Note3: You can flavor the syrup with vanilla, cinnamon stick, rose water, orange blossom water or make it plain. I like making mine with vanilla.
Note4:  As I have stated in the post, this recipe baked in a 12" pan yielded basbousa with a thickness of a little over 1cm. If you want yours to be thicker, bake in a smaller pan or double the recipe. I've recently made it several times in a 11" aluminum baking sheet and got rave reviews about how perfect this was.
Check out more Egyptian desserts here like Zalabia, tulumba and kunafa.
Please check the nutrition disclaimer policy.
Nutrition
Calories:
329.6
kcal
|
Carbohydrates:
49.7
g
|
Protein:
3.5
g
|
Fat:
13.7
g
|
Saturated Fat:
8.5
g
|
Monounsaturated Fat:
0.1
g
|
Cholesterol:
22.2
mg
|
Sodium:
59.2
mg
|
Potassium:
21.5
mg
|
Fiber:
1
g
|
Sugar:
30.5
g
Sign up and learn more about Mediterranean flavors
Time to show you off!
This recipe originally published April 2013. Updated for some housekeeping things on April 2020.