Maqluba or Maqlooba is an upside down rice dish that is very common throughout the middle east. Layers of vegetables, spiced rice and meat cooked in your oven then flipped for a stunning comfort food dinner.
Next time try the Jordanian Mansaf, a delicious lamb and rice recipe.
This is a one dish meal made traditionally with cauliflower or eggplants. There are many variations to this dish in the region, but the method is the same. Here is a step by step guide to make the easiest foolproof Makloubeh to grantee success each time
Jump to:
❓Why This Recipe Works
Made way healthier by not deep frying the eggplants.
Helpful tips so you can turn it out beautifully without ending up with a messy countertop.
Perfectly spiced rice without going overboard.
Traditional maqluba calls for frying the vegetables, I like to oven roast the eggplants to make them lighter with far less oil than frying.
The way I am wrapping and preparing this dish is a foolproof way for the best maqluba that will not make a mess and spread all over your counter when you flip the dish.
📝 Recipe Ingredients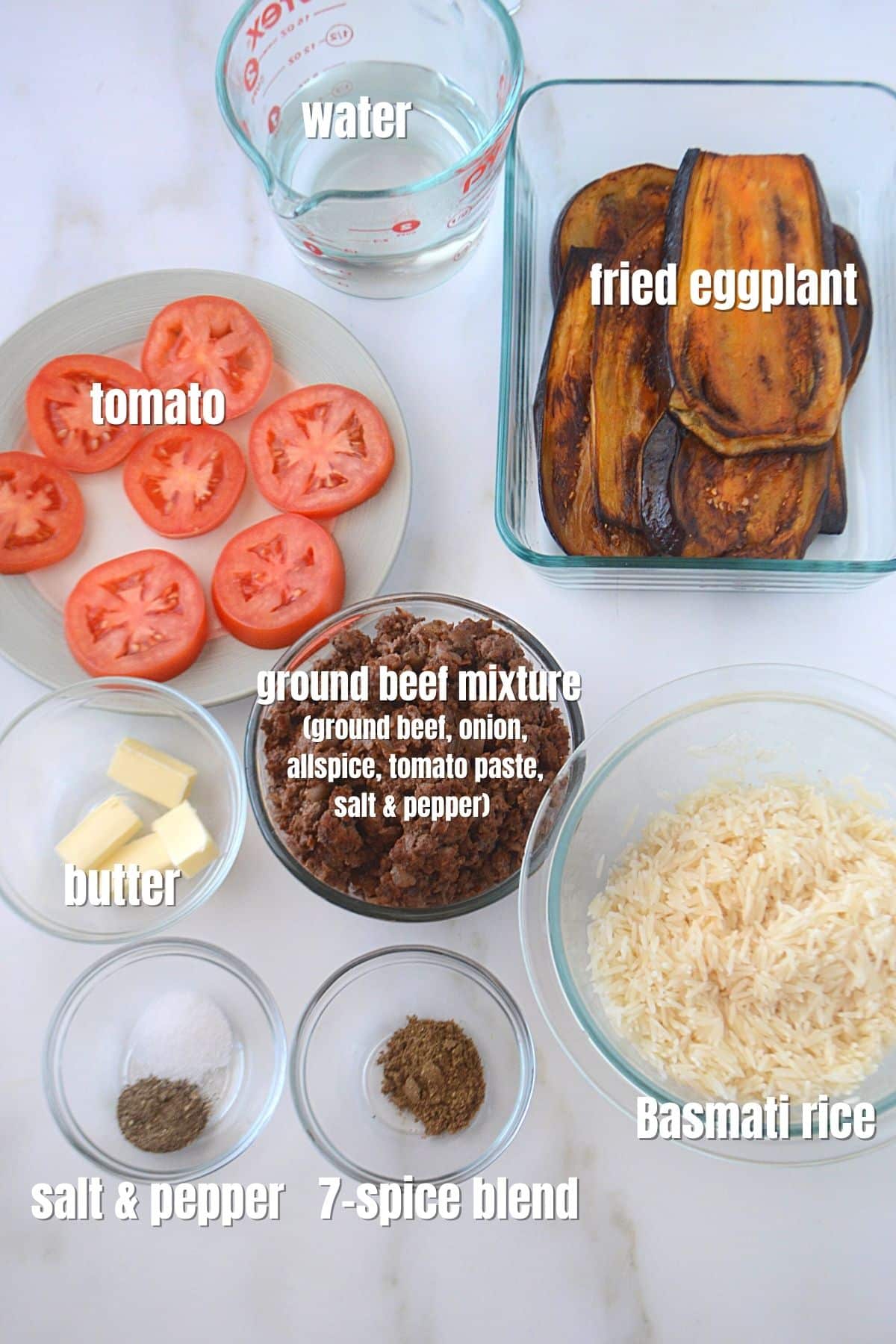 📋 Ingredient Notes
Ground beef mixture above is made by browning the beef and adding all the spices. details about that are in the recipe card below.
My eggplants are oven baked but you are welcome to fry them if you want to.
🥄 Instructions
Note: This is an overview of the instructions. The full instructions are in the recipe card below.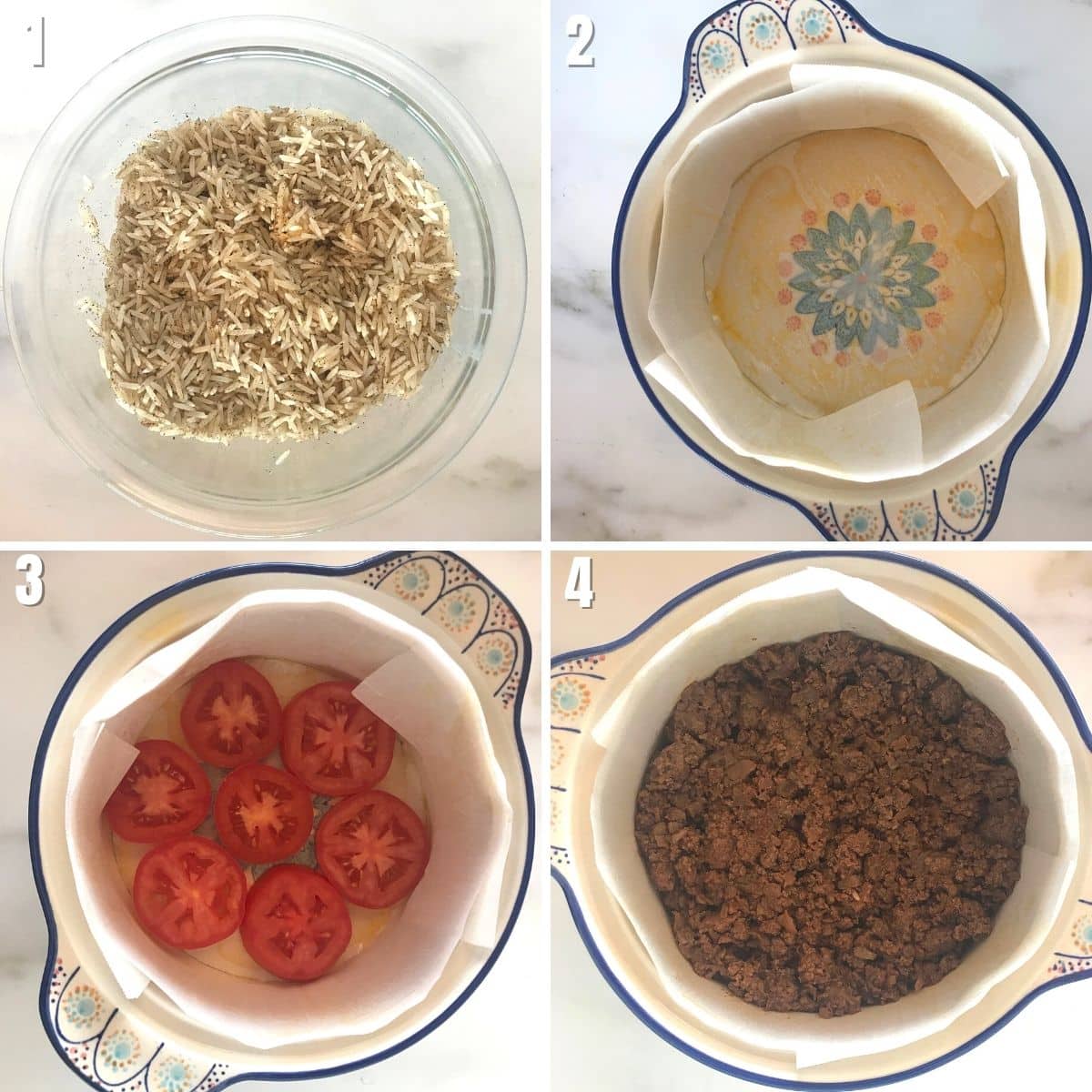 In a bowl, add rice, butter and spices. Mix them well.
line the bottom of the pot and the sides of your baking dish with parchment paper.
Place tomato slices in the bottom of the dish then top that with the browned ground meat.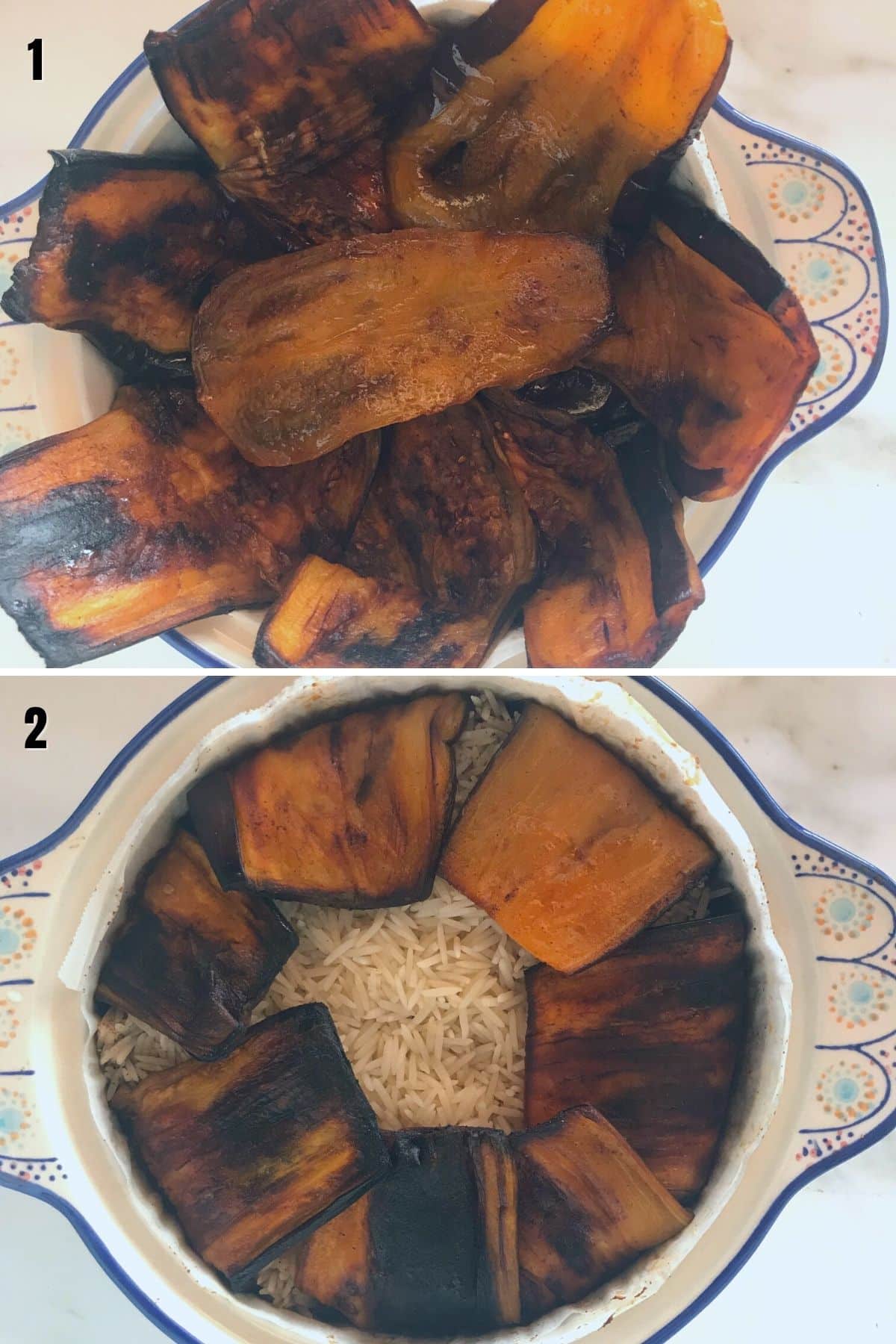 Arrange eggplant slices so they are overlapping and hanging on the sides of the dish. Make sure to cover the bottom well.
Add the rice mixture, pour boiling cooking liquid ( water or broth), then flip the hanging eggplant slices over the top of the pot to close. Bake the rice dish in a 400F preheated oven until rice is totally cooked. Let it cool down for 15 minutes then flip over your serving dish.
💡 Expert Tips
I used to make maqluba with beef stew. Filling a pot with water, adding a whole onion, bay leaf, some salt and pepper then drop the meat in until it is halfway done. Place them at the bottom of the oven dish and it will continue to cook with the rice. I've found that ground meat is easier but of course it is your choice.
The hardest part of making maqluba is flipping it in the end. To ensure that it is not stuck at the bottom of the baking dish, I lined the dish with parchment paper.
Many people put the eggplant on the bottom of the baking dish, here I have wrapped eggplants around the rice. This ensures that the rice will not fly everywhere when you flip the dish plus it makes for a beautiful presentation.
Vegan Option: Use olive oil instead of butter and omit the ground beef. You can use any vegan protein you like as well.
💬 Frequently Asked Questions
What type of rice to use in maqluba?
Maqluba traditionally is made with Egyptian rice( medium to short grain rice), but nowadays it is very common to be made with basmati or any other kind of rice. I used basmati rice as it is widely available in stores.
What vegetables used in maqluba?
The main vegetable is either eggplant or cauliflower. You can add bell peppers, chili peppers, onions, potato or diced tomatoes.
What other types of meat to use in maqluba?
Use whatever you like. You can make maqluba with chicken, beef cubes, ground turkey, ground beef… etc.
🍚 You may need
The following are affiliate links. We are a participant in the Amazon Services LLC Associates Program, an affiliate advertising program designed to provide a means for us to earn fees by linking to Amazon.com and affiliated sites.
For this recipe I've used Aahu Barah basmati rice. It was recommended by a friend and I could easily find it here in the Middle Eastern store.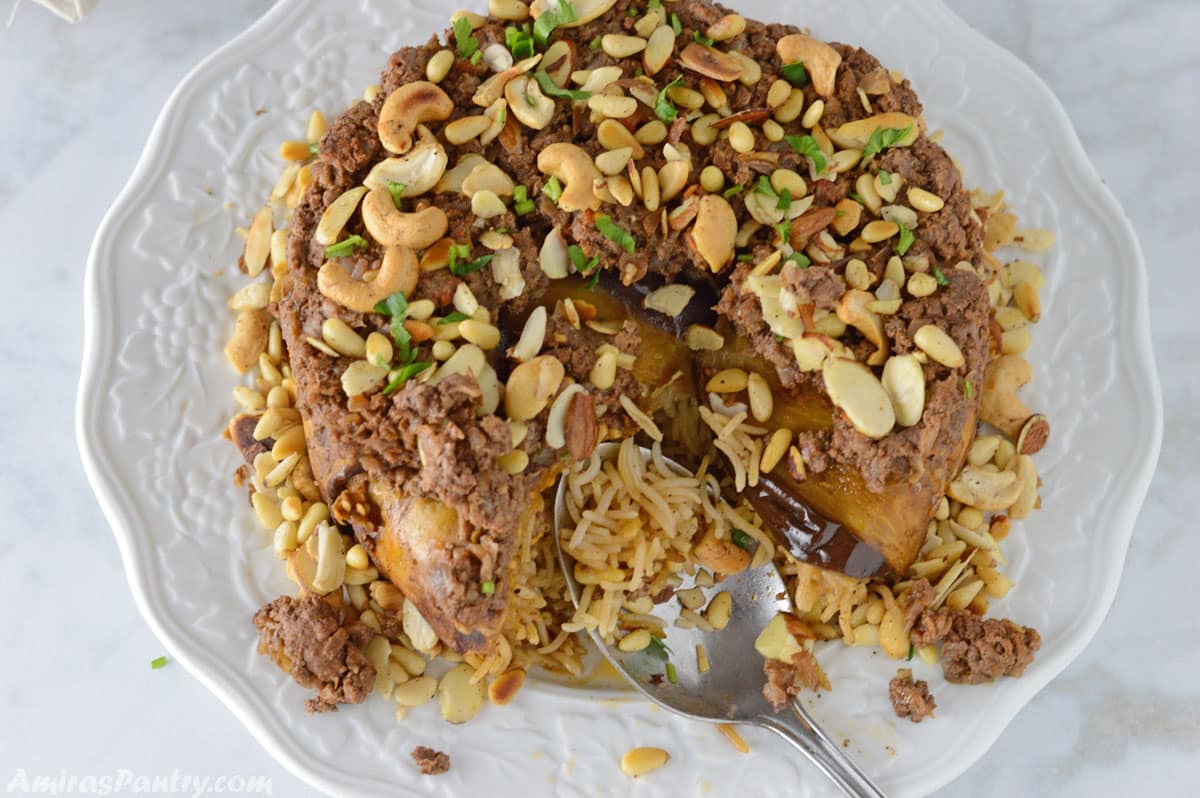 📣 More Recipes From the Blog
🎞️ Recipe At a Glance
I hope you'll like this recipe and please if you make this recipe, snap a pic and hashtag it #amiraspantry — I love to see your creations on Instagram, Facebook, Twitter!
Don't want to miss a recipe? Sign up for the FREE Amira's Pantry newsletter delivered to your inbox with lots of tips and surprises!
If you like this recipe do not forget to give it a ⭐⭐⭐⭐⭐ star rating and send me a photo of your finished dish. It is always a pleasure to see your photos and check your own take of the recipe. Thank you.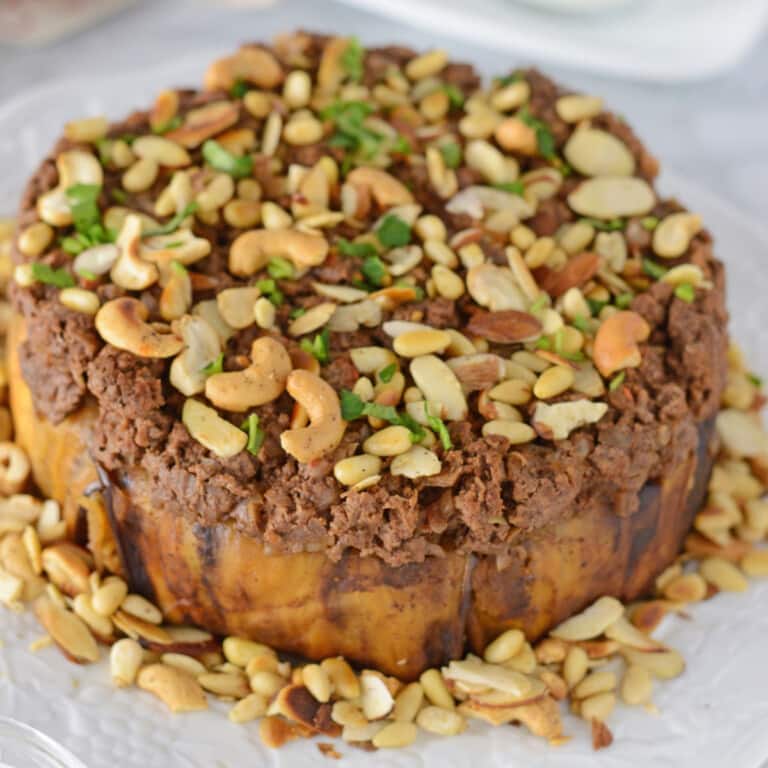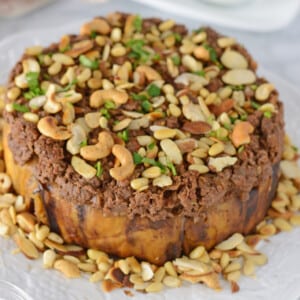 Maqluba
Maqluba recipe is the perfect dish to feed a crowd. Maqluba is a popular dish in the Arab world made with rice, meat and vegetables.
Print
Pin
Rate
Ingredients
1

cup

(198g) Basmati rice

1

Tablespoon

butter

1

teaspoon

7 spices

1/2

teaspoon

salt.

1/2

teaspoon

black pepper.

1 1/4

cup

boiling water or broth
For the ground beef mixture:
1/2

pound

ground beef.

(230g)

1

small onion.

chopped

1/2

teaspoon

all spice.

1

teaspoon

tomato paste.

1/4

teaspoon

black pepper.

Salt to taste.

1

(450g) medium firm eggplant

cut into 1/2 inch slices lengthwise and fried or baked in the oven.

1

medium tomato, sliced.

Optional: Chopped parsley

roasted nuts for garnishing.
Instructions
Wash rice twice or 3 times, drain then place in a deep bowl, cover with cold rice and soak for 30 minutes.

Meanwhile fry or oven bake the eggplants.
Brown the ground meat:
In a skillet over medium heat, sauté onions in oil then add ground beef and spices, mix well. Add the tomato paste and mix everything well, cook until browned all around. Set aside.

Preheat oven to 400F.

Line an oven safe dish with parchment paper.

Arrange tomato slice at the bottom of the pan.

Top that with a layer of the browned ground beef.

Arrange eggplant slices over the ground beef skin side out.

Add rice, then pour boiled water or broth over.

Fold the egg plants over the rice.

Cover and cook in the oven for 40 minutes.

Take the dish out fluff the rice on top and taste to make sure it is completely cooked.

If you feel it needs more water or broth add a quarter cup, cover then return to oven for another 10-15 minutes.

Let it cool down for 10 -15 minutes before flipping over the serving dish.

Remove parchment papers and tomatoes on top, you can eat them if you want.

Garnish top with chopped parsley and roasted nuts.
Notes
 Traditionally short and medium grain rice is used but it is common nowadays to use the long grain rice or Basmati rice.
If you deep fry your eggplants, you will need to put them on paper towels after frying so the dish will not be too oily. Also I recommend leaving out the butter so the dish will not be too greasy.
7 spices are a combination of cumin, cardamom, black pepper, nutmeg, cloves, cinnamon and sometimes paprika and cloves as well.
I used to fry the eggplants in the past, but if you want you can roast in the oven with some oil and salt.
Stove top directions:

Maqluba can be cooked enirely on the stove. Assemble the dish in your pot then place it on medium-high heat and bring to a boil. Turn down the heat and cook on low heat covered until it is done.

Serve with tzatziki sauce or just plain yogurt.
Variations:

Vegetarian maqluba: Use olive oil instead of butter and also vegetable broth. Omit the ground beef  but you can use any vegan protein if you like as well.
Chicken maqluba: Use chicken pieces instead of ground beef and use chicken broth too.

Please check nutrition disclaimer policy here.
Nutrition
Calories:
245
kcal
|
Carbohydrates:
33
g
|
Protein:
10
g
|
Fat:
8
g
|
Saturated Fat:
3
g
|
Trans Fat:
1
g
|
Cholesterol:
27
mg
|
Sodium:
235
mg
|
Potassium:
409
mg
|
Fiber:
3
g
|
Sugar:
4
g
|
Vitamin A:
211
IU
|
Vitamin C:
6
mg
|
Calcium:
37
mg
|
Iron:
1
mg
Sign up and learn more about Mediterranean flavors
First published August 5, 2015 . Last updated September 16, 2021 with important tips, clear step by step instructions and readability.
👩‍🏫 My Experience
I had so many friends from Palestine, Jordan and Lebanon when I was growing up. My late dad worked in KSA for a long time and we used to spend summer breaks there. We had gatherings at least once a week with loads of delicious food.
I was introduced to maqluba at an early age and I loved it especially when it was made with chicken or ground beef. My late father was a huge fan and I've finally perfected the recipe so it is easier to flip and looks fancy.